Christmas will be here before you know it!
I love seeing babies in "Baby's First Christmas" items. I think they are just the cutest 🙂
Your baby only gets ONE shot at their very First Christmas, so I think it's completely necessary to "do it up"!
CELEBRATE BABY'S FIRST HOLIDAYS WITH A FESTIVE BIB!
I wanted to give you a list of adorable Baby's 1st Christmas bibs so that you can find and buy one for an affordable price this year.
If you're wondering where to find cheap holiday baby bibs, check no further than…Etsy!
Here is the shortlist of the items I recommend below. Use these shortcuts to go directly to each product listing. Otherwise, keep reading!
SUPER CUTE PERSONALIZED CHRISTMAS BABY BIBS
PERSONALIZED CHRISTMAS BABY BIB.
The simple style of this bib, and the adorable holiday lettering are perfect for cuteness overload, without being too out there.
I like how you can get it personalized! It's custom made just for your little one.
https://www.etsy.com/listing/252497349/personalized-christmas-baby-bib
MONOGRAMMED BABY'S 1st CHRISTMAS BABY BIB
With ruffles and beautiful monogramming, this bib is adorable. It really exudes that festive holiday spirit.
https://www.etsy.com/listing/641619600/christmas-baby-bib-personalized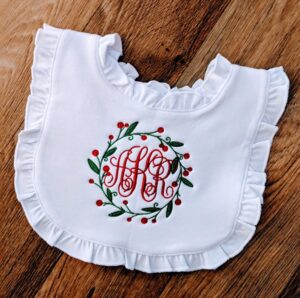 HOLIDAY PATTERN CHRISTMAS BABY BIBS
There are seven different patterns to choose from. Each one is more adorable than the last! The bibs are handmade and affordable.
https://www.etsy.com/listing/656345083/custom-christmas-baby-bibs-christmas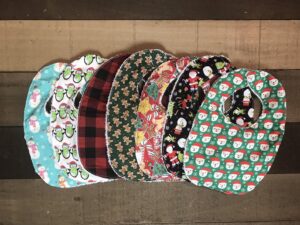 CHRISTMAS BANDANA DROOL BIBS
I love this bandana style drool bib! These bibs are backed with coordinating fleece. Plus, they close with plastic snaps, and come in so many colors and patterns that you are sure to find one that you love.
https://www.etsy.com/listing/480730018/christmas-drool-bibs-christmas-bandana
GRINCH WHO STOLE CHRISTMAS BIB
These adorable Dr Seuss baby bibs are perfect for a new baby. Parents who love How The Grinch Stole Christmas will love these baby bibs for their new little baby.
https://www.etsy.com/listing/704208568/grinch-baby-bibs-dr-seuss-baby-bibs-the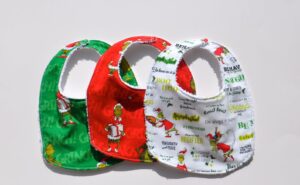 CHRISTMAS FRENCH KNOT BABY BIB
Does it get any cuter than this? These unique, French knot bibs have a red trim and use a snap closure that won't irritate your baby.
https://www.etsy.com/listing/733662139/christmas-french-knot-baby-bib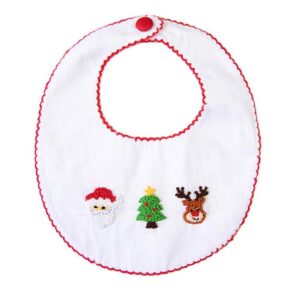 BABY HOLIDAY BIBS
Adorable, classic holiday patterns perfect for any baby. These bibs are made with a super soft snuggly flannel on both sides, so they are super absorbent as well as soft on your baby's face.
https://www.etsy.com/listing/656287525/christmas-baby-bibs-christmas-bibs-babys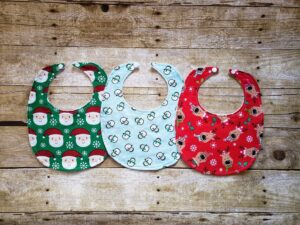 BUFFALO PLAID REVERSIBLE HOLIDAY BABY BIB
With a vintage pattern, reversible, and high quality, these classic holiday dribble bibs uses snaps instead of velcro, for a comfortable fit for your baby.
https://www.etsy.com/listing/636019848/christmas-baby-bib-buffalo-plaid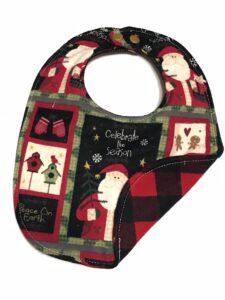 OWL CHRISTMAS BABY BIB
Does it get any cuter than holiday owls? This bib has a snap closure and has been topstitched for durability. It also comes in 2 different sizes so it fits your baby just right.
https://www.etsy.com/listing/115589780/owl-christmas-baby-bib-for-boy-or-girl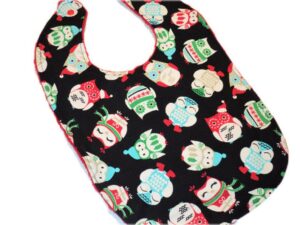 SANTA'S CUTEST ELF CHRISTMAS BABY BIB
Simply adorable while still simple and classic. Every baby needs one like this.
https://www.etsy.com/listing/711033746/santas-cutest-elf-christmas-baby-bib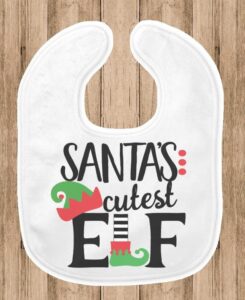 Get your personalized baby's first Christmas bib on Etsy. You're sure to find the perfect style and pattern there.
I hope you found a bib from this list that's perfect for you and your baby!
Happy Holidays 🙂
READ NEXT:
Latest posts by Tania Griffis
(see all)