On my blog, I typically teach moms and anyone else who wants to make extra money about ways to earn significant chunks of extra cash each month, like through blogging or becoming a VA.
But let's face it – sometimes you just need $50 or $100 or $200 more right now, and you don't have time to implement a full-blown business.
If you're thinking, "I need extra money fast, not in a year from now!" then you're in the right place.
If you sell multiple items in one day, you can really raise a reasonable amount of cash quickly.
Sometimes you need the funds more than you need the things laying around your house creating clutter!
This post is a fun look at things you can sell today to make an extra $100 or just $25 if that's what you need.
I have a lot of experience raising money using things I already have instead of figuring out ways to work more hours.
When you don't need a lot of money, but $60 or $75 would make a big difference in your life, this is the way to go. I hope this helps you find enough cash – what you need to make ends meet!
Making Extra Money Fast (in 1 or 2 days)
Keep in mind that selling some of these items will require you to take a loss – –
Meaning, it's not a good idea to sell something that you actually need out of your kitchen or living room, only to have to replace it next week for triple what you sold it for.
That makes no sense over the long term. But in a pinch, who knows what I might sell for extra cash?
I've belonged to local buy/sell/trade groups on Facebook for a long time, in addition to selling on Craigslist quite a bit.
Therefore, I feel like I have a grasp on what sells like hotcakes versus what doesn't sell very well.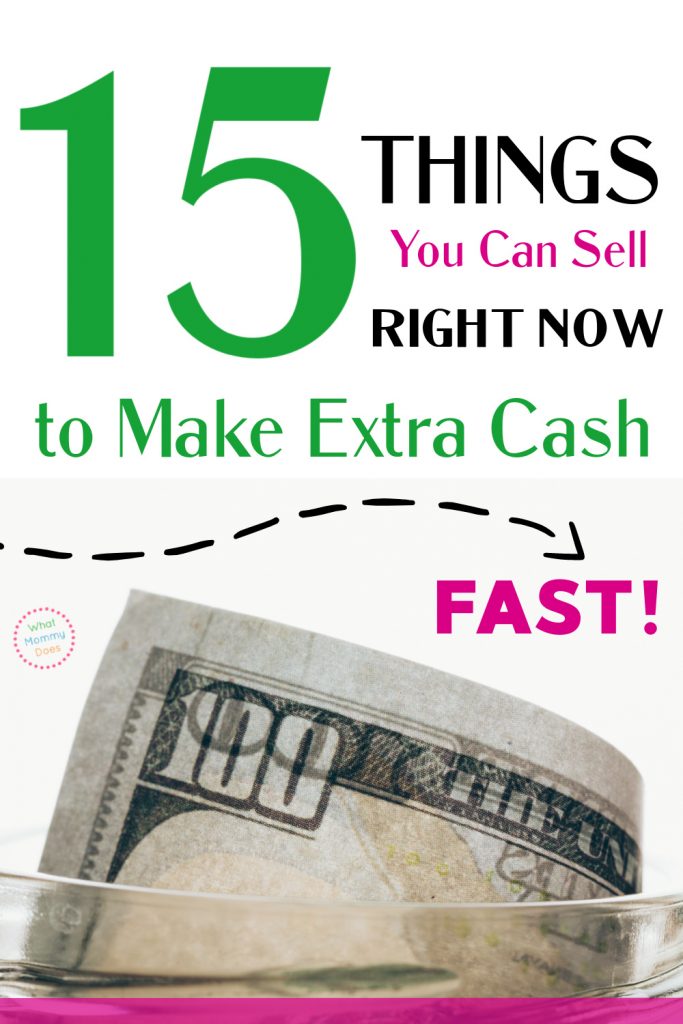 15 Things That Sell Really Really Well!
Here are some of the best items to resell for profit.
These 15 items will likely sell fast to make an extra $10, $50, or even $100 really quickly.
1) Brand name clothing from Goodwill
Literally all you have to do is go to Goodwill, find some excellent condition items (some will have tags on them!), and list them for sale in local Facebook buy/sell/trade groups in your area.
List them today, and if you correctly guessed what will sell, you could turn a nice profit in a few days' time.
You could technically take them straight to stores that offer cash on the spot for clothing, but typically you will pay and make around the same amount per item, so this is not a good idea if you need to turn a profit.
This is actually one of my favorite ways to make extra money, even when I don't need it quickly.
It's just plain fun to do! My Goodwill is always busy with people looking to flip old items for profit.
You can sell second hand shoes, sweaters, and blue jeans (that you get for a good price) online thru an app like Poshmark or even on Facebook marketplace.
TIP: For the best results, make sure the store hasn't used a marker to write the price on the tag OR used scissors to cut the tag. Some locations do this and others don't.
2) Kitchen gadgets
Anything you don't necessarily use every day (that you wouldn't miss), even novelty gadgets like cupcake makers sell really well.
Have a coffee pot but also a percolator and/or an espresso machine? Let one go! 🙂
You will probably use the extra money faster than you will think to use that gadget again.
After a while, you won't even notice it's gone. I can't tell you how many times I've done this, and I've not once regretted getting rid of that kitchen item!
3) A purse in good condition
These sell out every single time they're listed! I'd say it's hands down one of the BEST ITEMS TO RESELL for profit. This works best if it's a brand name handbag.
Depending on the bag, you can earn 50-75% of retail price if they're in excellent condition.
Whenever someone asks me how they can make money in a few days or less, this is the #1 thing I tell them to sell if they have one in good condition. I personally carry around a second-hand purse I got at a thrift store (and I get compliments on it!).
There's no reason why you can't sell your expensive hand bag and go with a cheaper one for now.
4) Video games or gaming systems
Parents will be all over this if they have a kid who is begging for a Wii or other gaming system.
Kids will be all over it if they're trying to buy it with their own money and want a good deal!
I've seen used Wii systems that come with controllers and a few games sell as fast as a few minutes in my local buy/sell/trade Facebook group!
This makes it a great way to make money if you can part with that gaming system.
5) Old phones or charging stations
Whenever I upgrade my iPhone, sometimes I keep the old one to use as an iPod at the gym. A couple upgrades later I have an old phone on my hands.
I sell these to others who need the phone for internet connectivity but not necessarily a phone plan.
This is my favorite thing to buy used – in this situation, one person's trash really is another person's treasure!
p.s. If you're not in a big hurry, I've also heard of people selling electronics to Amazon in exchange for gift cards. You can learn about Amazon's Trade In Program here.
6) Kids clothing
Got kids? Then you have a gold mine on your hands! You can resell kids clothing really fast on Facebook groups, at consignment stores, yard sales, and on Craigslist.
It's most efficient if you can bundle a few items together and sell the lot for a higher price as opposed to one item at a time.
However, you can likely make a bigger profit if you can single out the nicer items in a separate listing first.
7) Furniture
Chairs, tables, ottomans, side tables, kitchen tables, desks, really any kind of furniture sells immediately.
People love new and old furniture – if they can't use it in their home as-is, they'll take it on as a DIY project! 🙂
Probably my best recommendation if you truly need to make money RIGHT NOW and want to list a sure thing.
8) Sell Tools if You Need Money NOW
My husband filled half of his garage tools collection from second hand purchases at yard sales. Everyone who has a home needs tools, so take advantage of that!
You can make a little bit of extra cash selling smaller tools like hammers and saws, or earn larger amounts by selling gas powered tools like weed trimmers or chainsaws.
Some of the best tools I've seen resold for profit include:
specialty hammers
axes
circular saws
weed trimmers
chainsaws
hedge trimmers
tree branch clippers
battery powered drills
wrenches
9) Sports equipment
Another necessity of life with anyone who has kids or is just really into sports. Think: soccer goals, basketballs, baseball mitts, etc.
This is a super easy thing to sell online. Just a picture or two and people will be able to tell if they want to buy it.
What's a hot seller might depend on your area. For instance, where I live we have a professional hockey team and lots of hockey leagues so hockey gear sells at a profit really fast.
Don't laugh, but where I used to live in Tennessee, every little girl I knew took CLOGGING so clogging shoes were a hot item there! 🙂 If you're not familiar with them, they're basically tap dancing shoes used in a different style of dance.
Don't forget to think outside of the box when it comes to reselling specialty sports gear – The more unique the better!
People need items for weight lifting, ab workouts, boxing, and spinning / cycle, too!
With that in mind, I just remembered that I need to go list my son's Tae Kwon Do sparring gear on Facebook marketplace! HA
10) Blue jeans
Most people have a pair or two or blue jeans around that they no longer wear! Grab them and sell them! If these are in good condition, they will go pretty fast.
A great time to put jeans up for sale, especially on Facebook Marketplace, is back to school time. All moms need to get their kids new clothing for school, and boys grow so fast.
I have found over the years that good condition boy clothing items are easy sales because they are simply hard to find second-hand! If you have a boy age 6 – 14, you know what I mean! 🙂
11) Backpacks
Kids constantly need new ones, and tons of people have kids! If you have one in rather good condition, you can get a good price for a used backpack.
Make sure to take a pic of the inside….people want to be sure they're not all gunked up inside!
Bonus points if you think to sell this item around back to school time! 🙂 For that matter, when it comes to back to school shopping, the ideas are endless!
12) Large children's toys / equipment
Like plastic play houses or tricycles. These suckers can sell for a pretty good price!
I've seen them go for over 50% of retail value. I've seen play houses like the one below sell for $50-$100 within one day of being listed in a local mom's group. At most, they take 2 or 3 days to sell.
13) Bike or scooter
Just like sporting equipment, these are perfect items to sell for quick cash because so many people need them and can't afford them at full price.
We've gotten every single one of our kids' bikes second hand!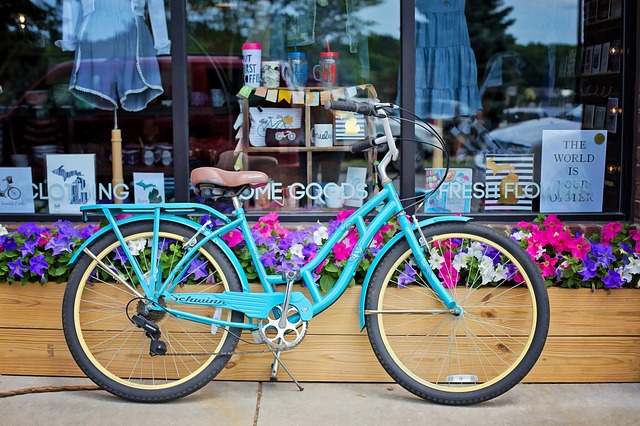 14) Holiday decorations
Think: tables linens, tabletop items like nativity scenes, holiday themed candle warmers, etc. Christmas always does really well, even snowman stuff.
Holiday themed front door wreaths are always good sellers, too.
You won't even miss these items until that holiday rolls around, and if you're anything like me, you like to change up which items you display each year anyway.
15) Baby Gear
This one's just for parents (or anyone who's great at scouting yard sales!) Think: high chairs, bouncers, walkers, play mats, baby wearing gear, diaper bags, etc.
If you don't use it every day, odds are you can part with it!
What to Sell to Get Money Quick
The easiest thing on this list to sell for a quick money infusion is a brand name purse in good condition. They sell faster than anything in this list. If you don't have a brand name purse, then a gently used baby necessity like a rocker or high chair is your next best option.
Keep in mind that sometimes you can get these items at rock bottom prices at yard sales and then resell them for a higher amount on Facebook marketplace.
This is a great strategy if you have a couple weeks' lead time!
Other Home Items to Sell for Even Higher Amounts
This post was originally all about items that sell really quickly, which means $10, $25, or $50 extra.
But what if you need a higher amount? I thought through that and came up with a handful of home items that you could sell for specific dollar amounts IF you're willing to part with them!
These are some of the best items to resell for profit (amazing profit!):
$100 Item – chainsaw | living room rug
$150 Item – small round kitchen table & chairs set | coffee table
$200 Item – recliner in good condition | complete set of exercise weights
$250 Item – treadmill | wedding dress
$300 Item – lawn mower | wooden play set
What about products to sell online from home? For the items above that are shippable or deliverable, then you might also want to consider listing them on Facebook marketplace or other reselling website so people within a larger distance from where you live can see them.
I know it's not the same thing, but my husband had to do that with his truck because no one in our area was contacting him. He changed the delivery radius to 100 miles and sold it the next day!
What If I Really Need a Lot of Money Now?
If you need money now, then keep in mind that you will be tempted to sell of things you actually still need or might need in the near future.
The things I've listed above that you can sell today to make money fast aren't meant to be long term solutions. I only recommend selling something in a hurry if you really really need the money quick.
If you need a lot of extra money right now, then I'm sorry, but I don't know a legitimate LEGAL way to do that so I cannot help you with those ideas. I always say if you think you'll have a need for a lot of money in the future (we all do at some point, right?!) your best bet is to start a legitimate side gig so you have a way to make money whenever you need to.
Build up your savings by setting goals and putting money making systems in place to help so the next time you find yourself wanting more money for whatever reason, you will be able to fund this need yourself!
My goal is to get you to the point that you no longer need to know how to make money fast in a few days' time.
My hope for you is that you will be able to build up a savings cushion so you can easily absorb any unexpected expenses as they arise!
What to Sell Online to Make Money?
The easiest way to know what sells the best in your area is to get on Facebook marketplace. I personally don't care for Craigslist because it's become kind of sketchy in recent years.
At least with Facebook, you can usually check out the seller's profiles and see who you're buying from.
If you belong to any community groups on Facebook, ask around and see if there any local buy/sell/trade groups you can join. Even a craft sales group could work if you are crafty and can actually make something to sell for extra income.
Think outside of the box, and I'm sure you'll come up with something great!
More Money-Related Content on WhatMommyDoes.com
Make Sure to Try This Too – It's My Fave Survey Site!
Latest posts by Lena Gott
(see all)