I know many moms who making extra money every weekend selling handmade items at craft fairs, flea markets, and even on local Facebook buy/sell/trade pages.
You can make DIY projects at home (at night, on the weekend, as you have time) and sell them for profit!
The best part about doing crafts for profit is that the time from idea to production to sale is very fast –
I'd say you can start earning extra cash from these simple projects within a month if you start today and get your supplies then choose a selling avenue.
I thought it would be a neat exercise to find a variety of popular crafts you can make and resell. Just to gather some ideas.
These days, almost anything goes.
I love the fact that you can make something in your spare time (during naptime, while the kids are playing, etc), have fun doing it, and profit from it financially!
---
Before you continue, I want to mention something. A lot of people have been asking me lately where exactly you should try to sell your crafts online.
I am going to write a post about this, but in the meantime, I want to put this out there – there is no better place to sell your crafts that a combo of local Facebook groups OR Etsy + your own website.
Hands down, the first thing I would do if I wanted to sell crafts online is to set up a shop on my blog.
With a blog, you are able to push out your images and sales pages to all sorts of platforms, including Facebook and Pinterest.
There are millions of people shopping for handmade items, and if you have your own blog, you can call the shots. You can even take a shot at ranking in Google for the craft of your choice – that's how I get so much traffic to my own e-products (like the Start a Blog Bootcamp you see here) and sell them like crazy every month. The principle is the same for physical products.
Related Reading:
October Income Report – How I made $7,495 from my blog even before I added a product line in December…goes to show even if your primary motivation for starting a blog is to sell a product, you can also earn money many different ways from the content!
How to Start a Blog (includes a step-by-step tutorial you can print out & recommendations on beautiful e-commerce ready website templates)
---
50+ DIY Crafts to Sell at Craft Fairs + Flea Markets in 2023
Here are some unique ideas I found around the blogosphere to get your creativity flowing! These range from simple DIY crafts to larger handmade projects.
I'm a sucker for all the cute decorations I find at flea markets and fairs, and I love supporting other artisans, so if you think of an idea and you think it's amazing, I say go for it! You never know who might buy it. 🙂
It could be a super easy way to earn extra cash from home on your own terms in your spare time.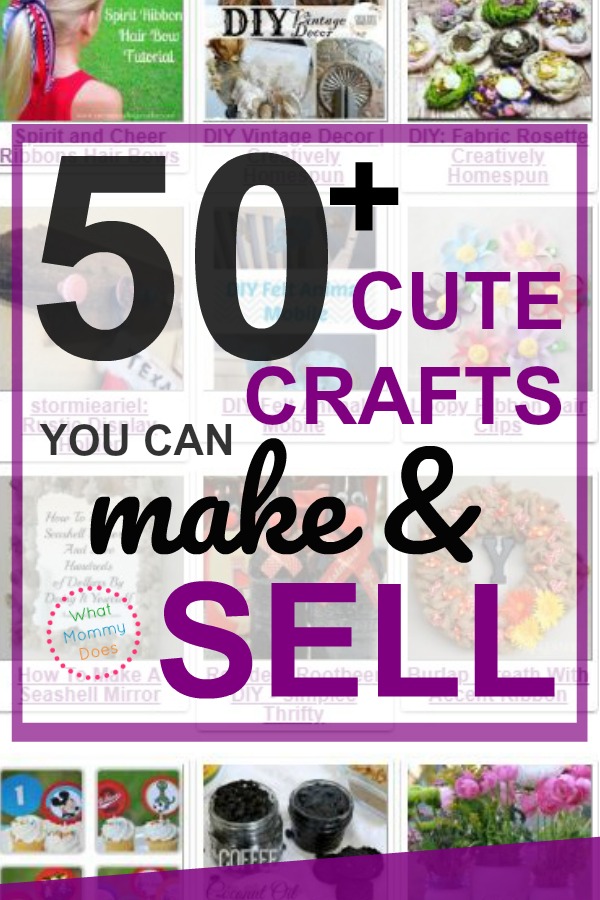 DIY Craft Items You Can Sell
These super easy project ideas include DIY gifts like picture frames and home decor. Any of these crafts would be great to start with!
1) Cricut Crafts
I see SO MANY people sell a huge variety of Cricut crafts on Facebook marketplace and through Etsy.
If you having decided what kinds of projects to sell, Cricut projects are a great thing to specialize in because it's all about personalization!
You can personalize anything from Easter buckets to t-shirts and sell low cost items for way more than you ever thought.
You can use a Cricut Maker, Cricut Explore Air 2, the Cricut Joy or a Cricut EasyPress to make many customized products.
I am considering getting the Cricut Joy for all the little greeting card projects I have in mind!
**I just found out that Cricut is having a sale on its mint colored and blue Air 2 models right now. Here's where to get that deal >> Cricut Sale Items
Here are a few of my favorite projects that I've seen being sold online recently:
2) Handmade Notecards
I actually had a hard time getting this photo without a bunch of people in it because there were SO MANY WOMEN crowded around this booth when I walked up!
This lady made these cards in her spare time after work and on weekends and was selling them like hotcakes!
I believe she made them all using her Cricut because the designs were very lovely & intricate.
One time, a friend gave me a set of homemade cards for my birthday – it included several each of thank you notes, birthday cards, Valentine's day cards, etc. I thought this was the best & most useful thing ever!
So handmade cards are just in general good easy DIY gift ideas in addition to being something people are willing to pay good money for!
If you are so inclined, you could even sell them as gift sets.
3) Wooden Project – Patriotic Flower Boxes
At least I think that's what these are for! I was SO TEMPTED to buy them because I just love the 4th of July and these would look great on my front porch!
I'm sure these would sell very well in your booth.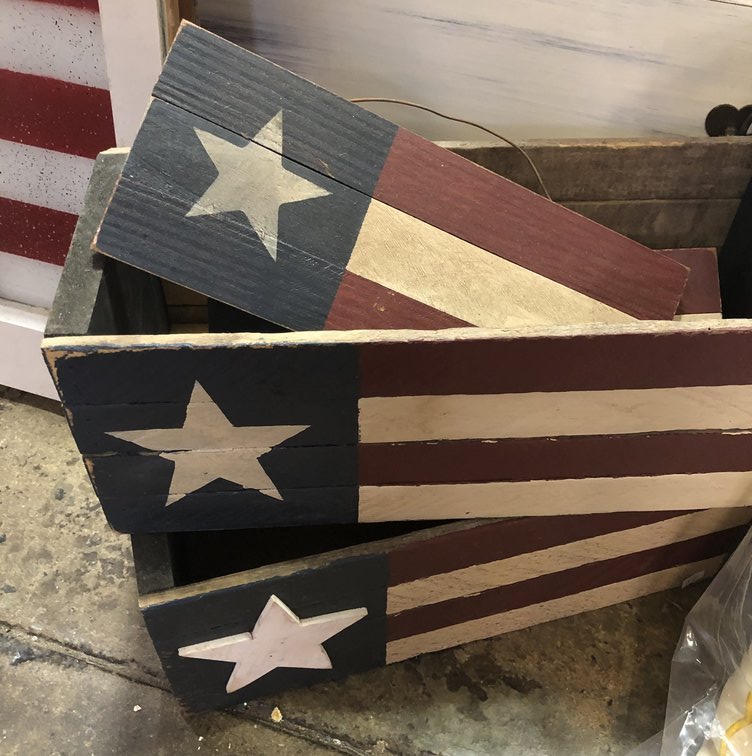 4) Fabric & Leather Earrings
I used to think these were silly until one day I started seeing a TON of people wearing them. They are actually very IN right now! 🙂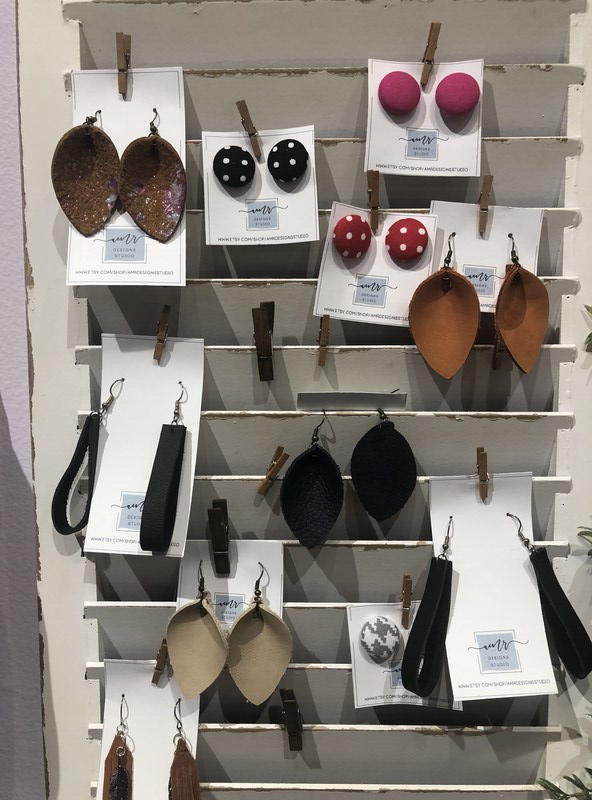 They are so easy to make with faux leather sheets, earring hooks, scissors, and a tiny hole punch!
5) Funny T-Shirts
I actually really love t-shirts like this as gifts because they feel so personal, like a joke between me and the recipient.
I got my husband a funny shirt last year that has part of a periodic table on it and says "I Tell Dad Jokes….Periodically"
It's too cute!! Definitely use your imagination with these!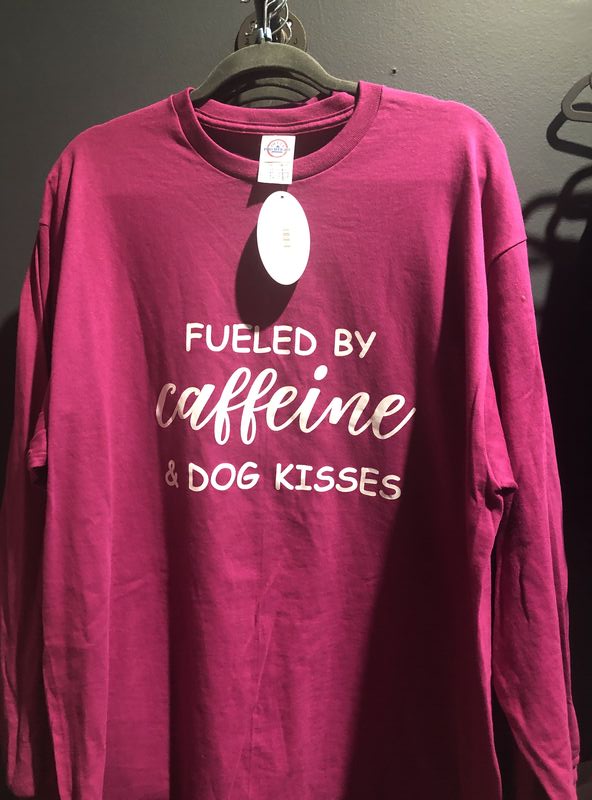 6) Bottle Cap Magnets
These adorable magnets are so simple yet so profitable. I saw these at a little seaside market and they were very popular.
All you would need are used bottle caps, some cute paper or print out some local sayings an a way to seal it in there.
Put out a cup at your neighborhood cookout for people to put their caps in and you'll be supplied for a while!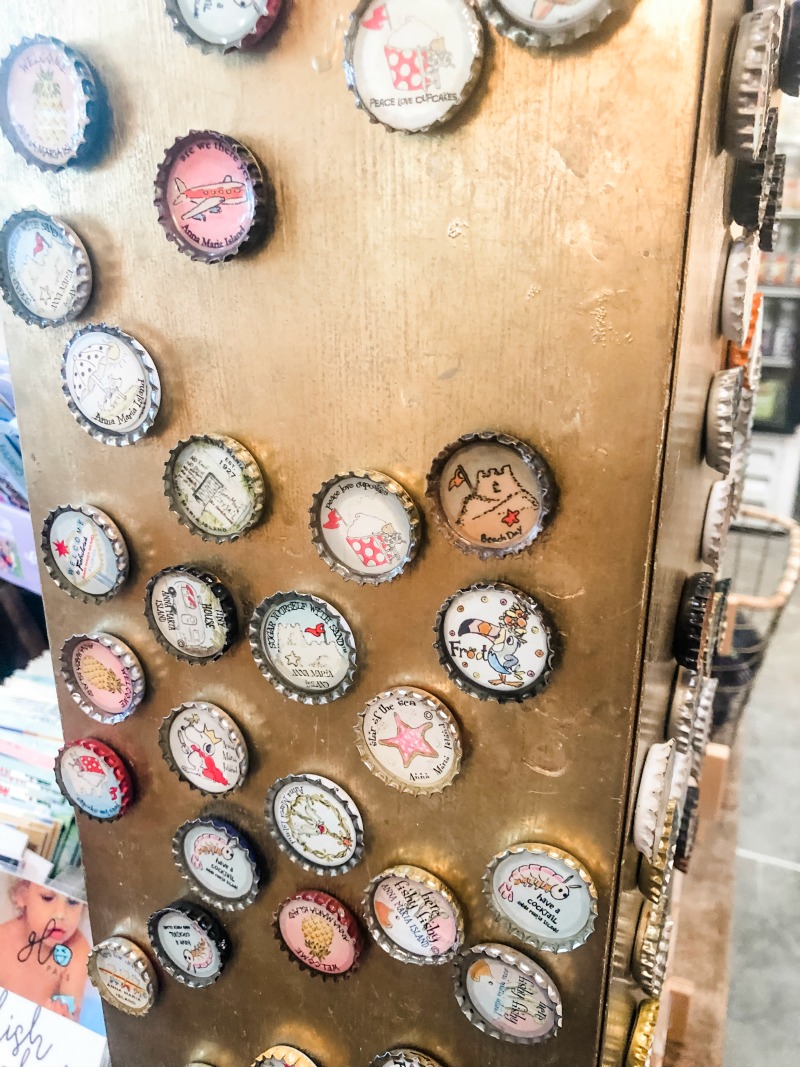 7) DIY Coasters
I've made these before and I've bought them for gifts before.
I think they're a great top selling item for craft fairs because you can tailor them to your audience.
I found these in a gift shop in North Carolina, which explains why there is a lighthouse coaster. So many options here, and you can make the particular variety that people want in your location, using photos of local landmarks or even maps for images.
The pictures are easy to adhere to tiles using Mod Podge or a similar clear drying adhesive.
8) Custom Mugs
These DIY mugs are along the same lines as the t-shirts. You can make them to suit your audience.
These would be perfect in a state with a nearby military base. I also saw "dog mom" type mugs, which were cute.
You could also base unique designs on colleges in the area (without impeding on trademarked symbols, of course).
9) Resin Coasters
As you'll see later in this post, I have a thing for resin art!
I actually bought these coasters….for $40 as priced! This set matched my new living room perfectly, and I was happy to pay this crafter that amount because her art was so pretty.
I find that most resin projects sell for more than an equivalent item might, due to their beauty and uniqueness.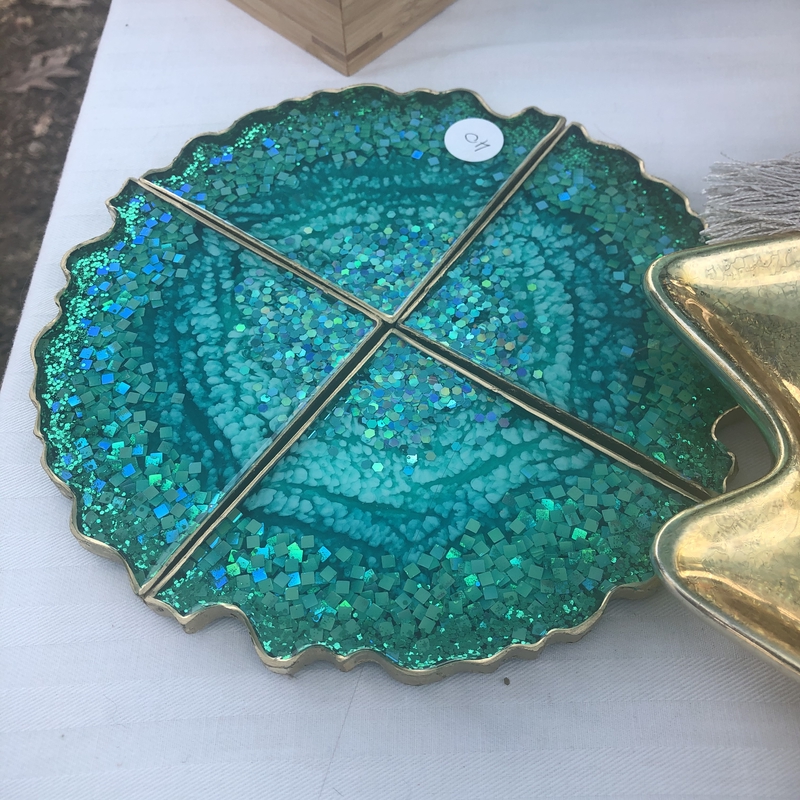 Related >> Craft Boxes That Can Be Delivered to You Monthly
10) Resign State Magnets
This was actually at a completely different craft fair than the one above.
I saw these and almost bought one, but I ended up getting a resin cutting board instead (if I can find a picture of that I'll put it in this post, too!)
These are SO POPULAR in late winter / early spring! I know this for a fact because lots of people visit this post on my blog to learn about making these ornaments that time of year. 🙂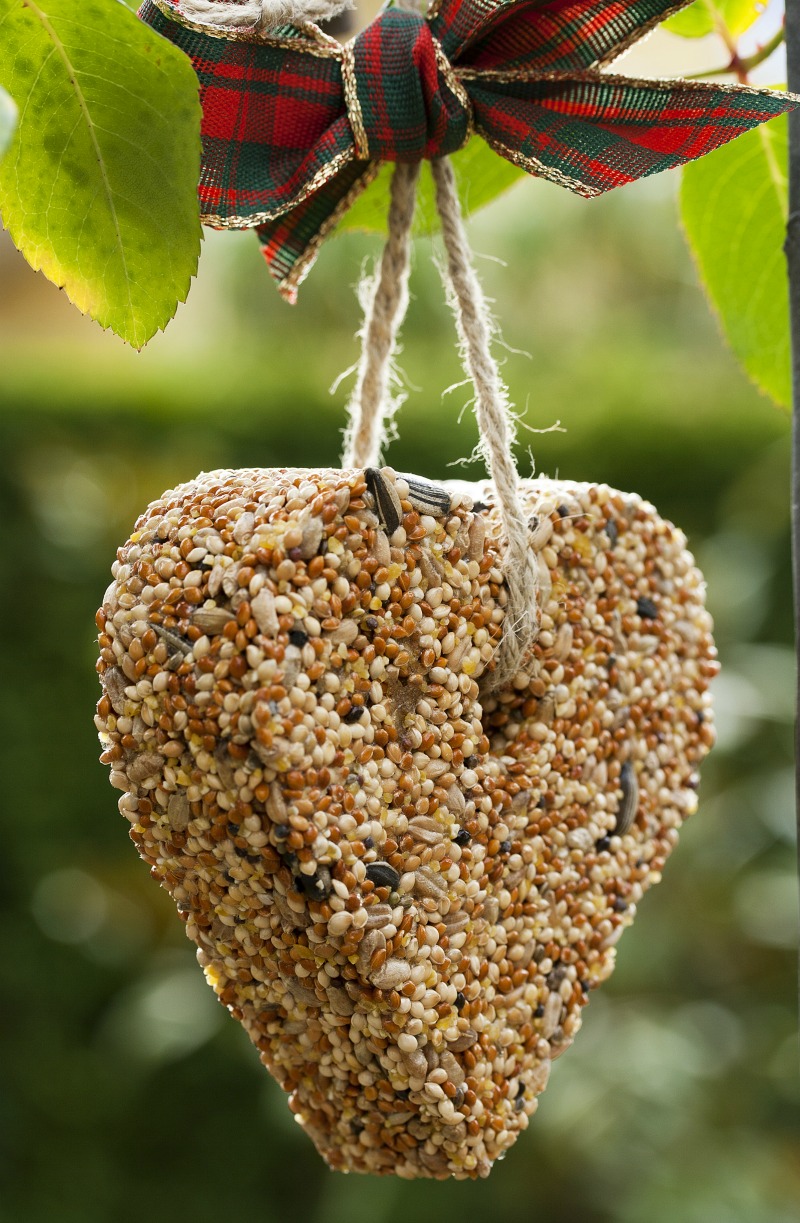 I can't get over how cute these burlap letters are and how easy they would be to make!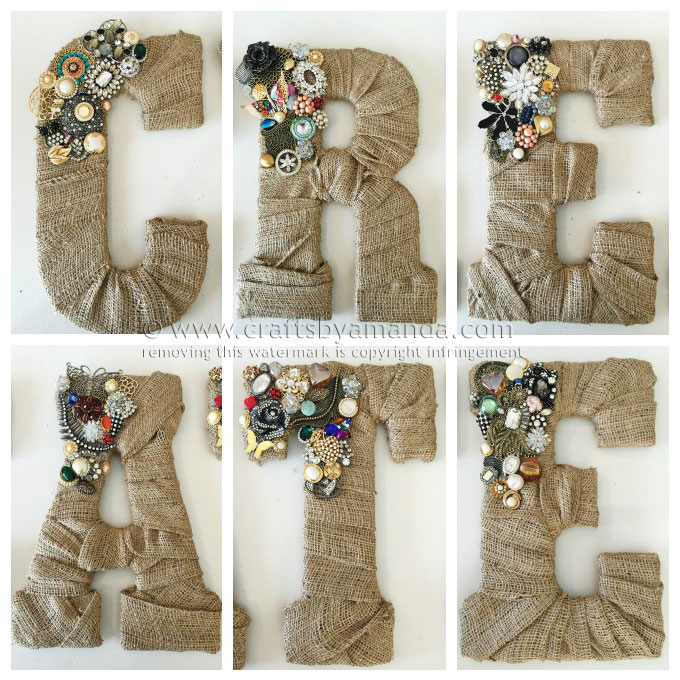 Photo Credit: Crafts by Amanda
13) Magnetic Tic Tac Toe
Not long ago I went to lunch at a restaurant that had lots of items for sale hanging around the dining room.
One of the most amazing things in the entire place was this humongous tic tac toe game!
It was magnetic and looks like it would be a TON of fun to play!
I took a picture of one of the letters up close so you can see just how large it is.
Such a cool DIY project you could make and sell! I bet you could even take lots of pre-orders if you advertised for a while before making them.
14) Letter Crafts
This weekend I was out and about in a nearby small town, and I came across this cute shop that lets individual vendors set up booths and sell their crafty creations. There were tons of customers going in and out of this place, and I left with something myself.
I found four of the cutest letter crafts there as you can see in the collage below – a button metal letter, a wooden letter A, the alphabet with a child's name highlighted and spelled out below ("E" was purple, which doesn't show in the pic below), and button-decorated leather letters and mossy musical notes.
I think these would be fun to make and sell like hotcakes!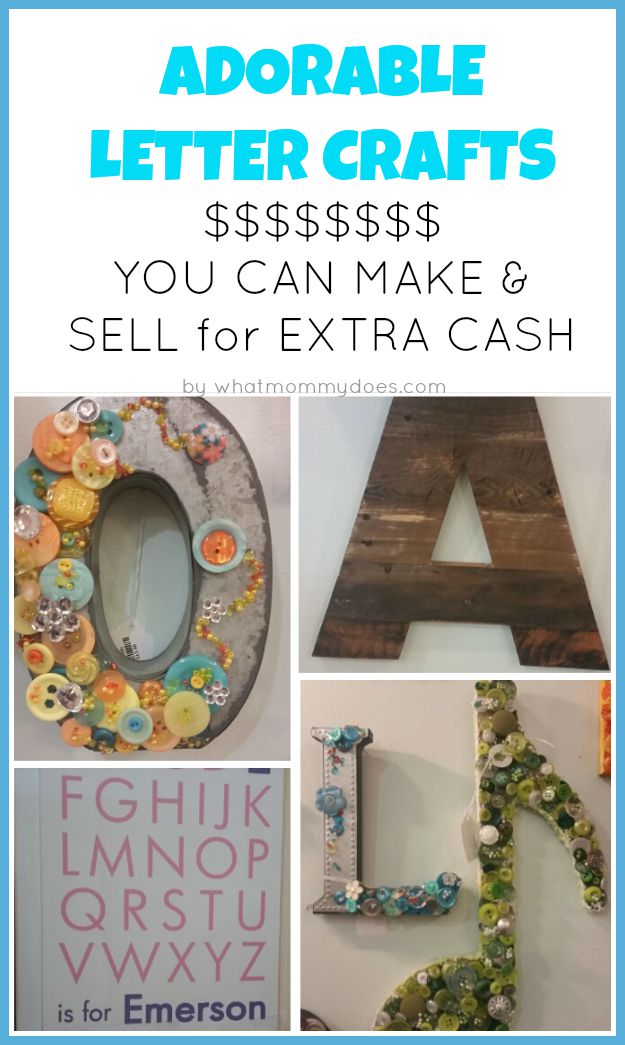 15) Glass Stone Magnets
I can't get enough of these glass stone magnets! You could make them with any design you like, even specific to a holiday or occasion. This is an especially hot craft idea if you live in a vacation destination or can appeal to enthusiasts. For instance, I LOVE LOVE LOVE anything map themed, and if you sold a set of map magnets, I'd buy it in a second!
If you can't see the pricing on these, they were selling for Three for $5.00 or $1.75 each. They couldn't cost more than 25 cents to make! Talk about great profit margins!
I think these mason jars are just the cutest thing. You can easily get the supplies needed to make these on Amazon. I like these blue mason jars with the darker lids or chrome lids. I also love these unique blue mason jar owls. They are adorable!!
17) DIY Rustic Wooden Tealight Holders
I saw these tealight holders in a gift shop and they're so cute! If you have trees, you have the materials for this! 🙂 Because these candle holders are mad out of real wood, I personally like these realistic, flameless tea lights for them.
I can appreciate real wood, but that doesn't mean I want a real fire burning on my shelf!
This project would be really profitable because most of the materials you can find for free in the woods.
18) Puffy Front Note Card
Please, somebody tell me what these are actually called!! LOL
I have no idea what to call them, but they are the best handmade cards I've ever seen.
I love how they feel extra special…these are likely best for someone you can give them to in person since I bet they're difficult to mail unless you put them in a box.
19) Resin Beachy Waves Cutting Board
I absolutely LOVE all things resin and this cutting board is no exception!
I got one of these at this bazaar for a Christmas gift exchange, and it made a lovely gift.
20) Crayon-Themed Desk Accessories
I would bet I've seen these gifts on 10 teacher desks over the years! They usually put paper clips or markers in them.
While they are super homemade, they are PERFECT teacher gifts! If you are doing a craft fair anytime around Christmas OR Teacher Appreciation Week (usually first week of May), then these are a great idea.
21) State-to-State Moving Sign
I think these are so cute. They are EVERYWHERE where I live!
This sign shows the family moving from New York to North Carolina and represents that they're hearts are in both places.
I suppose it could also represent two hometowns of a married couple, although I'd personally use it for the first reason.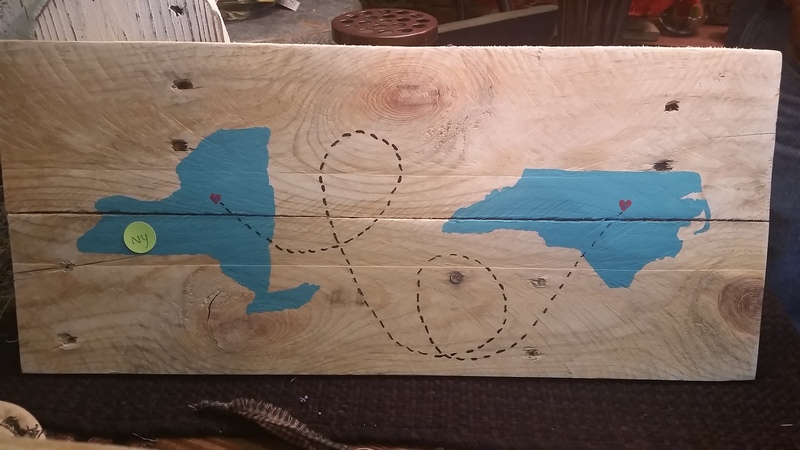 22) Handmade Bath Bombs
DIY bath bombs are a great gift for just about anyone; hence, they make wonderful items to sell at craft fairs!
I love getting these for the busy mamas in my life who need a little gift to cheer them up. I will usually buy a couple if they're priced well – usually $3-$5 each sounds right to me.
I am very partial to anything lavender scented and rose scents.
23) Embroidered Initial Keychains
I don't know how long these initial keychains took to make, but they are ADORABLE!!
If I hadn't recently purchased a new keychain, I would have picked one up for myself.
I don't think you can go wrong by offering these in your handmade booth.
Seasonal Trending Handmade Crafts
If blogging has taught me ONE thing that can translate over into the handmade world, it's that people's interests track with the seasons (and holidays)!
After over 10 years of blogging, I can confidently say that the #1 thing you can do if you want more traffic or sales at any particular time of year is to give people what they want when they want it.
In a nutshell, this means following trends, holidays, seasons, and special events closely.
When it comes to handmade items, I think major holidays are a great place to start. That's because holidays are a perfect selling opportunity!
All you have to do to incorporate this strategy is to focus on making products that match a particular holiday.
This could be anything from patriotic front porch decor for the 4th of July or homemade Christmas gifts.
We've already gone over a few examples of this type of DIY item to create in the list so far, but I'd like to highlight a few more examples here.
24) American Flag Mason Jars
Really, these patriotic mason jars hit two types of trends in one – they are not only great for American holidays (Memorial Day, Fourth of July, Labor Day, and Veterans Day)….
…but they hit the "rustic farmhouse" trend on point! 🙂
I know so many uses for these because I know lots of people who decorate with mason jars! LOL
They can be used as flower vases for a patriotic table centerpiece, as pencil holders, shelf decorations, or even as craft supply organization.
Simple DIY mason jars are perfect items to stock in your craft booth. Keep them well priced (under $10) or sell them in bundles, and I think you'll do really well.
I think Christmas wreaths are the PERFECT handmade item to sell around the holidays. I buy a new wreath almost every year and I know many others who do the same!
You can let your creativity run wild with these. I find that rustic looking wreaths go pretty fast in my area. So do the ones with themes to them like snowman, deer, and monogrammed.
If you start planning it out by late summer or early fall, you'll have time to ramp up a Christmas wreath business by Christmas 2023.
And no worries if you miss this year's Christmas season – just aim for Christmas 2023!
Really, personalized items of all kinds do really well at Christmas time. I know a lady that sells personalized hand sanitizer dispensers that sell like hotcakes to moms who need gifts for teachers. Also, shirts for Christmas photo shoots do well.
Other popular personalized Christmas gift items you can sell are:
personalized wine glasses
personalized hammers (etched into the handles)
engraved rocks (seriously! they are so cute)
etched cutting boards
26) Vintage Style Christmas Stockings
Let me tell you – I have been on the hunt for just the right Christmas stockings for my fireplace mantle for over 3 years.
I'm allergic to overpaying for items I don't love, and I feel like Christmas stockings are an investment.
These particulate Christmas stockings are practically perfect in every way if you're into the vintage look like I am.
The only reason I didn't buy these on the spot is because I needed 5 and the seller wasn't around!
I am going to go back to the craft market where I found this booth to see if I can get a set of 5 in this same style. Wish me luck!
27) Salvaged Art – American Flag Tray
I came across this absolutely lovely salvaged piece of American flag art at the flea market! Isn't it lovely?
It looks like it was made from a salvaged window. I've seen a lot of people making these kinds of patriotic items for flea markets.
I think it's so amazing and would make a wonderful addition to a coffee table or ottoman in the right home or even a beach house?!
It would also be nice as front porch decor.
I forgot to take note of the price, but whatever it was priced at, I'd be surprised if it didn't sell that weekend.
28) Christmas Gnomes
These little guys are just too adorable!
I know many people collect gnomes, so they are a great addition to any holiday craft booth.
I think these could be great to sell in person AND online because they're easy to take pictures of and ship! If you market them on Amazon Handmade or Etsy, you might make a lot more sales than you would have on your own.
29) Embroidered Hand Towels
These hand towels are lovely – I buy a new set almost every year to hang in my downstairs bathroom so it looks nice for guests.
I usually purchase a new set around the holidays, so that's why I've included it in the seasonal craft idea section.
30) Garden Marker Signs with Cute Sayings
I'm a total sucker for the little things in life that make me laugh.
I would definitely buy these for my garden at the beginning of spring planting season! In hindsight, I need the "literally dying" plaque for the baby lettuce that I planted way too late so it never had a chance! LOL

31) Hello Summer Sign
I saw this wooden plaque at a local farmer's market, and I immediately fell in love with it!
I saw so many things at this place that I wanted to get. I am pretty sure you can make these wooden letters with a Cricut. I have not tried it myself, but I've seen YouTube videos on this type of project. I just ordered some thin plywood sheets so I can try it myself!
I think this sign could say Spring, Fall, or Winter as well. Maybe also "Hello Friends."
The design can be adapted to all sorts of sayings, perhaps even sports themed? Just use cursive word on top and a bubbly word on the bottom!
32) Framed Sheet Music
How easy and classy is this? Growing up there were always piano books lying around the house, now you can find them at any thrift store along with the frames. This one really is so easy, it should almost be illegal.
33) Vintage Block Letters
Do you guys remember these from your childhood!? I sure do. Now you can use them to decorate a child's room or to spell out your family's name on a shelf. So cute.
Touch them up with a little bit of paint or leave them as is.
34) Specialty Handmade Soaps
Handmade soap will never not be a best seller. If you have a local boutique shop that you can set up a display at, these little soaps seems to be the first ones to sell out fast.
Go for some of the popular ones as well as making your own special scent!
35) Ceramic Mugs
If you know how to make mugs you can make a killing selling them for a huge profit. They are cute, unique and useful.
36) Political Coffee Mugs
One thing that never seems to change is the divide in political views. Coming up with either traditional or new versions of the political part mascots will always be a consistent selling item.
Gift Items That Sell Well
Let's keep the list going with craft items that make great gifts!
37) Embroidered Animals
I just love giving handmade items to the new moms in my life. Embroidered animals are a really cute option for a newborn gift basket or for a toddler girls' birthday.
38) Handmade Rustic Checkers Board with Soda Bottle Caps
This is just about the most genius rustic gift idea I've ever seen!
I looked at it very closely because it looked so genuinely old, but I finally concluded that it was just FINISHED in an old timey way!
The A&W and Coke bottle caps themselves might be old, but I'm pretty sure the wood board is not.
You could totally make these and sell them at craft fairs as gifts.
When I was 10 years old, my grandmother bought me one of those awesome oversized Cracker Barrel checkers blankets, and I loved that thing! This reminds me of that.
This is a smart item to make and sell for more than one reason. It's kind of a novelty item and a game everyone loves to play, so they will get lots of use out of it.
39) Pretty Spatulas Wrapped as Gifts
These spatulas remind me of my grandmother so much! If she was still here, I'd probably get her these for her birthday or Christmas.
These make perfect, inexpensive presents for co-workers, teachers, and even gift exchanges.
I would recommend selling these at any holiday bazaar or craft booth event leading up to Mother's Day or Christmas.
40) World's Best Boss Coffee Mug
You know what this is from, right?!
I think everybody does!
My husband has watched The Office so many times. We got him this exact mug several years ago as a Christmas gift, and I just noticed the other day that he STILL has it on his desk at work!
He definitely uses it. I bet he promenades around the office with it. 🙂 hehe Don't tell him I said that!
41) Wrapped and Ready Gift Items
I took this picture because I was SO drawn to this display of gift-wrapped mugs.
I'm a busy mom, and I really appreciate anything that helps me be better at giving gifts and making Christmas as easy as possible.
I have a feeling these sold out the day I saw them!
These particular gifts are college themed + some of the mugs have Bible verses on them.
I live in a college area that also has a seminary, so this selection is totally on point. I would recommend customizing the gifts to what people like in your area. Choose a theme that makes sense for your clientele.
42) Wooden Verse of the Day / Week
This is very clever. It's basically a wooden board that is painted and has a single clip on it. You can always customize it with a name or with the term "Bible Verse of the Day" or something similar.
I love how simple this is and yet still very charming and a wonderful gift for a devout person in your life.
Personalized Products Everyone Loves
No list of profitable crafts would be complete without some personalized craft options!
43) Wooden Name Signs
Every mom or a mom-to-be knows what these are!
When my youngest was born, wooden name signs over a crib were just beginning to catch on. I remember grabbing pre-made letters at Michael's because I didn't know where else to get them.
Nowadays, they are a full blown trend, and you can get so many lovely letter designs, from modern upper case fonts to cursive script fonts.
I think almost every new baby nursery reveal I've seen recently features a name above the baby's crib!
This gorgeous wooden name sign from NC Engraving & Signs is a great example of a great baby craft item you can sell. Tiffany sells these through her Facebook page – it's a great example of what you can do JUST by using Facebook Marketplace!
These name signs are so popular that I think you could sell them in person or online with great success.
44) Personalized Teacher Name Sign
This is the perfect teacher gift to offer for sale.
It's a great gift for back to school, Christmas, or teacher appreciation week. What teacher wouldn't love to receive this?
This could also be a great gift for principals and school counselors.
This is an example of an adorable teacher name sign made by AugustWoodCrafts. Brittney sells these on Etsy AND on Facebook Marketplace.
This is also the type of item I would buy in person at craft fairs as well. As long as I could see an example of your work, I would place an order!
45) Personalized Christmas Ornaments
Every year, I get a personalized Christmas ornament or two for our tree. I've gotten ornaments for individual members of our family (including the dog!) as well as one whole family ornament with our names on it.
I mix it up a little bit each year; sometimes the ornament commemorates our biggest family trip of the year, like a trip to Disney World.
As someone who loves to collect unique meaningful ornaments for our Christmas tree, I happen to know this is a great thing to sell on the side! I'm your main customer! 🙂
Here are a couple different personalized ornaments to consider selling:
This Christmas ornament example is made by Jayme Warren and sold through Facebook Marketplace. It's an initial / name combo on a piece of tile with a bow on top. I think it's super adorable.
This baby's first Christmas ornament is sold by Clara Reid on Facebook Marketplace. I have one of this style for each of my kids.
46) Wooden Family Sign
If you have the tools to make these signs you basically have a machine that can print money!
While making family signs can be lucrative enough, just imagine all the different signs you could make as well.. the name of your town, the local sports teams, businesses. The list is basically endless.
Easy Hand-Sewn or Crocheted Items
47) Crocheted Baby Hat
These are so adorable I can't stand it! If you're looking for as easy DIY project to create, this is a good one.
Every new mom needs to get photos taken of her newborn, and I think baby hats are easily customizable to the season. I could have even listed them under "seasonal items."
How cute is this newborn hat?! He's a PUMPKIN!!! 🙂
You can make products like these ahead of time and just guess on inventory based on the expected size of your event OR you could have samples and take orders. I think both ways work.
This is also a great item that could be sold online also because it photographs so well. I would just make sure to note how it feels to the touch because that is the #1 thing I'd be worried about as a customer.
48) Fabric Headbands
One thing that never ever seems to go out of style are headbands. You can easily and cheaply buy the supplies for these simple headbands almost anywhere and sell a ton of them for huge profits.
Almost all hand sewn items will sell well. Just like when shopping for "Made in the USA"… People love supporting a local business owner that puts their actual time and effort into a product.
49) Hand Sewn Scrunchies
Even my little kids make these sometimes. I have seen them in dance competitions, cheerleader outfits, on handlebars of bicycles and used in kid photo shoots. And for us Millennials, it's like a time machine to our teen years.
Scrunchies will never go out of style.
For more Easy DIY Ideas click below to check out
50) Handmade Dog Collars
Animals aren't just pets. They become part of you family and are loved just as much. Why not get a personalized collar just for them?
People will spend TONS of cash on their pets every year. Cash in on that by making and selling them some of these collars.
This would make the perfect first easy DIY sewing project to start out with. And think of how customizable they can be!
If you are looking for more pet themed craft ideas, check out these DIY Dog Accessories that you can easily make and sell.
BONUS – 27 More Items You Can Sew & Sell!
I recently added a list of 27+ items you can sew to sell on Etsy or at craft fairs.
I found a variety of ideas from fabric dog toys crafted from recycled materials to a simple tote bag. There is an almost unlimited amount of things to sew for cold hard cash.
Click here to see all the profitable sewing projects ideas >> 27+ Sewing Projects to Sell
How to Find Things to Make and Sell from Home
My favorite ways to get inspired is to visit local antique shops and also browse around on Etsy.com. It's a large marketplace for finding inspiration as a craft fair seller. You can even sort by best selling to find the most profitable things to consider.
Not that you need to copy anyone else's idea, but just seeing all the amazing craft items that people are able to make and then put up for sale always fills me ideas of my own!
One thing you can do for immediate income success is to find a trending idea. I personally love how everyone rallied around the shortage of face masks in 2020 and started making DIY handmade face masks for themselves + to donate to medical professionals.
If you need an idea on what to sew, here's a pattern you can grab (from a U.S. based Etsy seller!) and start producing these immediately if you are good at sewing: DIY Face Mask Sewing Pattern >>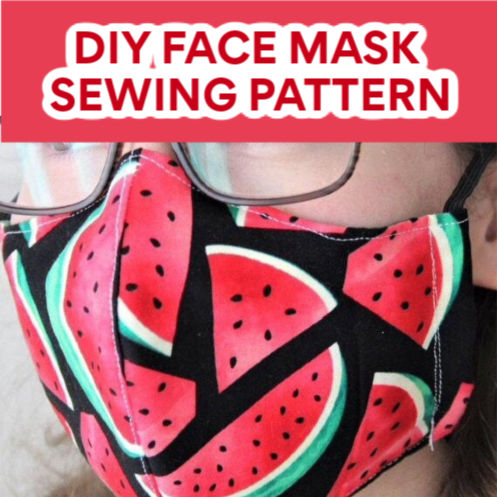 And Tons More Craft Ideas to Resell
If you give one of these crafts a shot at a local craft fair or flea market, let me know how it goes!
There are just so many types of crafts you can make and sell in so many different categories – I don't think I'll ever get tired of writing about them!
Here are some more to keep you going! >> 100+ Hottest Craft Items to Sell
Do You Want a List of Hot Crafts to Sell in 2023?
I'm writing this book and another one to help you start a profitable craft business! If you have a few moments, I would greatly appreciate your feedback on what kind of craft business you're interested in starting.
Once you fill out the form, I'll keep your email on hand and let you know when the Hot Crafts to Make & Sell book is available! 🙂
Helpful Books About Selling Crafts
If you're like me, I bet you like to research the heck out of something before you even do one thing. In case that describes you, I found a handful of amazing CRAFT BUSINESS focused books that you might like to check out!

More from WhatMommyDoes
Latest posts by Lena Gott
(see all)