There are few occasions more special than celebrating new life. Bring an extra bit of warmth to this occasion by offering a baby shower card with the perfect heartfelt message.
These baby shower card messages are simple and heartfelt!
While birth is a beautiful moment, it's also terrifying. As a parent-to-be, there are so many questions running through your head.
Am I going to be a good mom?
Will my baby be healthy?
Just exactly how much is this going to hurt?
A baby shower should be a time to put aside these worries, if only for a moment, and celebrate the wonderful possibilities that parenthood has to offer.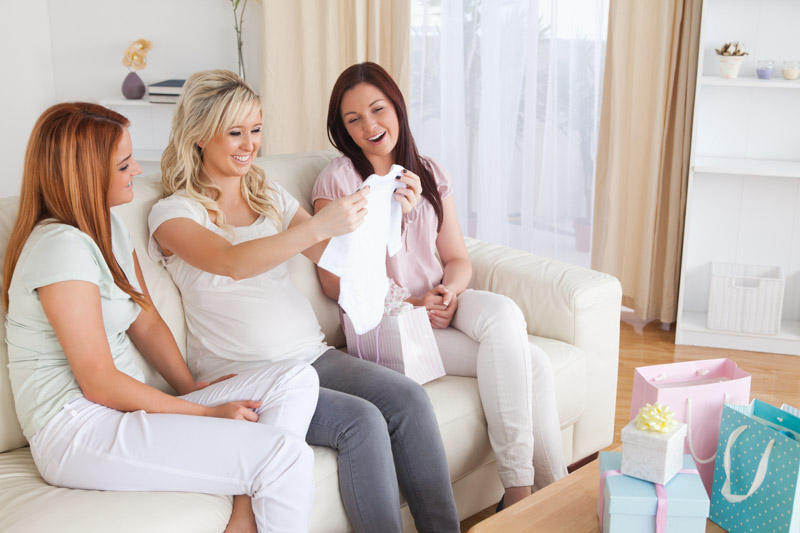 So how does one pick the perfect message to put parents at ease and properly convey their sentiments?
Try following my simple method for creating a personal and meaningful message.
Whether you're writing to a close loved one or a distant relative, help make their baby shower special with a heartfelt message.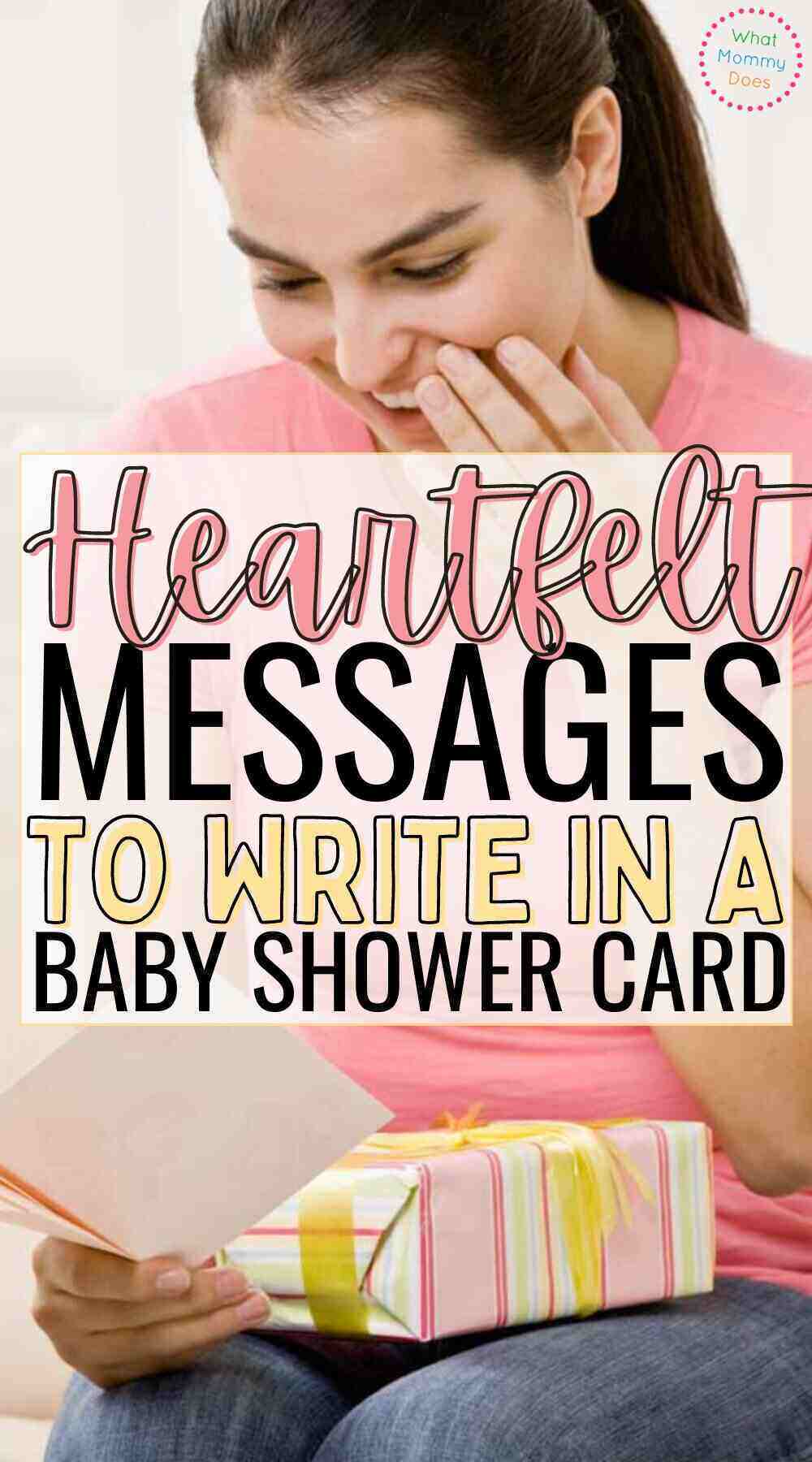 What do you need to include in a baby shower card?
While you can feel free to get creative with your baby shower messages, there is a standard formula to follow for a successful greeting! Try this outline to formulate your message:
1) Introduction
Begin your message by addressing it to the expecting parents. When writing a baby shower card, we usually have the guest of honor in mind, the new mom!
And while you can choose to write separate messages to each parent, it's good practice to address both of them (baby's arrival is exciting for everyone!).
It is also common to mention the gender of the baby (if it's known). This adds a personal touch to your message.
An example of this could look like the following:
"To the parents-to-be: we're all so excited to meet your new little prince."
2) Well wishes
The meat of your message should include your warmest wishes for both parents and the baby. Acknowledge how momentous the occasion is for all involved and any additional kind words for their family.
The tone of this message can vary based on your chosen recipient. If you're writing to a best friend or close family member, you might include a funny message to make them smile.
If you're writing to a colleague or an acquaintance, however, you'll want to keep things friendly and sincere.
A baby shower card is not the time to take chances with sarcasm.
3) Heartfelt advice
If you're a parent yourself, you may want to include a tidbit of advice for first-time parents. Of course, always be tactful when offering your advice – no one wants to be told how to parent!
Keep things light and genuine.
Good advice is an invaluable gift that will make a great addition to your card.
4) Sweet sign-off
Once you've shared your best wishes, choose an appropriate sign-off to finish your baby shower card. Pick a sign-off that best suits the recipient of your card and sign your full name.
Your sign-off doesn't need to be long or fancy, a word or two will do!
Some examples of sign-offs include:
"Wishing love to you and yours,"
"Best wishes,"
"Love,"
"Hugs and kisses,"
"Warmly,"
"With love,"
"Best,"
"Sending so much love,"
"With warm regards,"
"Lots of love,"
Heartfelt messages you can write in a baby shower card
Sure, baby shower gifts are great, but our words and wisdom have even more power! If you're in search of a sincere, heartfelt message for a baby shower card, you've come to the right place.
Greeting cards are not one-size-fits-all – I have options for any unique situation to help you offer your best wishes.
What to write in a baby shower card for a new baby girl
Welcome a new little girl into this world with a sweet message for her and her parents.
"We can't wait for the arrival of your new little princess."
"There's nothing sweeter in life than a new baby girl."
" Wishing a lifetime of happiness to your sweet angel. May all of her dreams come true."
"Your baby girl is going to accomplish so much in her life. I just know she's going to inspire us all!"
"Wishing beauty, wisdom, and strength to your new little bundle of joy."
What to write in a baby shower card for a new baby boy
Send your best wishes to the expecting parents of a new baby boy with any of these simple messages.
"May your little boy grow to be just like his amazing parents."
"Sweetest greetings to the little prince."
"I know your sweet boy knows how lucky he is to have parents like you."
"Congratulations on your healthy baby boy."
"You know what they say – good things happen to those who wait. But I can hardly stand the wait to meet you, little boy!"

Appropriate baby shower card messages for a coworker
When writing to a coworker, consider your audience! Whether you're chatty in the office or distant colleagues, choose a more general message to share your warm wishes.
"Wishing your family health and happiness during this exciting time!"
"Congratulations on your new arrival!"
"Sending best wishes to you and your new addition!"
"Wishing you a safe delivery and lots of precious family time."
What to write in a baby shower card for first-time parents
A new baby is exciting for everyone, but no one is more excited than first-time parents! Add a sentimental wish for their growing family to your card.
"Congratulations on your new little family."
"The future is unwritten, but one thing is for sure – you two are going to be the best parents ever!"
"I heard there's a new member of the clan! Best wishes to the cutest little family."
What to write in a baby shower card for 2nd-time parents
These parents have been around the block a few times. Wish them luck on their next new adventure!
"Here we go again!"
"Two kids are better than one! Joy and happiness to you and your family."
"Oops. You did it again! Congratulations on your new bundle of joy!"
****For some adorable baby shower cards check out these****
The Best Baby Shower Card Messages for Twins
Welcome a sweet duo of babies to the world with these messages designed with twins in mind!
"Did somebody order double trouble?"
"Twice the crying, twice the diapers, but also twice the love!"
"Two blessings in one year – life is miraculous."
What to write in a baby shower card for a close friend
When addressing your best friend, feel free to get a little creative with your message! Include an inside joke, a touching memory, or just share your deep love and excitement. You know what they'll like best.
"Hello, baby; hello, sleepless nights!"
"I'm so excited to meet the new little wonder. I love you with all of my heart!"
"I can't wait for your kids to be best friends with my kids!"
"Enjoy your last sleep-ins, last alone-time, and your last showers (uninterrupted, that is)."
What to write in a baby shower card for a mom with a hard pregnancy
Pregnancy can be draining. Some mothers have particularly hard pregnancies and need an extra bout of love and care. These messages are a great way to let them know you're there to support them.
"To the future super-mom: you rock!"
"Love to you and your newest addition. I'm here for you, every step of the way."
"Your strength inspires me and everyone around you. Your little baby is so lucky to have you as their momma."
Baby shower card messages for a simple greeting
Sometimes you need to keep things sweet and simple. Use these simple greetings for any audience!
"Sending all the love to you and the little one."
"Wishing your baby health, happiness, and abundance."
"Love to parents and baby."
What to write in a baby shower card for a sibling
I believe that the best way to show love to your sibling and their new baby is to add a cheeky little greeting to your card.
"Thank you for giving me a new niece to spoil rotten!"
"Reporting for auntie duty!"
"Can't wait to be the fun aunt!"
" Congratulations, kid. You have the best uncle ever!"
What to write in a baby shower card from a Godparent
Godparents are an important piece of this new baby's life. If you're named a godparent, this means that the expectant parents trust you with the most important thing in their lives – their child. Show your gratitude for this trust with a loving message.
"Being a part of your baby's life is an honor I'll never forget. Love to you all."
"To my godbaby – love you forever and always!"
" I haven't met you yet, but I know you're going to steal my heart. Until we meet!"
Final Thoughts on Baby Shower Card Messages
Baby showers are one of the most special occasions that parents will experience. You can make a memorable contribution to their baby shower celebrations by including a heartfelt message in your baby card.
I hope I've provided you with the perfect message to share your sweet sentiments.
More Helpful Baby Shower Posts
Latest posts by Lena Gott
(see all)