When a friend is in crisis, sometimes the best thing you can do for them is create a meal train.
Meals are often the last thing on someone's mind when they are dealing with a difficult time or major life event from the death of a family member to recovery from surgery or cancer treatments like chemo or radiation.
Sometimes a meal train is a good idea for someone who is going through a joyous, but time-consuming situation…..like when new parents bring home a newborn baby, a couple is fostering a child, or someone is adopting their first child!
Bringing someone a homemade meal can help them get through a tough time. They may not have the energy or time to do grocery shopping, much less cook a meal.
As a new mom, I truly appreciated other moms bringing me healthy meals because I was overwhelmed at the time.
Even when I had my third child, I appreciated the help because I had two other small kids at home and literally not one second of free time after taking care of the new baby plus other little ones.
I've set up many meal trains for friends over the years, so I thought it would be nice to document some of the easy dinner options I've seen, as well as a few tips to take any meal train to the next level.
But first things first….
HOW DO YOU SET UP A MEAL TRAIN?
The easiest way I know to create a meal delivery schedule that can be shared is with Signup Genius. It's so easy to do, and literally only takes 20 minutes.
I have used a meal train website in the past, but I always find myself gravitating back toward Signup Genius.
Signup Genius is FREE, and once you are done creating the meal signup, you can copy and paste the link for texting or emailing to participants.
I also like Signup Genius because it allows everyone to manage their own signups, notifies you via email when someone signs up, and emails them a reminder when their assigned date is coming up. The reminder emails are so helpful!
Put a little bit of forethought into what you will communicate on the signup page. Some things to keep in mind when setting up the meal train:
Write a little blurb for participants to read. Include important information, such as the reason the meals are needed.
Be aware to not disclose sensitive information, such as the exact nature of a confidential medical procedure or medical issues. People will still want to help, even if they don't know all the details!
Make sure to note any food allergies or dietary restrictions for immediate family members. You don't want someone to take shrimp tacos to someone who's allergic to shellfish or drop off steak tacos to a vegetarian! 🙂
Indicate a preferred "meal drop off" time if possible. Stating the best time for drop off leaves nothing to chance and guards against each person trying to separately coordinate a time with the recipient, which is not fun in stressful times.
Follow the recipient's wishes about meal frequency. I've been a part of many meal trains where the person received a meal almost every single day for a month….and they always end up canceling the later signups! A good rule of thumb is to have meals delivered every other day (or 3 to 4 days per week).
Don't stress yourself out about getting the wording just right – I usually just create the meal signup the best I know how using the information I have available, and then I send it to the recipient to review!
It's always a good idea to get feedback on what you wrote if you aren't sure. It's better to get this all right before you send it out, rather than do something that would be more harm that help.
If you got something wrong, they can tell you what to say instead. Don't overcomplicate this – this is your good friend, after all!
If you would like an example of a meal train & how I worded it, here's one I set up recently for a friend:
BEST MEAL TRAIN IDEAS – EASY DINNERS & SIMPLE SIDES
I thought it would be nice to compile a list of delicious meal train recipe ideas – from comfort food to convenience options.
You know your friend best – some people love slow cooker meals while others love casserole dishes.
One thing I like to do is ask them their favorite recipes or favorite cuisine so I can get ideas.
For instance, if your friend loves lasagna, then why do you need to recreate the wheel and bring something unique? You don't! 🙂
Note: Some of these dinner ideas are all-in-one and some require sides. Do what's easiest for you!
1) Chicken & Veggie Skewers with Rice
It's a good meal for new moms with others kids at home because chicken & rice is a simple meal perfect for picky eaters. For this reason, this is a good meal train meal to pair with fresh fruit.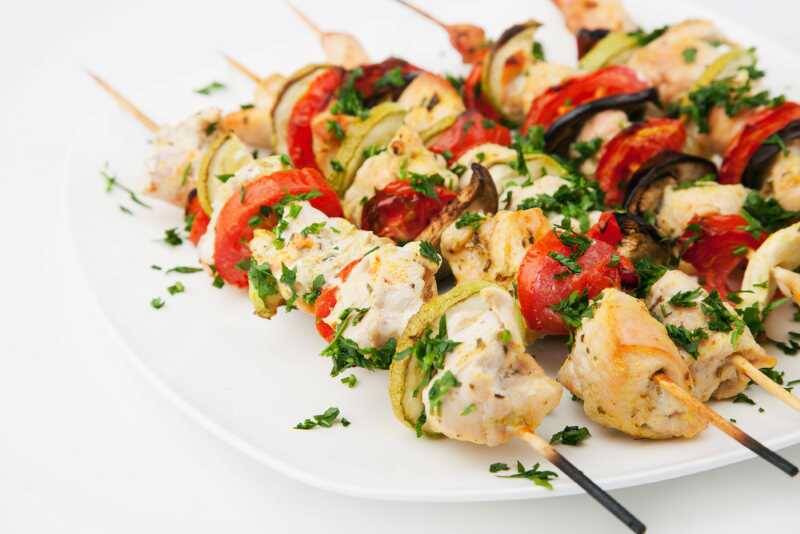 2) Baked Oatmeal
Everyone loves breakfast for dinner! Baked oatmeal is a great idea, whether you bring a big pan of it or bake it in muffin shapes.
I think this is an especially good meal to bring after the birth of a child. That's because oats are a great breast milk production booster! I can't tell you how many chocolate chip oatmeal cookies I ate after having my 3rd baby.
Someone just asked where you can get baking cups like the ones below. I found a few great options and posted about them here >> Disposable Oatmeal Baking Cups
3) Shepherd's Pie
I can't think of a more comforting meal than this. It's so easy to make and it's a crowd pleaser because it's fairly plain….even picky eaters will like it!
4) Meatloaf
This is a meal you can actually find in the grocery store pre-prepared in a baking pan. Nobody needs to know you didn't make it yourself!
5) Chicken Pot Pie
I think this is a great option in the winter time because it's comforting and warming. If you need it to keep for a while, it also makes a great freezer meal.
6) Chicken Noodle Soup
This is easy to adapt to food preferences because you leave out / modify ingredients as needed. You can even make this gluten free by using gluten free noodles or substituting rice.
7) Taco or Fajitas Platter
I think tacos are great because family members with food restrictions can modify what they put in their tacos on the spot. An easy way to make this work is to package up each topping and ingredient separately….then the family can serve the meal taco bar style. Make your own style meals are perfect for families with a variety of food preferences.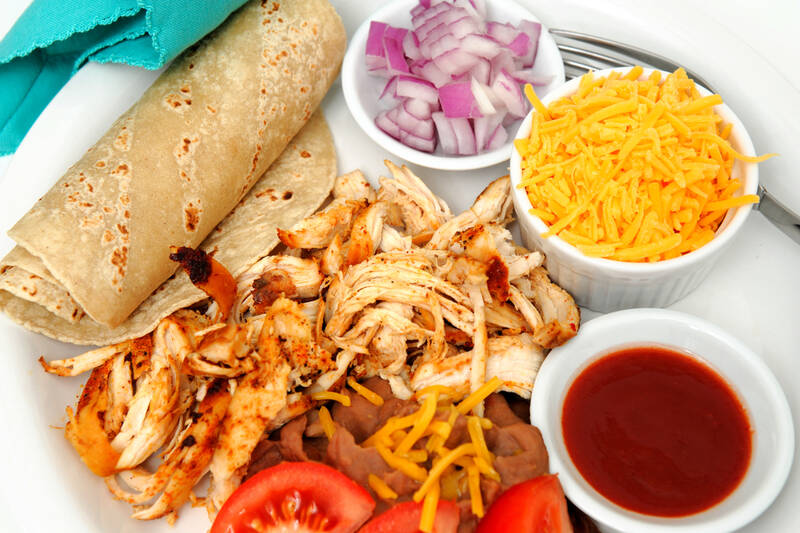 8) Gift Certificate to a Local Restaurant
Restaurant gift cards or gift certificates can be great options for anyone going through tough times. That's because they can choose which day to use the gift card. Maybe they won't use it on the day you signed up for because the next day is toughest for them.
A gift card is a perfectly flexible, thoughtful option. If you live in an area where DoorDash or UberEats delivers, gift cards to those apps are also a good option.
9) Rotisserie Chicken + Side Salad
It's a great choice for first time moms with new babies or someone recovering from surgery because they both need protein to support recovery.
10) Pot Roast with Carrots & Potatoes
This is a one pot beef dish that you can easily cook AND delivery in the same disposable roasting pan.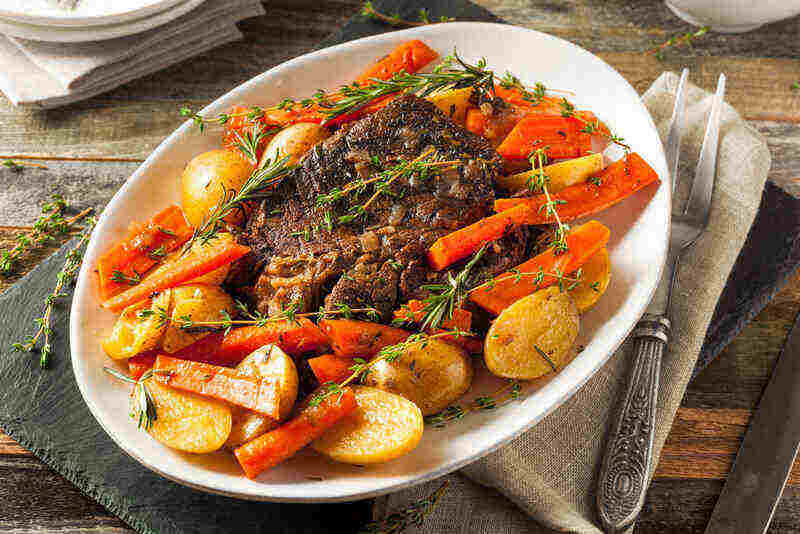 11) Chicken Broccoli & Rice Casserole
An old school favorite that I remember eating all the time as a kid. Make it using the Campbell's soup recipe!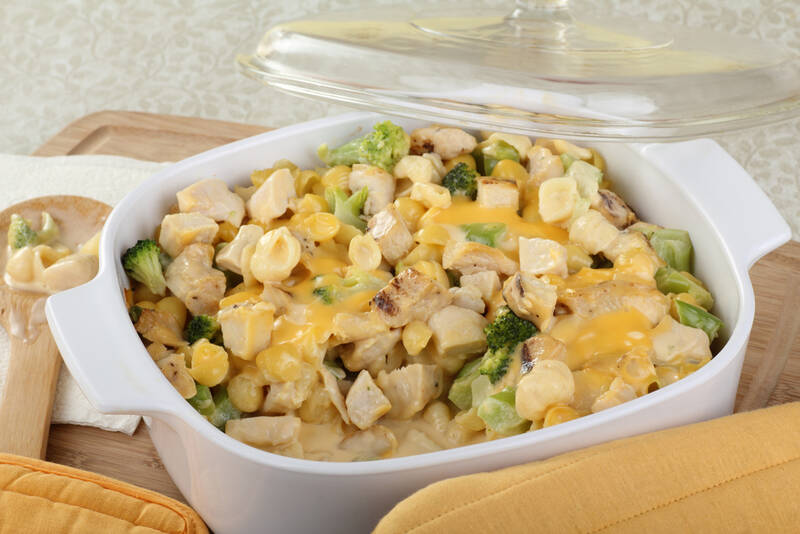 12) White Chicken Enchilada Bake
This white chicken enchilada recipe is perhaps one of my all-time favorite family meals. Just prep the pan ahead of time and write out baking instructions.
13) Cobb Salad + Butternut Squash Soup
I love a good entree salad & veggie-filled soup to fit in a bunch of vitamins in what is sure to be a comfort food lineup!
ADDITIONAL TIPS FOR REDUCING STRESS ON THE RECIPIENT
One thing I like to keep in mind when delivery a meal is that someone going through a difficult period may not have time to or want to chat when you bring your meal. Taking time to get dressed properly could cause EXTRA stress, which nobody wants!
A simple way to be super helpful while not bothering them is to leave their meal on the front porch.
Another way to be extra helpful is to package meals in disposable containers. That way they don't have to wash dishes or return anything to you. If you want to go the extra mile, you could even provide disposable plates & plastic utensils.
If the family has little kids at home, a package of separately packed snacks and drinks might be a good idea. Think: a Ziploc bag full of juice boxes or granola bars or any other kind of snack.
HOW LONG SHOULD YOU DO A MEAL TRAIN?
How long should a meal train last? Depending on the reason for the meal train, it should last anywhere from 1 to 3 weeks. For a serious situation, one meal a day every day for two weeks is a great gesture. Three weeks is not too long for someone recovering from major surgery. For something less serious like new parents who need help with meals, then a few meals a week for two weeks straight is a good idea.
WHAT IS A GOOD SIDE FOR A MEAL TRAIN?
Sides are important to any delicious meal train meal. The easiest side you can take is a salad. Caesar salad is universally liked by most people. Other than salad, green veggies or roasted potatoes are filling and nutritious. Don't overcomplicate the sides or make them too spicy, and they will be very much appreciated by your recipient.
WHAT SHOULD YOU SAY ON A MEAL TRAIN DELIVERY NOTE?
You don't need to say anything special when you deliver the meal train dinner. Even a text saying what you delivered and where it is (on the front porch, for instance) is all you need to do. If you would like to write a note, then write down something simple and sweet like –
"We are praying for your quick recovery. ~ Love, The Johnsons"
Really, in times of need, most people are grateful to receive any kind of help they can get. A meal train is a caring way to show them love. The time you save them by providing meals could give them a little extra time to do things like actually take a shower or just rest a bit more.
I think that's everything for now! I hope this helps the next time you have to set up a meal train for a friend or someone in your own family.
Latest posts by Lena Gott
(see all)