Today I have something extra special to share with you! It's a continuation of my series of Bursting Blossoms coloring pages. This time with Bible verses! I loved my original one with my favorite Bible verse, Ephesians 2:8 on it that I just had to make more!
I did 4 more Bible verse coloring pages so far, and here are the first two. I will share the others first chance I get and make sure to link back here so you can grab those if you'd like as well!
These coloring sheets are perfect or adults and children alike, and I think they'd be especially great as a Sunday school coloring activity for kids.
Both of them are the right dimensions to print out on a full size sheet of 8.5″ x 11″ printer paper. Just right click on each image to save it to your computer, save it, then print it out.
Enjoy!
Download, then Share on Facebook – Let's Spread the Word!
After you download these coloring pages, I was wondering if you could do me a favor? Would you share this post on Facebook using the blue Facebook button above? I'd love as many people as possible to see these lovely coloring pages that spread the Good Word!
This post has been shared on Facebook nearly 1000 times, but pinned by 16,000 people! There are soooo many more people on Facebook than Pinterest. Let's get that number up!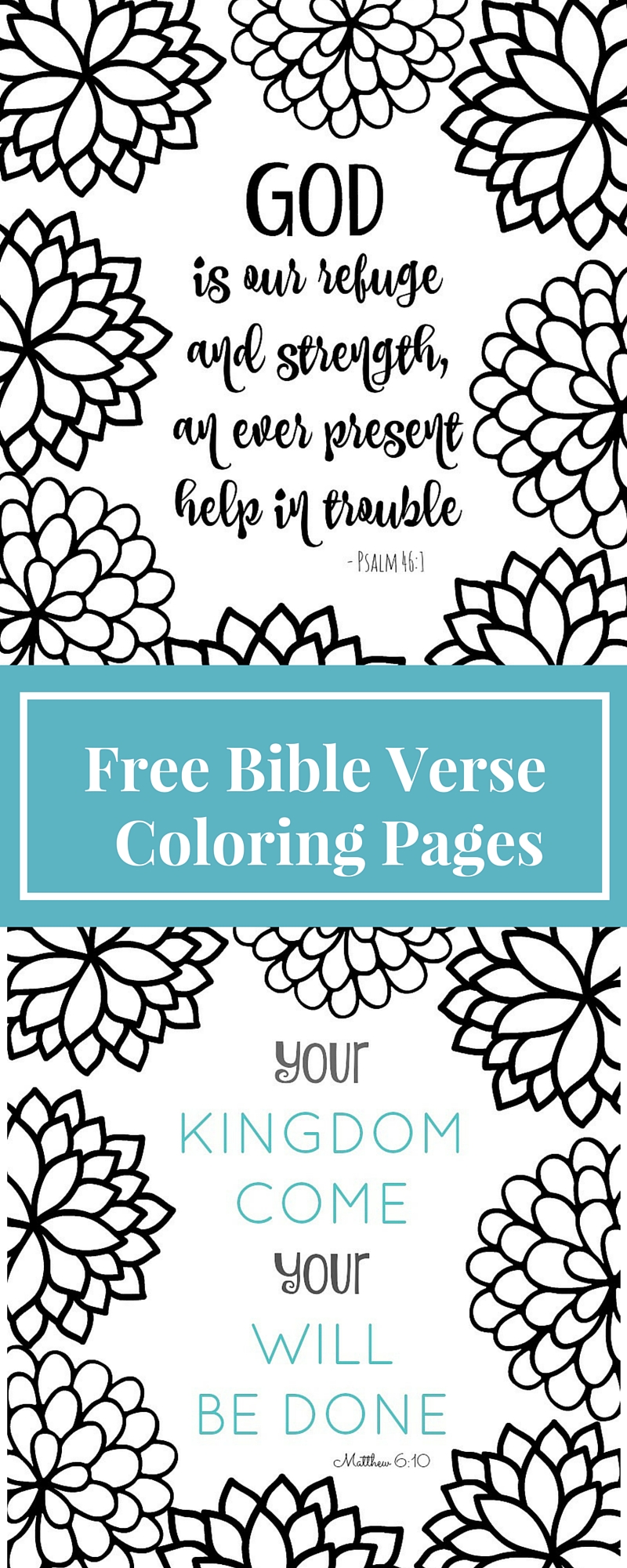 Free Printable Bible Verse Coloring Pages
This coloring page is one of my favorites to date because it has Psalm 46:1 on it.
This Bible verse holds special meaning to me because my church is named from this passage.
Psalm 46:1 Coloring Page
Matthew 6:10 Coloring Page for Adults
Sometimes when I'm feeling bad, I can recite an easy-to-remember Bible verse and instantly feel better.
This is one of those. It just reminds me of the power of God, which is always reassuring!
Matthew 6:10 Bible Verse Coloring Page
Other Scripture Verse Coloring Pages
I'm slowly but surely adding to my collection of Bible verse coloring sheets. I am adding them to one central hub where you can find a listing of all of them in one place. Click here to access the entire Scripture verse coloring pages collection >>
More Coloring Page Goodness!
25 Free Printable Coloring Pages for Adults
Latest posts by Lena Gott
(see all)