Blogging is my favorite topic to talk about. I just love it when I can help another mom, especially, find her voice and put her ideas out into the world. Something she creates all on her own and turns into something amazing.
There's no better feeling than that!
We are helping to support our families with our blogs, and that's a wonderful thing. Sometimes I go off the deep end with detailed posts like my 2,000+ word income reports or a 100+ page book on how to get over 100,000 page views to your blog, but I forget that I need to take it back to basics for everyone who's just getting started.
I remember what it was like getting started blogging! I didn't have a clue what I was doing and learned by trial and error on the way. It's my goal to help as many people find their way a little faster than I did.
"What Should My Blog Name Be?"
I get tons of questions from friends, family, and online friends about getting a blog going. And hands down the #1 question I get is "What should my blog name be?"
It took me what seemed like FOREVER to choose my blog name. Knowing what I know now – it really shouldn't have. But I didn't know anything about it back then!
Now that I can look at the entire blog startup process in hindsight, I have so much to tell you. I am SO GLAD YOU'RE HERE! Let's get started.
---
RELATED POSTS ON STARTING A BLOG:
P.S. If you're short on time today, I put my Start a Blog Guide into a PDF that you can request below:
---

Blog Name Checklist: Choosing a Unique Name
These are the 7 things I highly recommend that you consider when choosing your blog name. It's the most important first step you'll take on your blogging journey, so it's important to get right.
1) The URL is Available
As you'll see in my Blog Startup Guide (or in my Blog Startup Bootcamp if you enroll – see info below this post), I recommend Bluehost to new bloggers because it's so affordable.
You can actually check your blog's name availability in Bluehost without having to sign up for hosting. You just check it one step past where you choose the hosting plan (don't worry, you won't have to enter payment information in order to the URL checker).
If you are having trouble finding a name you love that is also available, here are some tips to get past that roadblock: What to do if Your Blog Name is Taken
2) Social Media Handles Aren't Taken
When you're deciding on your blog name, it's easy to get caught up in making it the most creative,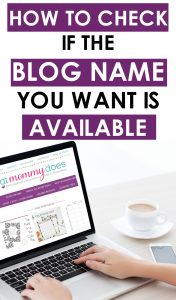 catchy one you can think of. I can't tell you how many times I got excited about the perfect blog name only to find out it was already taken! Make a list of your favorites, but keep in mind that it needs to be available on all the major social media channels (Pinterest, Facebook, Instagram, Twitter) before it's a go.
SOMETIMES not being readily available on just one platform but up for grabs on the other means that you can work around the issue by adding "the" or "a" or something like that to the beginning of your name. Just be really careful with this so it's not confusing. The last thing you want is to name your blog "My Mommy Adventures" just to find out that someone called "Mommy Adventures" already has 10,000 followers and everyone looking for you online goes to her blog. That's not fun!
3) Your Blog Name Doesn't Infringe on a Trademark
If someone has trademarked a name, you can't just use it without their permission because they can ask you to stop at any time and you have to! I would recommend doing two things to check on this. 1) Conduct a trademark search for your chosen blog name. However, because you're probably not an attorney (neither am I), this search might not turn up what you need, so I then recommend also doing a simple Google search. This should tell you pretty quickly if there is another business operating under your intended blog name.
4) It's Easy to Spell!
In the beginning, nobody will be searching your blog name in Google, but I promise eventually you will have hundreds or thousands of people doing that every month, and you don't want to make it difficult for them to find.
5) The Name Means Something to You
Although this is not a hard and fast rule, I really wish I had done this. I am ZERO percent attached to WhatMommyDoes as a blog name, but I wish I was. I wasn't really thinking it through. My next blog name will have something like "Sweetgum" or "Jasper" in the name because those remind me of a street + town where I grew up.
Note: I have Blog Name Worksheets with nearly 100 mix + match blog name ideas you can use for this purpose – they are included for free in my Blog Startup Bootcamp (see below for details on getting the bootcamp – a $25 value – for free!).
6) You Won't Get Tired of the Overall Blog Topic
You must write dozens and dozens of blog posts to start making money from your blog and you MUST be enthusiastic enough to do so over the long term. Most bloggers really start to ramp up in years 2 and 3, and if you choose a blog name you will likely lose interest in before too long, you're setting yourself up for failure.
7) You Would Be Proud Telling Family & Friends About Your Blog
Even if you want to keep your blog secret from family + friends for a while, I promise if you become really successful with it, they will start asking questions. And you'll definitely want a name you can be proud to share with them.
I've known many bloggers to have rather sarcastic or even "bad words" in their blog names. I'm sure they're not proud to share them with family + also if it's really bad, you will lose the opportunity to work with certain sponsors and ad agencies that require clean content. Not saying you would EVER choose a blog name like this, but I definitely want to put it out there are a final consideration! 🙂
Join Hundreds in Start a Blog Bootcamp Today!
I love teaching new bloggers how to get their start in the blogging world. In fact, it's one of my core missions as a blogger. Specifically, I like helping women who want to make money from home. But I also help any guys who will put up with my girly colors + swirly fonts! LOL
I have so much to share with you and so I put together a comprehensive 5-day course on STARTING A BLOG.
I would love for you to join me + hundreds of other students in the course. My course will help you:
Figure out how to nail down your killer blog idea – we'll brainstorm like crazy + you'll get worksheets to help with this!
Choose a blog name you won't regret
Walks you step by step through the blog setup process click by click (it's not as hard as you think!)
Explains how bloggers make money and how long that process should take
Figure out what your blog categories should be
Help you choose the perfect template for your blog to make design a breeze
If you would like to join the Start a Blog Bootcamp and get started today, follow the directions in this post to sign up for free >>
p.s. Many people have asked me if the bootcamp is right for them if they don't have 5 days right now to devote an hour a day to this. The answer is YES! The course is set up to be self-paced, meaning you can sign up today and then walk through it whenever you'd like. It's just broken up into "5 days" worth of lessons and emails to keep you on track. You can always keep the emails for a weekend or whenever you have a chunk of time to sit down and go through everything.
Latest posts by Lena Gott
(see all)