It's the most wonderful time of year! The tree is up, Christmas music is playing, and baked goods abound.
Now that the holiday season has officially begun, it's time to start thinking about Christmas bake sale ideas for your school or fundraiser.
If you're having trouble coming up with Christmas bake sale items that sell well during the holidays, don't worry – I've got you covered!
In this blog post, I'll be sharing 25+ festive Christmas bake sale items that will sell out fast.
Plus, I'll also share a few tips for how to make sure your Christmas bake sale fundraiser is successful and profitable.
Cute Names for Your Christmas Bake Sale
Before we get to the baked goods, let's chat about what you should call your holiday bake sale.
After all, a big part of selling out your bake sale is getting people to show up and shop!
Here are a few names to get you started:
Santa's Cookie Sale
Cookie Exchange 2022
Holiday Baking Bonanza
Heavenly Baked Christmas Cupcake Fundraiser
Christmas Cookie Crawl
Holiday Bake Shop
Christmas Wishes Bake Sale
Baked with Love
Joyful Cookies + Baked Goods
If you're hosting the bake sale at your school, consider highlighting the school's name or charity in the title.
You'll not only be spreading holiday cheer, but also making an impact in your community, so let others know the worthy cause!
Printable Bake Sale Flyer Templates
While word of mouth is always a great way to drum up business, flyers really help too!
Thankfully, you don't have to design them yourself. Just use one of these beautiful pre-designed options on Etsy!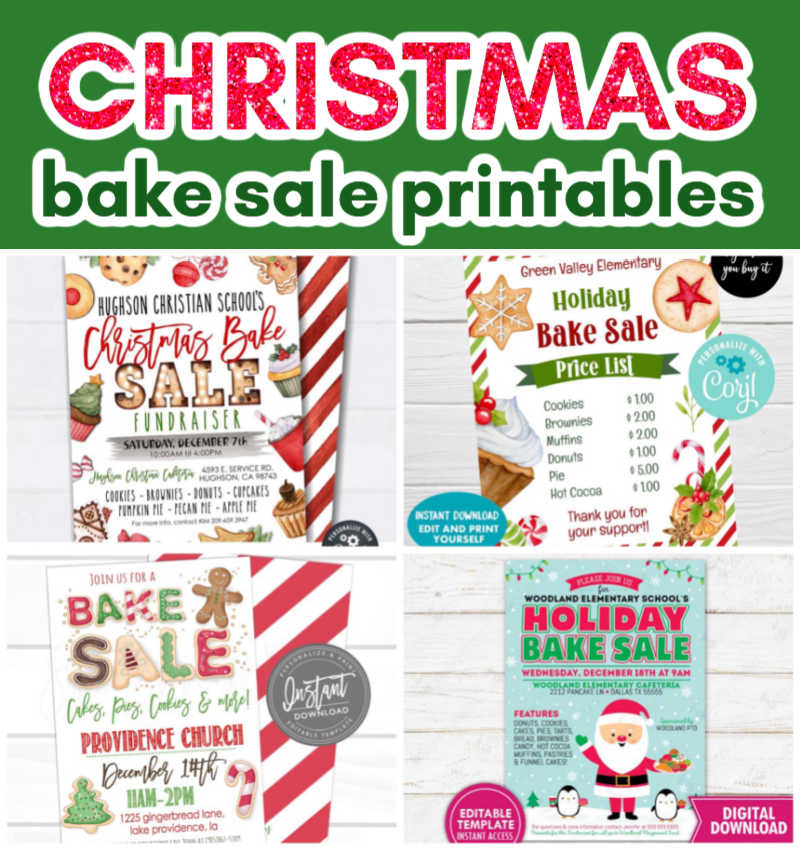 Here are a few of my favorite Christmas printable flyers to use at your next holiday bake sale.
This adorable design features festive cookies to further drive home your message about baked goods.
Looking for something a bit more modern that still feels festive?
This option even lets you spell out some of your more tempting offerings to lure in customers!
If you're looking for a design that's simple, but also allows you to choose the text (and even drop in your own photos), this one is very easy to customize.
If you are hosting a bake sale for an elementary school, this template is so cute! Plus, it's easy to tell what you're advertising at a glance.
Once you have people at your event, save yourself time and effort by posting a price list.
This template is great for those times when you're selling a variety of items for specific pricing (rather than just by donation).
What to Make for a Bake Sale (the Best Christmas Baked Good Ideas)
Now that we've covered the basics, let's talk about what types of baked goods will sell well during your holiday bake sale fundraiser!
Here are 25+ ideas to get you started.
This is my own personal go-to bake sale recipe!
An easy item to make last minute, these truffles come together quickly and taste amazing.

This cookie bark is incredibly festive looking, so customers are typically drawn to it.
Thankfully, it also tastes delicious and is easy to make with just five simple ingredients, including white chocolate and no baking.
Cookie pinwheels are another excellent option for Christmas bake sale items.
They look beautiful, taste delicious, and they're perfect for making ahead of time if you need to.
Let your creative side shine with these adorable brownies decorated to look like Rudolph the Red Nose Reindeer.
These pretty cupcakes will stand out on the bake sale table.
You can use your favorite chocolate cake mix for the base and pour the batter into red cupcake liners like THESE.
Then decorate the "mug" with a candy cane handle, and white frosting. Don't forget the mini marshmallows and chocolate chips too!
These beautiful holiday treats are sure to be a winner.
There are so many different ways you can decorate these too, from simple sprinkles to crushed peppermint with chocolate drizzle!
These aren't your average chocolate cookies!
They are dipped into a delicious icing with crushed candy cane for a kick of delicious mint flavor.
You may have seen a version of this treat made with rice krispies, but this variety is different.
It calls for cornflakes, marshmallows, and green dye to make a delicious holiday treat.
These sophisticated mini cheesecakes have just the right balance of tart and sweet.
While you could top these with any berry, I recommend sticking with strawberry as it resembles Santa's hat!
I love this take on typical sugar cookies!
These cookie Christmas trees can be sold as a higher-dollar item in your bake sale.
This is a fun take on the classic snowball cookie.
This version does contain nuts, so make sure to check the bake school rules for any potential allergens.
Who doesn't love gingerbread cookies?
And if you're hosting your christmas bake sale at a school, they can even dress them up to look like their favorite characters.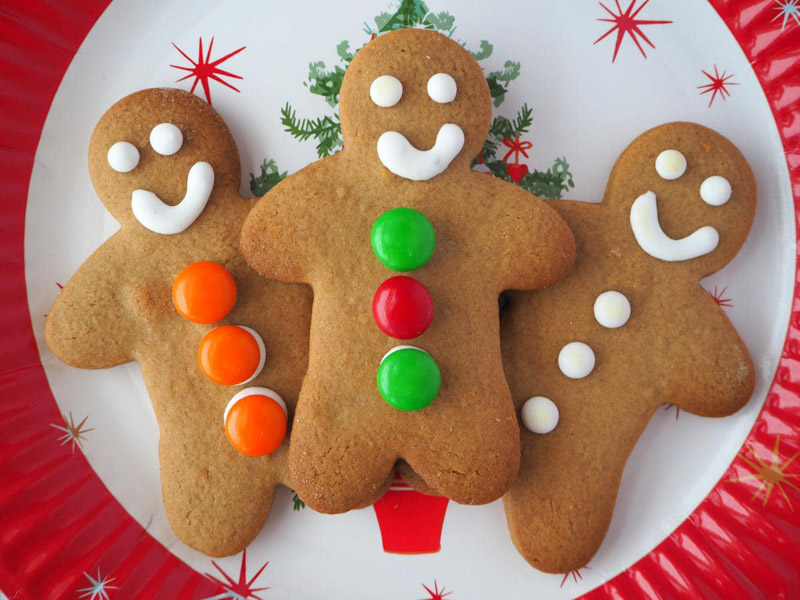 These Christmas donuts are so festive and fun to decorate.
Plus, they're a huge hit with customers because everyone loves donuts!
Looking for some fun and creative holiday cookies to make this year? Well, look no further than these sweet treats!
Crinkle cookies are made from boxed cake mix, so practically anyone can make these.
Change up the color to match the occasion, but I'm partial to the classic red and green!
Popcorn balls are a Christmas staple!
They're easy to make, and no bake so you can whip them up in just minutes. Plus they'll keep well until your sale date arrives if need be.
Cinnamon rolls are a holiday favorite, and these Christmas Tree Cinnamon Rolls look so festive that people will just have to buy them!
Don't be intimidated by this Christmas bake sale idea either.
All you need is a can of cinnamon rolls, some icing, and sprinkles.
Homemade pop tarts are surprisingly easy to make thanks to pre-made pie crust.
While you can certainly have your choice of fillings, Nutella always seems to sell well!
This is one of my favorite Christmas bake sale ideas.
I am a huge fan of cookie bars, particularly for bake sales because you can make a pretty sizable batch easily with no decorating required.
These peppermint pretzel rods are a great way to add some variety into your Christmas bake sale.
They're easy to make but look deliciously festive!
Your typical pan of brownies gets a major upgrade when you cut them into triangles instead of squares.
Then, all you need to do is add icing, sprinkles, and candy "ornaments." Don't forget the star at the top of the tree!
This fudge is surprisingly simple to make, thanks to the crockpot! There are so many different ways to decorate or dress it up too.
You can choose classic Christmas colors or match them to the school's colors for added oomph.
This is one of the best things to bake if you want to bring something a bit less heavy to the table.
The meringue is light as air, but to add some festive flair, there's a peppermint kiss hidden inside.
This crockpot Christmas recipe is a must try. It's easy, delicious and will keep your customers guessing at what flavor it might be.
The mix of German chocolate with white almond bark makes for an ultimate salty and sweet treat.
These easy Christmas cookies look so cute on a cookie tray.
The colors of their dough and shape help them stand out from the crowd.
Take your basic cake mix and make it into something spectacular!
You'll need a steady hand for icing, but the end result is well worth it.
I hope you found this Christmas bake sale ideas list helpful.
If you have any questions or comments about how to host a fantastic Christmas bake sale event, feel free to leave them in the comment section below.
More Christmas Posts
More Bake Sale Posts
Latest posts by Lena Gott
(see all)