Sometimes, there's no better gift than cold, hard cash. It allows the receiver to choose a gift or experience they will be guaranteed to love. But it can feel a little icky or anti-climatic to give money at times.
RIGHT?!!
But never fear…I have the solution. Get creative!
Creative ways to give money as a gift at Christmas
There are SO many ways to give money at Christmas or any other time of the year. If you are just sticking it in an envelope and calling it a day, it might be time to step your game up a little.
Thankfully, my online bestie, Amazon has a ton of cute ideas and fun ways to give money as a gift. Bonus—there's two-day shipping involved!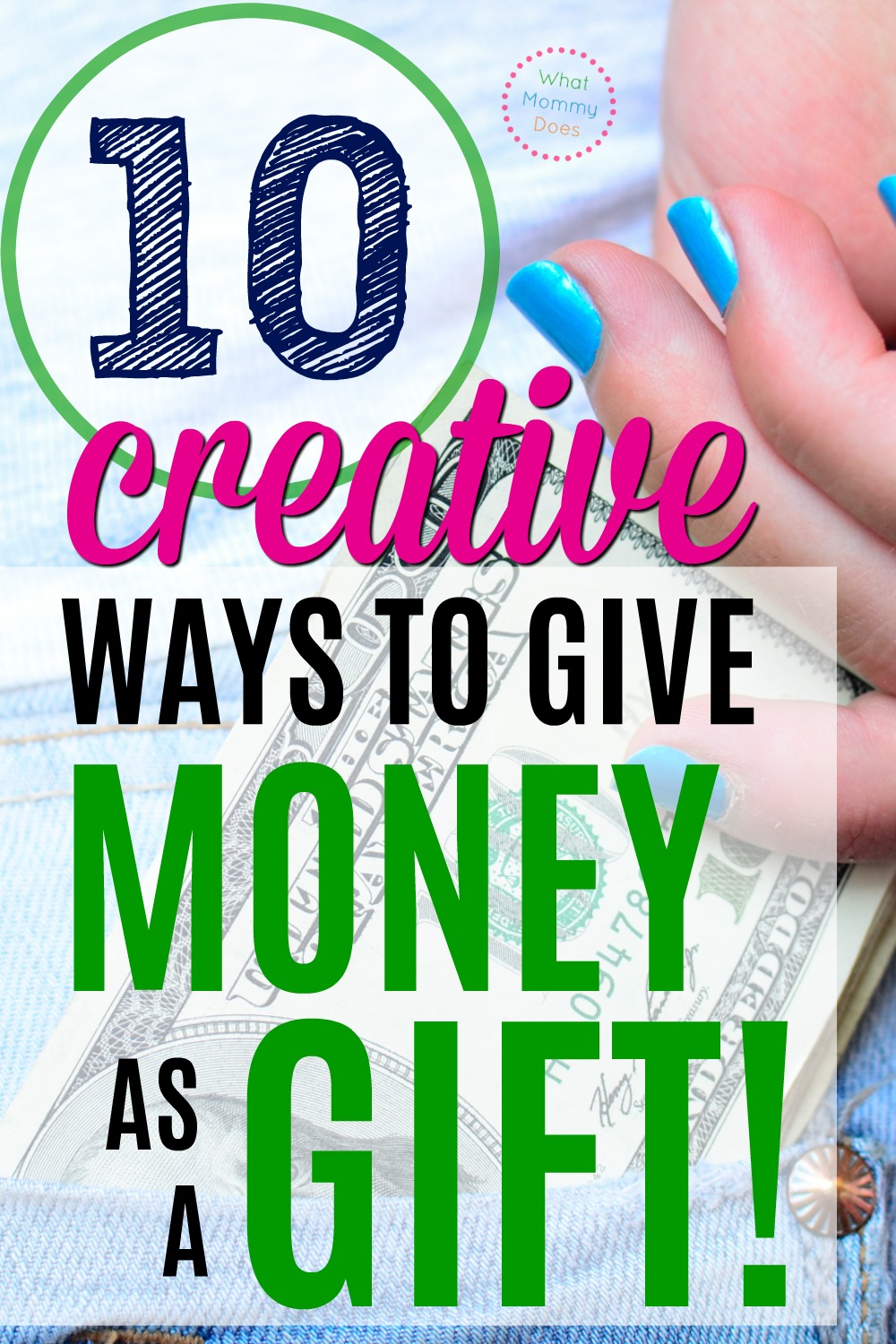 10 Creative Ways to Give Money as a Gift
Here are 10 money gift ideas + links to my favorite ones on Amazon so you can buy the ones you like!
1) Money maze puzzle
Let them have the satisfaction of earning their gift by giving this maze. This puzzle holds a gift card and/or cash at the center–they have to solve the puzzle to get the cash. This is one of the most creative ways to give money as a gift I've ever seen!
2) Mini Cryptex
Got any DiVinci Code fans in your life? They will absolutely LOVE this mini cryptex! This is a better gift for an adult—it will be quite a challenge to guess the code correctly and open, but the reward of sweet cash is so well worth it!
3) Cash-filled Wallet
This is a stylish and practical gift—buy a new wallet and load it up with cash and/or giftcards to their favorite places. Imagine how surprised they will be once they open it up!
4) Money Pinball Maze
This is a neat way to give money for Christmas! They have to get all 3 pinballs into the proper hole, and once they do, they receive the gift. The fun thing about this is they can see the cash prize the entire time they are playing—talk about motivation. 🙂
5) Save, spend and share bank
Out of all the money gift ideas, this one might be my favorite for kids. This nifty bank has three separate compartments for spending, saving and sharing money with others. Load each section with money and help them making saving goals along with a plan to gift part to someone. Of course, they also will get to treat themselves too!
PS- looking for more ways to teach your kids about finances? Check out this super helpful post!
6) Traveling accessory cases
If you have someone in your life that loves to travels and is never without her accessories, this is definitely one of the creative ways to give money at Christmas or any other season! Fill this pretty pink case with gift cards to travel-related stores for a gift that keeps on giving.
7) Money soap
If a teen in your life needs a little extra motivation to shower, they have just found it! This soap has real money at the center, and the only way to get to it is to use the soap. The biggest downside is you can't add your own money—each soap comes pre-loaded with a $1, $5, $10, $20 or even $50 bill!
8) Snow globe gift card holder
This DIY snow globe kit shows you exactly how to create your own snow globe—but yours will have a twist surprise inside behind the hand-sculpted figures: a gift card to their favorite spot. Yes, you'll have to do a little crafting…but it's part of the fun!
9) Gag box gift
Have you all seen the gag boxes you can purchase? They are an empty box with an outlandish product advertised. Your loved one will wonder where on Earth you found this thing, and when you encourage them to open it, let the cash slip out! 🙂
10) Mystery puzzle box
If you know someone who loves a good puzzle, they will be sure to be intrigued by this box. Slip in a cash prize or gift card into the slot, then let them get to work trying to crack the code.
Which creative ways to give money as a gift will you choose?
Can you just imagine what their faces will look like as they try to work out your gift? So much more fun than a flat envelope. My favorites are probably #5 and #9—I can't get enough of those hilarious gag gift boxes!
What other things do you use to creatively gift cash at Christmas?
Other Brilliant Gift Options:
Latest posts by Lena Gott
(see all)