In our house, we are full steam ahead with letter recognition.
I was excited to share recently that my four-year-old was able to learn her letters and sounds using the Leap Frog Letter Factory.
Now that she can recognize the letters and recite their sounds, we are breaking out as many alphabet learning activities as possible.
Before she learned her ABCs, she didn't want to do any sort of traditional learning, but I think her newfound knowledge has given her the confidence and enthusiasm to practice what she knows.
If you'd rather grab some letter resources from Amazon instead of printing everything out from home, I found some really cool resources for us all to use:
However, if you'd rather print out your own instead of spending money, then I've got you covered!

Printable Letters of the Alphabet – Letter Stencils, Worksheets, Flash Cards & Coloring Pages
I've scoured the web for tons of FREE alphabet resources and am compiling them into one handy list for my use and yours.
Below are tons of free alphabet printables you can use with your preschooler.
Free Letter Stencils & Alphabet Templates
The first few options I found are perfect any kind of projects that require letters. You can use them not only for learning, but for crafts or classroom teaching tools!
The Kids Sunday School website has an excellent selection of different sized letters from 2" to 5" tall. They are perfect for projects that require letters…the opportunities to use these letters as learning tools are endless!
Preschool Express has an awesome selection of upper and lower case letter stencils. These letter stencils are simple and perfect for cutting or coloring activities in addition to craft projects.
I also made a new set of my own! You can download them here:
This is a sheet with the entire upper case alphabet letters on one page
These small letters all print on one page.
Free Alphabet Worksheets to Print Out
The next set of printables I found are worksheets for use in the classroom or teaching letters at home.
The PreschoolMom website has an excellent selection of alphabet printables, including these animal alphabet worksheets. On each letter of the day printout, you practice writing and tracing the letter, identifying the letter, coloring an animal and drawing a picture of something that begins with that letter.
There's something so simple and perfect about learning letters by wrote memorization and lots of practice. Embark on the Journey has some super cute alphabet handwriting practice pages just for this purpose. These printables are simple but effective for learning the letters of the alphabet.
Free Alphabet Printables – ABC Flash Cards
Here are some flash cards you can print out!
Not too long ago, I published my very own set of full page printable letters.
I did them in girly bright pastel colors because they're for my daughter, but you could just as easily print them out in grayscale for a boy.
I used them as Alphabet Flash Cards but you could really use them for all sorts of reasons for preschool letter practice to Kindergarten activities to birthday banners!
If you need something smaller than a full page, then these fun letter cards from Our Thrifty Ideas as featured on Thirty Handmade Days are lovely.
ABC Coloring Pages – Cute Alphabet Coloring Sheets
Last, but not least, are some coloring sheets to help your little ones practice even more!
MrPrintables.com has an adorable set of ABC coloring page activities available for download in PDF format. As an added bonus, there is also a Spanish version!
The blog Life Over Cs has a lovely set of free ABC coloring pages for download. The pages contain large letters filled with detailes like stripes or hearts or stars. If you little one is a coloring page fanatic like mine is, she will flip over these printouts!
Unique Ways to Use Alphabet Printables
Other than the obvious uses of each printable template above, I've been trying out a few unique ways to insert the ABCs into our daily life.
I figure if my daughter doesn't respond to one technique, there's no reason I can't use the same base templates for all kinds of activities.
Here are just a few ways we've used these alphabet printable or plan to do so in the coming weeks:
Cut out one of each letter stencil, mix them up in a pile, and have your preschooler sort them in alphabetical order
String up some ABC flash cards for an educational fireplace mantle decoration
Print out some of the full page alphabet flash cards, tape them to the floor, and call out letters for your child to hop onto in order to avoid the lava pit (anything outside of the piece of paper)
Organize a playdate based on a letter theme. Print out multiple copies of a single ABC coloring page (perhaps the one your child is having the most trouble with) and color those as the playdate activity.
More from WhatMommyDoes
How to Teach Your Preschooler Letters & Sounds the Easy Way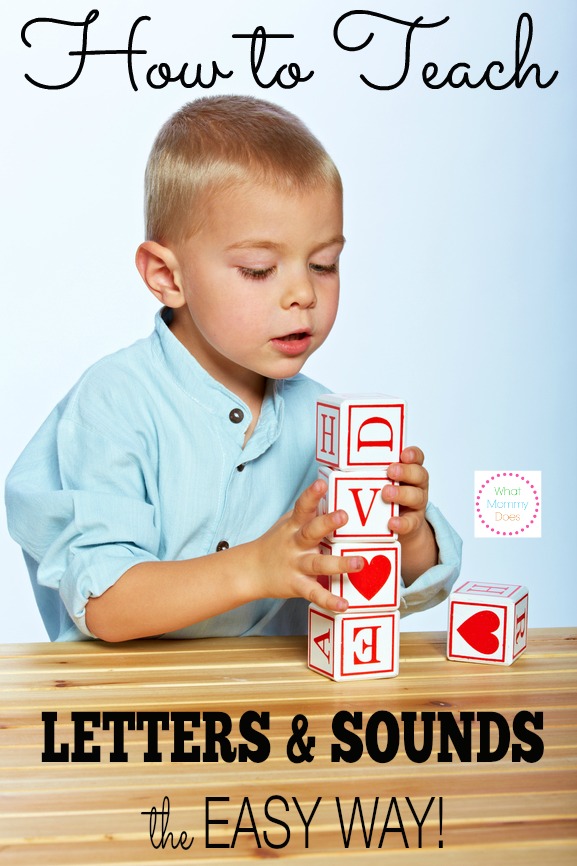 Latest posts by Lena Gott
(see all)