I'm so excited.
Today I have something to share with you that I've been wanting for my blog for quite some time.
We've been super busy with preschool & after school activities lately, but I can't wait to share this.
It's four sets of FREE heart templates you can print!
As a fairly frugal person, I don't like paying perfectly good money for something you can get for free online.
This usually means that craft supplies don't make the cut.
Every year I have a new need for heart crafting templates – when my babies were little, we did a LOT of coloring.
Now that they are older, they need heart cutouts for things like sewing patterns and pretty binder covers.
My 11-year-old says she likes to use them as bedroom door decorations and homemade heart-shaped Valentine's Day cards for her friends.
This is my way of paying it forward to all the other heart-lovers out there like me! Enjoy!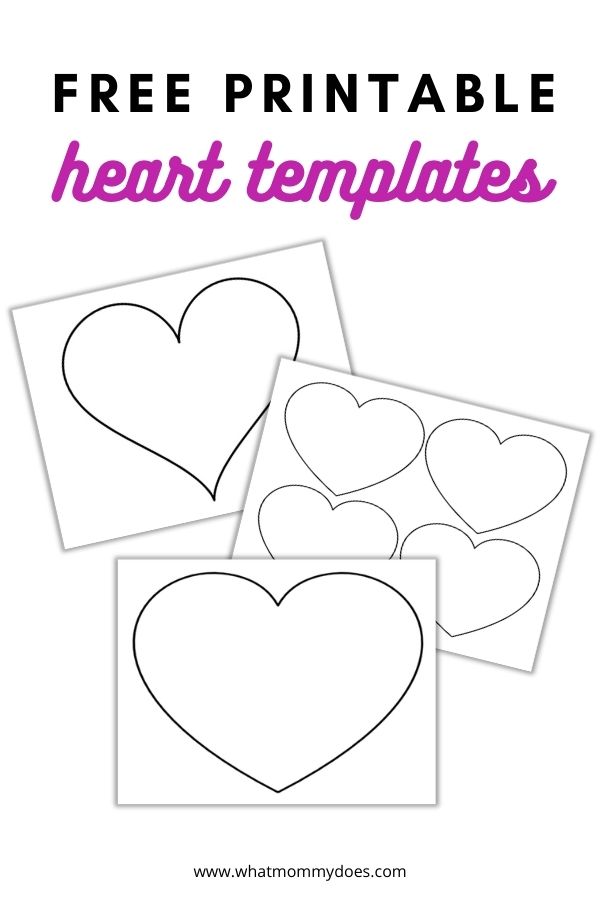 Free Printable Heart Templates
I designed these because I always have a tough time finding the perfect rounded heart stencils for my projects.
Now I don't have to scrounge around the internet for a heart pattern the next time I need one.
I have my own selection now. :=)
**Please note: I keep adding more heart shapes to this page each year, so keep scrolling down the page to see the entire selection if you don't see what you need at first!
---
OTHER POSTS YOU MIGHT LIKE FROM MY BLOG:
---
Large Heart Shapes to Cut Out
I came up with these large heart template for all those times when you need a large stencil to use as a guide for cutting shapes.
The first cutout prints full size on a single sheet of printer paper.
The second one is two rounded heart shapes on one page.
Just click on the image to download it in PDF format and save it to your computer.
1) Super Size Heart Template
(click on image to download)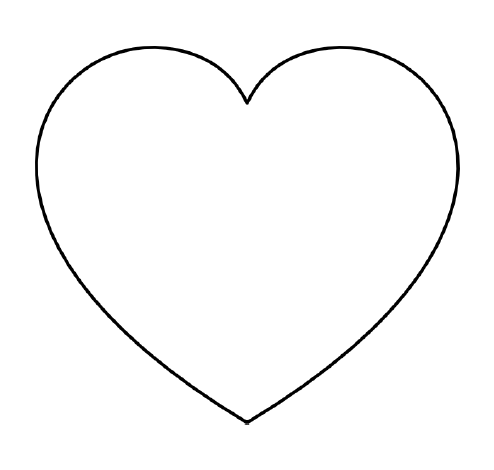 This is the absolute largest template you can print on one page (I think)!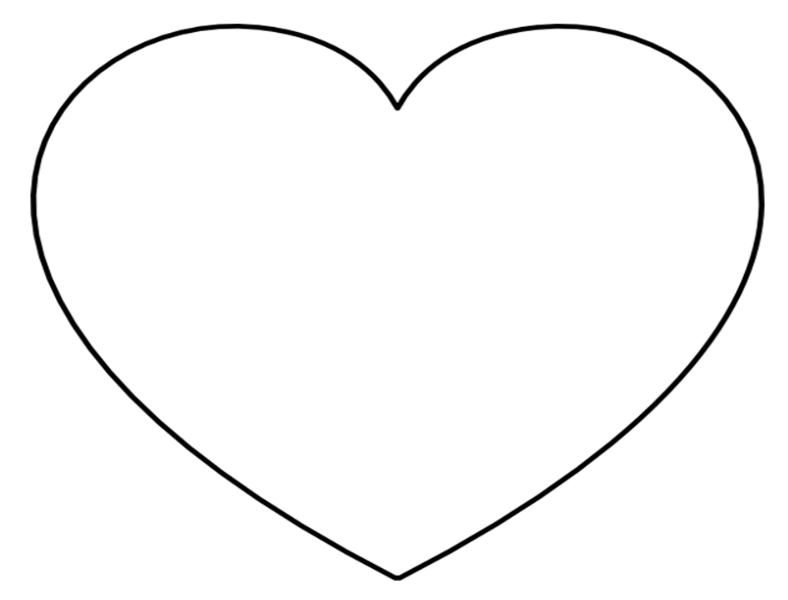 (click to go to separate post)
4) Two Large Hearts on One Page
(click on image to download)
---
More Heart Goodness!
2022 Update: You asked and I delivered!
Below are several sets of heart patterned printouts in landscape format.
Designing them this way allows me to fit wider hearts on the page…sometimes you just need these!
Click on the images below to access these posts.
5) Tiny, Small & Medium Sized Hearts on One Page
I designed this page full of heart shapes years ago when my oldest daughter was OBSESSED with them.
We colored it over and over again….
We cut out the small, medium, and large shapes and gave them to her friends as pretty notes…
We used the individual hearts as pretty table scatter for Valentine's Day…
AND we made fireplace mantle garlands from them.
We probably used this one particular sheets of hearts for more things, but I just can't remember them all! 🙂
6) Four Traditional Style Wide Hearts
These are wider than they are tall.
My favorite use for these fat hearts is to:
1) Print out 6 sheets of the same page
2) Cut out all the hearts using scissors
3) Use this padding compound for making notepads to adhere one edge
4) Use them as my own personal stack of notes!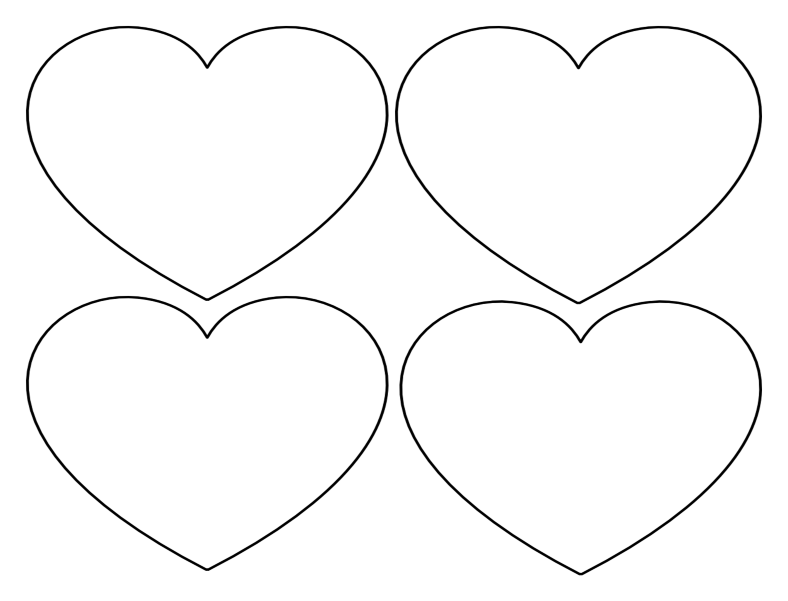 (click to go to a separate post to download)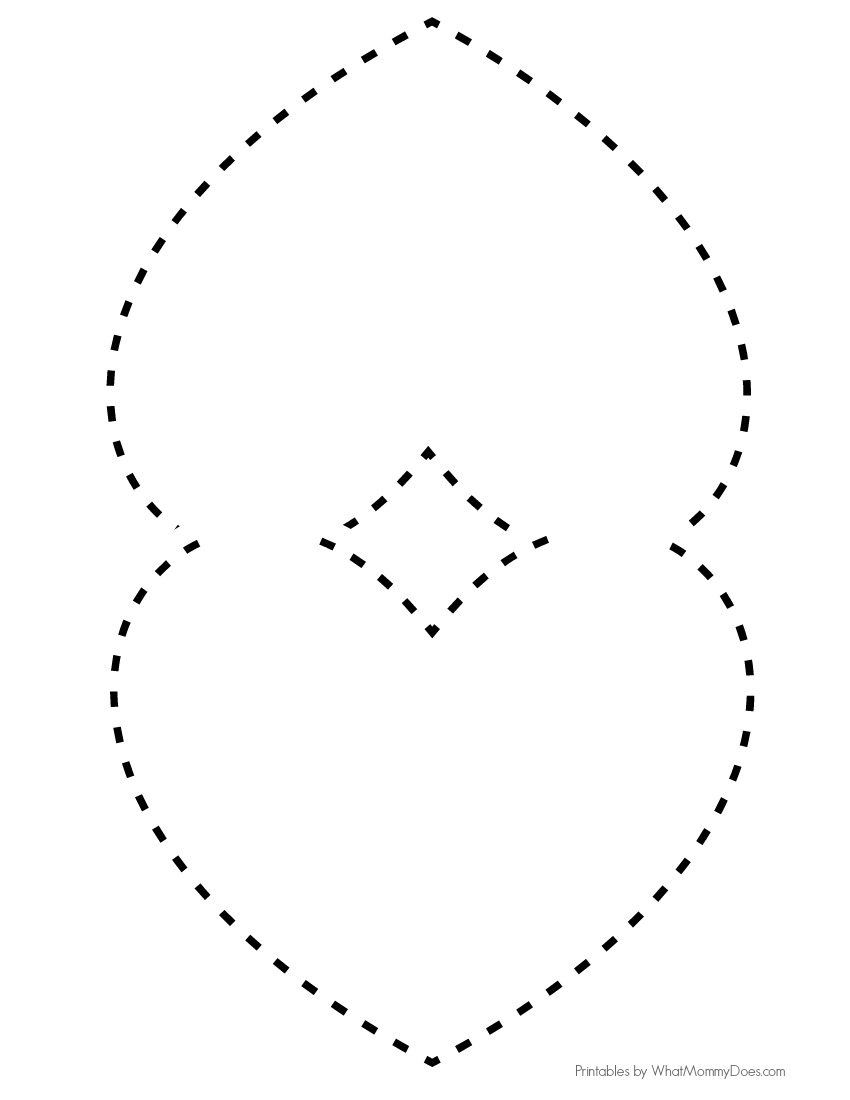 Small and Medium Heart Stencils
Sometimes you just need a page full of small or medium hearts for a project that requires lots of the same shape over and over.
The first sheet contains 6 tall heart shapes and the second one is a lovely set of 12-per-page small rounded hearts.
I have to say these are my favorite!
8) Six Tall Heart Shapes
(click on image to download)
9) Twelve Cute Hearts
(click on image to download)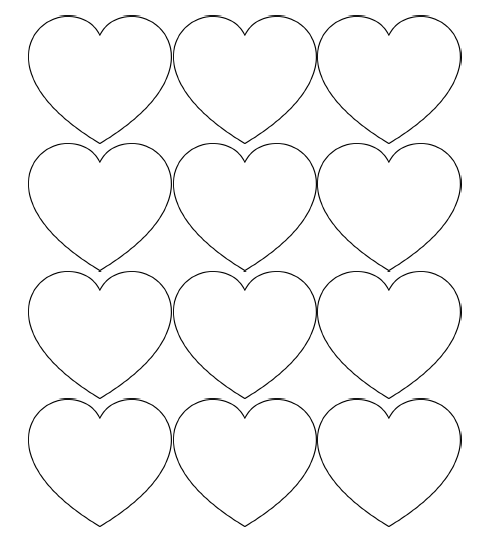 Projects for Heart Stencils – Valentine's Day Decor, I Love You Crafts
I have already used these heart cutouts for a couple different craft projects, but I can think of so many more uses.
Here are a few ideas I came up with:
Heart garland to hang across your fireplace mantle for Valentine's Day
Write love notes on the larger hearts to place in your sweetie's briefcase or lunch box
Print the small hearts on pink card stock and use them to decorate the front of a red card for a homemade Valentine
Get well soon cards for sick friends or someone in the hospital
DIY Mother's Day cards or Father's day cards
Thinking of you handmade cards with a custom message
Sewing templates – for whenever you need simple patterns for pillows, fabric crafts, craft fair projects, placemats, etc.

Valentine's Day craft projects

for little kids
Simple cutting or coloring

activity for toddlers

on a rainy day
Print tons of the medium sized hearts and use them for taking notes!
That's just a few ways I have used or would use these heart stencils in my life.
What will you use them for?
More from WhatMommyDoes
Latest posts by Lena Gott
(see all)