Today I'm excited to share something I've been meaning to post for quite some time. It's a set of fun & colorful BLANK monthly calendars!
Last year when I created my dated monthly calendar, I realized that I had a constant need for a blank calendar.
I found myself printing out copies of my calendars for all kinds of reasons – for planning projects, keeping track of blogging deadlines, meal planning, writing out our monthly menu, tracking field trips and homework, etc.
Instead of creating one set of dated calendar templates this year, I created something that could be used well into the future because there is no doubt I'll need them.
These are cute and printable, which sounds just about perfect to me. I hope by the next edition I will be able to figure out how to make them editable because that would be awesome.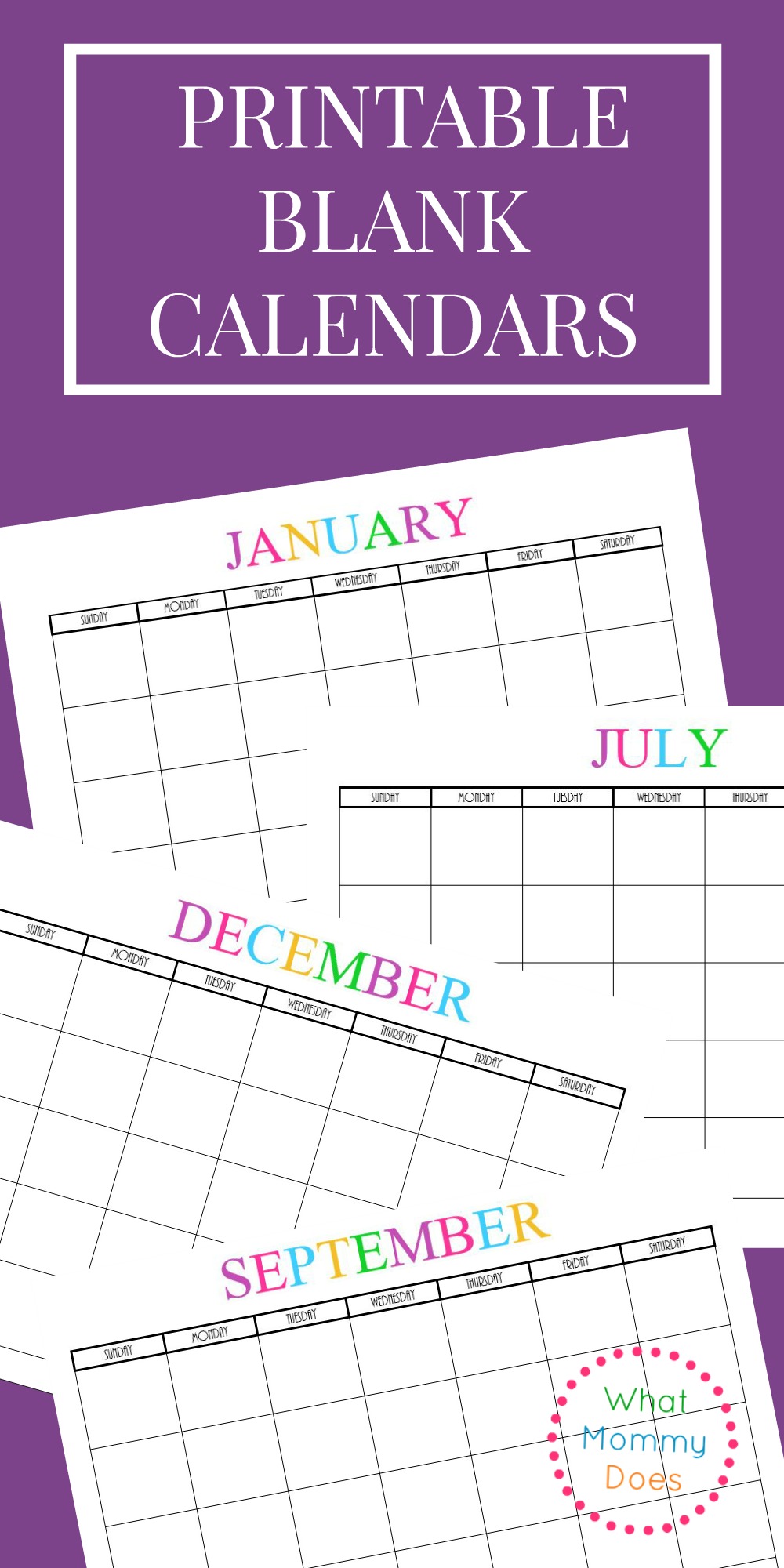 Free Blank Monthly Calendar Printables
These monthly calendar templates are basic white with pops of color in pink, green, blue, orange, and purple.
Perfect for anyone who wants a simple colorful page but doesn't want to spend a fortune in ink to print it out!
I love them so much, I can see myself using them for the next four years, so I'm saying they're for the years 2021, 2022, 2023, 2024 and beyond. We'll see what happens when the year 2025 rolls around! 🙂
12 Months of Printable Monthly Calendars
The colorful block number design is very different from my feminine & floral design 2016 calendar.
These are based on my 2015 calendars, which are still special to me because they were the first calenders I created for the blog….I think I might release this same standard design every year!
So grab this set of cute printable monthly calendars and print out as many copies as you'd like!
As always, my printables and templates are free for anyone to use.
CLICK HERE TO DOWNLOAD THE FULL CALENDAR YEAR IN ONE FILE >>
(if you're not ready to print, you can also click on the pink PIN IT button that appears when you hover over image & save it for later)
Blank Calendar Templates – January / February / March
Straightforward format – one month per page – –
January Calendar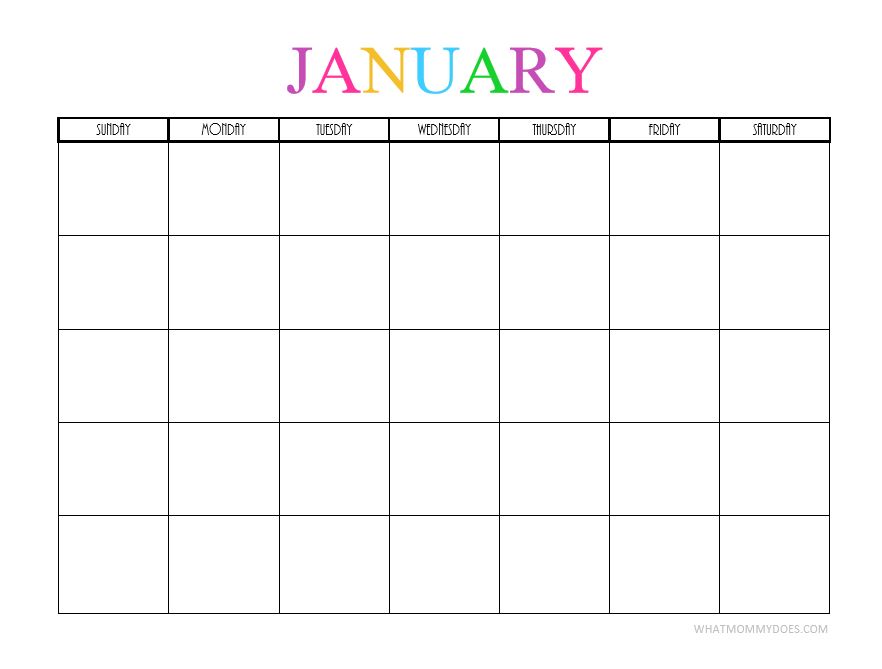 February Calendar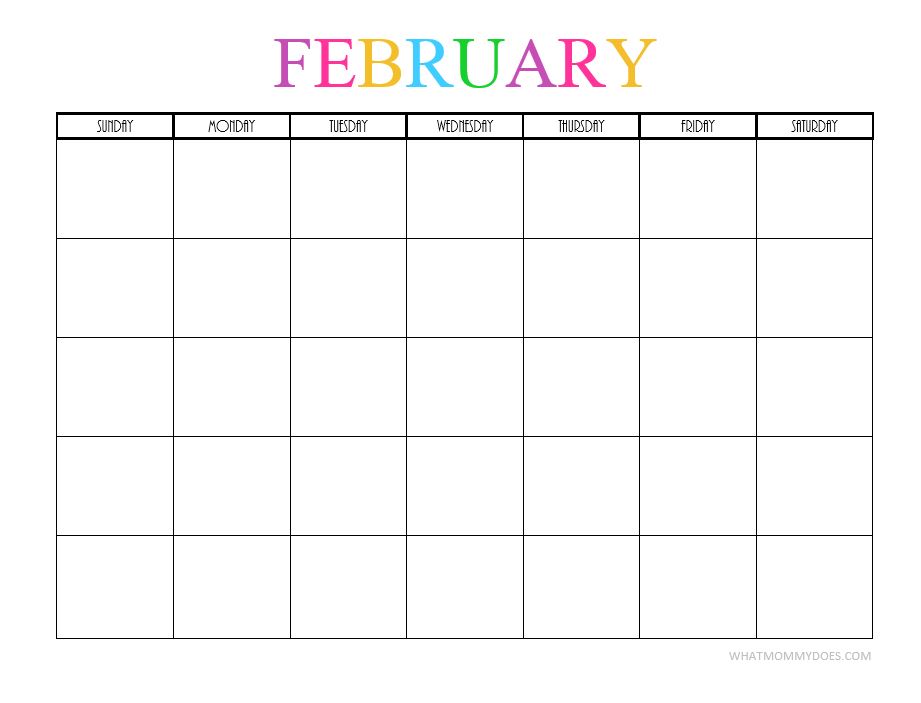 March Calendar
Free Printable Fill In Calendars – Months of April / May / June
Calendar pages can be printed in black and white as well. They look good in black and white OR color!
April Calendar Template
May Calendar
June Blank Calendar
Cute & Colorful Calendars to Print – July / August / September
Some people even print these out July through June so they can be used as an academic calendar. It's really up to you!
Printable July Calendar
August Calendar to Print Out
September Calendar
Free Calendars to Download – October / November / December
Printable October Calendar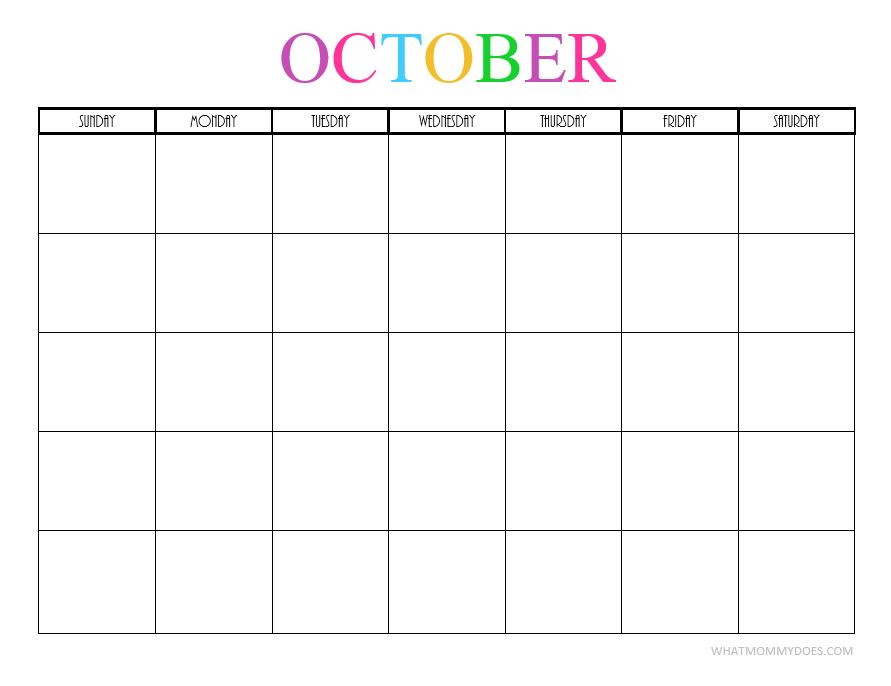 November Calendar
December Calendar
Entire Annual Calendar in One File
If you need the entire yearly calendar in one file, I've got you covered! Perfect if you'd prefer PDF calendars instead of images.
Instead of downloading them one at a time, you can grab all 12 months of the year in a single file below. This pulls up in PDF format.
>> All 12 January to December Calendars <<
Blank Weekly Calendars Coming Soon!
As I was creating these, I realized it would be lovely if I had a coordinating weekly calendar that you could customize any way you wish. Maybe with hourly time slots? Not sure on that yet, but I hope to get those created soon. I will link them up to this post when they're ready!
Also, I'm getting a head start on next year's calendar printables this summer. If you have any requests for next year's calendar design or layout, please let me know in the comments below!
More from WhatMommyDoes
Latest posts by Lena Gott
(see all)