Hey friend! If you're like me then you LOVE a cute planner page!
This weekly planning printable is simple, but powerful when it comes to being more productive + staying on schedule.
You won't believe how using this single piece of paper will help you get more done and stay organized each week.
I print them in big batches and use them ALL. THE. TIME!
I have even considered making these into a tear-off pad because I love them so much (putting this on my future to do list!)
This amazing resource is brought to you by Corinne from the blog, Wondermom Wannabe.
Her mission is to help busy moms feel like everyday superheroes by sharing tips, ideas, and resources that make mom life easier.
A lot of her tips boil down to one recurring theme – planning ahead. It's so much easier to stay on top of things when life is busy when you make a plan and stick to it. Otherwise, we spend our time playing catch up and that game isn't fun at all!
This (completely free!) printable weekly planner makes it easier to plan ahead.
It only takes a few minutes to fill it out, but it will save you hours in the long run!
Why You Need a Weekly Planning Sheet
Life as a mom is busy! No matter how helpful the other members of your family are, typically, the person who makes sure everything gets done is YOU.
Moms are the keepers of schedules, the runners of errands, the meal planners, drivers, and overseers of the entire house and family. It's no wonder we forget what we're saying in the middle of a sentence or why we've walked into the kitchen.
There's simply too much to keep track of and if you don't write most of it down, some of it likely won't get done.
And the only thing worse than feeling overwhelmed by all the things you have to do is to find yourself in crisis mode because something slipped through the cracks.
That's why you need a weekly planning sheet. It's a super easy way to make sure that the most important tasks get done.
How to Use This CUTE Weekly Planner
This 7-day planning sheet is simple on purpose. The easier it is to fill out, the more likely you will do it!
And since it only helps you if you use it, I wanted to make sure it was as easy as possible to use.
Print out as many copies as you'd like! It fits on nearly a full size sheet of paper. Sometimes I cut mine down to size, and sometimes I don't. It's up to you!
You can use it for planning out your entire week day by day OR for a specific purpose like your kids' weekly sports schedules, meals for the week, or an exercise schedule.
How you use it depends on your personal style & organization method.
My oldest daughter even likes to use it for herself to plan out dance practice & other activities for the week.
Once a week (either Sunday night or Monday morning), sit down and fill out the sheet. Keep it somewhere easily accessible and where you will see it often each day.
There's a box for each weekday and one box for the weekend. Use these boxes to jot down any appointments or events during the week you don't want to miss. I just copy these over from my monthly calendar so this is a fast and easy step.
The "Don't Forget" box is where you'll write down things you really want to remember in the coming week. I like to use this space to jot down my goals so that I keep them at the front of my mind all week.
Make a list of all the main things you need to get done this week in the "To Do" box. These are errands you need to run, calls you need to make, and any other necessary tasks.
The simple weekly planning worksheet also has a small space for notes so you can jot down anything that doesn't fit nicely in one of the other sections.
How to Get This Planner Print Out
This page is included in my FREE PRINTABLES LIBRARY for email subscribers.
Click the link or image below to request access to the entire printables library!
CLICK HERE TO ACCESS THE PLANNER PAGE >>
Where to Get More Planning Printables
I'm confident that after you've used this weekly planner for a few weeks, you'll be delighted with how much more you'll get done each week without feeling frazzled. By then, you'll start wondering if there are even more ways to simplify your life and get more done.
There are! Here are some more free printables that will help keep you organized and make your life easier.
Save money and meal time anxiety by planning your meals for the week on this weekly menu planner.
Help your kids be more organized and productive too! This weekly planner was designed specifically with kids in mind.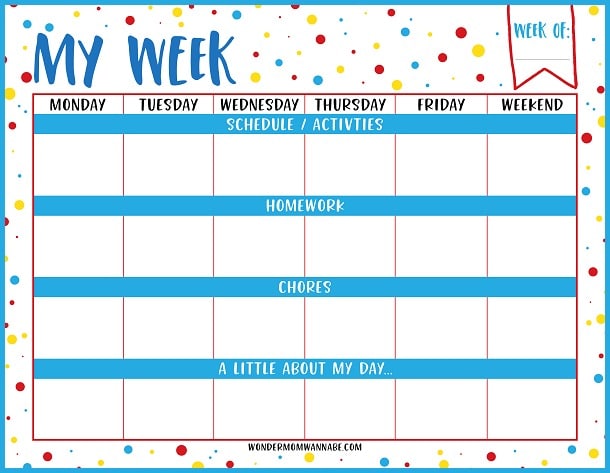 Get the entire family on the same page for the week with this planning sheet to record the week's activities, dinner menu, and chores that need to be done.
Before you leave, make sure to pin this post using the image below so you can easily find the printable again if you accidentally delete the file!
Latest posts by Lena Gott
(see all)