Every October / November, I find myself scratching my head over whether or not I should buy certain people gifts.
I LOVE giving gifts, but sometimes the overwhelming nature of the holiday season gets to me…
….and I kinda panic.
I like to get my closet neighbors a small gift of some kind that they can enjoy as a family.
I also like to get my extended family (like my cousin's family) something that the entire family can use.
That way I am not trying to buy a small gift for every person and can actually give them something they will all enjoy together.
Not only is purchasing one larger gift per family rather than individual ones for each member easier on my brain, it's cost effective!
It's the best way I've found to cut down on Christmas shopping stress, especially at the last minute.
No matter who is in your family or what your shopping budget is these 50+ family Christmas gift ideas for the entire family are a surefire hit!
50+ Family Christmas Gift Ideas
These are the perfect family gift ideas for any shopper.
In years past, I gave something cooking based, but this year I wanted to branch out a little bit. I tried to find the biggest variety of ideas possible so there is something for everyone to consider.
From awesome electronics to creative experience gifts and everything in between, your Christmas shopping is about to become much easier!
1) Outdoor Movie Projector
Make family movie night an event to remember with THIS outdoor projector!
This family gift idea allows family members to watch movies outside under the stars.
My own family was given this one year, and it is one of the best gifts we've ever gotten! We are still using it years later.
2) Gift Card
Not sure what to get for families who have everything? Take the pressure off of yourself and let them pick a gift for themselves!
You can get a gift card to pretty much any store these days. An Amazon gift card is guaranteed to be a winner, but you can also purchase gift cards to restaurants, shops, and even for travel.
3) Ice Cream Maker
This is another fun family gift idea that family members can enjoy all year round. Even better, everyone loves ice cream!
Having an ice cream maker will allow family members to experiment with different flavors and even come up with their own concoctions.
For bonus points, you could also put together a fun family cookbook with delicious recipes for ice cream.
4) Hammock
Looking for family Christmas gift ideas that family members will use all year long?
A hammock is just what you're looking for!
Perfect for the backyard, family room, or even the beach – this family gift idea is one they'll be sure to enjoy.
I particularly love THIS boho hammock…it's so pretty!
5) Experience Gifts
Want an amazing and meaningful gift? Why not give the gift of family time all year long?
Places like the zoo or aquarium make great family experience gift ideas that family members will remember for years to come.
These family experience gifts are a lot of fun and get family members away from the latest electronics. Experience gifts create memories that will last a lifetime!
I have purchases gift passes for friends and family members through Groupon. you can get some great deals on local zoo passes and amusement park or waterpark tickets on there.
6) Holiday-Themed Gifts
Family members will love getting holiday-themed gifts like matching PJs. Another simple gift idea is to give themed matching gifts for family gatherings.
How cute would everyone look in matching family aprons during a holiday baking session? You can even add on a Christmas cookie decorating kit like this one >> or a Christmas baking cookbook like this >>.
7) Hot Chocolate Basket
This family gift idea is so simple, but family members will love it.
Add a few of family members' favorite hot chocolate brands, some mix-ins like marshmallows or candy canes, and wrap it all up in a cute basket.
I particularly like THESE personalized kid-friendly hot chocolate mugs. They would look so cute on Christmas morning!
8) Nerf Guns
Looking for a gift for the family who has older kids? Why not gift a set of Nerf Guns?
I picked up THIS set of 6 Nerf Guns for my family last year and it was a ton of fun.
These guns are great because they don't hurt when you get shot, but they do make you run around like crazy!
You may also want to include an extra set of the little foam darts too.
If the kids need something to shoot at, this Zombie practice target makes a good way to compete for points and you don't have to be the one dodging bullets.
9) Vinyl Record Player
In case you haven't noticed, vinyl is back in a big way.
This is one of the best family gifts because it will give family members a reason to get together and listen to music. What better time than during the holiday season?
Everyone can pick their favorite family-themed albums and have a blast reminiscing about family times past.
I particularly like THIS Vinyl Record Player >> because it also has Bluetooth capabilities. That way, you can stream music from your phone as well!
You can also gift some money along with it and encourage the family to enjoy record hunting at local thrift shops. I've found some gems there.
Read this post about 18 brilliant ways to give money with your gift!
10) Karaoke Machine
Here's another ideal gift for a music-loving family.
Family members will love getting together to belt out some family-favorite tunes during family time with this family gift idea.
This family gift idea will give family members a reason to get together and sing along to family-favorite tunes. Everyone can pick their favorite family-themed music and have a blast singing right along!
Want something that is sure to please? Try this portable karaoke machine with party lights and subwoofer >>
For a more affordable option, gift a set of Bluetooth karaoke microphones >>
11) Pizza Kit
This is one of those great family gift ideas that is sure to be a hit with family members of all ages! Who doesn't love pizza night?
Everyone has their favorite family pizza recipe—and now family members can make the pizzas together.
Even better, you can encourage family members to experiment with new recipes and have taste tests to see who created the best combination.
Grab the pizza kit by clicking here >>
Want to take it up a notch? Add in a pizza oven that makes real wood-burning pizza like THIS ONE. This is a unique gift the whole family will use and love for years to come.
12) Game Night Supplies
Looking for family Christmas gift ideas that family members will actually use? Why not put together a family game night kit?
Gift a few of your favorite board games, a card game, or even a party games or two to use during family game nights. You can also include snacks and drinks in the family game night kit!
Here are a few of my favorite card games and board games to get you started:
To help younger players with card games, don't forget to include THESE card Holders for kids!
13) Marble Run Sets
This family gift idea is a creative family activity that family members of all ages can enjoy!
Help family members play and bond with these marble run sets. These are great for STEM family projects and working analytical skills in a super fun, hands-on way.
This simple present practically guarantees family time and lasting memories. In fact, I have the best memories of playing Marble Run with my own family as a kid myself!
Buy Marble Run by clicking here >>
14) Yard Games
Need family Christmas gift ideas that family members will get outside with? Try gifting one or two of your family's favorite yard games.
I highly recommend this game, Slammo! It's enjoyable for every age group, and it's portable so you can take it camping or to the beach. This family-friendly yard game will allow for lots of fun all year long.
This year I've seen this game all over the place. At the lake, the beach, parks, church gatherings, etc… There are even adult leagues out there.
15) Twister
If family members are as competitive as mine, they'll have a blast with this family gift idea!
I don't know about you, but I can remember love/hate-playing Twister with family and friends. This family gift idea is a classic for a reason—it's hilarious and fun. Plus it's a great option if you are shopping on a budget.
I particularly like Ultimate Twister >>. It's twice as large as the original so there's even more room for hilarity! The recipient family can spread it out in the living room and enjoy!
16) Amazon Echo Show
This family gift idea will change how family members communicate.
The new Amazon Echo Show with built-in screen is the perfect family gift idea everyone needs to try. I've said before how much I love Alexa and this digital assistant family gift idea before, but it's worth writing about again!
This family-friendly device will allow the recipient to make shopping lists, order off Amazon Prime, control smart devices in their home, video chat with family, and more!
Get the Amazon Echo Show HERE >>
17) Family Movie Night
I am a sucker for family movie nights. In fact, a movie night-themed present is one of my favorite family gift basket ideas. Simply grab a basket and load it up!
Add family favorite movies, candy, popcorn, and gift certificates for digital rentals for a complete family gift basket. I also like to toss in an oversized throw for snuggling on the couch.
Another fun idea is to add Personalized Popcorn Buckets to enjoy during family movie night. If you're looking to go the extra mile, you can also include a fun treat like THIS CraveBox with 45 different kinds of snacks!
18) Giant Bean Bag
I can't tell you how excited people will be to receive this gift! A giant bean bag is the perfect family-friendly gift for family card games, movie night, or reading stories together.
This useful family gift idea will allow everyone to lounge together in comfort. THIS giant memory foam bean bag comes in over a dozen colors and is 8 feet wide!
19) Nintendo Switch
I can't think of a family who wouldn't love this family-friendly video game console and accessory bundle. Buy the Nintendo Switch here >>
This trendy system has three modes in one: TV mode where you can play on the television, a tabletop mode for multi-player games, and a handheld mode where the player can play with attached controls.
It's portable and tons of fun for all ages! If the family has more than one child, they may appreciate multiple Switches as it fits your budget.
20) Mario Kart
Do they already have a switch? If family members love party games or game night, this is one of the best video games to gift.
Mario Kart has been around for years and is always a family favorite. Watch family members laugh and enjoy some friendly competition as they race each other to victory.
21) Fire TV Stick
Give family members the gift of entertainment with family-friendly games, shows, and apps. A Fire TV Stick is perfect for family game nights or family movie nights—it practically brings the whole family together!
This is one of my favorite family gifts to give out because it's so fun for adults and children alike.
Get the 4K Firestick with Alexa Enabled HERE >>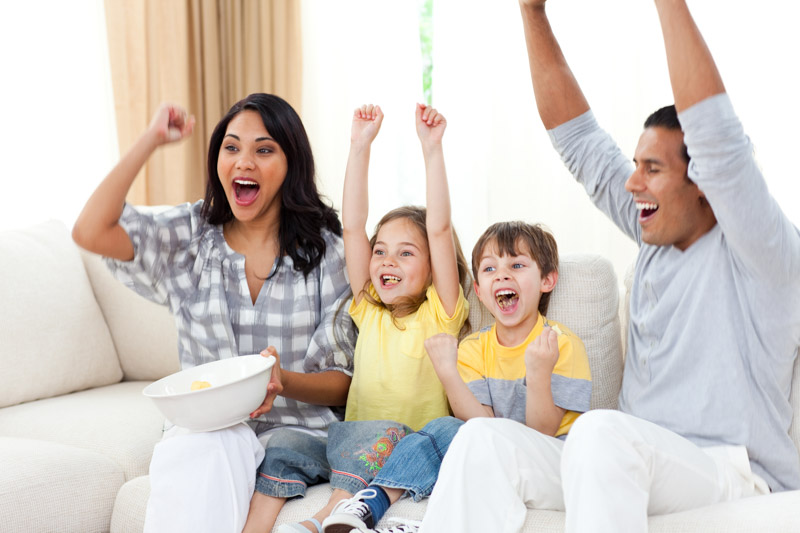 22) Instant Pot Duo
One of the most useful family Christmas gift ideas I've ever given family members.
The Instant Pot Duo is one of the best family gifts for family meal planning. It's an all-in-one cooking appliance that can be used as a pressure cooker or slow cooker, rice maker, yogurt maker, cake maker, egg cooker, steamer, food warmer, and sauté pan.
It also comes with a recipe book to get family members started on their new family gift idea journey! This pressure cooker is a good option if you want to buy a gift for families that's practical and useful. Families of 4 or 5 will especially appreciate a larger-sized version. 😉
Purchase the 8 quart Instant Pot here >>
23) Fire Pit
Here's a family gift idea that's perfect for family bonding time! They will love gathering family and friends around the fire pit to roast s'mores, eat family meals, and tell stories.
I've given family members a fire pit as a gift before and they absolutely love it! Plus it makes family gatherings outside more cozy which is always nice.
I like THIS wood-burning fire pit, but there are a lot of options out there.
24) Museum Memberships
Consider buying relatives a family membership to a local museum so they can explore it for free. This is one of my favorite family gifts because it's versatile and includes an adventure.
Plus, families with toddlers will love children's museums or science museums with hands-on exhibits for them to explore.
25) T-Shirt Quilt
This is one of the most touching, sentimental family gifts you can give. A family t-shirt quilt is something family members will cherish for years to come. It's truly one of the most perfect Christmas gifts!
It's important that family members take the time to collect their favorite shirts, so this may be a good family Christmas present for a family with older kids who don't mind participating.
Of course, you can make this quilt as a homemade gift, but you can also hire someone on Etsy to make a t-shirt quilt for you HERE.
26) Book Sets
If family members enjoy reading a book set may be the perfect gift as well as one of the cheapest on this list. This gift idea is great because it's family-friendly, inexpensive, and looks beautiful on bookshelves.
There are lots of different options for buying book sets depending on family members' interests! One of my favorites to give is the Chronicles of Narnia Book Set. It's a best seller that kids and adults alike will love.
27) Letter Board
Letter boards like THESE are all the rage these days and family members will love displaying their favorite quotes for family and friends to see.
They can be also be used as a family message center or inspiration wall, and there are lots of different letter sets and colors you can choose from too!
28) Storyworth
Here's a family gift idea that family members will treasure forever. This is an heirloom book that can be handed down for generations to enjoy.
Storyworth makes beautiful custom books filled with stories that are answered via a weekly prompt. Family members answer the questions and a year later receive a Christmas gift they can cherish forever!
29) Custom Family Drawing
This family gift idea is one of my favorite because it can be very personal and heartfelt.
Don't worry – you don't have to draw it yourself. 😉 There are a lot of options on Etsy where you can hire a talented artist to do it for you.
I love THIS modern line drawing artist. And yes, you can ask her to draw a pet too so the whole family is included. All you need to provide is a family photo. It's a simple family Christmas gift, but it's sure to brighten up family members' homes!
30) Digital Frame
A digital photo frame that displays photos will be well used and appreciated by family members all year long.
To make it a really good gift, you can even pre-load family photos for them. This also makes a great group present for anyone ranging from young families to grandparents or elder relatives!
I particularly like THIS Digital Photo Frame because anyone can email in photos that will then pop up and be added to the frame! Such a great idea.
31) Personalized Christmas Ornament
Nothing says Christmas more than a personalized family ornament hanging on the Christmas tree! This family gift idea is simple, but it's sure to be used every holiday season.
Get a personalized ornament here >>
32) Keepsake Journal and Photo Printer
This gift idea is one family members will find both sentimental and practical.
A journal like this one with family photos printed on the pages and plenty of room for writing makes family memories tangible.
THIS mini photo printer is one of the best gifts and perfect for family members who don't want to deal with expensive monthly subscriptions or fancy apps!
33) Family Name Sign
This personalized sign is gorgeous!
It's made in a modern farmhouse style and features their last name along with the year the family is established. I am eyeing this one for my own family this year. It's just so pretty!
34) Adventure Challenge Book
What is a good gift? One that families will enjoy for months to come! If you agree, I've got just the thing for you. This Adventure Challenge book is filled with 50 adventures.
The trick is they have to be scratched off one by one…and once they are revealed, the family HAS to do them!
35) Custom Puzzle
This family gift idea is perfect for family members who enjoy spending time together. A custom puzzle of a favorite family pic makes a heartwarming gift.
Plus it's something family members will open every year to spend even more quality time together. All you need is to upload a photo and choose how many pieces you'd like.
36) National Parks Pass
Family members who love to explore will get a lot of use out of this family gift idea. This passport is good for free admittance into all national parks in the USA and family members can add their own stamp when they visit!
37) Gift a Train Ride
This is a nice present that kids will absolutely love (and grown-ups too). Book the family tickets for a Polar Express or similar adventure in their area.
38) Family Recipe Book
This is one of the most well-received gifts by my female family members—although men like it too.
A family recipe book allows you to store family recipes as well as memories. It will be treasured for years to come.
Make sure to ask relatives for their favorite meals to make and fill in at least a few pages with their recipes before gifting it!
Get a custom recipe journal here >>
39) Custom Family Map
Family members, especially kids, love maps! And this family gift idea is the perfect way to display where they've traveled to, as well as where they would like to go.
For bonus points, you can include some family souvenir ideas from their favorites spots. Small stickers or pins work well and can be added to the map.
THIS large-scale map should work nicely!
40) Gift a Streaming Service
If they don't already have access to some family favorite streaming service, now is the time to gift it!
Gift them a Disney+ subscription or even a Netflix family plan. They'll love the convenience and you'll be sure they appreciate the family time spent watching TV together.
41) Personalized Charcuterie Board
This is one of the most popular family gift ideas I've ever given! My family loves to eat and this board makes family mealtime simple and fun.
It can also be one of the best themed gift ideas. Bundle in some local honey, crackers, and some of your favorite jams before gifting it. If you are local to the family and dropping it off, you can also add in some meats, cheeses, and olives.
Buy the personalized charcuterie board HERE >>
42) Family Conversation Starter Cards
Here's one of the best things to get your family thinking. It's a set of cards that family members can use when they don't know what to talk about.
It's a sure way for family to get closer and spend quality time together. Just draw the card and answer the question. These are perfect for dinner or downtime.
THIS TableTopics family card set has over 350 conversation starters!
43) Electronic S'mores Maker
This electronic s'mores maker is perfect for family trips, vacations, or just a random weeknight at home. It's designed to be used with any graham cracker or cookie, and whatever kind of chocolate bar they'd like. Plus, it has a spot to roast your marshmallow too!
Family members can take turns making their own creations with THIS indoor electric s'mores maker.
44) Picnic Set
With this picnic set family members can create their own picnics virtually anywhere. It comes with a waterproof blanket, plates, utensils, stemware and is waterproof to keep everything safe.
I like that it's an insulated backpack too so everything stays fresh! Buy the picnic set here >>
45) Kids' Book Subscription
Family members who love to read and kids who constantly want new books will be thrilled with a family book subscription!
All you need to do is choose the age group and address, then they will enjoy curated books every month or quarter depending on what you choose.
Purchase the Amazon Kid's Book Box Subscription here >>
46) Charging Station
Too often family members have more than 1 device that needs charging at the same time. This family gift idea will make charging a breeze as everyone can recharge their devices at once.
I particularly like THIS charging station because there's room for everything from iPads to phones.
47) Family Tree
This family gift idea is great for those who love history or family genealogy research.
THIS stunning wooden family tree documents up to six generations. It's an absolutely beautiful gift that will be displayed with pride.
48) Meat Smoker
This family gift idea is perfect for the family who loves to BBQ.
I like THIS smoker because it can handle family-sized portions and is SO easy to use. You can also add in some grill accessories or meat rubs and sauces.
If you are lucky, you might even get invited over for dinner! 😉
49) Picture Memory Game
This family gift idea is perfect for family parties or game nights, and can also help young children with memory and coordination.
It comes with a set of 24 cards that have custom photos printed on them. Players try to remember where the matching set is while racing against the other players.
Plus, THIS photo memory game from Etsy is only $20!
50) Matching PJs
Last, but certainly not least, matching family PJs are a timeless family gift idea. They're cute, cozy, and they make family time even better!
THESE Burt's Bees Family Pajama Sets come in a ton of different designs and include all sizes, including a cute bandana for the dog!
I hope your family enjoys these 50+ fun family Christmas gift ideas. If your family is anything like mine, odds are that they love to spend time together.
Remember, gifts that encourage family bonding and have a lasting effect on family relationships can be some of the best family Christmas gift ideas out there!
More Christmas Posts to Read:
Latest posts by Lena Gott
(see all)