A question I get from most people who just started their blog is "when will I start making money from this?" Or, "how much do people make blogging?"
I want to answer their question, but oftentimes I don't know where to start because if they are asking about money from day one, then it indicates to me that their expectations are unrealistic. Before you can make money blogging, you must lay a solid foundation. Let's go over a few of the major things you should consider when your goal is to create a money making blog.
Before you can make money blogging…
In the early days of blogging, you will find yourself starting off slow and making small improvements each day. As I explained in
my blog startup guide
, the foundation of your blog will be a nice looking blog template (or "theme"). If you want to know more about themes,
you can read this post
.
Once you have a nice theme installed, you will spend time (using the theme tutorials and any forums they offer) to set up your blog properly.
You will need to define blog categories, which are the topics you will write about. For me, those are the topics you see across the top of my website right below the header (free printables, making money from home, etc).
Once you create your categories, you will then place them in your menu (the category bar I just mentioned). It's literally a drag & drop process, but it may take you a few minutes to figure out how to access that in WordPress. Until you get 100% familiar with the dashboard, you will take longer to do things like this – but I promise it gets easier over time!
Whenever you're truly stuck on something and you can't seem to find an answer, the best place to look is YOUTUBE. There are literally YouTube tutorials for everything under the sun, including WordPress blog setup. That's what I did (and still do) when I need help with something technical I don't understand.
When does the money come?
So even after you have your website set up, the money won't magically appear. Your next order of business is to
write content
.
LOTS OF IT.
A good blog is a site full of content written to serve its readers.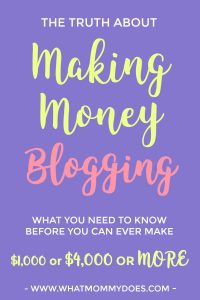 Take your time figuring out what people are willing to visit your blog to read. You cannot overthink this part. You will need to choose topics you could write about week after week for years….that's how much you'll have to love your topics in order to last over the long haul on this blogging adventure.
Use the Blog by Numbers ebook I mentioned in
my Blog Startup Guide
(which I will send to you as soon as you complete
Bluehost registration
and install a theme) to figure out how to create images for Pinterest, then work on figuring out Facebook images.
Write about a topic, pin your images and share the post on Facebook. Basically get the word out about your blog. Network in Facebook groups for bloggers (I'll invite you to mine when you become a blogger!) and ask questions as you need to.
Everyone in this industry is so helpful because everyone started from ground zero with no guidance at once point. That's what makes blogging so difficult yet so exciting at the same time. It's like the Wild Wild West of the Internet! 😀 Every blogger for himself and winner takes all! lol
Hopefully you won't feel like you're on your own, because I'm here to be your cheerleader along the way. I just want you to have realistic expectations. That's why I'm writing this.
While you won't make
$5,000+ per month
in the beginning, we can build upon the base you establish in the early days to add $1 here and $5 there. That's literally how I built my blog up to those big amounts, step by step over several years. You can get there, too, with a lot of perseverance and a great attitude.
How do you create a blog?
To make a blog (the way I recommend to everyone new), you need to follow these steps in order:
Install WordPress (with one click in Bluehost)
Install a theme. You can technically start with a free theme, but I recommend a paid theme like the ones in this blog post…they're the quickest way to look professional right out of the box.
Then customize your theme and write content (as I mentioned in the section above) one at a time. Resist the urge to get overwhelmed before you even start! I can't tell you how many emails I get from readers who just started a blog and are paralyzed with fear to take it live to the world or even publish their first post.
Don't overthink every single step. Just try something out for size (like a welcome post on your blog) and see how it goes. What's the worst that could happen?!
Really, the worst that could happen is that you are not 100% satisfied with that post and then you delete it. That's it. No biggie! 😀
So when can you start earning extra cash blogging?
As you develop content that readers love, THEN you will be ready to make money from your blog.
You need readers to make money and you need great content to get readers. When you are ready, I can help you figure out how to actually monetize your blog properly. You will be able to join my next level mailing list for newbie bloggers and also join my Facebook group for serious bloggers. I'll hook you up with ad networks to join, sponsored post agencies so you can get products to review, and more! I can't wait to teach & learn alongside you in both places!
Don't worry if you feel like it's taking a long time. It WILL take some time to get over the learning curve that blogging is. But one day you will look back and be so proud of yourself for going on this adventure.
I hope you decide to join me! 🙂
How to Start a Blog: Resources