Are you looking for the best gifts to give your kids this year that don't blow your budget? I have got you covered with these gifts for kids under $10!
There's no need to break the bank to treat your little one.
I wrote about cheap DIY Dollar Tree gift ideas before, so now I figured we'd continue with low cost ideas specifically for kids!
Whether it's for your own child, grandbaby, niece, or nephew….these cheap gifts will provide hours of entertainment without crushing your budget!
These are some of the cutest, most thoughtful, and even practical gifts that moms and kids alike will love. $5, $7, or even $10 is plenty enough to spend per child.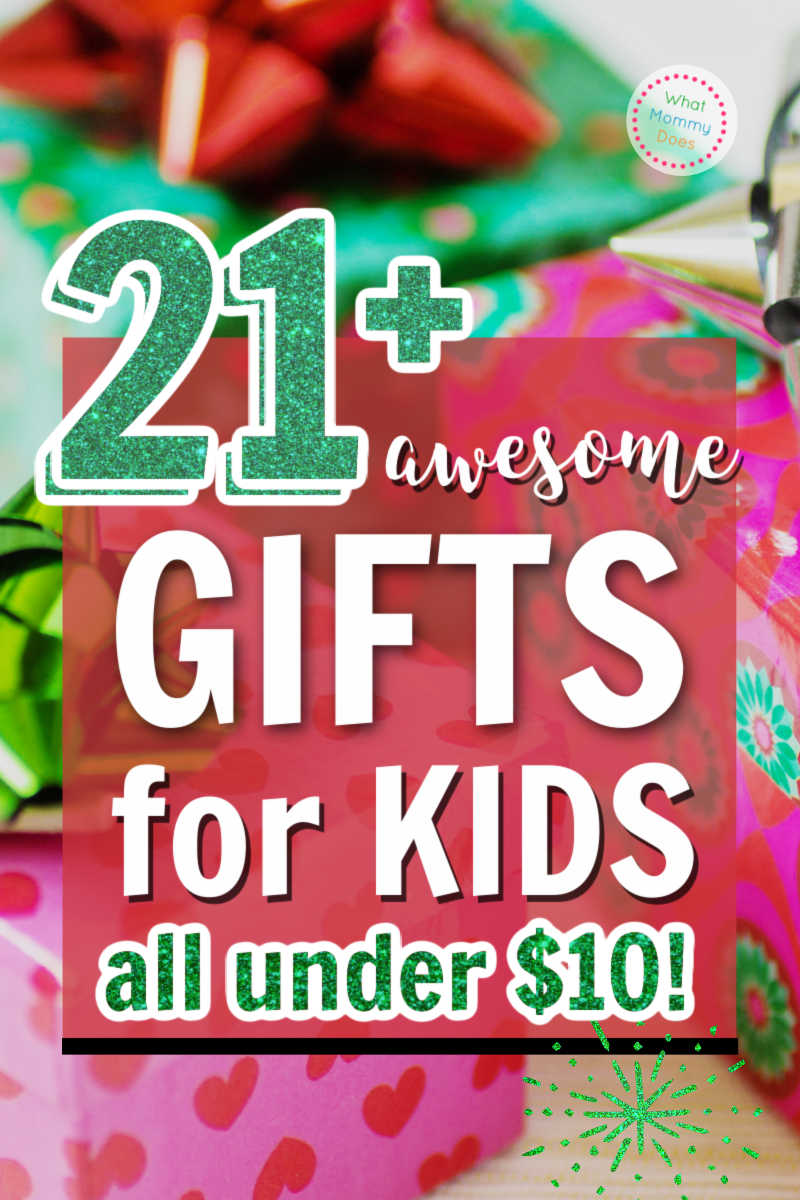 21 + Perfect Gifts for Kids That Cost Less Than $10
With prices ranging from $5 to $10, these inexpensive gift ideas make great birthday presents, stocking stuffers, or great Christmas present ideas!
Especially if you have a lot of kids to buy for, it's important to find a way to stretch your giving dollars so you can gift more family members while still having a amazing gifts to give them.
In this list, there is something for every age range from young children to older kids and everything in between.
Get ready to shop with me because we're about to dive into finding the perfect gift at under $10!
1) Slime Kit
This DIY sensory toy makes for a fun and interactive way to spend time together as you learn how to make the perfect slime.
Slime kits are a great present for kids because they keep them engaged and entertained! It's the perfect way to keep a kid engaged for hours.
My kids all love to spend time customizing theirs with scents and colors and will play with the results for weeks and weeks.
These kits make great birthday gifts or even as the activity during a little kids birthday party.
2) Art Supplies
Perfect for a budding artist or creative kids, this is one of the most fun gift ideas on the list!
This art kit will keep your little ones engaged for hours to come!
You can never go wrong with gifts for kids that involve art.
Check out this post for even more art-related gifts for kids.
3) Board Books
Board books make great gifts for babies and toddlers.
There are so many board books to choose from, but these are some of my favorite children's books that also make the perfect gifts for kids who are under $10:
4) Chapter Book or Series
A good book for older kids can be a great gift. My kids have been reading chapter books for quite some time, so I can personally attest to how it keeps them quiet and focused!
I'm particularly fond of series as it can really get them excited about reading the next one!
A great book is also educational (because it helps them become a better reader) which is a huge plus.
Here are some of our favorite series that make great gifts for kids under $10:
A cute or durable bookmark would be a thoughtful gift to accompany a new chapter book.
5) Nerf Guns
These are great gifts for kids in multiple age groups. The Nerf guns encourage movement and coordination, which is great for building skills in younger children.
Not only that, but these Nerf blasters make the perfect gifts for boys and girls alike!
I know from experience how much my daughters love to join in on playtime with their brother. This is one gift that will get frequent use and proves that it doesn't have to cost a lot of money for many hours of happiness.
And what kid doesn't get excited and celebrate when they finally make that long shot from across the house that zings their brother right on the leg!
6) Hair Chalks
Hair chalks in different colors can be so much fun for little fashionistas who want to get creative!
With so many color options, you can use them to create colors or patterns on hair, but best of all, the vibrant colors wash out over time.
Sometimes the little things like this can be a big way for a kid to show their creative side.
Lip balm is another small present that would be a good idea for a best friend gift or a great stocking stuffer.
I don't think I've ever met a boy or girl that didn't appreciate it and use it after being given some.
7) Play Dough
Play dough is always a hit with kids of all ages and make a great addition to any Christmas list.
They love to create, mold, and sculpt things out of the soft dough that they can play with over and over again!
Playing with Play-Doh is also a good way for little ones to work on fine motor skills….so it's technically educational! 🙂
You can get a traditional set like this one (pictured below) or perhaps something like this Play-Doh Sweet Shoppe Cookie Creations set >>
8) Tiddly Winks Game
This classic game Tiddly Winks is a favorite among kids and parents alike! It's easy to learn, but will provide hours of entertainment as you battle it out to send your disks into the pot.
This would definitely be a unique gift that no one else is getting them.
9) Old Maid
This is one of the popular card games that never gets old!
This is a great game for a fun family night, games with friends after school, or even a great way to spend time inside on a rainy day.
It's a novelty gift that would be perfect for a secret Santa or White Elephant present for someone younger, like at a party where the kids do exchanges as well.
This version of Old Maid is nice as it also doubles as Memory.
On the other hand, you can teach your children all the classics with this 6 in one card game set. It's a few bucks more than $10, but it has 6 games in the set and it is so much fun to play them all.
10) Hula Hoops
You can never go wrong with gifts for kids that are active! Kid-sized hula hoops are a wonderful way to encourage exercise, movement, and laughter!
You can find them at your local Dollar store so they are super cheap Christmas gifts that get used and fill up free time around the holidays.
11) Uno Card Game
Likewise, this classic & fun card game is perfect for playing with friends and family.
The best part? It's just as fun for young kids as it is for older kids (and adults), which means you'll be able to spend quality time and play games with the whole family!
12) Board Games
A classic game such as checkers is perfect for keeping kids of all ages occupied.
A great game to play with friends, board games are gifts for kids that keep boredom at bay!
This board game offers 3 games in 1: checkers, chess, and backgammon.
13) Video Games
Video games are great because they encourage active play and interaction with others. And yes, you can find games for under $10 like this Incredibles game for PS4.
You can also check Craigslist or Facebook Marketplace and get incredible deals on video games! The more retro the better. 😉
14) Scratch Pad with a Wooden Stylus
This is a favorite among kids of all ages. It's fun to create your own designs on the notebook with the wooden stylus, and it makes great gifts for art enthusiasts!
15) Nail Polish
Little girls love picking out their own nail polish colors, especially if they can pair them with fun nail stickers too! This Disney nail kit looks like so much fun.
If you want to make a small things gift basket for a young spa fan, you can throw in a face mask, some lotion, bath bombs and chocolates.
This would be an affordable way to pamper your loved and show them how to self care.
16) Candy with Natural Ingredients
Gifts for kids that involve candy? Yes, please! This organic candy with natural ingredients is made from fruit and vegetable extracts.
It's a healthy alternative to the usual gifts for kids involving sugary treats!
17) Cell Phone Accessories
It's pretty hard to find cell phones for under $10 (unless you work out a deal with your phone carrier), but there are plenty of accessories you can purchase such as pretty cases, charging stands, and grip stands.
There are many cell phones that still have earphone jacks. These dangly jack charms are adorable and they block dirt and grime from getting in there.
These are the cool gifts the older ones usually clamor for!
18) Sticker Books
Were you ever one of those sticker kids? I definitely was—I had a great collection and still love living vicariously through my own kids.
Sticker books like this one with animals are cheap toys that will provide hours of entertainment for all ages.
19) Fidget Toys
Little hands will work at these toys to keep their minds focused. The push pop fidget toys are my favorite.
The best part about these fidget spinners is that they are small, so they are easy to travel with and seem to really work!
20) Magnets
Magnets are always cool gifts for kids (just make sure they're not still putting things in their mouth, though!)
You can purchase magnets in the shape of animals or objects, and they'll provide hours of entertainment when you use them with other magnets to create different shapes.
21) Digital Camera
Yes, a digital camera is maybe the coolest gift on the list! I love seeing the different styles of photos each of my children take. Plus, these $10 digital cameras are the perfect size for smaller kids.
Even better? This is the easy way to start building memories for the whole family.
I like to choose my favorite snaps and get them printed and display them around the home.
So, there you have it! As you can see there are so many choices for kids gifts under $10.
Don't feel pressured to spend a bunch of money to get gifts for kids.
These gifts are great ideas because they are affordable, but the main goal is to get your kids gifts that encourage creativity and play!
What Can You Give a Kid Who Has Everything?
You know those kids who have absolutely everything? What can you gift them if you are trying to stay on a budget?
Fortunately, there are still options!
Another really awesome thing to give kids who don't need more toys or just have too much stuff in general is a unique experience gift.
Whether that's treating them to a movie in the theatre, a smoothie date, or a trip to the playground, kids love to spend time with you!
More Kids Gift Ideas:
Latest posts by Lena Gott
(see all)