Today I have the neatest thing to share with you!!
I've been wanting to create this gift idea for the blog for quite some time, but I never got around to it because I always make these gifts at the last minute! Then I forget to take pics.
This year I got my act together and snapped pics of the entire process for you!
It's pretty easy to make a pad of cash and they make the best gift!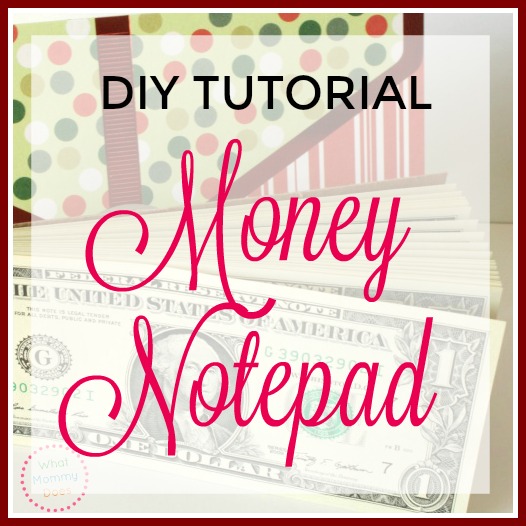 THESE ARE REAL MONEY PADS! Yes they are real. LOL
Someone just asked me where I got the fake money! hehe It's not fake money – it's real life money. 🙂
How to Make a Pad of Dollar Bills – DIY Money Notepad
This year I'm giving my niece a money note pad for Christmas.
Here are the exact steps so you can make your own real money pads!
They can tear off dollar bills as they need them to spend like a check from a checkbook, or save the pad for a rainy day.
I promise you will be your gift recipient's favorite parent / grandparent / aunt / uncle / sibling / friend / neighbor if you give this as a DIY gift. It's ALWAYS a bit hit!!
What You'll Need for One Tear Off Money Pad
stack of crisp $1 bills (you can get these from the teller at your bank)
a piece of cardboard for the backing (I cut mine out from an old box…I've used cereal boxes before…really any cardboard will work)
**If you want the glue, padding compound, and chipboard backing all in one, then this money pad kit is a great option, too.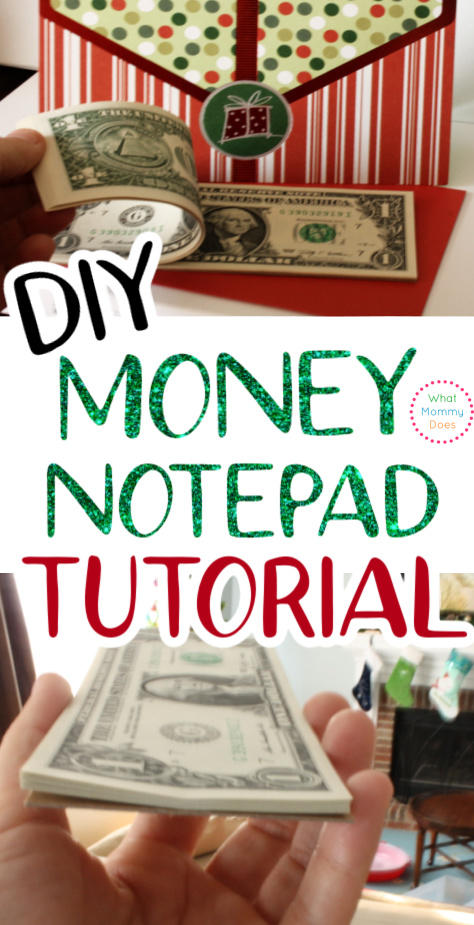 Step by Step Dollar Bill Notepad Instructions with Pics
1) Start with the crisp bills.
This is the most important step.
They must be crisp or the tear off money pad won't lay flat or look nice. Trust me, I've tried to cheat on this one.
Look at this pic of the completed pad from the side and you can see why it matters – –
Just imagine if the bills were crumpled up or trying to roll up! LOL
I wouldn't bother attempting this DIY project if you don't have nice looking one dollar bills! 😀
If you wanna be a high roller, you could go with $2 bills. I wanted to keep the gift a reasonable price, so I stuck with one dollar bills.
2) Cut out the cardboard backing exactly to the size of the bills.
Use one dollar bill as your template. You can do this with scissors, but for nice clean edges, I recommend a paper trimmer like this.
The paper trimmer really makes a difference. No matter how careful I am, I cannot do this freehand with scissors!
3) Line the bills up precisely with the cardboard backing like this.
This will take a minute or two to get just right. Make sure none of the bills are crooked or sticking out.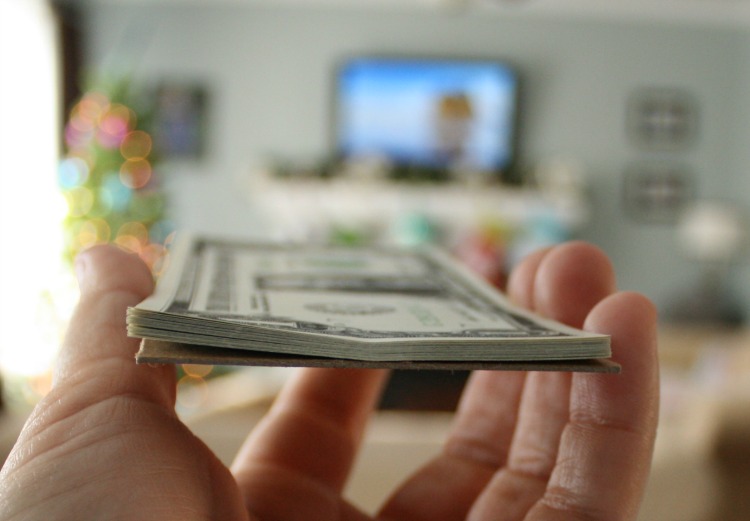 4) Clamp the left side of the stack of bills with small binder clips.
The small binder clips work great.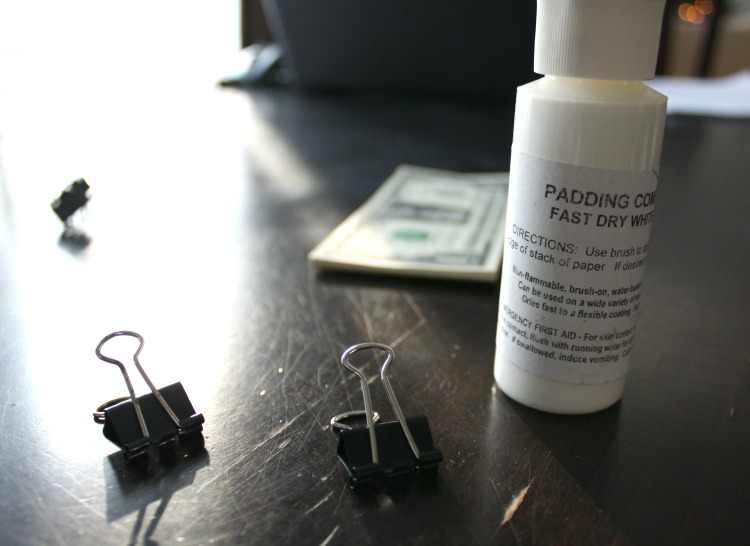 5) Add a layer of padding compound to the edge of the tightly clamped stack of bills.
This is the exact padding compound I used. As for the brush, any small brush will do – I just grabbed this one out of my kids' craft supplies.
I will say that using a round brush is harder than a flat one, so go with flat if you can!
Your first coat will look thin like this:
6) Keep layering on the adhesive really thick.
You want at least 5 layers all at once on your tear off money pad. It will start to set up pretty quickly, so it won't run off as you add layers. When you have enough that it's still sticking but looks like it might start running off – that's enough! 😀
Here's a pic that better illustrates just how thick your layering should be. It will look a little lumpy! But that's ok. It will dry flat!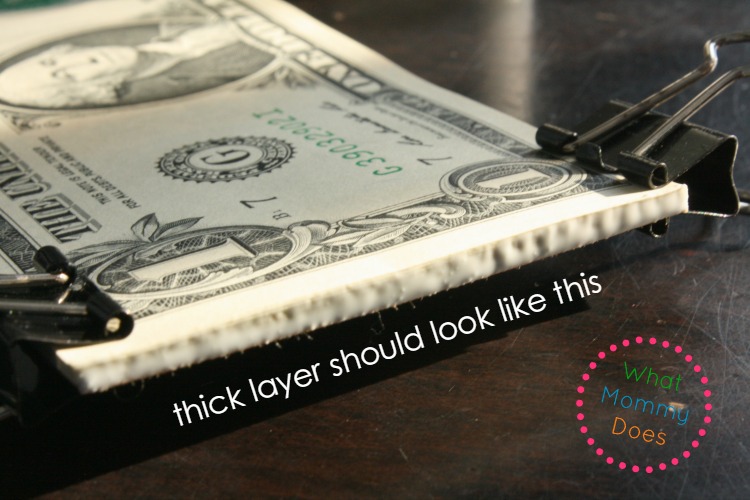 7) Lay down the book of 1 dollar bills to dry.
Let dry fully. I didn't count the hours, but overnight did the trick. I'd say at least 8 if you're doing this all in one day.
You don't want the adhesive to be tacky at all because the bills need to tear off cleanly, like an office notepad.
If you put several layers of adhesive like I showed above, the notepad should be stuck together enough to pull a bill from the middle or top.
A cool idea would be to start with 1 extra bill at first so you can tear off the first one to check.
If, for some reason, your pads of cash seem to be falling apart, it's because you didn't use enough adhesive. Try fixing the problem by clamping the dollar bill pads tightly once more and adding more layers to the original edge.
If that doesn't work, you'll need to scrape off the original adhesive and try again.
I've made several of these real money pads and only had one fall apart – it was the first one where I only used a single layer of adhesive. I think you're good to go if you used 5 or so as recommended!
8) Now show everyone your notepad!
It is sooooo cool. Everyone who sees one of these things wants one!
I love to give these real money notepads to all the older kids in our life – any kid over the age of 13 absolutely flips when they see one of these!
I just found out the adhesive I used for this notepad comes in many different colors! I think this could be so much cooler now!
UPDATE: They used to have green and purple but for right now I can only find red!
I'll let you know if I find the other colors later on!
These pads of cash make great gifts for any occasion really. I like to give them to the teens in our family for Christmas. Even if you're only giving them $15, the coolness factor makes the gift seem so much bigger! 😀
Whether you make a bound book of 1 dollar or 2 dollar bills, you'll have a great time making it and giving this as a gift.
You could also use this same notepad making method to make notepads out of anything paper – think: chore coupons, love notes for Valentine's Day, an actual notepad you designed yourself. The ideas are endless!
If you liked this tutorial, let me know in the comments below! I'd love to hear who you will be giving your money notepad to as a gift!
The Perfect Money Gift Idea!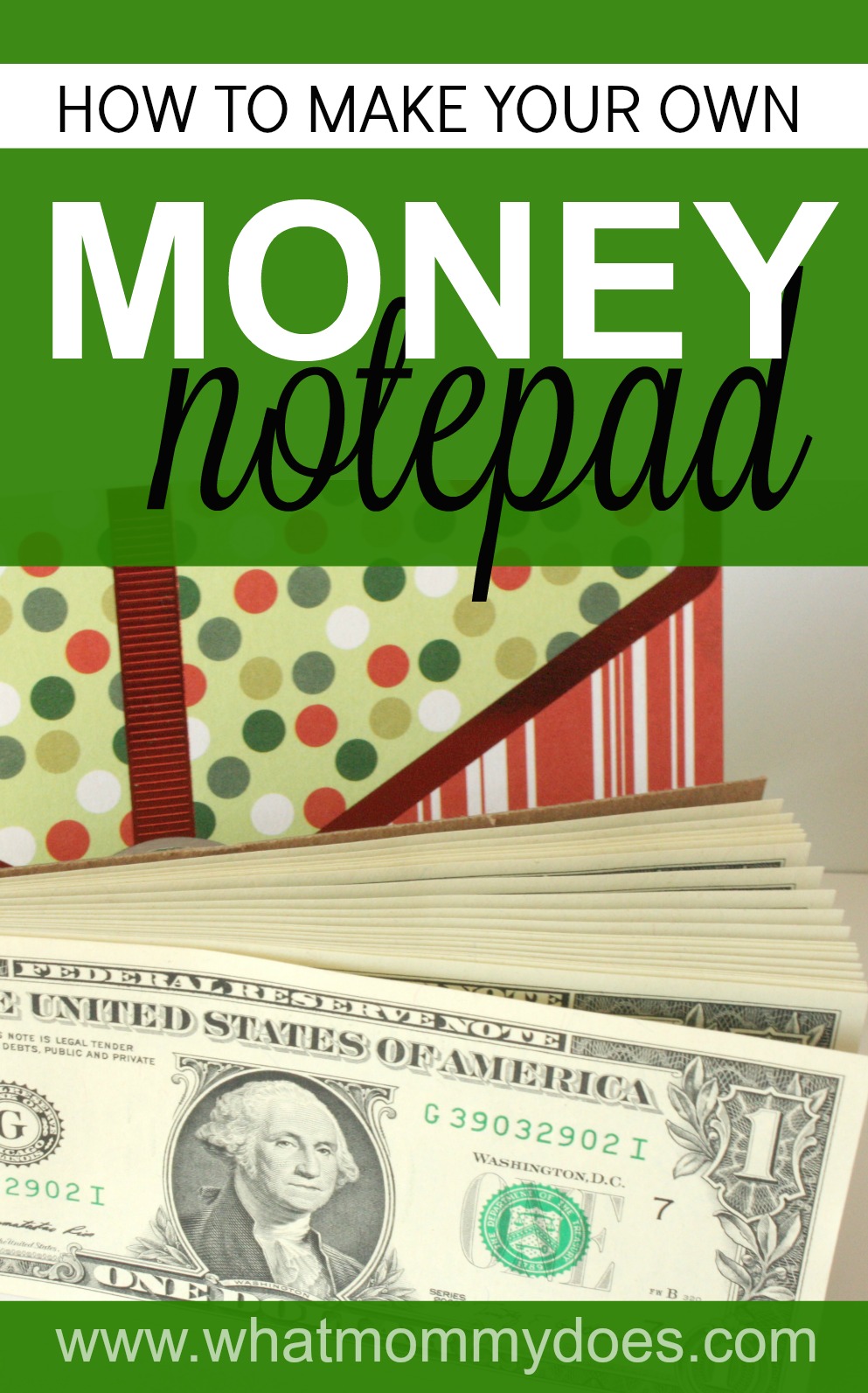 Other Gift Ideas You Might Like!
Latest posts by Lena Gott
(see all)