Easter is fast-approaching, and my kids are looking forward to spending time with family and celebrating Jesus. I am looking forward to everything about Easter EXCEPT for the potential sugar-bomb that comes with Easter egg hunts and baskets. To prepare for this, I came up with a list of 75 non-candy Easter Basket gift ideas that aren't sugar-based.
I plan to use this as inspiration to craft a lovely basket for each child that encourages their imaginations, not their sweet tooth!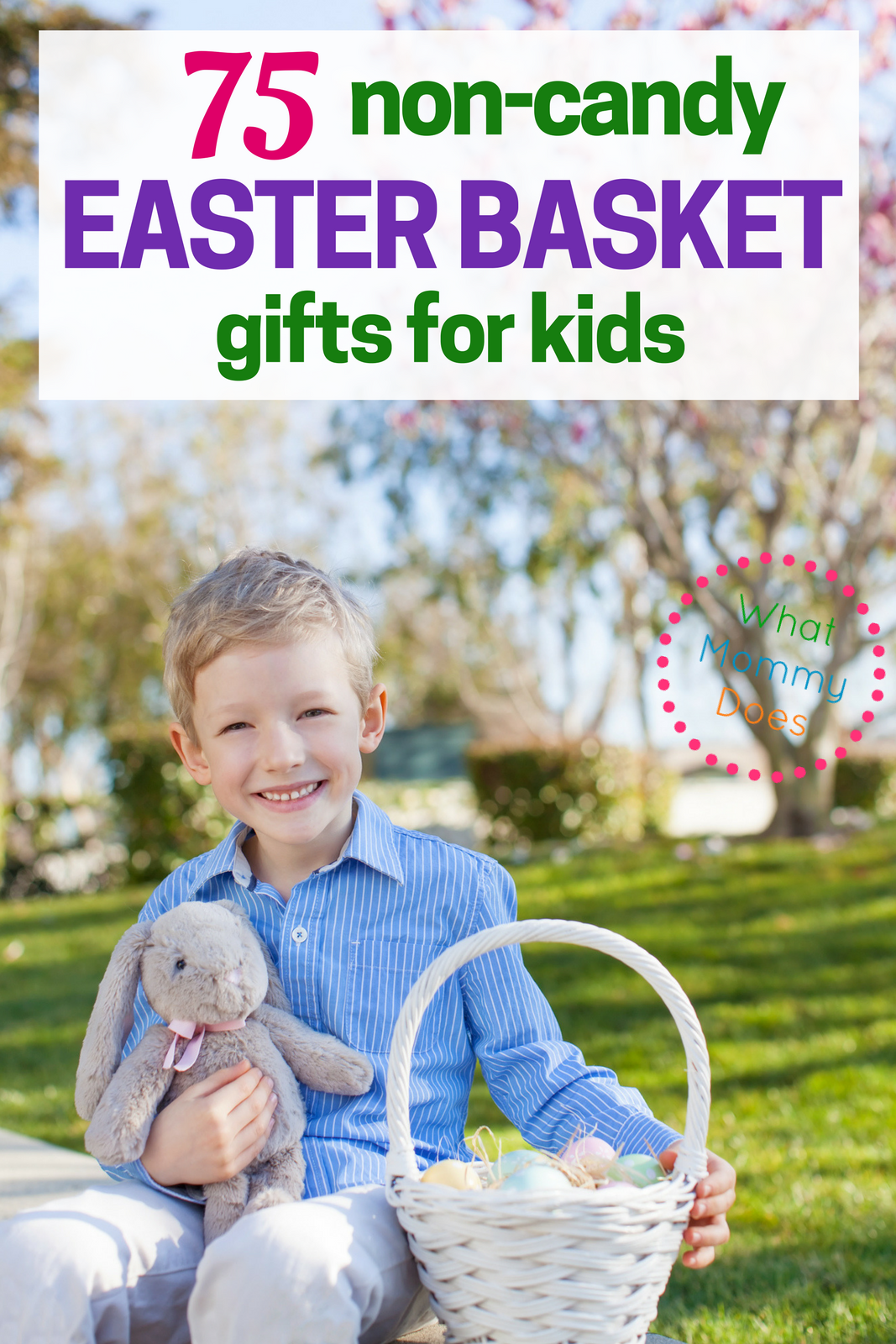 75 Non-Candy Easter Basket Gift Ideas for Kids
$1 coins
$2 bill
Army men
Bible
Binoculars
Birthstone ring
Bookmark
Bouncy ball
Bracelets
Coin purse
Colorful shoelaces
Coloring books
Craft kits
Crayons
Crossword puzzles / mazes
Dice
Digibird
Easter bunny figurine
Erasers
Face paint
Flash cards
Flashlight
Fridge magnets
Funky socks
Glass rose
Hair clips
Hairbrush
Headband
Headphones
Jewelry box
Light up ball
Lip gloss
Mini football
Mini picture album
Movie tickets
Necklace
Notepads
Paint brushes
Pencils
Pens
Personalized coloring books
Plastic cup (fave character)
Popcorn
Protractor
Puzzle
Ruler
Shape stencils
Small picture book
Stretchy dinosaurs
Teacup set
Tiara
Tic tac toe books
Toothbrush
Toy camera
Toy cars
Video game cartridges
Whistle
What do you normally put in your childrens' Easter baskets?
More from WhatMommyDoes
Free Printable Weekly To Do List
100+ Ideas for Saving Money Before Quitting Your Job to be a SAHM
25 Ways to Get Exercise at Home (when you can't make it to the gym)
Latest posts by Lena Gott
(see all)