Giving gifts can be hard when a friend or family member lives far away. Sure, gift cards are always an option, but sometimes you just want to send something special.
Sending packages can be kind of a pain because you have to get a box, make sure to package it right, and then pay to send it.
Wouldn't it be nice to send something easily through the mail that won't take a lot of time and money?
Enter: a list of items that you can actually mail in envelope!

The Joy of Receiving Something in the Mail
I don't know about you but I love to receive snail mail in my mailbox, as long as it's not a bill! 🙂
As it becomes more of a rare thing, it also becomes a more special thing to receive paper mail. So why not up the wow factor by tucking in a gift to accompany your note card?
There are a variety of different tiny gifts that will fit in an envelope that will allow you to brighten someone's day, whether it's parents, friends, or pen pals.
You can even make it more special by creating an envelope of your own using the template below to send your gift in.
Just make sure it fits the USPS regulations (mentioned down below) once your item is inside.
30+ Easy To Mail Gifts
Let's start with some great DIY gift ideas for mailing with your next letter.
1) Hot Pads
Hot pads are a great flat gift that will fit into an envelope to mail. If you are crafty and love to make helpful gifts, this would be a great gift to send, especially if you personalize it.
If you don't know how to sew or just want to have someone else make them for you, you can always buy some. Just look how cute these colorful hot pads are.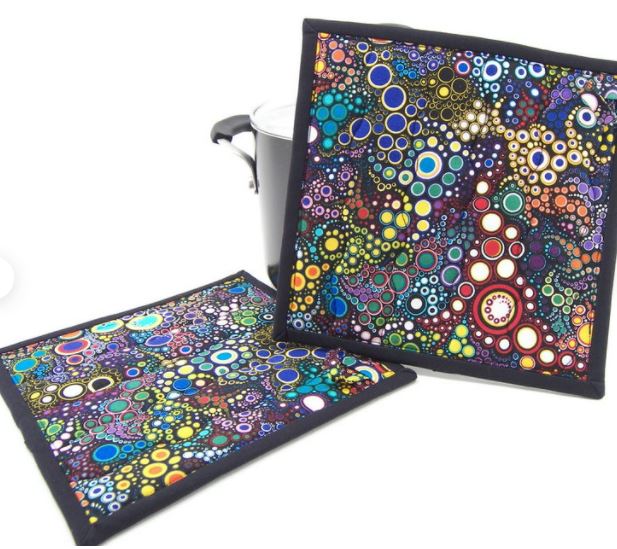 Beginner Sewing Projects has a great tutorial so you can make your own hotpads with hand pockets !
2) Coasters
Coasters are another great flat gift to mail. Beginner Sewing Projects has a tutorial for you to make them easily and give to your friends.
If you are giving these as a birthday or Christmas gift, you could find a special fabric with some of their favorite things on it.
With so many fabric options out there, there really is no limit to the types you can create.
You can even get creative with the shape and size for people that love unique ones. Just imagine making these in the shape of pumpkins or apples!
If you don't have the crafty gene in you but still love the look o these, check out these that you can buy online.
Batik Quilted Fabric Coaster Set with Colorful Sunflower Print
3) Corner Bookmarks
Every since I saw the Mega fantasy library in the Beauty and the Beast movie, I have dreamed of having a library of my own full of my favorite books! *sigh…*
Do you have a friend or family member who loves to read? How do you feel about dogears on the pages of your favorite book?
People seem to either not care at all–> or hate them. If you know someone that can't stand making creases on their books, this gift is perfect for them.
Check out how sophisticated and handy this bookmark is.
These corner bookmarks are so cute and easy to make. Head on over to Happiest Camper to get the details on how to make these.
4) DIY Phone Case
Another great, easy-to-make gift is a phone case! Happiest Camper has another tutorial on how you can make cute phone cases that will help protect your friend's and family's phones.
This could be a great gift to mail to a niece or nephew for their birthday.
For an easy to order version that is super cute and floral designed, this fabric phone case makes a great gift.
5) DIY Bookmark
Bookmarks are such fun gifts to both make and send. If you have friends and family who read a ton, considering sending some bookmarks.
Like the corner ones from above, traditional bookmarks make easy and fun presents to send in the mail that will get use for many years to come.
If you want to learn how to make your own simple bookmark, check out this tutorial.
The Craft At Home Family has a great tutorial on watercolor bookmarks. They are simple enough for even kids to make and look very adorable.
I love the look of these personalized resin bookmarks. They are so sturdy yet still classy and beautiful.
If you have to urge to personalize some yourself and have a creative/ artistic streak check out these ready to assemble bookmarks.
They set you up with all the materials you will need to make your own and they still make wonderful gifts that are personal and fun to send through the mail.
6) Wire Heart Bookmark
If you want to do something a little different from a regular paper bookmark, check out this neat idea from Single girls DIY. >>
This little heart is so cute and what a clever way to mark a page without folding it over or damaging it.
Single Girls DIY shows you how to create simple wire heart bookmarks that will be super special and easy to mail.
If you don't have time to make a bookmark, you could buy this cute LOVE wire bookmark and send it your Valentine.
7) Elastic Book Band
An elastic book band is another easy gift you can make for your friends or family members who love to read.
These antique style book bands are elegant and functional at the same time. Sending one of these in a care package to a loved one will make their day.
This super cute book band will help hold down pages while they are reading and is a perfect small gift that will fit in an envelope to mail.
Follow these simple instructions from Easy Things To Sew to make your own.
8) Cross Stitch
If you are crafty and love to DIY, make a simple cross stitch to send in your card. It's an easy gift that will fit perfectly in an envelope.
Need some inspiration? Check out these cute planet cross-stitch patterns.
9) Personalized Card Holder
Cardholders are an easy way for someone to carry around important cards like their driver's license or credit card without having to carry and wallet or purse.
These personalized card holders would make a great gift to tuck in an envelope.
When I was in college, I loved getting random care packages in the mail from my family. Something like this would have made me smile and feel very loved.
As a mom, this would also come in very handy when I'm out running errands.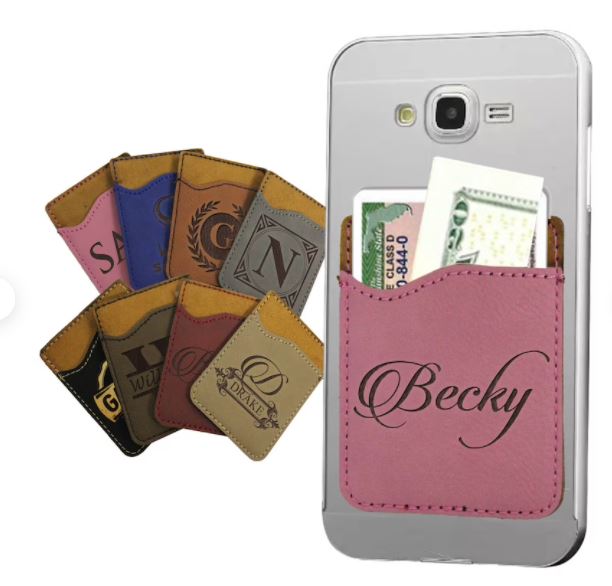 10) Phone Lanyard
If you have someone who likes to accessorize with their phone, consider a personalized phone strap.
This handmade beaded lanyard on Etsy is an easy gift that will get used for sure!
These phone lanyards are super cute and would make a great birthday or Christmas gift.
These next 9 gifts fit easily into a card or flat envelope
11) Stickers
Did you collect stickers as a kid? I don't know what it is about stickers that can just brighten your day.
Adding stickers to your card is a fun surprise, especially for kids.
My kids get stickers in the mail from their grandparents at random times.
It's always a nice surprise and make them happy for weeks afterwards. Try sending some to a child in your life.
For the adults, these planner stickers make great gifts as well. Especially if you have an organizational master you want to send them to.
12) Bangles
If you want to send a gift in the mail with some sparkle, you can send these bangles.
They are small and thin enough that they should have no problem fitting in a padded envelope (a flat one may get ripped).
Jewelry is never expected as a spontaneous gift. What a way to surprise someone!
You could also send some thin earrings as well. These wooden drop earrings are light weight and look amazing.
13) Motivational vinyl stickers
Want to cheer someone up or give them some motivation?
You could send some motivational vinyl stickers that they can stick wherever they need it.
This is a fun way for them to decorate a planner, book, laptop or any item they use a lot and will take up very little space in a card.
This one made me giggle. It's funny but also motivational in its own way.
14) Money Origami
I learned recently that you can make some really cute origami out of dollar bills.
It's such an unexpected item to receive, which makes it super cool! One of my very favorite envelope gift ideas!
Find more details about money origami in this post >> Best Ways to Give Money as a Gift
Photo Used with Permission by sae_makendecorate on Instagram
15) Socks
Something else that always gets a smile are fun socks.
Grab a pair of socks with a theme of something you know the recipient will like and send them through the mail.
16) Keychain
Keychains can be a super fun gift to send through the mail.
Sending one in a traditional letter envelope can be tricky, when they go through the slots, the creases in the paper can get caught and rip.
Try sending these in a flat cardboard envelope or a puffy bubble wrap one.
If you know your pen pal collects certain things you can probably find a keychain to go with it.
17) Tickets
Tickets to a movie, show, or attraction are a great gift to send in the mail.
If you buy online, you can print them out and put them in a cute card to brighten their day.
18) Art Prints
Art prints are a cute way to brighten up any space. They can be encouraging and uplifting and easy to send.
Find one that speaks to your friend or family members' current situation that will brighten their day.
These Henry Matisse Digital Prints are beautiful and fit so many colors schemes.
19) Mini-books
OK guys. I just thought these were too dang cute to pass up!
Mini-books are a fun gift for creative types or make a great gift for kids.
The blank books can be used for anything they like, and they are small enough that they will fit in an envelope.
Do you have a friend or mom that needs some pampering? Send along these gifts so they can make time for self-care.
20) Nail File Case
Here is a cute homemade idea from Easy Things To Sew.
This nail file case is so practical + functional…who wouldn't want something so pretty to make themselves feel good?
Have a personalized one made for you if you can't stand sewing. They'll never know…
21) Nail wraps
One of my favorite little presents to send in a card are nail wraps.
They are such a fun way to do your nails without having to worry about polish.
There are also so many fun designs you can get, it makes you feel like doing your nails is a real treat. Nail wraps are flat and easy to send.
It's the perfect self-care gift to send to your mother, daughter, or best friend. (Except for nail biters, lol)
22) Facial Mask
Another neat mailable gift to put with a card is a facial mask.
It' a thoughtful self-care idea and very lightweight.
This is another great way to give the gift to remember to pamper yourself to whoever needs it.
Before I tried face masks I was skeptical on how relaxing they would feel. I'm hooked now!
23) Tea/Drink Bags
You may not be able to sit down with your friend and chat face to face, but you could send them your favorite or their favorite drink that you guys can enjoy together separately.
Pick out a few of their favorite tea flavors and send a tea bag/hot chocolate mix (or other fun drink in a bag) in your envelope.
24) Gum
This is another little envelope gift idea that is fun to share.
There are all kinds of flavors of gum you can send.
You could also send some type of candy, just be careful. A chocolate bar in July may not get the reaction you want. 🙂
Kids especially love getting gum or candy in the mail. And it is a pretty unexpected item to get with a letter.
Things You Already Have Around the House
If you don't have time to make or buy something to send, check out these cool ideas from around your house that will still be meaningful to your pen pal.
25) Pretty Fabric
Do you have a crafty family member or friend? Send them some new fabric!
You can tuck in some favorite pieces you have leftover or grab a small sample the next time you are at the store.
These sweet linen fabrics would be so nice to get in the mail.
They could make great washcloths, handkerchiefs or
headbands.
26) Seeds
If you have some favorite seeds you used in your garden this year, pass them on!
Sometimes it can be hard to know what seeds to buy and plant, so if you are very happy with what you have growing, share it!
I know it seems like a silly idea, but getting seeds from the favorite flowers in my friends gardens has led to some of the most beautiful plants I have around my home.
We share plants and seeds and cuttings. It's a wonderful way to share something natural and sometimes also delicious!
Super mailable because the packets are flat!
27) Recipes
Aren't we all always looking for a new recipe to make?
If you've got a dish that everyone raves over or you know your friend enjoys, why not send it over.
Grab a recipe card or two, and share the gift of a planned dinner.
28) Poems
Does the person you know have a favorite poem? Do you have a favorite poem you like to share?
Send it!
You could either print it out in a fun font or you could handwrite it on pretty stationery. Either way, it will make a thoughtful gift.
Do you know someone who loves to write and create? These are the perfect lightweight gifts to mail.
This is where calligraphy skills could come in handy. If you have a nice set of pens you can really make your poem POP!
29) Sticky Notes
Sticky notes may not be your first thought when it comes to gifts, but hear me out.
You can never have enough because they constantly disappear.
Plus, if you find some with cute patterns, it makes it super fun to write notes on.
You may not be able to send the whole pad, but you can certainly send a nice amount.
And what a great way to extend out a gift. Almost like a sticky note of the month club.
30) Washi Tape
Washi Tape is a way to decorate lots of things. You can find thin rolls that will fit into a card to send.
You can even decorate your envelope and card with it too!
31) Stationery
If you have a pen pal that loves to write, send them some fun stationery for their next letter.
Pretty patterns and colors can make it even more fun to send a letter.
These vintage paper sets are so different and would make for a great gift.
When I was a teenager, I had paper sets exactly like these! I loved them so much and would write letters to my friends on them all the time.
FAQs About Mailing Items in an Envelope
Wondering what will pass the USPS's guidelines for what you can send in an envelope?
The USPS is pretty clear on what they will allow you to send in a letter and how much it can weigh.
What size can the envelope be? Here are the specifications:
An envelope needs to be rectangular.
The length of the envelope can be anywhere from 5 inches to 11-½ inches.
The height can range from 3-½ to 6-⅛ inches.
The thickness of the envelope and content can be from ¼ inch to ¾ inches.
How much can the letter weigh?
The weight of the letter and contents can range from 1oz to 3.5 ounces.
How many stamps do I need?
According to the USPS website, for a 1-ounce letter, you would need one stamp.
For a 2 or 3 ounce letter, you would need 2 stamps.
For 3.5 ounces you would need 3 stamps.
Sending mail is actually more fun than receiving it. Using this list, you can bring smiles to those you love with your letters.
Many of the items you likely have around your house making it easy to tuck in a gift with your next letter.
More Awesome Gift Ideas
Latest posts by Lena Gott
(see all)