Does anyone have a kid who goes to a school where there are bake sales as a fundraiser?
Cue every mom in America tossing their hands up!
After years of bake sale guilt where I spent hours trying to perfect cookie recipes to send to school, I finally had an epiphany:
You can charge way more for your baked goods if they have a "gourmet" element to them. That can come in the form of ingredients – or better yet – packaging!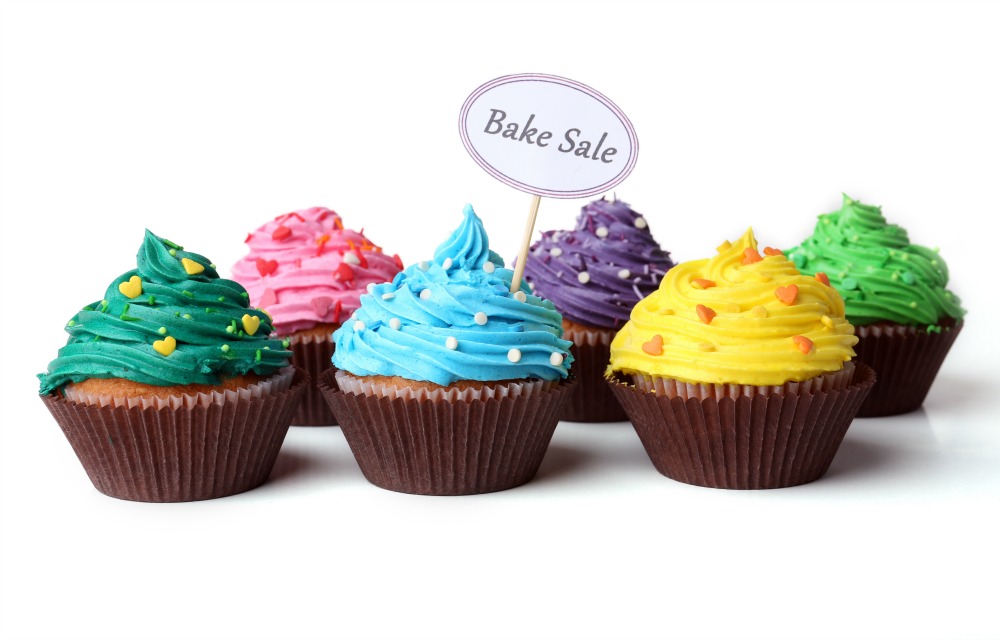 How Do You Package Items for a Bake Sale?
How you package up your bake sale goods goes a long way to getting the most for your organization. Cookies are easy to wrap, cupcakes are easy to put in boxes, and candy mixes should go into small containers or baggies.
Learning how to wrap cookies in a pretty way will allow you to charge a bit more or have different price points.
For example, a dozen wrapped peanut butter cookies will probably not be purchased by a student, but wrapping individual cookies in addition to packaging by the dozen can get you two different price points—meaning more sales!
What is the Best Packaging for Baked Goods?
Here is the short list of ALL the items I recommend below. Use these shortcuts to go directly to each product listing. Otherwise, keep reading! 🙂
GENERAL BAKE SALE PACKAGING –
FALL THEMED BAKE SALE PACKAGING –
Super Cute Ways to Package Up Treats for Sale
Here are some of my favorite bake sale packaging ideas for the very BEST way to package cookies for sale and make it a profitable event!
Just because you baked your desserts at home does NOT mean they have to look homemade!
1) Large Cookie Wrappers
Make your cookies a little larger than normal for this idea — you will want them to be a little smaller than a CD. Then slide individual cookies into these CD sleeves.
Add some embellishments like these pretty ribbons and/or a round thank you sticker on top and they'll look extra cute.
2) Boxed Cookies or Cupcakes
You can also add your baked goods to cookie boxes. You can add a single cupcake or as many cookies as would fit into a bakery box like this.
Again, if you stock up on bake sale wrapping supplies like ribbon, you can have all kinds of pretty ways to tie it up and sell your desserts!
3) Stacked Cookies in Fancy Wrappers
One of my very favorite ways to package up and display cookies is to place them into fancy cupcake wrappers. I know that doesn't seem like it would go together, but it's a simple way to level up your cookie display and charge more for your baked goods!
It's seriously the best way to package cookies for a bake sale because there are SO many cute cupcake wrappers out there like these cool unicorn ones!!
4) Clear Packaging
If you are going to start wrapping individual cookies to change up your pricing, one super easy way to do it is to wrap any type of baked good that doesn't have icing in clear plastic party favor bags like this.
Here is an example of how a bake sale item (the ever-popular peanut butter cookie) looks packaged up in clear wrappers:
This kind comes with multiple colors of twist ties. Easy peasy!
5) Cheap & Easy Clear Baggies
Another one of my favorite ideas is to create DIY cookie packaging. This is great for Christmas cookies and is a total cheap and easy bake sale idea. Want to hear it?
Just add your cookie to a plastic food-safe bag and tie a ribbon at the top to keep it fresh. If you REALLY want to make your cookies look cool, use cookie stamps like these on your cookie so they catch eyes.
6) Fancy Kraft Paper Boxes
Another one of my cheap and easy bake sale ideas to wrap up your cookies is to grab this set of bake sale packaging supplies on Amazon —all you need to do is add your cookie. But if you need a larger package, these Kraft paper boxes look great and professional and are super useful.
7) Bake Sale Stickers
So many people have asked me to recommend more stickers to put on their wrapped cookies, so I found some more!
I think stickers make a huge difference in the way you package your cookies for sale. These are my favorites:
I hope you found an idea or two you can use in this list of bake sale packaging ideas. Good luck with your fundraiser!!
Fall Bake Sale Packaging Ideas
If you are holding your fundraiser in the fall, then I think you can go an extra step to make your goodies look specifically packaged up for fall!
Here are a few autumn-inspired seasonal ideas to consider:
8) Autumn-Themed Cardboard Boxes with Fall Leaves & Pumpkin Cutouts
I think these adorable boxes are perfect for general packaging if someone picks out a variety of desserts, like 2 sugar cookies and one fudge bar. They would also be nice for single cake slices.
Just put them all together in this larger box for a lovely presentation!
9) Halloween Pumpkin Cupcake Wrappers
How adorable are these creepy smiling pumpkin cupcake wrappers?!
These are great for individual cupcakes. The cupcakes themselves could be very plain – the themed part comes entirely from the colorful wrapper.
Is that cheating? LOL I don't think so.
10) Thanksgiving Themed Cupcake Liners (Pumpkins + Maple Leaves)
For a later fall event, consider these Thanksgiving themed cupcake liners for homemade muffins or cupcakes. Such a pretty, simple and colorful setup to present your baked goods for sale.
11) Maple Leaf Tags for Selling Baked Goods
While you don't technically NEED tags for your baked goods, if you have specialty items like some that are dairy free or gluten free, then these are a MUST!
You can use these for all items, from brownies to pies. They can list ingredients or just prices if that's what you want to use these bake sale labels for.
12) Small Autumn Themed Treat Bags
These treat bags are perfect for wrapping up smaller baked goods like tea biscuits or small cookies. You could even put candy in them!
More Bake Sale Fundraising Resources:
If you are looking for some fantastic recipes to make for the bake sale, you have GOT to check out this post I put together of the 25 bake sale treats that will definitely sell out.
My favorite are the Trix Treats. Everyone on the planet loves these!
Read Next:
Latest posts by Lena Gott
(see all)