As a fairly frugal person, I'm always looking for ways to give thoughtful gifts in creative ways.
I always say the more thoughtful you can be, the less money you have to spend because people don't necessarily want expensive things – they just want to know you care and that you understand what they want.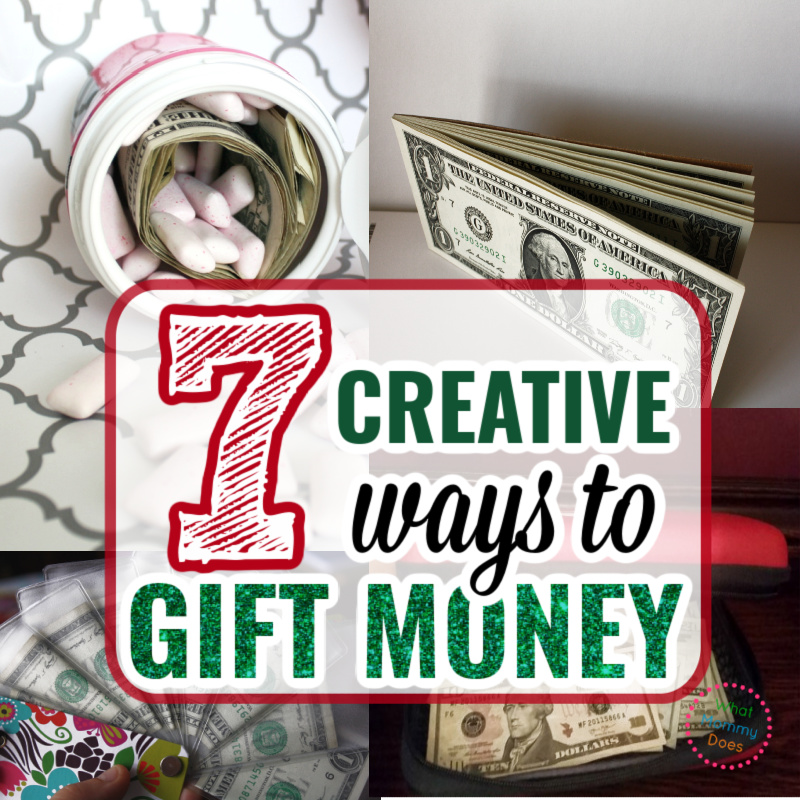 For many people (especially the younger people in your life)….what they want is cold hard cash! 🙂
Giving cash is a great idea when you don't know what to get someone AND you know they could really use it.
It's the perfect gift for a teenager, college students, or anyone who could use a bit of extra money, especially around the holidays.
If you give money in a creative manner, it can be a really cute present.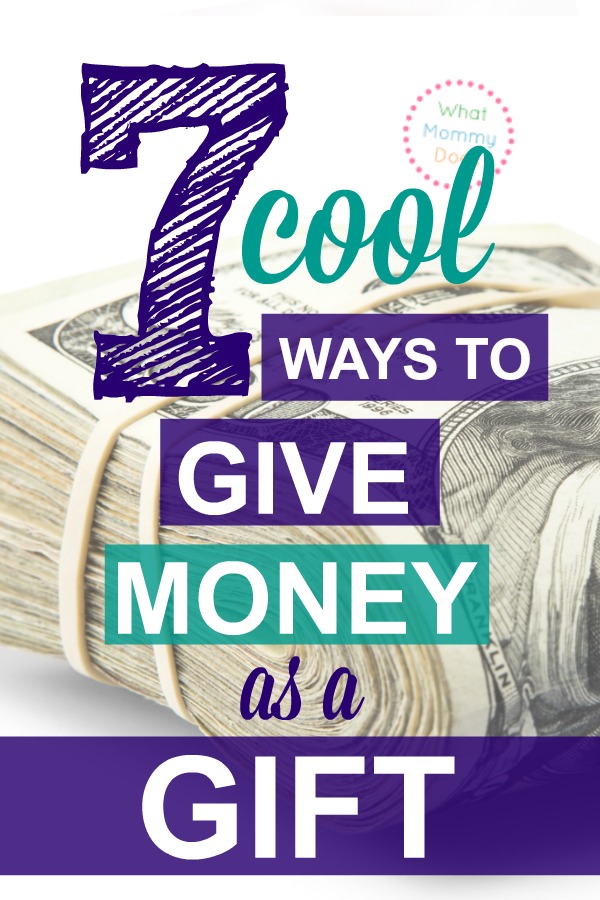 Some people worry it's rude, but I don't think it is.
I've given cash to many older kids in my life throughout the years and I can tell you they LOVE receiving this gift! 🙂
7 Creative Money Gift Ideas
I've come up with many ways to wrap up money in creative packages over the years, so in this post I'll list some of my favorites.
Here are 7 unique ways to give money this Christmas! You don't have to just consider these for Christmas – they'd be wonderful birthday or graduation gifts, too!
1) "I Mean Business" Money Gift
This is a great option for college students. They all need business card decks for interviewing, so why not give them one filled with cash as a surprise?
All you have to do is grab a business card deck for a dollar or two at Dollar General, Walmart, or Dollar Tree. Then fill each slot with a $1 bill.
You could give a much higher denomination gift in here, too, by using $5 bills.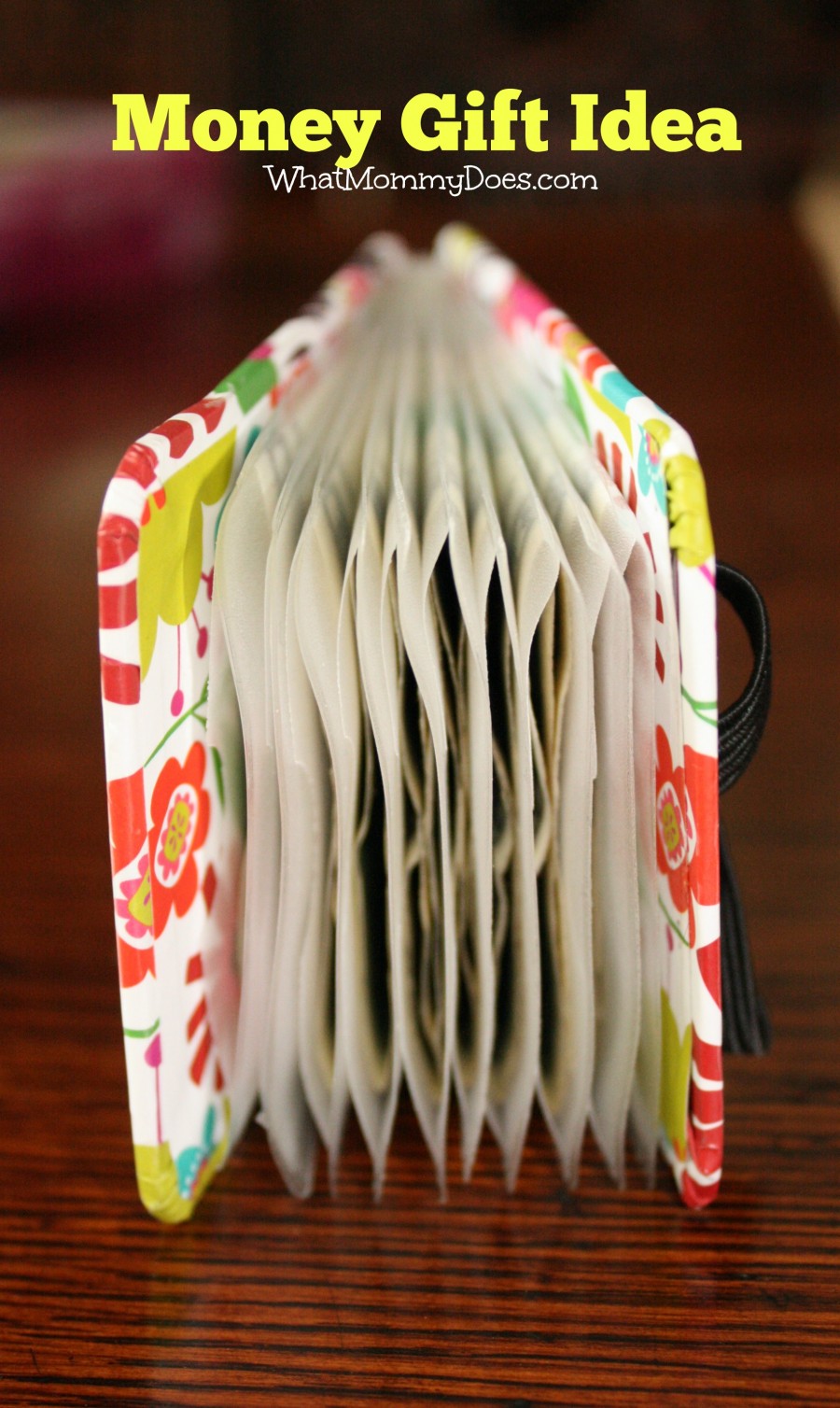 It looks really cool when you fan it out – the deck makes it seem like such a substantial gift even though there's only about $10 in there!
The cool thing about this deck of business cards is that it's kind of it's own gift wrapping.
I would just put it in a small gift bag with a little bit of tissue paper so nobody can see what inside the deck ahead of time.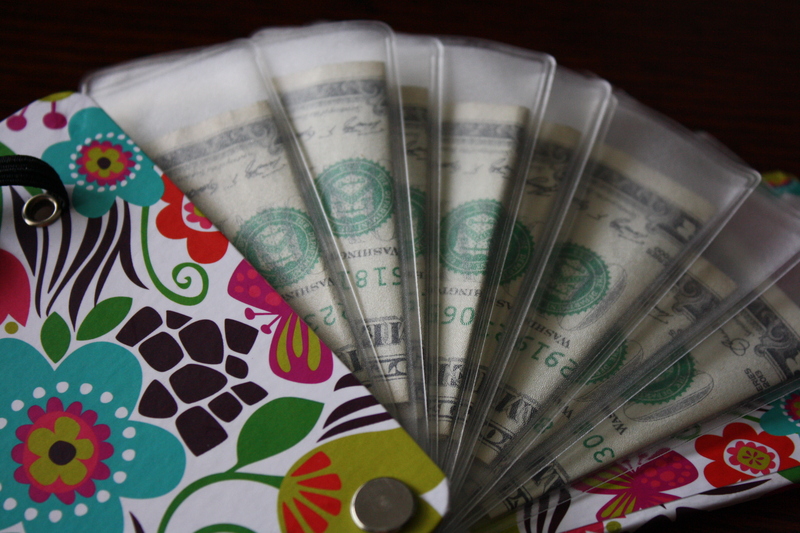 2) "Exitemint" Hidden Gift Idea
This is a super cute hidden cash gift for a teenager!
Just grab a container of mints from the checkout aisle at the grocery store and roll up some cash to put in there.
At first they'll think all you got them was some gum…and then you can tell them to look inside! They will be SO surprised.
Somebody told me this was yucky because I put it inside of an actual container of gum, but honestly who would actually eat it after the money is in there?! LOL
If you're really concerned about that, I suppose you could leave a note in there, too, that says "Don't eat the gum." HA
3) First Aid Kit "Emergency Stash"
I think this gift is perfect for cash strapped college students.
I came up with the idea when I was strolling through Target one day and saw these really cute first aid kits on sale.
I actually needed a first aid kit for my car, so I grabbed one and when I got home I realized this was the perfect way to hide cash for my nephew's gift.
So I took the items out and put them in a plastic baggie, then used the first aid kit for the present! 🙂
I am pretty sure I got the one below from Target – it's a red one with a soft case. I remember it was less than $10. This is an equivalent First Aid kit you can order on Amazon if you're strapped for time like I often am!
I put a high dollar amount in there for illustration purposes, but you can totally customize how much is in there by using smaller bills.
This is probably my favorite gift for older kids of all time!
I gave one of these to my niece last year and it was a HUGE hit!
All you need to make this is a few materials in this post including this padding compound. Trust me, it works way better than regular glue!
The girls at the bank even wanted to see it because I told them why I needed super flat one dollar bills. 😀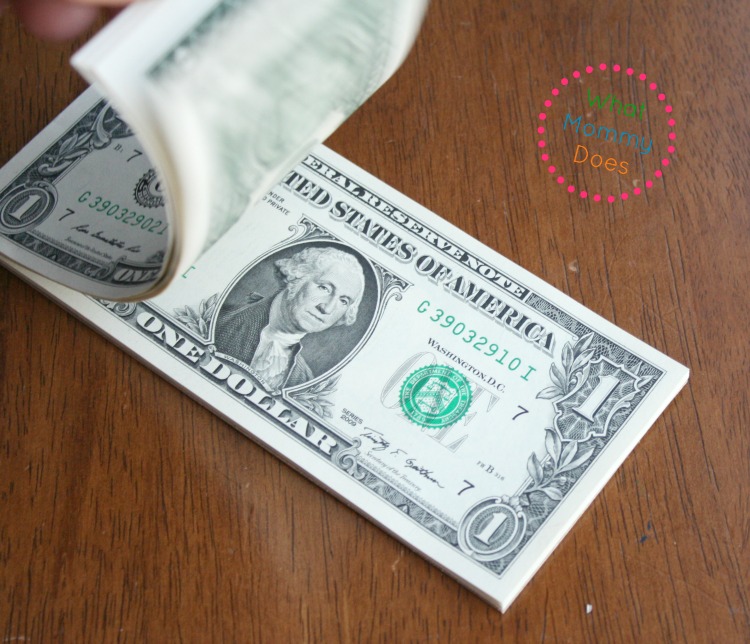 This money notepad is actually really fun to make. I got the idea because I used to make personalized notepads for myself and my friends and then one day inspiration struck me!
This really is the coolest gift in the world for a cash-strapped kid in your life!
You can give the dollar pad separately wrapped, in a card, or even as a stocking stuffer.
I apologize for the blurriness of the following photo, but I just had to show you how cool it is to flip through one of these! 🙂
Get the instructions to make it here >> How to Make a Real Money Notepad
5) PlayDoh "I Got You Some Dough" Money Gift
This is absolutely adorable way to gift money. It's kind of a gag gift, which is awesome.
Any recipient would be SO CONFUSED at first! LOL
We found that you can put a variety of dollar amounts in this. Technically, you could easily put 5, 10, or 15 bills of any denomination inside a PlayDoh container. So this could be a $10 gift or even easily a $50 gift if you use $5 bills.
You'll need some Playdoh containers like this and some double-sided tape for the labels. Click here to get the labels at the bottom of this post >>
6) "Something a Little Extra"
I just love a good play on words when hiding cash in an expected place! 🙂
I am thinking this is the perfect gift for a teenage girl because it's something she would buy for herself.
Who knows – maybe she'll actually be excited about gum and then just be super surprised when she opens it?!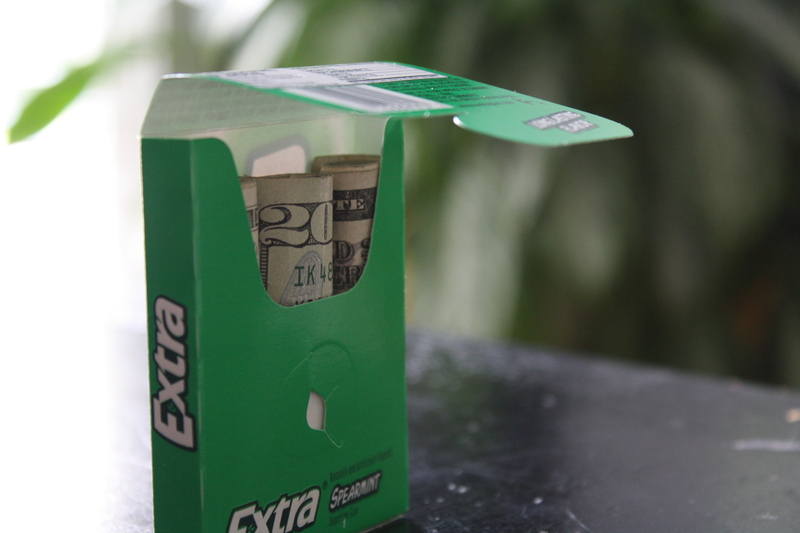 I love how small this present can be, yet you can make it a high dollar amount if you want.
As you can see, I used twenties in this example. You could easily put five $20 bills in there for a $100 gift.
But fives, tens, and ones work just as well!
7) "It's PayDay"
This one is actually hilarious for me because I needed the name of the chocolate to connote "money" but I HATE PayDay candy bars! LOL
I know a lot of people like them, though, and the gift isn't for me. HA
This would be a super cute gift for a chocolate loving kid in your life!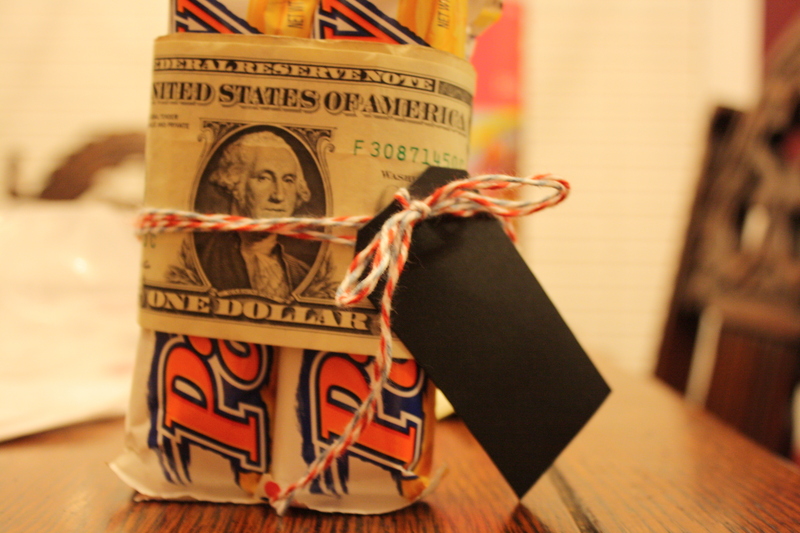 Such a neat idea that's also fun to assemble!
I like including a tag on this one so you can spell out the pun.
8) Bonus Idea! "Money is Trash"
I just could help myself with this one!
I was trying to be as creative as possible – I wanted to make a gift using just dollar bills and an item I already had around the house.
This turned out cooler than I thought! It's just what it seems – a roll of trash bags with dollar bills lined up on the inside.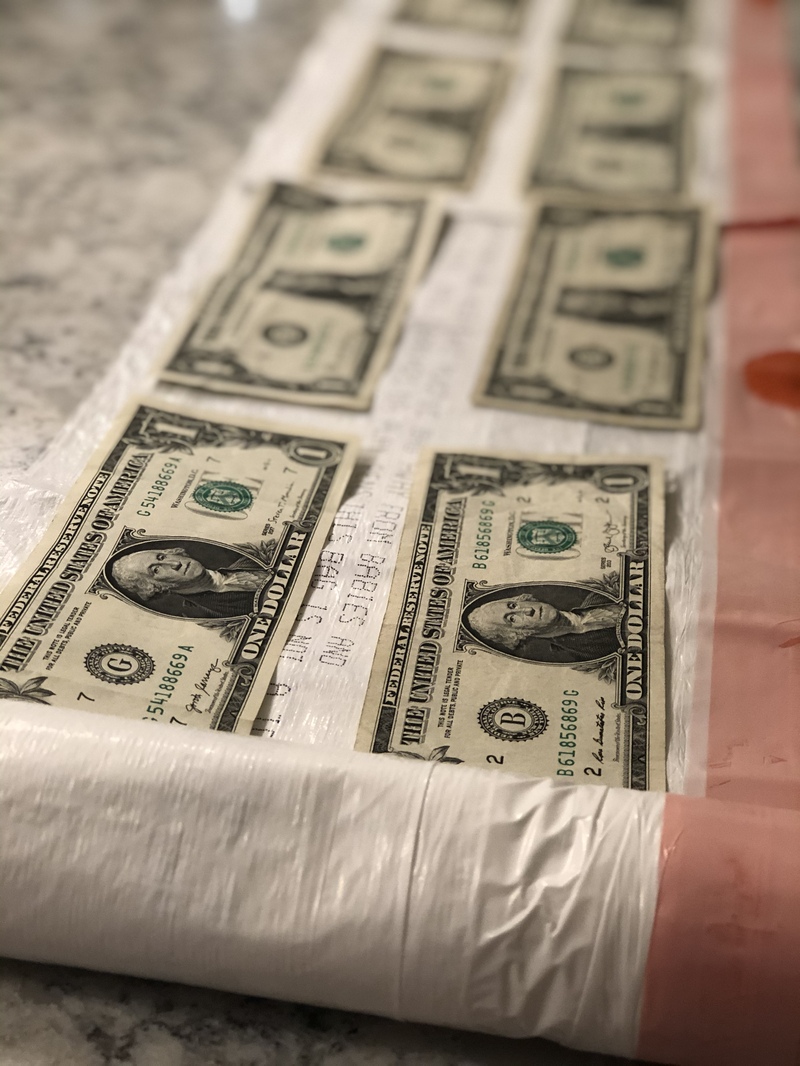 As you can see in the image below…when you roll it up, you really can't tell anything is in there, so it's quite the surprise to see them figure this out!
9) Bonus Idea! Money Treat Bag
This one couldn't be simpler.
I found these cute plastic Christmas treat bags at Dollar Tree, and then threw in a handful of rolled up dollar bills in it.
Even if you just put $10 worth in there, it turns out really great.
I actually created an entire list of options created from dollar store items if you'd like to see them >> 17 Brilliant Dollar Tree Money Gift Ideas
10) Bonus Idea! Christmas Bow of Cash
Hidden gifts are my favorite because they're a surprise within a surprise!
Talk about an inexpensive option!
Just get a large bow and tape any denomination you'd like to the bottom of it.
I promise you can't even tell it's under there when the bow is standing up like normal.
I'd personally put this in a wrapped box all by itself and watch their surprise as they open it and wonder why they only got a bow! hehe
So there you have it – I got a little carried away, but hope you found some inspiration in these 10 creative & unique options to give the older kids in your life!
If you need more gift ideas, I've linked to some great ones below.
How Much Money is a Good Gift?
It's up to you how much money you give to someone, but my general rule of thumb is that I give $5 or $10 to little kids, $15 to $25 to teens, and $30 to $50 to young adults. For someone very close, like a nephew, I'd say up to $100 is good.
The beauty of wrapping up money creatively is that the present can be substantial looking without taking a ton of cash. I find that $20 or less for a cash gift wrapped in a creative way is great.
My grandmother used to give me $25 for every birthday from the time I was 8 until I was 21. I remember thinking it was the best thing in the world that she always remembered…I never thought it wasn't enough.
Just remember that it really is the thought that counts, not the denomination.
Money Gift Ideas for Graduations & Birthdays, Too!
I wrote this post with Christmas gift giving in mind, but I realize now that all of these gifts would be equally as great for graduations or birthdays.
What graduate wouldn't appreciate a handful of money as a present?
And just about any older kid, teenager, or college student I know would also appreciate spending money.
What other ideas do you have for giving money as a gift in a creative way?
I'd love to hear your ideas in the comments below! If you have a picture to share, put it on Instagram and tag @WhatMommyDoes!
More Gift Ideas from WhatMommyDoes

Latest posts by Lena Gott
(see all)