This post was sponsored by Redbox as part of a program with Influence Central. I received complimentary products to facilitate my review.
Happy holidays everyone!
This year I'm taking a different approach to the holidays. Instead of stressing myself out by rushing around to create & mail Christmas cards and do other things I don't necessarily want to do, I am focusing on the things that make me happiest.
So that means I'm inviting people over for potluck dinners, visiting with friends, and giving gifts to people I care about. Normally, I only give gifts to family, but this year I'm branching out and giving gifts to my neighbors and all of my kids' teachers!
I went the DIY route for my neighbors and found someone who makes the cutest personalized hand sanitizers for teacher gifts. 🙂
I think the Redbox® gift ideas you see on Pinterest are so cute, so I decided to make a version of my own! I was going for something catchy that everyone young or old would like, and I think Redbox e-gift codes fit the bill. Everyone loves watching movies and spending time with their loved ones.
Redbox Neighbor Christmas Gift Idea
I tried to think of what I like to do in the wintertime. There's absolutely nothing I like better than cuddling up under a blanket with my husband, so I based my gift on this idea.
I found these super soft plush blankets at the store that come wrapped in ribbon. Then I added a bag of popcorn and two hot chocolates to complete the movie night theme.
I wasn't 100% sure how it would all come together at first, so I started by gathering a bunch of gift wrapping supplies and looking at what I had on hand.
The only thing I had to purchase for this gift was the Redbox codes (see below) and an inexpensive plush blanket like this one. If you want a nicer blanket, here's a great one.
I realized it would take a little bit of work to attach it all together, but luckily I had plenty of ribbon! 🙂
I started by tying the popcorn and hot chocolate together in a bundle.
Then I cut another piece of ribbon and attached it to the ribbon on the blanket so I could tie the hot chocolate/popcorn bundle to the front of the blanket (if your blanket isn't already tied, you could tie it yourself using ribbon).
I think it worked out really well!
Then I wrote in a unique Redbox e-gift card code on a printed Redbox gift tag (see printable below), punched a hole in the corner of the tag, and attached the tag to the bundle using a long piece of silver ribbon that I curled to look fancy….I always say you can make anything look pretty with enough curly ribbons! 🙂
I love that this gift serves two purposes – it gives the recipient a reason to unwind and spend time with their significant other, and it leaves them with a throw blanket they can use all winter long!
Here's the final product. It might seem like it took me forever to assemble this, but in reality it was only about 10 minutes if you remove all the time I stopped to take photos 🙂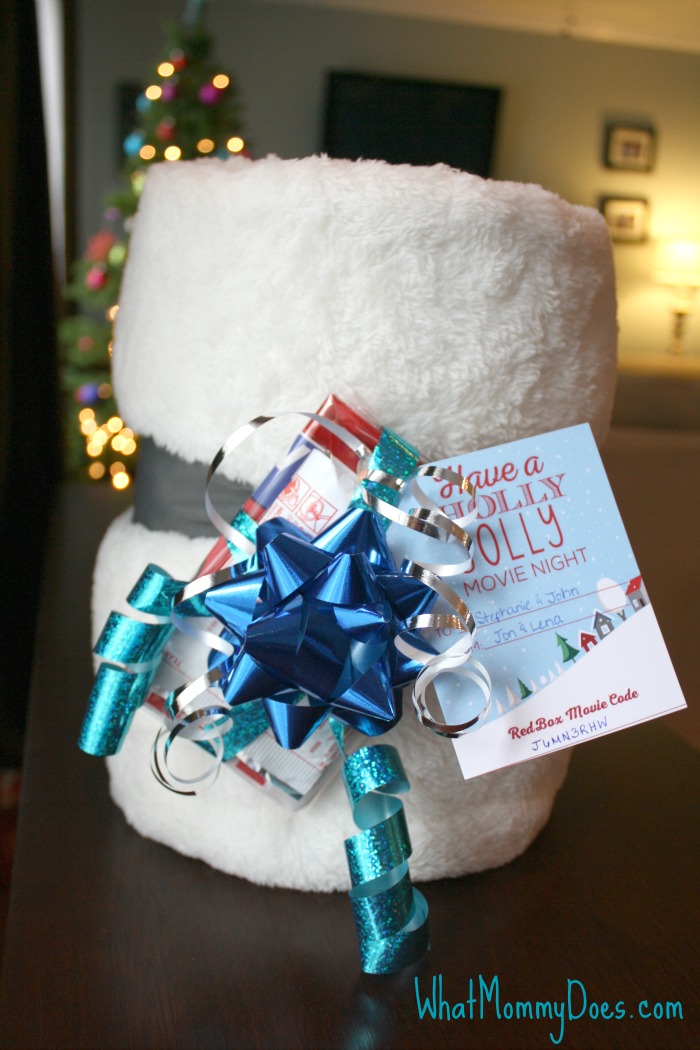 Printable Redbox E-Gift Card Tags
To grab one of the gift tags I created for this neighbor gift, click on one of the links below. I used the "Holly Jolly Movie Night" gift tag, but wanted to give you both options in case the other one is more your style.
Before you do so, don't forget to pin this image by hovering over it until you see the PIN IT button appear. That way you can come back to it next year! Also, if you love this idea, I'd greatly appreciate a share on Facebook! Your support means a lot to me.
*Both Redbox gift tags print 4 to a page*
Printable Baby It's Movie Night Gift Tags
Click on the image below to download the printable "Baby It's Movie Night" Redbox gift tag
Printable Holly Jolly Movie Night Gift Tags
Click on the image below to download the "Holly Jolly Movie Night" gift tag
How to Buy Redbox Gift Codes
You have two options for purchasing Redbox gift codes. You can either buy Redbox gift cards in increments of $5 (starting at $5) OR buy a bundle of codes in batches of 5, 10, 20, or 50. I think the batches of 5 for $7.50 are perfect for neighbor gifts (unless you have lots of neighbors! LOL). It ends up being only $1.50 per movie!
You can buy one batch of 5, then use one or two on each gift. You can't beat that price! There are so many great movies out right now. I am actually going to use a couple codes myself so I can see Tomorrowland and Jurassic World.
If the blanket puts this gift out of your price range, I think this is an equally good idea with just the gift tag attached to a bag of popcorn and hot chocolate. And the less expensive version would be a great way to stretch your Christmas budget so you can give gifts to more people – these movie night gifts would also be perfect for babysitters, teachers, and postal workers. I also think they'd be great stocking stuffers for teenagers.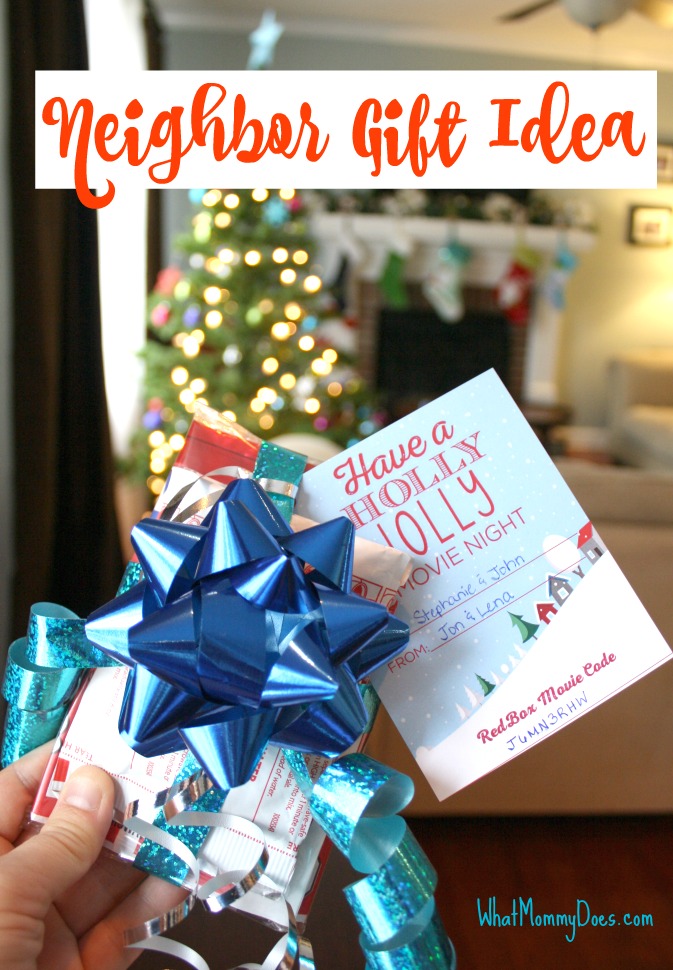 More Gift Ideas from WhatMommyDoes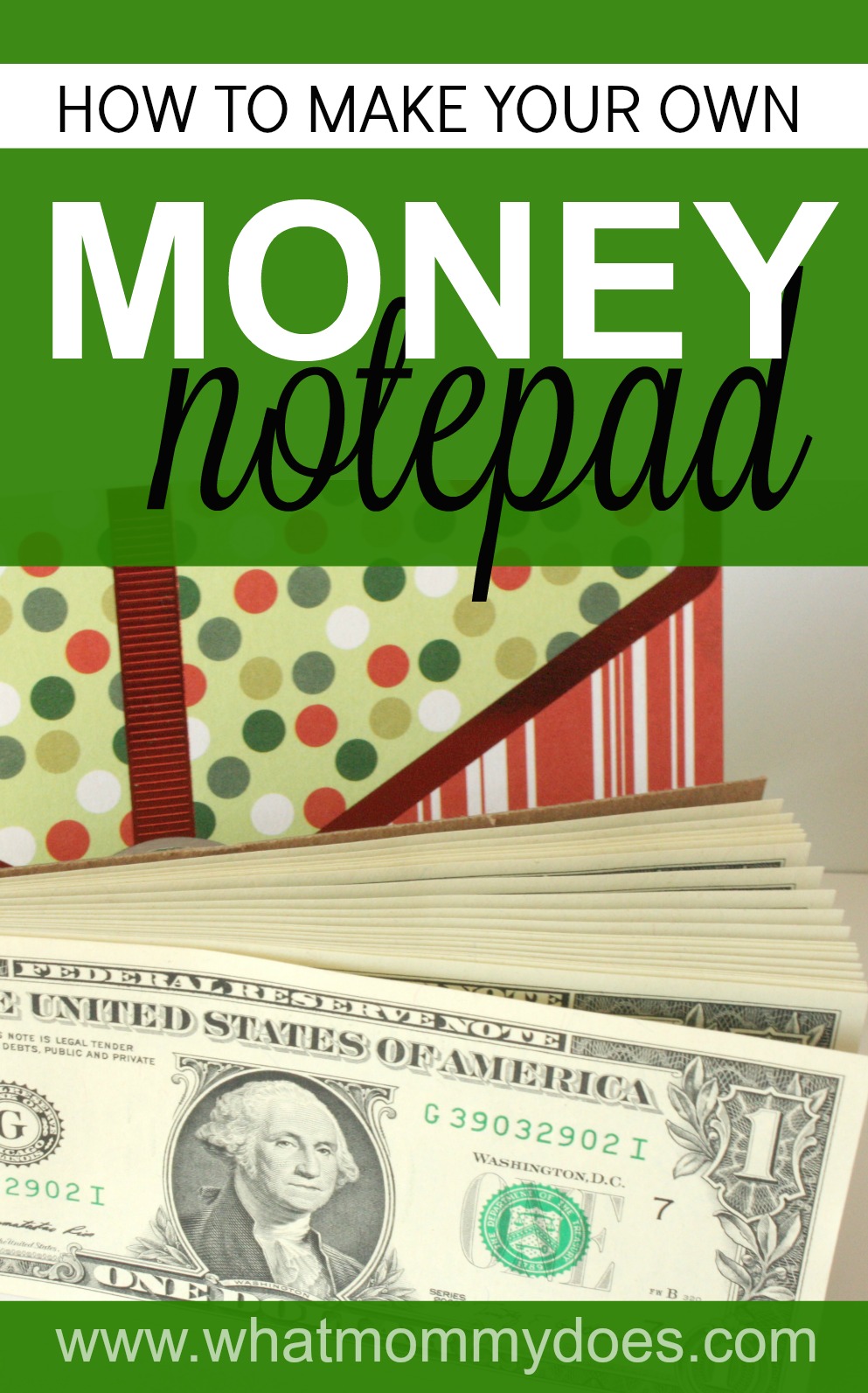 Latest posts by Lena Gott
(see all)