Anyone who knows me knows that I just love discovering unique do-it-yourself gift ideas for the kids in my life.
I don't believe you have to spend a bunch of funds on an expensive gift. A thoughtfully put together homemade gift can be just as meaningful.
I've written about lots of really cool DIY money gifts like the real money notepad (tutorial here >>) which everyone loves to receive.
Then one day I realized that the dollar store is a great place to find inexpensive containers for creating my money gifts.
So for this post I thought it would be neat to get super focused and find a ton of DIY Dollar Tree money gift ideas!
There is no need to buy a complicated present, when you can do it yourself with cheap materials!
Sometimes when I buy a $10 or $15 gift, I feel like I wasted my money because it doesn't seem all that impressive or useful. But when I give that same amount of cash in a creative manner, it always brings a smile and seems like a really great present every single time.
Keep on reading for my favorite ideas from the dollar store! I tried to include at least a couple pics of each option so you could know exactly how to recreate it yourself.
They make THE BEST GIFTS for the older kids, teenagers, and college students in your life!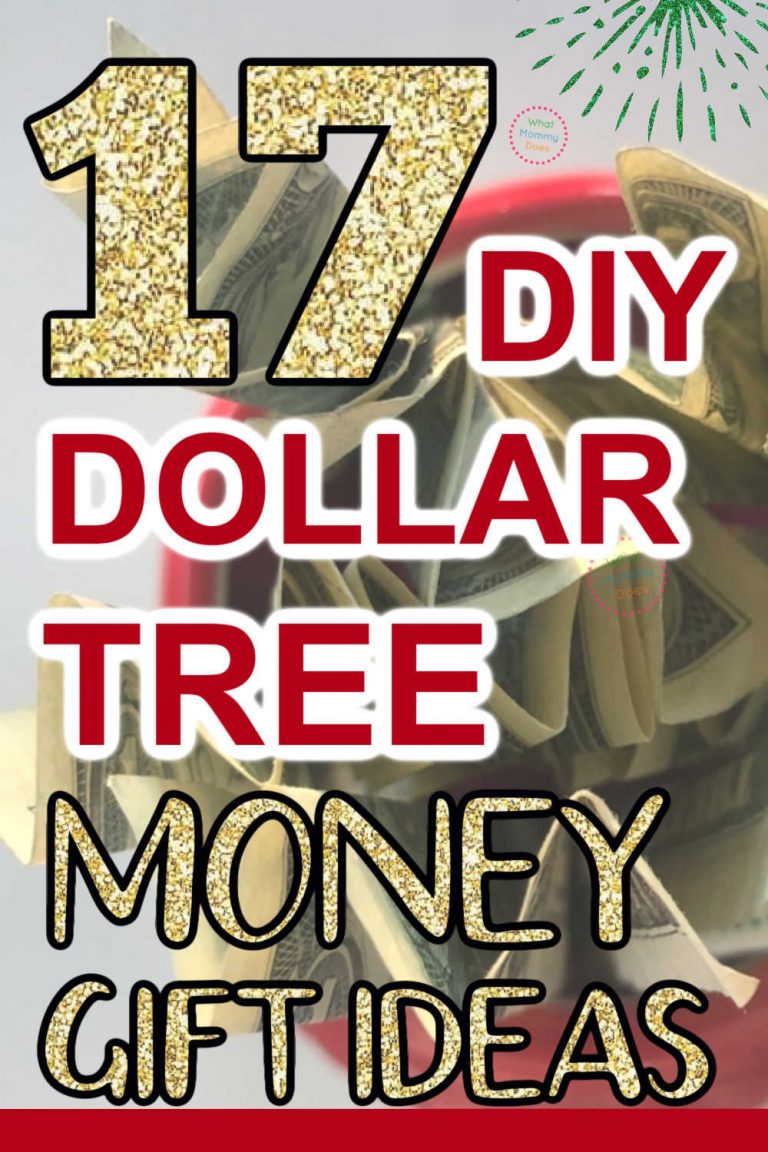 Do-It-Yourself Dollar Tree Money Gift Ideas
Most of these DIY Dollar Tree presents are made with one dollar bills, but you really could use any denomination you like to make them more valuable.
Also a couple of the ideas use coins, which everyone always has too many of laying around! 🙂
1) Make Your Own Money Tree!
These foil "fringe" trees were so cool I knew I had to use them in this list.
They are wire frames loosely wrapped in garland, so it's really easy to stick rolls of cash in the frame in between strands of garland.
This money tree can really be any value you'd like it to be.
I used approximately 15 one dollar bills, but if you used $2 or $5 bills, it would be easily worth $30 or $50+!
2) Easy Homemade Money Filled Ornament
When the kids were little, we used to make keepsake ornaments at Christmas-time filled with pictures and trinkets.
When I saw these empty plastic ornaments at Dollar Tree, I knew I could make them work.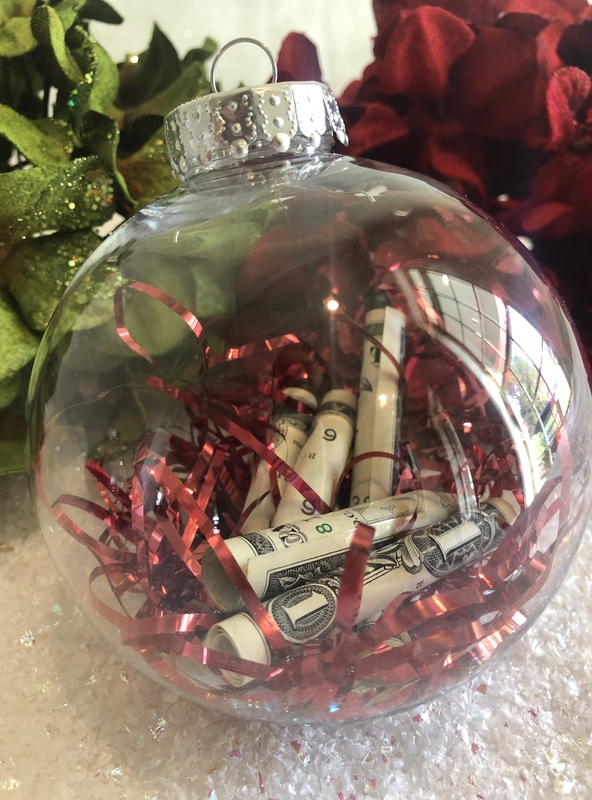 It's literally the easiest thing ever to make – just roll the cash tightly and slip them down into the ornament with a little bit of decorative grass or confetti…whatever you have that can make it look festive will work just fine!
3) A Simple Dollar Tree Gift Idea – Money Bow
When I first saw these really huge Christmas bows at the dollar store, I knew I had to figure out a way to hide money inside of them.
It took me a few minutes to but I realized you could literally fold a $5 $10 or $20 bill in half then tape it to the bottom.
Just so you can see how well the cash is hidden, here's what it looks like turned over.
I suppose if you already knew it was there you could tell by the itty bitty tiny piece sticking out, but it's really hidden under there. 🙂
I just love surprise gifts!
4) Treat Bags Filled with Cash
There's something about a simple Christmas treat bag filled with goodies that make Christmas seem like Christmas.
I picked up these cute see through penguin baggies then placed a handful of rolled up dollar bills inside of them.
I don't even think I put $10 in this bag and it seemed like a really substantial gift. Again, you could make it any value you want based on the denomination you use.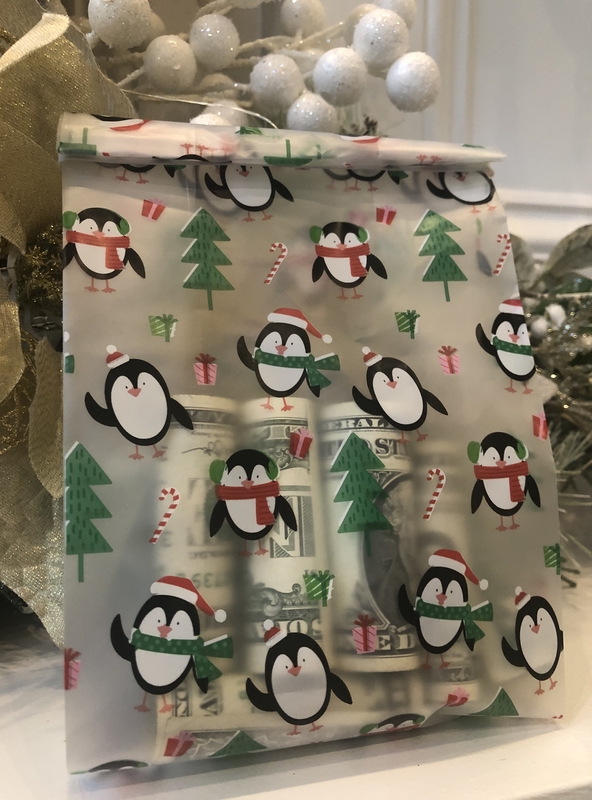 I like the idea of giving these inside of a stocking or first putting in tissue paper to disguise what inside.
And then giving it as a gift, as is, because it's already wrapped up really pretty in a gift bag.
If you're not sure what to buy at the Dollar Tree for Christmas, I'd say this one is it. Treat bags are so easy to use for a variety of gift recipients from kids to co-workers to neighbors!
5) Best Gift in a Box!
For this gift I got a really cute square shiny red box from Dollar Tree. I was able to put in a ton of cash, actually.
To up the value of this otherwise simple-looking gift, I rubber banded several dollar bills together in larger rolls.
It's a really simple present that only takes minutes, but it will mean so much when they open it!
6) Festive Coffee Cups
These really adorable + festive to-go reusable coffee cups were perfect for this list.
They have festive sayings on them, and you could easily put whatever amount of cash you would like inside.
I also used a filler to make it look pretty, but you don't have to do that if you don't want to.
If you were feeling really crafty, you could even pick up one of the plain coffee cups with no sayings on them and make your own with a Cricut machine….I got one last year and love it!
Hey, maybe I'll go back to Dollar Tree with that project in mind and see what blanks I can find!
7) Practical "Treat Fund" Mason Jar
Dollar Tree must have known I was coming to look for money gift ideas because one of the first things I found was this "treat fund" mason jar with a small hole in the lid for placing coins or cash inside of it.
As you can see, you can easily slip bills or coins in the jar this way.
I like how you can give a specific amount or just a random amount of coins if you decide to go the route of placing all your spare change in it for a month.
Talk about a frugal gift idea! hehe
8) Small Snowflake & Candy Buckets
I picked this bucket up in the front holiday section of the store.
They had all sorts of Christmas-themed containers like this when I went in early November.
I have no idea how early they stock them, but they had tons so I bet you can always find something similar around the holidays.
I found two versions on my visit – one blue & white snowflakes (above) and one red & green candies (below).
I took this up close picture of what the dollar bills look liked rolled up loosely and secured with tiny rubber bands so you get the idea.
I was making many gifts, so I first spent a few minutes just rolling these up! It was kinda fun. 🙂
Handling so much cash at once made me feel like I was back in my college days as a bank teller.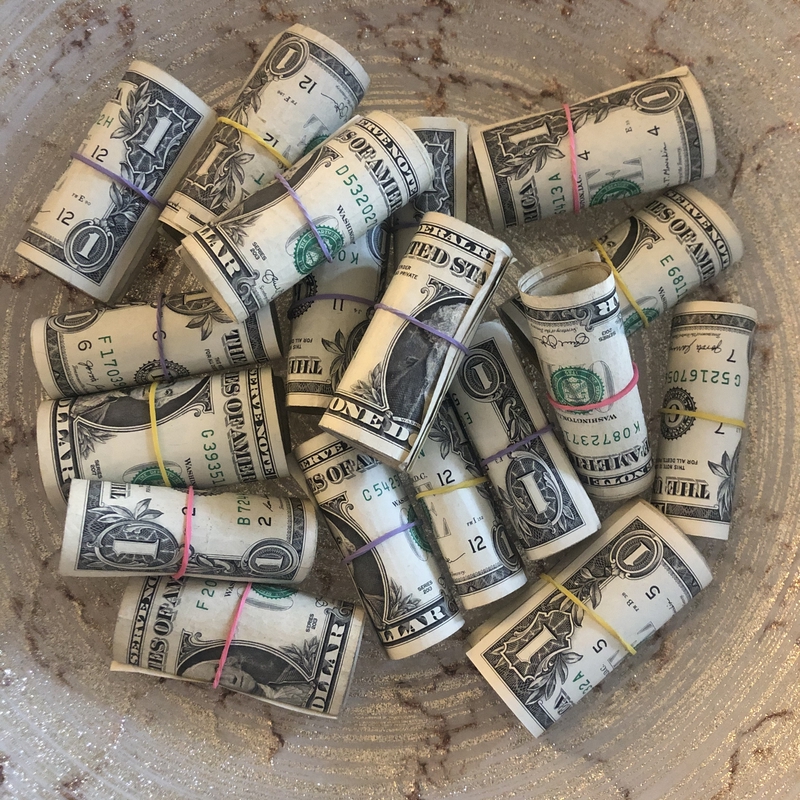 9) Notebook of Money!
This one was so easy I almost feel guilty including it….
but I can never let a good gag gift go to waste! 🙂
I just grabbed this small notebook in the checkout aisle at Dollar Tree.
You can see how even after I put over $8 in it, you can't really tell anything is in there.
I love seeing the surprise when someone realizes a regular little gift is something much more! 🙂
10) Santa Mug
I couldn't pass up this Santa mug in the store. I knew I could figure out a creative way to style it.
I decided to fan out the dollar bills to make it look like the Santa's head had money hair growing out of it! 🙂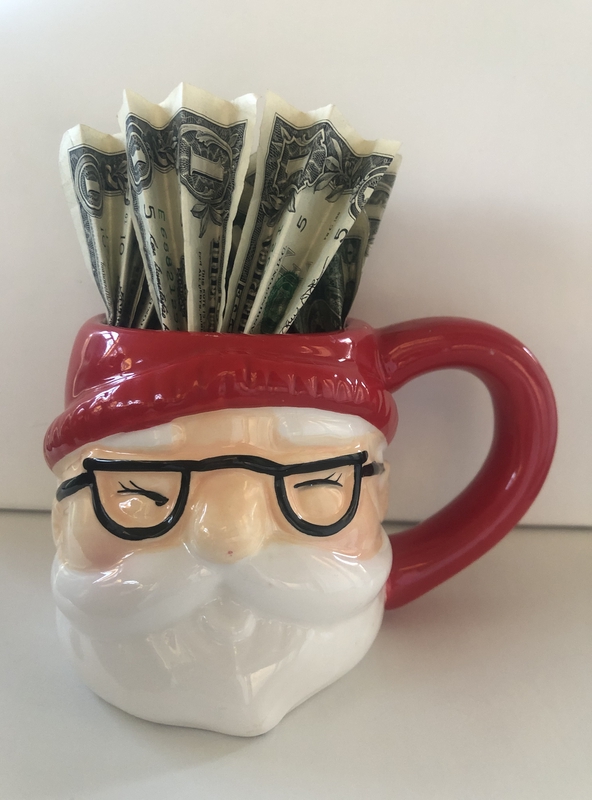 You could wrap it up this way in a little cellophane bag, or tissue paper with a typewriter ribbon around it, or you can put it in a box. Anyway you decide to give it will be great.
11) Mason Jars to Fill with Coins – Too Cute for Girls!
It's like the store knew I was coming to find items to put cash in! HA
I found a second mason jar to use for this project.
I think it's too cute for the girly girl in your life.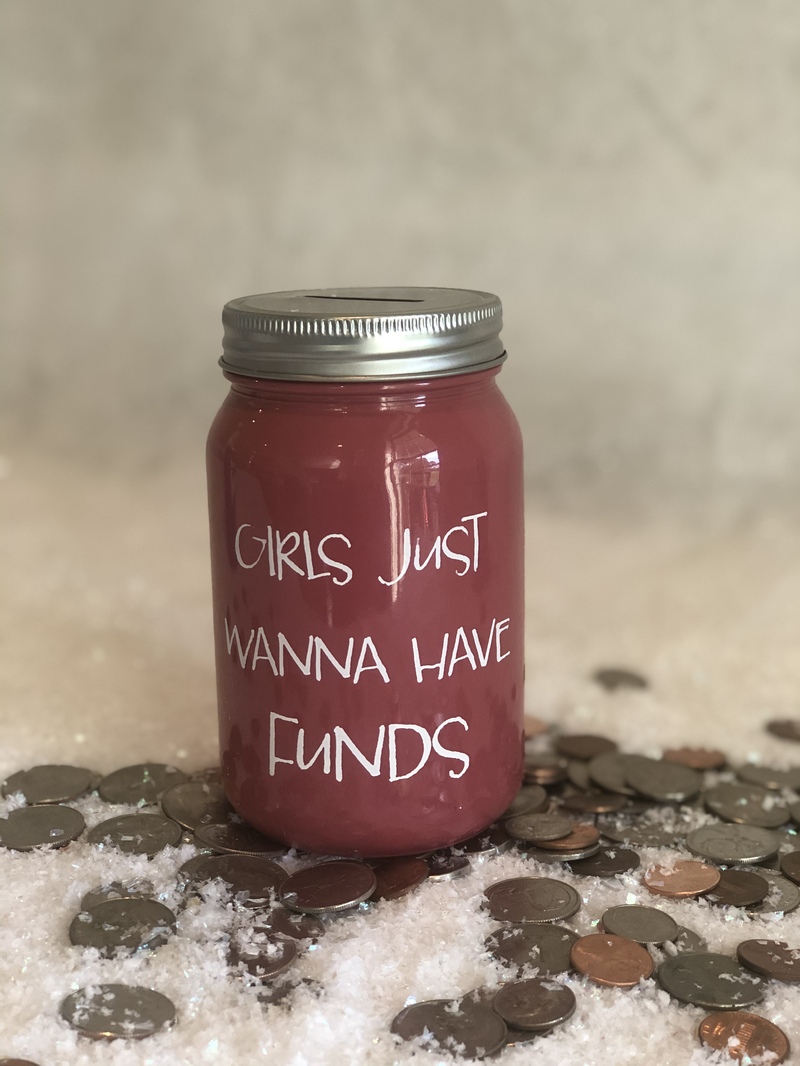 "Girls Just Wanna Have Funds" can be a fun money jar or help her achieve a great savings goals, starting with the amount you put in there to begin with.
Here's another super cute option. I found both of these in the aisle where they keep flower vases and picture frames.
I couldn't believe my cool finds!
12) Something a Little "Extra"
I thought this was really cute and you could to it two ways, really.
The first would be to just put the gum and dollar bills inside a plastic baggie and make it a stocking stuffer.
This would be crazy simple and what I would call my most last minute idea ever! LOL
The second option would be to take the red box from earlier and fill it with some gum and some cash.
Of course an accompanying note that says "I got you a little something "extra" would be just amazingly cute!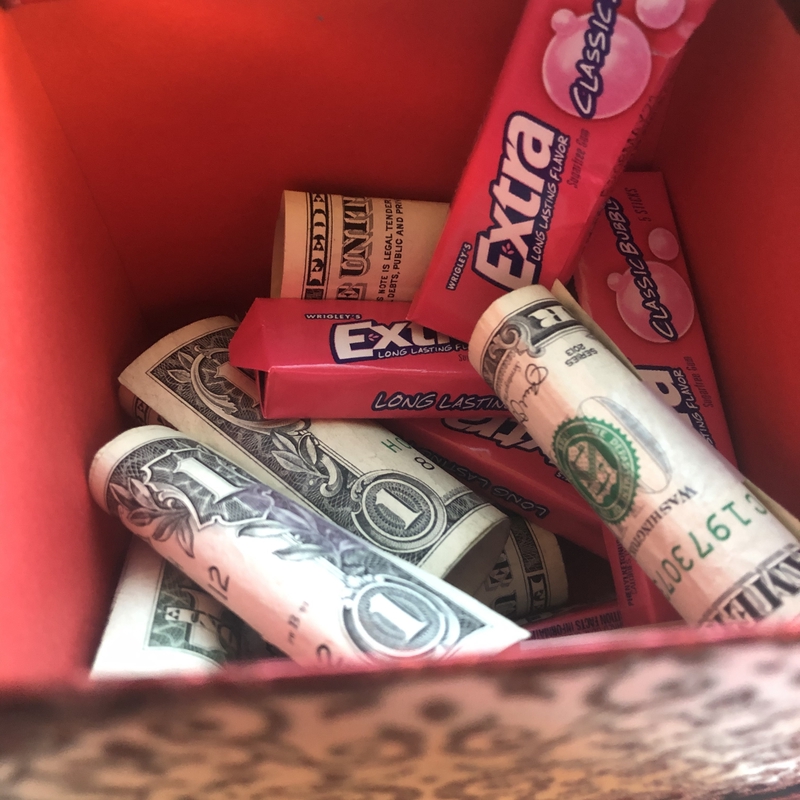 You really can't go wrong with this because the gum came in a huge pack for just $1.
13) Money Mailbox
This little mailbox tin is so cute. I think it is one of my favorites because there really is no purpose to it other than to put something cute inside of it!
It's Christmas themed, and only cost $1. So it's a super cheap Dollar Tree gift idea that you can put together in literally one hour before you need it, if you're operating last minute this year! 🙂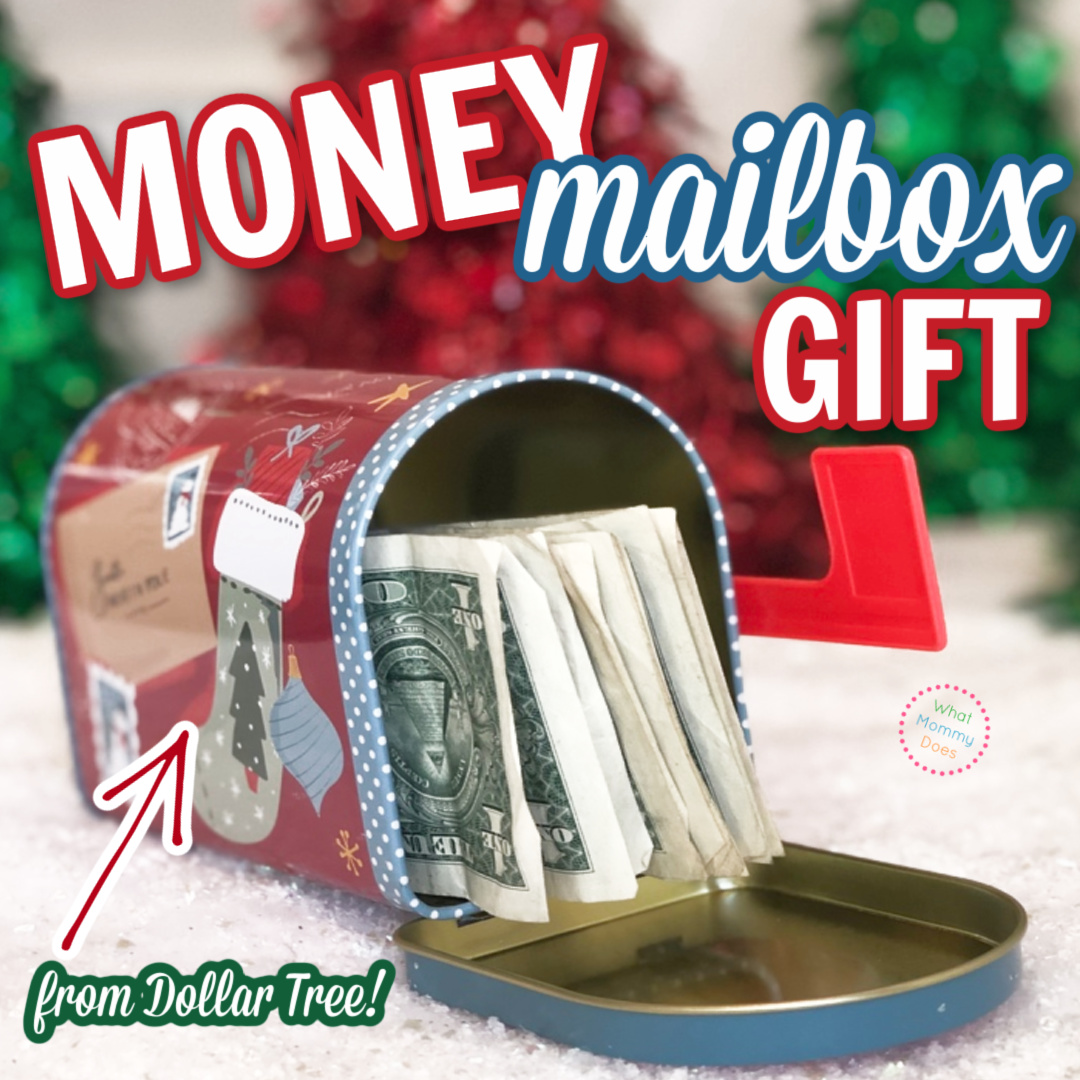 It's so cute. I think I am going to actually give this to my niece, this year.
14) "Stax of Cash"
Whether you give one container or three, this is a really creative gift!
For this idea, I used really flat bills and just slid them down into the empty chip container.
I have to say my kids really liked the fact that they "had" to eat a bunch of chips to clear the way! HA
15) Money Tin
This is another Christmas tin that I picked up at the Dollar Tree.
It's so sweet with penguins playing in the snow.
The tin itself is rather large, so I used crinkle filler to take up some space…otherwise the amount of money would have added up to quite a bit.
Once again, I used the method of taking several dollar bills rolled up together, then putting rubber bands around them so this gift ended up being worth approximately $25.
I think any teenager or college student would love to receive this.
16) Large Bucket of Cash
Finally, one of my last ideas, is this large bucket, filled with loosely rolled dollar bills, all standing up.
It just looks so impressive, even though it's approximately $25, it just looks like an insane amount of cash.
I think it's a really great option for teenager who needs cash for gas or going out with friends.
I also found a red version of the same bucket, which you can see in the pic below.
Dollar Tree had SO MANY items like this that make perfect gifts. The options just seemed endless.
TIP: If you really want to up the surprise factor of your present, you could use $2 bills. You can get these at the bank.
They are not widely circulated so usually a bank teller will usually keep them in a drawer and only give them out upon request (this is what I used to do when I was a teller).
17) No Fuss Money Envelopes
My last idea (for now, because I might go back and try to find additional options because this is a ton of fun)….are these Christmas-themed money envelopes Dollar Tree had.
I just had to include them on the list because if you're truly running last minute, these will do!
You know what to do with this one. These envelopes need no explanation. 🙂
18) Tiny Gift Bag of Cash
Originally, my idea was to use dollar bills as the "tissue paper" in this gift, but then I realized if you have a small enough bag, the bills themselves could make up the entire gift!
This presentation was so easy to achieve by simply packing enough dollars in there and turning them at different angles so they didn't all fall into a single pile.
This is a really simple money gift that stands on its own. For added WOW factor, you could mix in bills of other denominations!
It would also look nice with a little bit of crinkle paper or tissue paper sticking out.
19) Tiny Box of Bills
I found that when I roll up my dollar bills tightly and use a small piece of tape to hold each one together, I can actually get a lot of them into a small container.
I found these simple small boxes at the dollar store – I think they were supposed to be for holding gift cards, but I used them for cash!
They had two different kinds. This is not the first year I've seen these tiny gift boxes at the store, so I am sure you can find them even if you're reading this next year.
Of course, when you're deciding what denomination to use, you can always use smaller bills for younger kids and larger bills for older teens / college students.
That's the beauty of cash – it's so easy to change the value by changing denominations.
Simple DIY Dollar Store Gift Ideas with Cash
There you have it!
A long list of DIY Dollar Tree gifts that are really cheap & easy to make!
You can make practically any money gift by yourself with some simple items that don't cost very much.
What really matters with these gifts is your creativity and presentation.
I hope to be back soon with some more ideas like this. If I don't talk to you soon, have a Merry Christmas!
More Christmas Gift Ideas!
Latest posts by Lena Gott
(see all)