If you're a mom-to-be, then the time has come to think about what gifts your grandparents might want for their grandchild. I've put together a list of 27+ gifts that will surely please any new grandma or grandpa!
Whether this is the first or second grandbaby…or the 8th or 9th, you'll want to celebrate the new addition to the family with gifts that will bring joy to the whole family.
You can use these gifts to share the news of a little one on the way, or save them for Christmas, birthdays, mother's day gift, father's day, or just any day you feel like celebrating.
27+ Gifts for Expectant Grandparents
A grandbaby is all about new beginnings. They are definitely something to celebrate! If you're looking for gifts for expectant grandparents, here are 27 heartwarming gifts that will make them love you even more than they already do.
1) Grandparents Wooden Sign
Looking for an adorable way to do a 1st pregnancy announcement baby reveal with your parents in 2022? I absolutely love this stylish wooden sign.
Just think of the excitement the expectant grandmother will have when she unwraps this gift and sees she's going to be a grandmother!
Buy the wooden sign for grandparents here >>
2) Custom Wine Label
Pregnant with your second baby? This is the perfect gift for grandparents-to-be.
Invite them over for dinner, and hand off a bottle of wine with this custom wine bottle label on it. See how long it takes them to figure it out!
While this is meant to be a wine label, you can always put it on a bottle of sparkling cider so you can partake in some bubbly too. 😉
3) Coffee Mug Set
Have coffee-loving grandparents? This is the perfect set for them—they will drink out of these mugs for years to come!
This simple two-tone coffee mug set can be customized to have their preferred grandparent name on it which I love. It's really nice for those with more obscure grandparent names.
4) Handmade Family Tree
This is a thoughtful gift idea for grandparents because it's something they can hang up in their home to display proudly.
The hand-painted family tree sign is available in different styles, so you can choose the perfect one for your parents or even yourself!
5) A Thoughtful Grandparent's Keepsake Album
Do your parents or in-laws love to scrapbook and keep track of every single memory? If so, this is an amazing gift for them.
This grandparent's keepsake album is something they can keep forever to re-live all the memories that are made about their precious grandchildren.
Think of this like a baby book, only written specifically as a gift for expectant grandparents! They can write details about the baby shower, first memories, and even add pearls of wisdom for your little one to read later in life.
Buy the grandparent's keepsake album here >>
6) Two-Toned Coffee Mug Set
Want a fun way to share the good news? This custom two-tone coffee mug set is perfect as a first pregnancy announcement gift.
Fill the mugs with different chocolate candies and gifts, and put them in separate boxes so your parents can open them together. It's such a special way to share the exciting news!
7) Love at First Sight Ultrasound Frame
If you need a sweet way to share your good news, I highly suggest this ultrasound picture frame.
This heartwarming gift idea allows you to show off your little one and allows grandparents to start oohing and ah-ing over how cute he or she is!
By the way, these are great gifts for other family members too. This sweet message lets everyone know there's a bundle of joy on the way.
Get this sweet ultrasound picture frame here >>
8) Friendship Lanterns
Looking for a unique gift for expectant grandparents? Check out these friendship lanterns!
I love these for long-distance grandparents, as it's a perfect way to let their grandchild know they are thinking of them, and vice versa.
Simply tap the lantern, and its partner will also light up. Simple but so sweet!
These gifts will add a little bit of magic and light to their home for years to come.
9) First Christmas as Grandparents Ornament
This is the perfect holiday gift for grandparents, as it will always remind them of your special first Christmas as a family.
You can customize this ornament with any message, name, and even date if you'd like!
This particular ornament also comes with a storage box so it can be stored safely before and after the holiday season.
10) Countdown to Grandparents Sign
Here's another one of my favorite Christmas gifts for expectant grandparents!
This countdown to grandparents sign looks great on their mantle or above the holiday gift pile.
It's a cute way to count down the days until they can meet their new addition!
11) Perfect Batch Ornament
Got a proud grandmother with lots of grandkids to show off?
Give them a gift that's as special as they are with this sweet batch ornament.
She'll feel like the best grandma when she hangs this ornament on her tree and looks at her perfect batch of grandbabies! Seriously one of the cutest Christmas gift ideas out there.
Customize and purchase this Christmas ornament for grandma here >>
12) Boxed Book Set
Let the new grandchild gift his or her grandparents with a fun boxed book set that has a book for each grandparent to read to them.
We gifted THIS cute boxed book set for my parents and it's still a family favorite!
13. New Grandparents Card
First time grandparents will go absolutely crazy for this sweet card!
The inside of this card reads "…get promoted to grandparents". Just watch their reaction as they realize they are finally getting a grandbaby!
It's such a great way to spread your good news with loved ones near and far.
Buy the new grandparents card by clicking here >>
14) Heartbeat Teddy Bear
If you are new parents to be whose family lives out of state, you can still share your baby's precious heartbeat with them thanks to this heartbeat teddy bear!
The bear comes with a recording device so you can record your grandchild's heartbeat and play it back for them later. Such a great idea and sweet gift!
15) Letters to my Grandchild
Want a sweet gift that your child will cherish for decades to come?
This thoughtful gift for grandparents to be allows them to write letters for their grandchild with 12 sweet and funny prompts that will inspire their writing.
Purchase the letters to my grandchild book here >>
16) Grandparents doormat
Here's one of the best gifts for a new grandmother! She will absolutely love announcing to the mailman, neighbors, and anyone else who comes to the door that she is going to be a grandparent at last.
Get this funny grandparent's doormat right here >>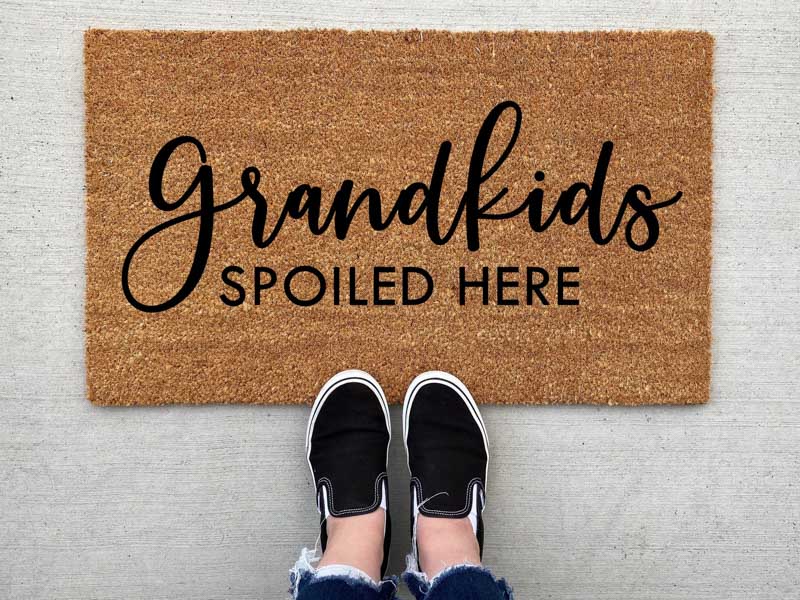 17) Digital Photo Frame
This gift idea allows new grandparents to combine their photos with those of your baby.
I like THIS digital picture frame because it is small and portable, so they can take it everywhere they go.
This is a practical gift that can also be a pregnancy baby reveal gift as well – just add a picture of the pregnancy test or ultrasound!
18) Grandpa on the Rock Glass
Is the grandpa-to-be a whiskey fan? Then he's sure to love this adorable glass!
Offer to fix him an old fashioned and watch him read the special message on the glass!
Get the glass for grandpa here >>
19) Pregnancy Reveal Puzzle
What better way to do a big reveal than with a fun puzzle gift?
The grandparent-to-be puts together this puzzle, and gets to enjoy the big news!
This is a great pregnancy reveal gift idea for that first grandchild whether you're having a girl or boy.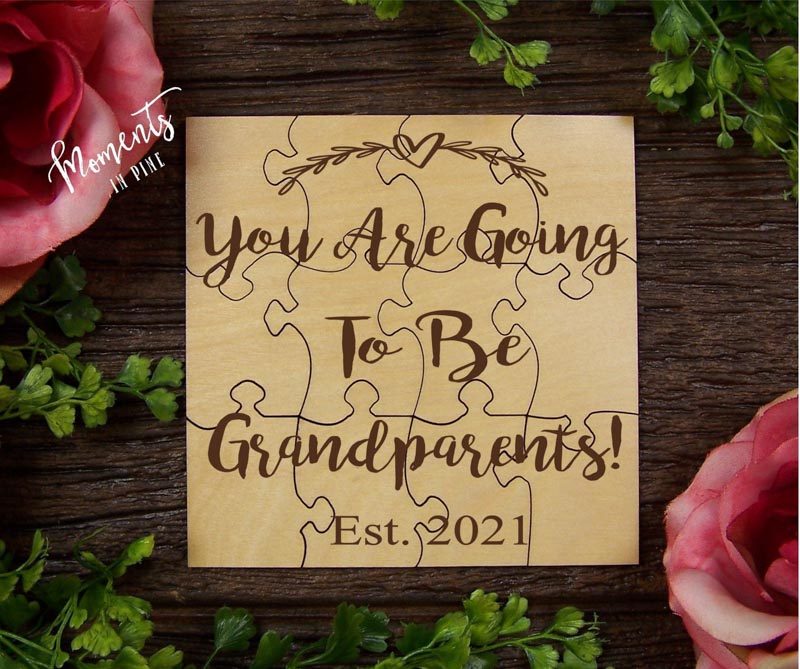 20) Grandparents Cookies
Etsy's cookie are always a great gift idea, but these yummy cookies will take the cake!
You can even request the design to be changed so it's a bit more custom. These are almost too sweet to eat!
Get the grandparents cookies here >>
If you feel brave and enjoy baking, you could also try to DIY this gift and make homemade cookies!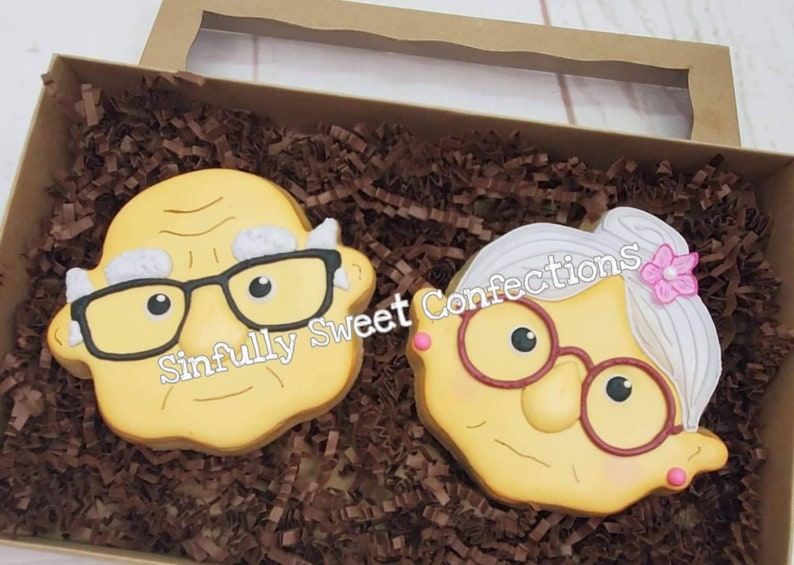 21) Amazon Echo Show
Here's a fun gift for the future grandma and grandma that like technology.
With the Echo Show, grandparents can video chat to watch your baby grow, hear their heartbeat, and enjoy special moments together.
This is one of the top gifts I'd recommend to every grandparent who lives far away from their grandkids. It's so useful for day to day tasks as well!
Get the Amazon Echo Show here >>
22) Cozy Throw Blanket
Any expecting grandma will absolutely love this sherpa throw.
Not only is THIS throw blanket super cozy, but it has a sweet message embroidered on it that says "most loved grandma". This is a great gift no matter how many grandbabies she has.
23) Grandkids Photo Display Frame
If you are looking for gifts for new grandparents who already have lots of grandkids, this is an affordable gift idea.
This photo display frame can hold 6 photos and they can constantly update it with the most recent grandkids!
Such a great traditional idea that any grandma or grandpa would treasure!
24) Funny Grandma Card
Looking for a new grandma gift for someone who has a sense of humor? This cheeky granny panty card will have them laughing out loud…and leaping with glee.
Get this funny card for grandma here >>
25) Grandma Necklace
This sweet piece of jewelry has a thoughtful saying that made me choke up…it's sure to give grandma all the feels as well.
Purchase the grandma necklace here >>
Gifts for Expectant Pet Grandparents
Okay, I had to throw a few gifts in for the dog grandparent! Fur babies are a huge part of our families too…plus these are just too fun not to share!
26) Grand Paw Shirt
The "grand paw" in your life is sure to appreciate this funny statement shirt.
Perhaps you can convince him to wear it while babysitting your fur pup for the weekend!
27) Grand Dog Necklace
This sweet stamped necklace has a pendant that can be personalized with the names of your grandfur babies.
It would make a wonderful baby shower or pregnancy reveal gifts for pet parents who love their pets just as much as actual children!
Get the dog grandma necklace here >>
Now, get out there and start shopping for those expectant grandparents! 🙂
More Posts to Read:
Latest posts by Lena Gott
(see all)