Starting a blog isn't expensive in itself, but being able to get some free training is always nice!
I've compiled a list of helpful blogging resources that I would recommend anyone starting or growing a blog to read through.
Pick and choose the ones that interest you the most right now, and bookmark this page by pinning the image below so you can come back and download more in the future! I'm always on the hunt for new resources for us!
12+ Free Blogging Resources
All of these free blogging guides, checklists, etc are created by bloggers that I know and trust. They won't steer you wrong! I've also included my own free resources in the list below.
1) Bad Blogging Habits You Should Break
Learn several bad blogging habits you may adapt…and what you can do to break them so they don't ruin your success! I LOVE the concept behind this guide!
GET THE BAD HABITS GUIDE NOW >>
2) The Secret Blueprint for Blogging Success by Ruth Soukup
This blueprint details a simple road map you can use to create a profitable blog!
3) Blog Structure Blueprint
There is a right and wrong way to structure your blog and keep things organized. Making your blog easy to navigate and find what your readers are looking for is essential if you want to increase your page views and lower your bounce rate.
GET THE BLOG STRUCTURE BLUEPRINT NOW>>
4) Blogging Trends 2018 by Ruth Soukup
Ruth offers a ton of valuable freebies for bloggers. She's also the creator of Elite Blog Academy, a very popular and fantastic course that only opens once a year. In this short report, Ruth uncovers 7 top blogging trends that will help you rock your business this year!
GET THE BLOGGING TRENDS 2018 REPORT NOW >>
5) 10 Steps to Take When Your Blog Post Goes Viral by Ruth Soukup
Do you know what you need to do if you have a post that is exploding with traffic? With this handy step-by-step guide, you will be able to harness the power of that viral post and use it to your advantage!
GET THE VIRAL POST GUIDE NOW >>
6) Blog Traffic Bonus Guide by ME!
This free report highlights 3 traffic generation strategies that I do not share in my larger course, Traffic Transformation. They are foundational strategies that helped me push my blog traffic over the edge when I needed additional traffic for sponsored opportunities and increased ad revenue.
GET THE BLOG TRAFFIC BONUS GUIDE NOW >>
7) 7 Surefire Ways to Boost your Blog Income by Ruth Soukup
Looking to make more money with your blog? Ruth sheds some light on seven techniques she recommends to increase your blog's income. This guide includes practical tips you can implement right away to increase the revenue from the audience you already have. Definitely a game changer!
GET THE BOOST YOUR BLOG INCOME GUIDE NOW>>
8) 23 Conversation Starters for your Facebook Page by Rachel Miller
Rachel is the author of the fantastic Moolah Marketing course. She is definitely a Facebook engagement whiz! In her freebie, Rachel helps you defeat the "crickets" on your Facebook page or group.
These are conversations that you can copy and paste – helping your readers comment and engage more on your FB page, profile and groups.
GET THE FREE CONVERSATION STARTERS NOW >>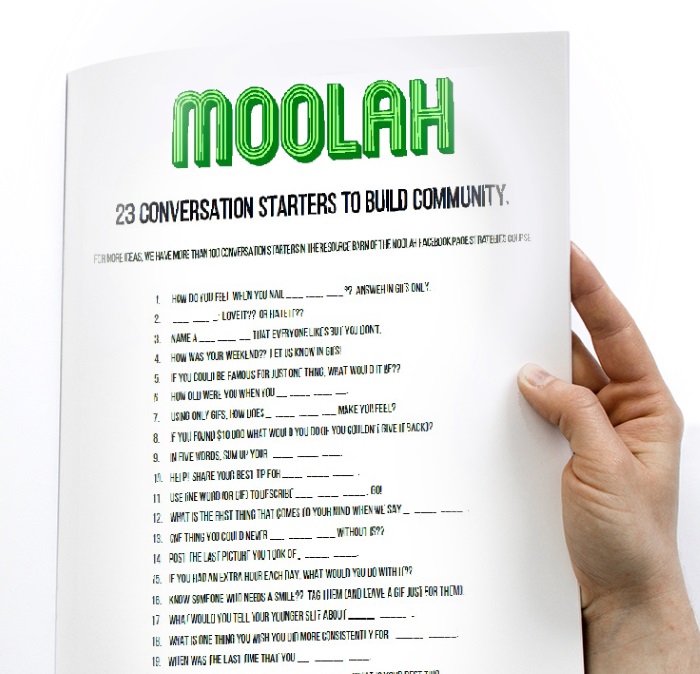 9) Viral Post Title Cheatsheet by Rachel Miller
It's like Mad Libs for bloggers! Remember those fun stories you could create by adding in certain nouns, adjectives, colors, etc.? Well, Rachel has created something similar, but with blogger style! Plug your topics into these fill in the blank titles (and don't forget those supercharged emotional words!) and you'll have some powerful headlines that are irresistible to click!
GET THE VIRAL POST TITLE CHEATSHEET NOW >>
10) The New Bloggers Guide to Guest Posting by Ruth Soukup
Guesting posting is a great way to gain more exposure for your blog. It also helps you get more backlinks, which come in handy for search engine optimization. In this handy guide, Ruth shows you the best practices for guest posting that benefit both you and the recipient of your guest post!
GET THE GUEST POSTING GUIDE NOW >>
11) 120 Awesome Blog Post Ideas by Ruth Soukup
Never run out of ideas for your blog again! This helpful list will give you over 100 ideas for your next blog posts to keep your editorial calendar full and to avoid writer's block.
GET THE BLOG POST IDEAS NOW >>

12) Free Pin Creation Tutorial
This is a super simple way to make beautiful pinnable images. This is a free training of mine that doesn't even require you to provide an email address! 🙂
Learn how to create pretty pins in PicMonkey >>
FYI – If you don't have PicMonkey, you can get it here!
Hopefully these free blogging resources will help you gain more traffic, earn more money, and organize your blogging efforts so that your business thrives!
I am always on the hunt for additional resources, so please comment below with more ideas and I'll consider adding them to the list!
SaveSave
SaveSave
SaveSave
SaveSave
SaveSave
SaveSave
SaveSave
SaveSave
SaveSaveSaveSave
SaveSave
SaveSave
SaveSave
SaveSave
Latest posts by Lena Gott
(see all)