Get well soon care packages and gift baskets are one of the most amazing things to receive in the mail.
I fully believe that any thoughtful package is amazing, whether it's for an illness, as a an anniversary gift or just because…. But there is something extra special about getting a get well soon package. Maybe it's because when you get one it's because you ready to feel better about something.
Whatever the reason, when you see the face of a family member or someone you care about opening up one of those packages it's like a light has gone on behind their eyes.
To know that someone out there loves and cares enough to send you one is uplifting and very validating. It makes for a speedy recovery, or at least it feels that way.
Going through chemotherapy for any reason is difficult and emotionally exhausting. This package is beautiful and simple and encourages the receiver to take a few moments to take care of themselves. It's like getting a teeny box of sunshine with a card you can add a positive message for them to wish them good health.
Lavender has been shown to promote relaxation so when you or a loved one are stressed this care package would go a long way.
Think about how nice it would feel to curl up on the couch and binge watch and show with this warm pack on. Add a nice hot bowl of chicken noodle soup and you have the perfect set up for flu season.
This milk and honey get well soon package is sure to be enjoyed thoroughly.
Succulents are incredibly easy to maintain and last for years. This post surgical gift box will make a great way to let a friend know you are thinking of them and are wishing them well on their healing process. This is the perfect gift to substitute getting fresh cut flowers since they don't last very long.
Putting on some cozy socks and lying in bed while eating some delicious candy sounds good even when you aren't sick. It sounds like the perfect way to get through a tough time. The gift recipient is sure to feel better soon!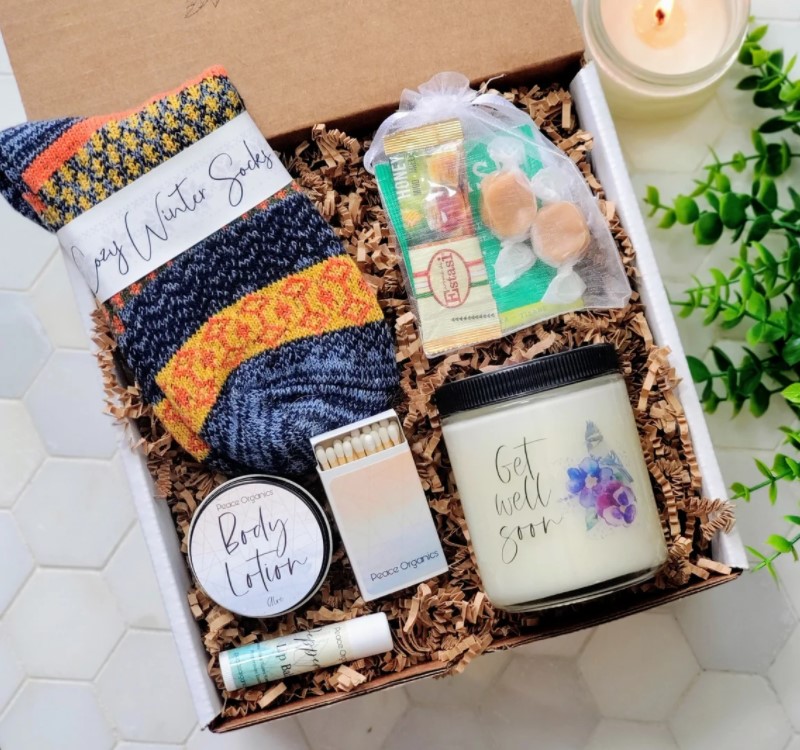 A cup of hot herbal tea, a bit of honey, some comfy socks and a good book are all good ingredients for a nice night in that is rejuvenating and healing. Whether it's because of illness of difficult times, this gift box is a great idea to help boost your immune system.
Little kids LOVE LOVE LOVE dinosaurs. When they aren't feeling well this will make a great package to receive in the mail to help them feel better faster.
I like the though of getting this box for a child that is struggling with school or with friends that needs a little pick me up in their life. This would also make for a good birthday gift.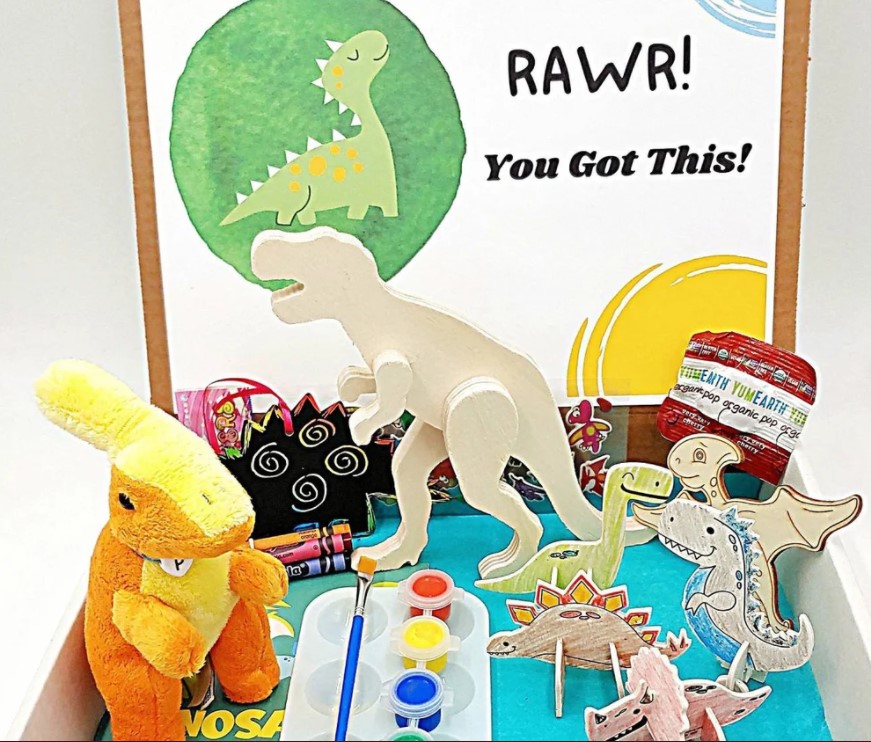 Is there a coffee lover in your life that could use a pick me up? I don't know about you but I can't seem to own enough coffee mugs.
Check out this beautiful package and just imagine the smile on their face when they open it up and enjoy a hot beverage courtesy of you.
A little pampering is often not just a little when you need it so badly.
This may seem like a gift box that is for everyday but that's the point of it. Sometimes a little distraction goes a long way with kids. Why not get them off the screen and onto some fun activities while you have the chance to?
Hot and cold packs don't need to be bland or boring. If you've ever seen a little kid hug their favorite stuffed animal when they don't feel good then you know how important it is to make them feel comfortable and engaged so get in on the healing game. I know my kids will lie still and actually keep a cold pack on their heads if I stick it on a soft toy or have them hold a hot washcloth that is wrapped up in their favorite snuggle blanket.
Puppies sometimes need some extra love too. Dog is mans best friend.
If you know a family that has a dog that is going through and injury or having a procedure done then a little thinking of you gift with a dog theme would definitely be a welcome surprise.
Sometimes the best medicine for a sick friend (or dog) is a simple reminder that you are thought of a cared for.
It doesn't always have to be perfect or even the best idea ever. But a good idea is better than no idea. Delicious foods, a relaxing bath, and lots of rest can go a long way when it's needed.
P.S. Expect a nice thank you text or phone call on delivery day when they finally get to open up their gift box.
For More Gift Ideas Check out These from WhatMommyDoes!

Latest posts by Cecilia Williams
(see all)