It's no secret I LOVE hearts!
One of my favorite things to do is create heart templates to print out and use for crafts, art projects, garlands, and anything else you might need a heart outline for.
Here are my latest creations! Feel free to use any of these free printable heart shapes in your own Valentine's Day cards or heart craft projects.
Enjoy!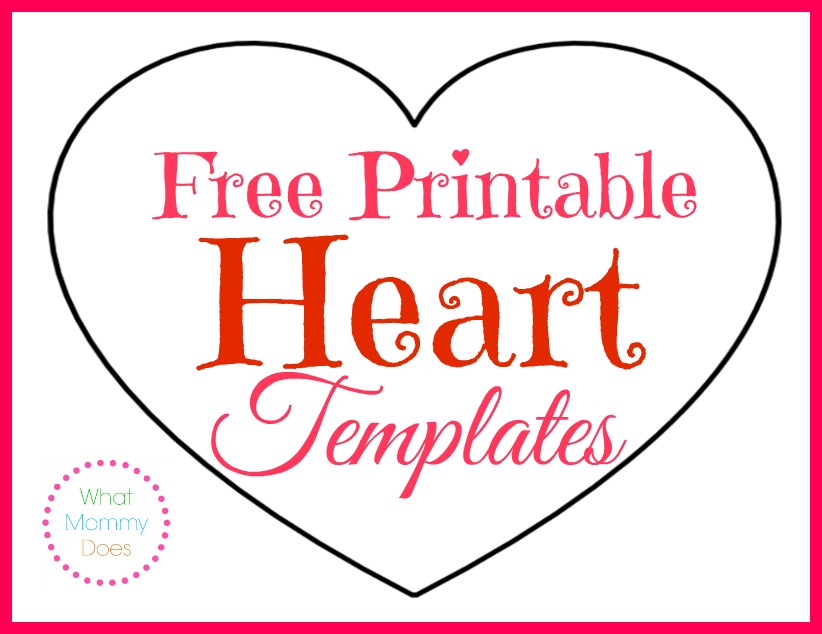 Page Full of Hearts – Tiny, Small, Medium Sized Stencils
These printable heart shapes are the best of all worlds – if you need many different sizes for a single project, this printout is perfect.
I didn't measure the hearts, but it's a collection of tiny, small, and medium hearts.
None are larger than 3 inches wide or so, I'd say.
Free Printable Heart Shapes – Tiny, Small, Medium Shaped Cutouts
I love this page of hearts because there are SO MANY on a single page.
When I was a kid, I used to make all sorts of hand drawn heart pages, so I practiced fitting in medium and small hearts in around the bigger ones.
Draw the large ones first, then add medium ones, then smaller shapes and so on. I remember it like it was yesterday! 🙂
(click on the image below to download and print the page – PDF format)
Wide Hearts – Medium Sized Blank Outlines
Next up is a set of blank heart templates that are wider than they are tall.
These are my personal favorites. I call these my "puffy hearts." 🙂
Puffy / Wide Medium Heart Shapes to Cut Out – 4 Stencils on One Page
(click on the heart template below to download and print the page – PDF format)

70 Tiny Hearts on One Page
I can think of sooooo many uses for these tiny hearts.
If you need heart confetti, you could print out one sheet, then place it on top of 3 other sheets of paper before cutting, and you'd have over 200 tiny hearts in minutes!
If you need a simple coloring page for the kids, this is perfect for that as well.
I personally plan on using this printout as the cover page for a clear plastic binder, and I'll probably color the hearts with highlighters first. 🙂 Told you I love hearts!
70 Tiny Heart Outlines
A really cool use for this page could be as a cute card for Valentine's Day or even Mother's Day.
Print it out, let the kids color the hearts however they wish, and fold it in half. Instant homemade card!
(click on the image below to download and print the page – PDF format)

More Free Heart Templates
If you are looking for hearts in another size, I have another set of templates available for download here.
These are two of the print outs on that page…a set of 9 medium hearts on one page and a set of 2 large stencils.
Latest posts by Lena Gott
(see all)