If you are wondering "What is a good gift for new parents?" then you are in the right place!
As an experienced mom of 3, I want to provide some guidance on the most practical things to get a new mother (that are also thoughtful and meaningful).
Keep in mind that when visiting a new mom after birth, she is likely to be tired and not feeling her best.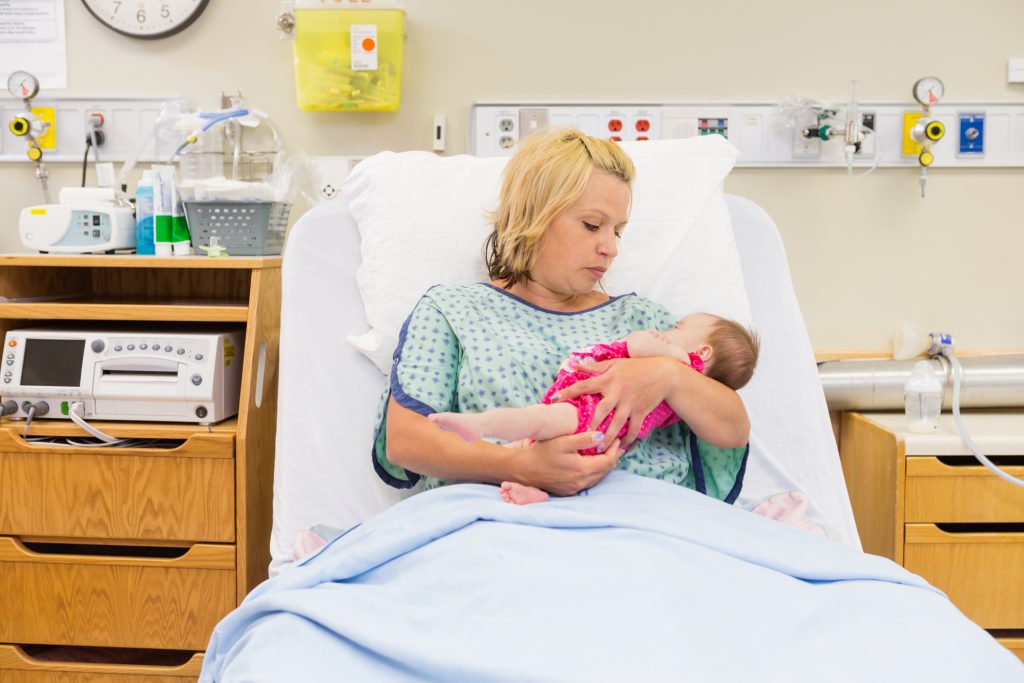 Your new mom friend is probably also super excited and potentially a little foggy-headed (I know I was after my first was born).
Unfortunately, with lack of sleep, those things aren't likely to change very soon, making any after delivery present really more of a heartfelt survival kit gift!
10 MOST USEFUL GIFTS TO BRING NEW PARENTS
This list of gifts to give a new mom after she gives birth range from items she can enjoy while IN the hospital and others she will enjoy for many months or years to come.
Every new mom needs a little pampering after going through a long pregnancy & the stress of delivery!
I'm sure you can find something in this list that works for you, even if you need to have something delivered to the hospital (see the list of those ideas at the very bottom of the post).
1. A TRAVEL DIAPER BAG WITH CHANGING STATION
Some new moms may have already received a diaper bag at their baby shower or purchased one they like.
However, most moms don't ALSO have a travel diaper bag like this. This would make the PERFECT after-pregnancy gift.
It's practical AND fun and will make going on trips with baby a breeze. I just wish I had had something like this when my kids were little!
This particular travel diaper bag expands into a changing table which is AMAZING when you're on the go!
It holds diapers, medical necessities, bottles, and moms odds & ends.
Check out this incredible diaper bag on Amazon >>
2. HEALTHY SNACKS
Hospital food may not be appealing for the new mom. If you are visiting a new mom who just had a baby, treat her to some delicious & nutritious snacks such as cheese, crackers, or grapes to help keep her energy up.
One of my best friends brought me my favorite smoothie and it was honestly the best thing at the time. Sometimes solid food is too much for a system that just birthed a newborn.
Soups, pudding, jello and yogurt are all things that the hospital can offer, but they don't taste the same as the same good stuff from home or a local restaurant.
If you're strapped for time, this snack variety box from Amazon is a great option!
3. CHOCOLATE TO SAY CONGRATS
Literally every problem can be solved by chocolate. When in doubt about what to purchase, a simple gift like this is perfect.
Caring for a newborn is exhausting. When new moms are exhausted…a simple pleasure like enjoying a piece of chocolate can mean the world!
If you aren't sure what kind of chocolate your friend likes, consider making up a gift basket with a variety of different chocolates or a box of chocolates like this one with different kinds inside. Unless your friend doesn't like or can't eat chocolate, you'll hit a home run every time with this gift.
4. ANYTHING LAVENDER – CANDLE, SOAP, ETC
Unless your loved one is allergic or averse to lavender, lavender items make a great gift for new parents.
Lavender is naturally a calming and soothing scent; it relaxes you and in some cases, can put you to sleep. A warm & relaxing lavender bath is perfect for a tired, stressed-out new mom.
Also, a lavender candle in a pretty tin, some lavender wax melts, or lavender essential oil scent just might help soothe the new baby to sleep (a bonus gift for any new mom)!
The hospital makes new moms stay in the hospital for at least 24 hours after the baby is born. That means a lot of sitting around and waiting. An added bonus of gifting something lavender scented is that it takes away that "hospital" smell and makes the room feel more cozy!
This gift is also great for new moms once they are home too, because they may be spending a lot of time nursing (or just resting because they're exhausted).
5. NURSING PILLOW
A nursing pillow helps the mom relax her back and provides soft cushion and good support for the baby.
A nursing pillow ensures that her baby is at the right height for her breast, so mama's shoulders don't do the work for her.
A nursing pillow helps hold the baby close, allowing the mom's shoulders and neck to relax a bit more.
ALL moms can use nursing pillows. They aren't just for breastfeeding moms – bottle-fed babies can use them, too!
6. BABY SLING / WRAP CARRIER
A sling or wrap can improve bonding between mom and baby and help parents stay hands-free so they can get tasks around the house done.
My third baby wasn't happy without being held; my Bjorn baby sling was a huge blessing so that I could take care of my other two kids and still make my baby happy.
A wrap carrier like the one pictured below is also amazing.
Many times that baby sling was the only thing that allowed me to push a grocery cart around Target with all 3 kids in tow.
7. DIAPERS
One of the best gifts for a new mom who has given birth is diapers! She will be going through at least 10-12 a day for a while, so they get used up quickly.
Especially if she is a first time mom, she may not realize just how many diapers a newborn goes through in those first few weeks. It can be quite shocking and easily feel overwhelming if she's not prepared.
One thing I think is so fun is to gift her a box of cute diapers in fun patterns like this style from The Honest Company.
These are on the more expensive side for diapers, so they may not be something momma splurges on for herself, but they'd be an amazing after delivery surprise for her to receive!
If you REALLY want to knock her socks off with your gifts, then give her a diaper SUBSCRIPTION by choosing Subscribe & Save at checkout. That way you can send her multiple packs of diapers on a regular schedule, which would be a huge blessing to any new mom.
I would have loved for somebody to surprise me with a subscription like this! We could barely afford diapers at the time and it would have been the biggest blessing.
Click here to order these adorable diapers on Amazon >>
8. MAMA BEAR HAT
This pretty mama bear hat is such a cute gift and one the new mom in your life is not likely to have.
Everyone loves a super cute baseball cap, and there's nobody prouder than a new mom!
I think this is such a practical and thoughtful gift……thoughtful because it's for mom herself and practical because it's amazing to wear on bad hair days (which she can look forward to for many months to come!) 🙂
Get this Mama Bear Hat on Amazon >>
**If you want even more ideas, I found ALL KINDS of Mama Bear & Papa Bear items from jewelry coffee mugs and rounded them up in a single list. Here are they are: Mama Bear + Papa Bear presents starting at $11 >>
9. WOOMBIE
Any baby will love this! I can't even tell you how much I wish I had this when my kids were babies. Forget the swaddle that comes undone as soon as you put the baby down – now there's the Woombie.
It is a wrap that keeps the baby warm, cozy, and comfortable while being made of fabric that is light, breathable, and ergonomically shaped with a 'hip-healthy' design.
Click here to see the Woombie on Amazon >>
10. KEEPSAKE HANDPRINT / FOOTPRINT FRAME
I cannot imagine any new parent not LOVING a gift like this!
With this keepsake footprints & handprints gift, the new parents can easily commemorate those tiny little hands and feet + precious photo memories for all time. You really can't go wrong with this one.
11. ARRANGE DINNERS FROM FRIENDS
Casseroles…freezer dinners…anything is wonderful to a new mom who is too busy attending to baby and trying to sleep (and maybe shower). Saving her time from cooking while caring for her newborn is one of the most practical and appreciated things you can give to a new mother.
Use Signup Genius to email her friends and family (you can get those email addresses from her) to have them sign up to bring a meal to her. If you can, work it out so that she gets 3-4 meals a week for at least 2 weeks, if not more.
Here is a post that goes into way more detail about setting up an amazingly helpful meal train PLUS it gives lots of meal ideas to consider >> 13 Best Meal Train Ideas for Families
While you may not give this gift to her in the hospital, you can tell her about it when you visit her after delivery. You'll make her day!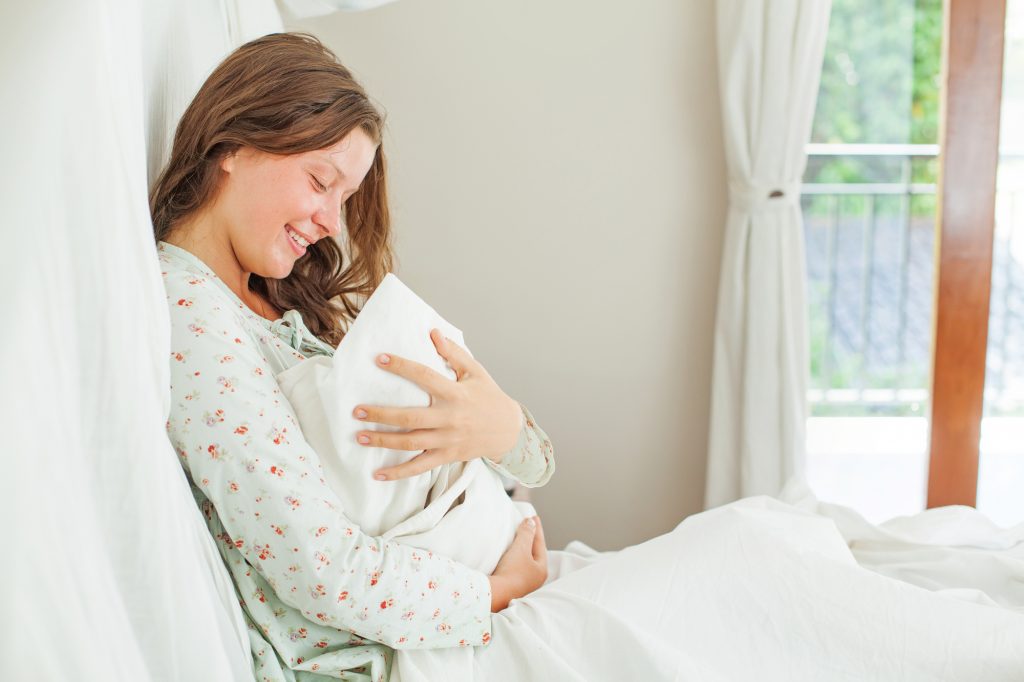 12. XL HEATING PAD
After each one of my babies I had low back pain during my recovery over the following weeks and the only thing that seemed to help it at night was a heating pad like this one >>
I only had 2 small ones that I would place side by side to make a large one. If I had an extra large one like this pad I would have been in heaven!
13. COMPRESSION SOCKS
New moms do a lot of sitting and resting after giving birth. (Especially if there was any tearing or a caesarean involved)
This can lead to some fluid buildup and discomfort in the lower leg.
These compression socks worked amazingly for my sister. Her foot blew up to nearly double it's size for about a week after her first child, and compression socks were the only things that helped those first few days.
The graded compression helps prevent fluid from settling in the calf and foot, and they feel good on top of that!
I like to use my compression socks even no when we go on long car trips or airplanes.
15. GRIP SOCKS
Keeping on the sock idea… these grip socks are really convenient to have.
You can go straight from walking or standing to getting into bed without having to worry about bending over to take them off like you would shoes.
New moms have enough to worry about, let socks be one less thing.
16. POSTPARTUM SUPPORT WRAP
These things are genius miracle workers! After birth a new mom basically has zero abs to speak of . They have been stretched and split and are screaming for assistance. This belly wrap is just that.
By supporting the belly it also supports the low back and feels so so so good to wear. The compression also helps with the swelling. Whoever invented this should get a Nobel prize…
17. MASSAGE
Any kind of massage will work but a full body post pregnancy massage is an amazing thing to experience.
A new mom has been so kinked up and carrying around a heavy package for months. A little TLC with a massage is a wonderful way to make her feel better.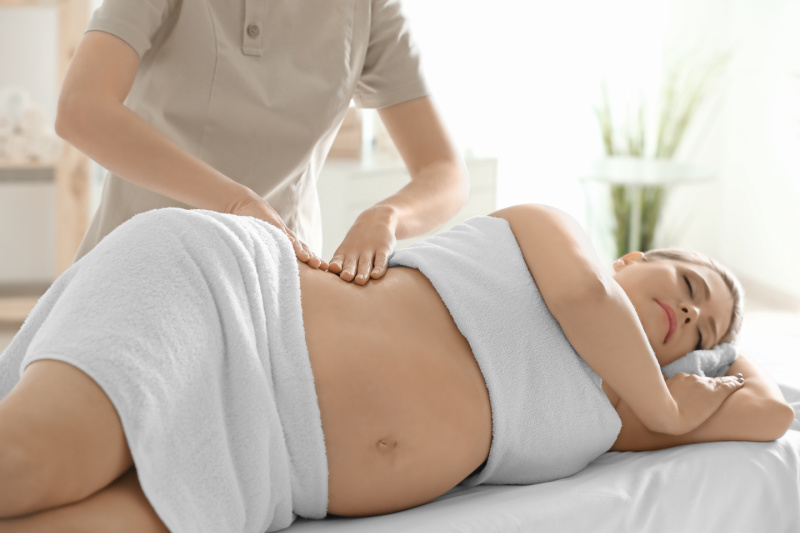 HONORABLE MENTION – CREATE A NEW MOM HOSPITAL GIFT BASKET
In case none of these good new mom gift ideas seem like the perfect fit, you could make your own hospital gift bag for a first time mom.
Fill it up with toiletries and other essentials that would be pampering but also helpful in the hospital (and afterward).
Ideas for new mom gift sets or for what to put in a new mom hospital gift basket (or bag) include:
Earth Mama Angel Baby Postpartum Recovery Essentials Gift Box. This is a set of products includes the C-Mama Healing Salve, a Bottom Spray, Postpartum Bath Herbs and a Nipple Butter. The C-Mama Healing Salve is a revolutionary, clinically tested healing salve.
Organic Sitz Bath Soak. This amazing soak helps speed up the healing process after delivery.
IceWraps Reusable Gel Ice Packs for nursing and more. These are the perfect nursing aid – they help with tenderness, clogged ducts, mastitis, soreness, and discomfort. Plus, the double for kid's injuries.
Nursing Cover – Shawl or Scarf. For a first time mom, having a nursing cover can help her feel less exposed as she's trying to nurse her baby. Find a cute, trendy one that she'll love and you have a winner!
I hope this list of the most practical things to get a new mother after pregnancy & delivery while she is recuperating was helpful for you!
Be sure to check out this list for the best gifts to give a new mom at the hospital when you are wondering what to bring with you when you visit mom and baby.
New! Gifts That Can Be Delivered to the Hospital
Need a gift that's actually DELIVERED to the new mom after birth? I found three great options for that!
Latest posts by Lena Gott
(see all)