We're gearing up to go on our annual camping trip in a few weeks, and I am putting together our camping essentials packing list.
Ever since I started posting about camping as a family, I've gotten this question – "What exactly do you need to take camping?!"
I've had several requests for a printable PDF camping checklist. Ya'll know I love me a good checklist!!!
So I thought I'd sit down and type out all the things we take on our camping trips. The list was longer than I expected. I guess I just pack a lot of this stuff out of habit, but seeing it all written down in one place made me realize that an actual packing sheet like this would come in handy, especially for anyone new to camping with kids.
What Do You Need for a Weekend Camping Trip?
Keep in mind that I am a rather low maintenance (a.k.a. lazy packer) so my list isn't as robust as some other people's might be. My list is literally the essentials, IMO. Essentials that take up two pages! HA!
We don't take a bunch of extra stuff like plastic utensils when we can just take one set of silverware and wash them after each meal. Or any kind of "cute" camping crafts like those washi tape walking sticks I saw someone post about on Facebook.
ummmm….no thank you
I go camping to relax, not keep track of all my knicknacks! LOL
---
RELATED READING:
---
Things to Bring Camping – Simple Master List
This list contains all the major supplies you'll need for your camping trip this fall.
It's based on a TENT CAMPING trip, not car camping or RV camping. Although the list would be close to the same, this one in particular is for when you're camping in a tent.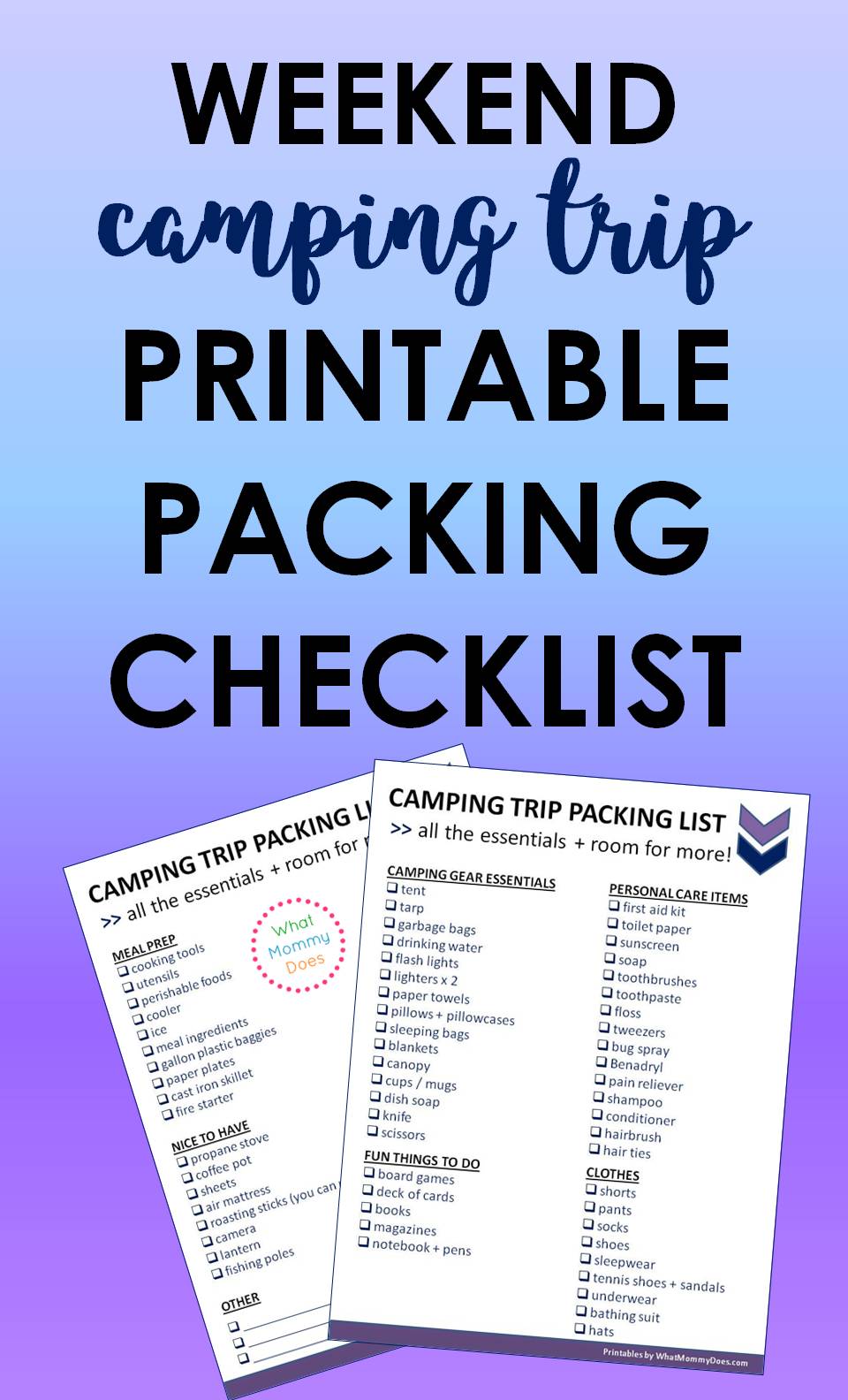 Free Printable Camping Trip Essentials Checklist
I will email my family camping checklist (it's a PDF file) straight to you – simply click on the image below and enter your info. Then check your email for a email from me! You will need to confirm your request by clicking a link in the email, so don't forget to do that!
You can print out this packing sheet in color or black & white if you don't have color ink! It gets the job done either way! 🙂
Click here to request a copy of the CAMPING TRIP CHECKLIST
Note: When you request access to this camping list, you'll also receive access to my entire PRINTABLES LIBRARY! It contains savings challenges, to do lists, and more. All things to help you run your life + home more smoothly. All the details will be in the first email you receive so make sure to hold onto that.
Essential List of Things to Bring Camping
You'll notice that this list of things to bring camping is just the essentials. There are several lines at the end to write in your own items like special toiletries or games to play.
Feel free to pack your vehicle full to the max if that's what you want – just remember you'll have to unpack and reload all those things in a few days. That's usually enough incentive for me to not overdo it.
After writing out this list, I realize that I should probably put together a second one that goes over exactly what you need to bring TO EAT! lol
Can't forget that! 🙂 Stay tuned – I'll have that camping food checklist ready shortly.
More from WhatMommyDoes
Latest posts by Lena Gott
(see all)