Are you looking for a special gift for your grandmother? Something that will make her smile and think of you every time she uses it?
Check out our list of the best gifts for Nana!
We've got everything from cozy throws to personalized coffee mugs, and each one is sure to please. Any of these ideas would make a wonderful Christmas gift, Mother's Day gift, birthday present, or gift for any other special occasion.
Take a look and find a present for your one-of-a-kind grandma.
Home Décor
The following are some of our favorite pieces to add to Nana's home to show her how much you care.
1. Welcome Mat
First impressions matter, and this welcome mat tells any visitor that proud grandparents live in the home. There's no place like Nana's house… the grandkids will agree! (via Mat Supply Co)
2. Name Blanket
Any Nana who likes to snuggle will be delighted with this cozy and soft Nana name blanket. You can customize the size and material to make sure it's something that she'll love displaying in her home and wrapping up in while she enjoys a good book and cup of coffee.
Add a pair of slippers for her to relax in after a long day. (via Lifestyle Blankets)
3. Nana Rustic Wood Sign
Add this rustic wood sign to her home to remind her of her grandchildren, who love her very much.
The word Nana is split in two to make room for the grandchildren's names. There's no limit on the number of names, so this works even for bigger families.
What a sweet gift! (via Spang Gang Designs)
4. Custom Wall Art
You can create custom wall art pretty affordably, and Nana's heart will just melt! Customize the hair, body size, skin color, and much more to make this a unique piece of art.
This is something the whole family will enjoy looking at every time they visit. (via Love Koki Gifts)
5. Nana Candle
Choose from a variety of scents like birthday cake, cinnamon donut, fresh coffee, lavender, and vanilla cotton to make a heavenly-smelling Nana candle.
This scented candle is made with coconut wax, which burns longer and cleaner than soy wax. It's the perfect option for the grandmother who has everything. (via Smells Like Candle)
6. Nana's Picture Frame
Customize this wood picture frame for Nana! You can choose from different colors and add your choice of wording.
Include one of your favorite family photos in the frame when you gift it or schedule a photography session with Nana and her grandchild. Precious and the perfect gift for a new grandma! (via Sweet n Petite Design Co)
7. Nana's Love Art
Sometimes, grandmothers can't live close by their grandchildren, but that doesn't change how close their hearts are. For the Nana who lives far away, this Nana's Love art is a heartfelt and meaningful gift that'll remind her of how much she is loved, even states away. (via Bean Town Burlap)
Gift Ideas for the Kitchen
For the grandma who's most at home in the kitchen, these kitchen goodies are sure to put a smile on her face.
8. Nana's Kitchen Sign
Nana's kitchen is the happiest place on earth, especially when she's baking sweet treats for her kids and grandkids. Add this Nana's Kitchen sign to her kitchen décor so she can proudly display her culinary skills and love of all things food. (via Your Wedding Place)
9. Stamped Spoon
A lot of Nanas have a spoon they use to stir their coffee, and Nana's coffee spoon will become her favorite! The lettering and heart are hand-stamped on a vintage spoon picked up at an antique store.
What a unique gift! (via Samirah Collections)
10. Personalized Cutting Board
This custom cutting board is a thoughtful gift for the grandmother who really knows her way around the kitchen. You can opt for a maple or bamboo cutting board, both available in three different sizes. (via Barbora's Boutique)
11. Nana Mug
She'll love drinking coffee out of her very own Nana mug, complete with her grandkids' names. It's a great way to remind her of how much she's loved every day.
This is a simple, minimalist design that's suitable for any kitchen. (via Whizk)
More Gifts for Nana
From personalized gardening gloves to keychains and gift baskets, the gifts below will let Nana know how much you care.
12. Photo Tumbler
For a grandma on the go, a stylish tumbler is a must! And what could be better than a photo tumbler complete with pictures of her grandkids and other family members?
It's a bit of sparkle and a lot of cute in one fun gift. (via Brooklyn V Stone/Stone Stitching Co)
13. Spa Gift Baskets
This Nana spa gift box is full of thoughtful things to spoil the special lady in your life, like lip balm, bath bombs, lavender soap, a scented candle, and an engraved wood heart. It has a special message to Nana right on the inside of the box lid. (via Dear Ava Gifts)
14. Nana Key Chain
Remind Nana of her grandkids every time she hops in the car.
This gorgeous key chain for grandma reads, "This Nana belongs to…" on the heart and has the names of her grandchildren on the bars. The tassel adds a colorful touch. (via Nix Negativity)
15. Personalized Gardening Gloves
These adorable personalized gardening gloves are a great idea for the avid gardener. Have them printed with "Nana" or her name.
These gloves come in lots of different fun patterns and colors and are sure to get her excited about tending to her plants. You could also include gift cards to the local plant nursery or home improvement store if she needs new pots for her plants. (Handcrafted by M)
16. Nana Sweatshirt
Keep your hip grandma warm and cozy in this Nana sweatshirt. The material is soft, and the lettering is very elegant.
It's available in sizes XS-5X and in a wide range of colors. It'll look great with a classic pair of jeans. (via The Mellow Mini)
17. Nana's Getaway Bag
Give your kids' grandma the coolest getaway bag! She'll love the funny message on the front.
It can hold everything she needs for a visit while she comes to spoil and love on your kids. It's one of the best ways to encourage her to come for a visit soon! (via Hot Mess Mom Apparel)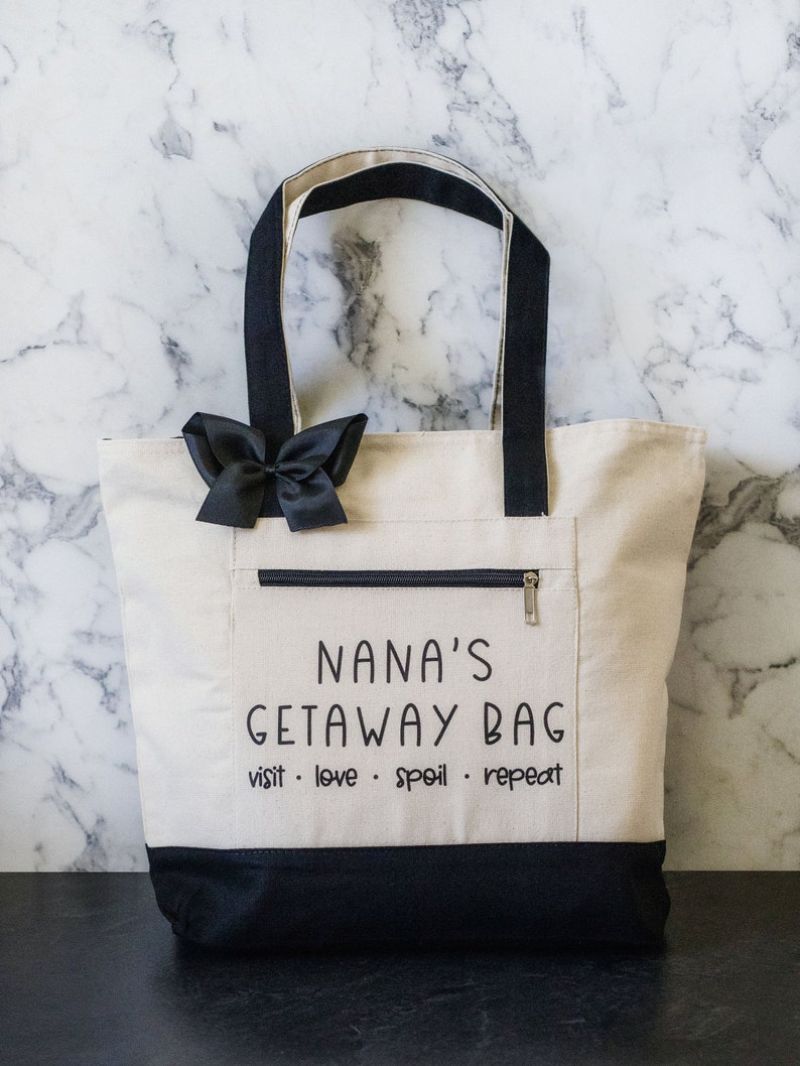 18. Nana Bracelet
Give her a custom bracelet (or two). They're simple and stylish!
We love the idea of the double bracelets, celebrating her roles as both mom and Nana. (via Blue Mountain Grace)
19. A Book About My Nana
Here's the perfect gift for any grandmother from the grandkids, and our top pick as a gift from the little ones: A Book About My Nana.
This creative book is filled with pages and prompts that the children can fill in with things that they love about their grandma. Aww. (via The Wood Shack Gift Co)
20. Nana Necklace
This cute Nana necklace spells out her name and will look gorgeous with nearly any outfit. Choose from gold, silver, or rose gold.
21. Book Mystery Box
Is grandma an avid reader? If so, she'll love the thrill of this book mystery box, or as they called it—the Blind Date with a Book Box.
You choose the genre, but the actual book title is a total surprise! In addition, you can choose a hot beverage from tea, coffee, or hot chocolate.
The box includes the book, sweets, fuzzy socks, the beverage, and a fun bookmark. (via Sip Between the Lines)
Whether your grandma calls herself by the name Nana, Grammy, Granny, or something else entirely, one of these thoughtful gift ideas will make her feel loved and appreciated. We hope this gift list gives you some ideas for the special lady in your life. Be sure to check out our other gift guides for more inspiration!
Related Posts:
Latest posts by Lena Gott
(see all)