Finding the perfect present for kids and families can be challenging.
However, we have you covered with 50 great experience gifts for kids (and their families)!
From indoor skydiving to a day at the zoo, these gifts are sure to provide hours of enjoyment.
And, best of all, most of them can be enjoyed throughout the year!
So whether you're looking for something special for a birthday or Christmas gift, check out our list below.
We know you'll find the perfect choice for an experience gift for kids!
As an added bonus, parents will love them too.
There is something for every age on this list, from a baby's first Christmas to teenagers' birthdays- as well as any other occasion!
Definitely enough variety here so that there should be an idea for everyone on your list.

To help you navigate this list a bit easier, I've broken the ideas up roughly into age groups.
Great Experience Gifts for Toddlers
Toddlers have that wide-eyed wonder about practically everything as their little minds expand rapidly.
While toys will lay long forgotten, these experiences will create lasting memories!
Here are the best experience gifts for kids aged 18 months to 4 years.
1. Aquarium
Annual memberships to places like the aquarium are sure to fascinate little minds. They can check out the underwater world and marvel at all of the different fish.
2. Little Gym
Little gym isn't just for toddlers. They take babies through 12 years of age! But, toddlers have all that active energy to let loose so it's a great option.
3. Train Ride
Particularly during the holiday season, train rides are a fantastic experience for young kids. You can even sometimes find discounted packages for family tickets.
4. Children's Museum Membership
Unlike the more buttoned-up adult versions, children's museums encourage little on to explore and learn by being tactile.
Perfect for little ones to let out their wiggles!
5. Local Zoo
A family membership to the local zoo is a sure-fire win for any toddler. They will have a blast spending hours learning about the different animals.
6. Live Show
There is no age group that will get more excited about seeing their favorite characters live!
Whether you choose Disney on Ice, Sesame Street, or Paw Patrol Live your toddler will have a blast. This experience gift is perfect for ages 2 and up.
7. Tea Parties
While a fancy tea party with china is more for adults, a play tea party is such great for 1 year old and up!
They'll love the chance to dress up, pour out lukewarm tea, and eat tiny treats.
8. Indoor Play Place
There's no need to brave the cold (or heat) when there are places like this! These usually have a variety of activities for kids so they can be entertained for hours on end.
9. Music Classes
One of my favorite mommy & me gifts is to do toddler music classes. You can even include a musical instrument if you like, although they typically have plenty of in-class options.
10. Factory Tour
I know, toddlers and factories don't exactly go hand in hand. But, if you are lucky enough to have an ice cream factory or even a confectionary store, you can often get free treats and a free admission!
11. Toddler Subscription Boxes
If you prefer to have a more tangible experience gift, a subscription box to something like Kiwi Co is a great idea.
This fun box contains STEM-inspired projects that will keep little hands and minds busy. Boxes include developmentally appropriate projects, along with activity cards.
Amazon even has some great subscription boxes to choose from for kids of all ages.
12. Dinosaur Drive Through
Often, there are traveling exhibits or pop-ups that rotate through different cities. The dinosaur drive through we did years ago is one of the cool events my kids still talk about!
I particularly like giving this experience gift for kids because the kids are contained in a car. No chasing them around, which is a win for the parents too!
Kid Experience Gift Ideas
There are so many great ideas for kids, but here are some of my personal favorites!
Unlike typical toys, these gift ideas will create lasting memories as well as let the kids have fun and learn new things too.
13. Paint or Pottery Painting
A class to paint, glaze and fire their own pottery is such a great gift idea.
Not only do kids get to take home their unique creations but they also learn more about the entire process of creating handmade pieces.
14. Magazine Subscriptions
Kids love getting mail – so it counts as an experience. 😉 For developing readers, reading magazines is a great way to keep them encouraged. Plus, you can often find discounts for magazine subs on Groupon or Living Social!
There are plenty of options for ages 6 & up including:
Highlights
National Geographic Kids
Ranger Rick
For ages 2 – 6 I recommend:
Ranger Rick Jr.
Ladybug
National Geographic Little Kids
15. Cooking Class
Cooking with kids can be a lot of fun and it's a skill they will use for the rest of their lives.
You can find both online courses and in-person options.
Classes are typically designed for different age ranges and skill levels so you can find one that is perfect for the child.
Personally, I think right around age 7 is a great starting point.
16. Planetarium or Science Center
Depending on your location, a planetarium or science center show can be a great experience gift.
The exhibits are often hands-on and interactive which will keep kids entertained the whole time.
Need a break? They can also catch an educational show at the center too.
17. Enroll Them in a Race
Paying the enrollment fees for an upcoming race for 5k is a fun way to encourage a child to stay active and cultivate discipline. I'd recommend waiting until they are at least 7 years old for this one.
18. Trampoline Park
Kids of all ages love to bounce! If you have a trampoline park in your area, consider giving the gift of an hour or two.
The kids will be worn out by the end and they can burn off their energy too.
This is also great for rainy days when you are cooped up indoors.
19. Horseback Riding
I know, horseback riding is not always cheap – but if you can swing it, it makes for a great experience gift idea for kids.
Kids will love learning how to ride and even grooming the horses too. And honestly, what kid doesn't want to spend more time around animals?
20. Local Theater
A lot of local theaters offer an annual pass, which makes a great gift idea.
Just make sure to read the fine print carefully as there are often exclusions o what it can be used for.
Pair your gift with a gift certificate so kiddos can load up on popcorn and drinks too!
21. Dance Lessons
Dance lessons are a great way to encourage the kids to move their bodies while also developing confidence.
There are several different styles of dance classes available depending on your location, but I think tap or ballet is best for ages starting around age four.
Kids will love learning how to perform too!
22. Visit the Circus
A visit to the circus is a perfect experience gift for kids who are in elementary school.
They will love seeing all kinds of animals and acrobats while learning more about what it takes to put on a show too!
23. Plant A Garden
Want to encourage some new skills? Consider gifting a child with the gift of a garden.
Not only will they enjoy picking and eating their own produce or displaying flowers, but they'll also learn about the life cycle, math skills in regards to measurements, and patience while waiting for their plants to grow.
24. Kids Subscription Box
If you can't decide on just one experience, consider gifting a subscription box. This is a gift that keeps on giving all year long!
There are so many different types of subscription boxes to choose from, but for kids, I recommend something like Kiwi Crate or Doodle Crate.
These will send new and exciting projects and activities straight to their front door.
I also really like Little Passports. They have kits available for ages 3-5, ages 5-8, ages 6-10, and ages 7-12, so there's truly something for every kid.
25. Archery
Older kids who are at least between 6 & 9 years old will be absolutely thrilled with an archery session.
Archery is a sport that takes focus and discipline so it's perfect for kids who want to try something new.
26. Wildlife Encounter
You could also consider giving a wildlife experience gift for kids.
There are local companies that will allow children to swim with dolphins, feed giraffes at the zoo, and even interact with animals like tigers!
Some of these can be expensive, so make sure you do your research ahead of time – but they truly are an unforgettable experience gift for kids!
27. Virtual Lessons
If you don't live near a place where these types of activities are available, consider giving the gift of virtual group or private lessons.
Kids can learn how to cook, do martial arts, or even play an instrument from the comfort of their own home with just a computer or tablet.
28. Hot Air Balloon Ride
I know these can be expensive, but honestly – what kid wouldn't love getting a hot air balloon ride for a birthday or Christmas? This is one of the most unique experiences out there.
If you have the budget and availability, this is one gift that will truly leave a lasting impression.
I wouldn't do this one any younger than age 5 or 6. If your child is 16 and under they'll need to be with an adult.
29. Coupon Book
These gift vouchers for kids or teenagers to redeem for snacks, extra screen time, a family bike ride, board games, will add so many fun experiences to their week.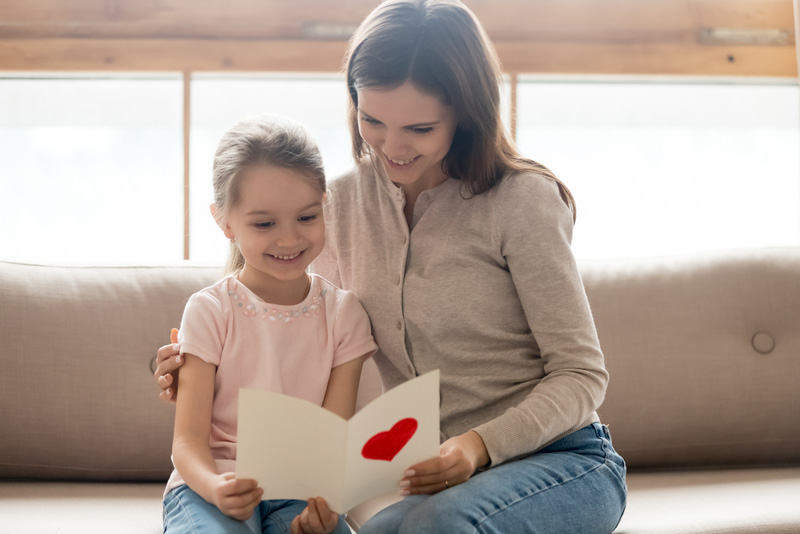 Gift Experiences for Teenagers
Teens are hard to shop for. They are out of the toy stage but still deserve to be treated to a special gift. That's why I almost always do gift experiences for teens.
You can use these gifts to bolster family time, or if the kids are older, you can also consider giving them gift cards to experience something new with their friends.
30. Ninja Warrior Gyms
This open gym style of workout will let teens work off some of the stress from the school day. They can also attend classes.
31. Book Subscription Box
New books are always a great experience gift for kids of all ages.
You can choose to give them a subscription to their favorite type of book, or even let them pick out their own books each month.
32. Salon or Spa
Girl teenagers will absolutely love a gift certificate to get some pampering!
They can go get their nails done, enjoy a massage, or indulge in a facial.
33. Movie Tickets
A teenage boy or girl will definitely appreciate a pair of movie tickets. For an additional cost, throw in some money for snacks too.
34. Shopping Spree
Okay maybe not an all-out "spree" but a gift card to their favorite shop is high on their list of birthday presents!
This is another gift that's perfect for both boys and girls. Give them a certificate to spend however they want at their favorite store. They'll love it.
35. Concert Tickets
For teens, this is a great experience gift to give. Not only will they love it, but you'll get some extra cool points for this one.
There are so many different concerts available to choose from – rock bands or pop stars.
If you are shopping for a Christmas gift on a budget, you can even check out local talent at small venues in your area.
36. Cameo
Is there anything more fun than getting a shout out from your favorite celebrity? Your teen will go wild for a cameo from an actor or singer.
They'll absolutely love posting it on social media too!
37. Indoor Rock Climbing
This is an activity that will let teens blow off some steam while also getting a great workout.
A day pass or even a monthly membership will teach them stamina and endurance as they climb.
38. Tickets to Six Flags
Does your teen love amusement parks or theme parks? If so, gift them with a pass to Six Flags.
Either offer to take them yourself or buy an additional ticket for them to share with a friend.
39. Gym Membership
This would be a great gift for any teen or tween. A gym allows them to take time to themselves and exercise off any frustrations or stress from the day.
40. Water Park Passes
If your teen loves the water, then an all access pass to their favorite water park would be a great gift. They'll also love that you are giving them this chance to have fun with friends too!
41. Visit A Convention
A wildly popular gift for teens is tickets to an upcoming convention.
You'll need to choose it based on their interests, but some options include Comicon, Anime-Con, Sneaker Con, and more.
Family Experience Gift Ideas
Last, but not least, there are some great options out there you can give an entire family.
Here are the best experience gifts for kids and their families too.
42. See a Broadway Show
Giving the family tickets to see a Broadway show, or even an opera, will encourage them to sit down and spend some quality time together as they enjoy good music and great performers!
This option is better for families with kids that can sit through a show.
Something like the Lion King would work for ages 7 and up, while some more complex shows may be better for teenaged kids.
43. Sporting Events Tickets
Another fun way for the whole family to spend time together is at a sporting event!
Whether you choose baseball, basketball, football, or something else entirely, you can upgrade your gift by including a few team jerseys too.
44. National Parks Pass
Know a family that loves exploring new places?
There is no better gift for adventure-seekers than a National Parks Pass!
45. Zip Lining
This is another great experience gift for the entire family. It will get everyone moving and having fun together in a new, exciting way!
46. Camping Trip
Camping has always been a favorite pastime for families. With this gift, you can give them one more reason to get out of town and spend some quality time together in nature's playground.
I particularly like this because it gets kids off their screens and into nature.
47. Go On a Hike
Another great family day out is the experience of hiking. This is a bit less intimidating than a camping trip, particularly to those who are not typically outdoorsy.
Choose a hike that is of interest to the whole family, and make sure to pack them plenty of snacks and water!
48. Escape Room
Another fun experience gift for the entire family is an escape room.
This is a great way for families to work together and team build while also having some laughs together.
There are many different themes and levels of escape rooms, so be sure to do your research before choosing one!
49. Board Game Subscription Box
My family absolutely loves playing board games, and there is something for every age group.
This is a great gift for families because it brings them together and encourages laughter and fun!
50. Staycation
Finally, if you are looking for something that is a bit on the splurgy side, consider giving the family a staycation!
This can be done at home or out of town.
A great option for families is Great Wolf Lodge, which is an indoor waterpark. Or perhaps just a room at a hotel downtown where the family can walk to museums and restaurants.
You can even plan a staycation for them where they stay home, but try new fun things. The point is to spend time together and relax a bit.
These are just a few ideas for experience gifts for kids. Be sure to do your research and find one that is perfect for the family you are buying for!
These gifts can be enjoyed all year round, but they make especially great Christmas or birthday presents!
What do you think? Have I missed anything? Let me know what your favorite experience gifts are in the comments below!
More Gift Ideas for Kids
Latest posts by Lena Gott
(see all)