Have you ever found yourself facing the countdown to a lovely vacation and wondering "What should I pack?"
Well I thought that when we were planning our Caribbean vacation to the Turks & Caicos!
We visited the Beaches resort in Turks & Caicos, and I made so many fashion mistakes but also struck gold with many of my choices.
I lived to tell the story so let's begin because I want you to have the BEST outfits for your Caribbean vacation….
We traveled to the Turks & Caicos October when the weather was around 85 degrees and SUPER DUPER humid.
I'm from North Carolina, ya'll.
We have 95-100 degree days all summer long and practically live in our bathing suits from the months of June – August.
I thought I had it all figured out when it came hot and humid weather.
Boy was I mistaken!
I was unprepared for the weather in the Turks & Caicos
Something about when the temperature matches the humidity percentage creates an environment that is extremely warm.
I found out later that we went at an unusually humid time, but still – I don't want anyone to be as unprepared as I was!
The first thing I did wrong was not account for the lack of breeze. I didn't realize there's not a constant breeze on the island. Probably because my other experience with a tropical destination was Puerto Rico where the wind blows constantly.
Because of the lower amount of breeze, I SHOULD HAVE brought clothing that allowed for the "movement of air" in my outfits.
So a couple things I brought were incorrect!
Here's an example – this dress made me feel really warm & uncomfortable: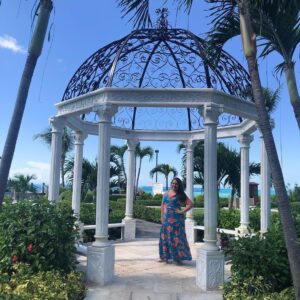 It's made of a heavier cotton. Honestly at home in North Carolina, it keeps me warm on cooler days, and I wear it well into September.
I should have thought about that when I decided to pack it, but it is just so cute I thought it would work!
A couple other outfits I brought felt even warmer than this due to the amount of fabric in the dresses. I didn't even wear them so I don't have a picture of myself wearing them there.
CARIBBEAN VACATION OUTFITS 101: WHAT TO PACK ON YOUR CARIBBEAN RESORT VACATION
I thought it would be fun to put together some ideas showing what you SHOULD pack for a Carribean resort vacation.
Hopefully, you all can learn from my lessons learned the hard way! 🙂
#1 THING TO PACK: LIGHTER WEIGHT CLOTHING
I honestly don't think the material matters as much as the weight.
Heavier items are thicker and allow less air to pass through.
I found that this dress INSULATED me and made me feel like I was in an oven even though I didn't have any sleeves: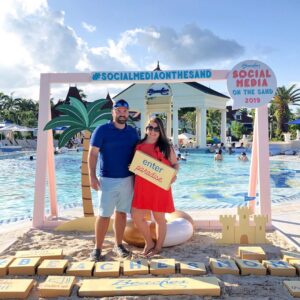 I might be smiling in this picture but I felt like I was gonna burst into flames!
Shorter dresses that don't cover as much of your body and lighter weight fabrics are the way to go. Next time I come to the Caribbean, I won't wear floor-length OR heavy-feeling anything… just lightweight outfits that stop above my knee.
#2 PIECE OF CLOTHING TO BRING: FLIP FLOPS
I made the mistake of over packing all sorts of shoes that would look good with various outfits and even a pair of tennis shoes in case I worked out in the resort gym.
Honestly, anything above one pair of flip flops + one other pair of shoes of your choice is overkill.
I literally only wore my Havaiana flip flops and then my nicer pair of gold wedges with a dress for dinner one evening.
There's a lot of sand, opportunities to get your feet wet, and a lot of walking at most resorts, so sandals are perfectly practical.
One thing I didn't realize is that heels are rather hard to wear on most surfaces in the resort; even the sidewalks because they're made out of bricks and stones, so they are uneven.
I will definitely take this into account next time and bring 2 pairs of shoes in total.
So many people had the same flip flops as I did. I highly recommend the Havianas brand because it is super comfortable to wear & very durable.
#3 CARIBBEAN VACATION MUST-HAVE: SUNGLASSES
The Turks & Caicos is so beautiful and the weather is so sunny most of the time, I could have lived there year-round; however, I felt like the sky was SO BRIGHT at all times of the day.
I brought two pairs of sunglasses and I'm glad I did because I'm notorious for losing my glasses, and I wouldn't recommend going without sunglasses on the island.
You really don't need to bring two pairs – all resorts will have a selection of sunglasses for purchase if you end up losing yours.
#4 WHAT TO WEAR IN THE CARIBBEAN: CLOTHES THAT ARE NICER THAN YOU NORMALLY WEAR
I'm telling you – I was SO surprised by this but people REALLY dress up for resort vacations!
I signed up for Rent the Runway Unlimited (which allows you to rent 4 designer clothing items at a time), and I brought 2 designer dresses and one designer romper with me to Beaches Turks & Caicos.
If you'd like to try Rent the Runway, just click here and you'll get $30 off >>
I wore all of those outfits to different dinners or evening resort activities, and I was not at all overdressed.
Now, you don't have to wear a designer outfit to fit in, but I wouldn't hesitate at all to go shopping for some nicer outfits.
One of the best things I wore all week was this jumpsuit from Rent the Runway. It fit perfectly and was great for the island weather!
Think along the lines of something you would wear to a fancy dinner with your husband.
Not formal attire, but just below that and you'll fit right in!
Here are also some types of outfits I saw other women wearing throughout the week:
#5 ON THE LIST OF CARIBBEAN VACATION PACKING LIST: EVERYTHING COLORFUL YOU HAVE
Trust me – you will look so super cute wearing colorful resort wear. Some people wear black and gray, but honestly, they don't even look like they fit in (perhaps with the exception of black bathing suits).
A lot of people even wore neon accessories or dresses and they looked gorgeous in this environment.
Here's are some examples of colorful Caribbean attire you might want to consider:
#6 CARIBBEAN VACATION MUST-HAVE: A CUTE HAT
Remember how I said the sun is always blasting down on you? Well, I felt like my head was constantly about to get sunburned. A cute floppy hat is a necessity for your trip – I really regretted not having one.
I tried to buy one while I was there but they were all too small for my big head! So if you have a big noggin like me, definitely purchase a cute sunhat like this one ahead of time.
If not, you can always try to find a really cute hat in the resort gift shop.
#7 THE MOST OBVIOUS THING ON YOUR CARIBBEAN VACATION PACKING LIST– A COUPLE OF BATHING SUITS!
You definitely don't want to go to all this effort to look cute and then fail when it comes to the quintessential item for your trip.
There were so many land activities at our resort that we only got in the water 3 times out of 5 days, so I wouldn't say you need 5 bathing suits or anything like that.
Definitely 2, maybe 3 would be perfect, depending on how much of a water person you are.
If your resort has fewer activities, bring more suits. If it's a large resort, like Sandals or Beaches, then bring 2 or so.
I got a gorgeous Hapari suit just before my trip and it was perfect! It was this white drawstring swim skirt and this Rio Seaside tankini top with drawstring sides.
BONUS! #8 RESORT VACATION ATTIRE ITEM: A PRETTY BATHING SUIT COVER-UP
I got mine on Amazon and I LOVE it. I get so many compliments on it!
Here are some very similar styles you cannot go wrong with!

MEN'S CLOTHES FOR A CARIBBEAN VACATION
I just realized I wrote this entire post for women but men probably want to know what to wear, too!
I asked my husband what he would pack, knowing what he knows now, and these items made his vacation packing list:
Linen pants (pants are a requirement for "resort evening wear" which is required in certain restaurants)
Sandals
Polo shirts
Sunblocking swimsuit (shirt and shorts)
Dress shoes (another requirement for evening wear)
DIFFERENCE BETWEEN RESORT CASUAL AND RESORT EVENING WEAR
Speaking of "resort casual" and "resort evening" wear, I figured we should talk about that.
Beaches, in particular, defines the two like this:
Resort Evening Attire: Dress pants for men. Shirts with sleeves and a collar. Dress shoes.
Resort Casual Attire: Dress shorts or jeans. Swimwear must be covered. No bare feet.
I will say that my husband brought linen pants and thought flip flops looked best with them (I agreed) and they let us into a restaurant that required evening attire.
Whatever you do, definitely do more than simply cover up your bathing suit for any restaurant that requires Resort Casual at a minimum. I'd say wear an actual dress with no bathing suit underneath.
This is what I wore to the nicest restaurant at Beaches and it was perfect: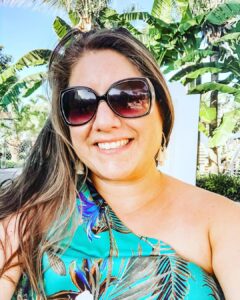 WHAT SHOULD YOU WEAR ON THE PLANE TO THE CARIBBEAN?
Ok, so this one is tricky.
What you should wear on your flight kind of depends on what the weather is like where you start out. For instance, if you're traveling from Canada to Turks & Caicos in January, you probably don't want to get on the plane in a short cotton dress because you'll freeze to death before takeoff!
You also don't want to be so overdressed that you're uncomfortable when you arrive on the island. So I'm gonna give you the average answer.
When I'm flying somewhere really warm like the Barbados or Jamaica, I like to wear an outfit that will feel comfortable upon arrival.
Then, I just take a scarf or light sweater to make up the difference between leaving the house and getting on the plane. I don't really mind feeling a bit cold at my home airport if I know that when I arrive at my destination, I'll be soaking up the rays AND feel 100% comfortable. Plus I don't have to keep a heavier piece of clothing with me the entire trip.
I think these are all great options to wear on the plane to the Caribbean. Something sensible and comfortable, yet island appropriate!
Here's a SUPER cute outfit you could wear on a plane – it's layered and still stylish. Click on the images below to go directly to the links!
CLOTHES I WOULDN'T PACK AGAIN FOR THE CARIBBEAN
Among all the items I brought, these are the things I wouldn't bother bringing again:
1) WORKOUT CLOTHES & TENNIS SHOES
I like working out and thought I would get in a workout or two. But, when you walk outside, you're hit with this wall of humidity. I will say when I feel hot & sticky, the last thing I want to do is head to the gym for a workout.
Instead of bringing workout clothes, I'd just find ways to incorporate calorie-burning into your everyday adventures like adventures in paddleboarding, kayaking, playing water games, etc.
There are tons of ways to stay active at a Caribbean resort without "working out" officially.
2) FLOOR LENGTH MAXI DRESSES
Again, I found that floor-length anything was just too hot. I got overheated really fast in all three of the floor-length dresses I wore on our vacation.
I'm team knee length for the Caribbean from now on!
The one exception I would make to this is a floor-length dress with a slit halfway up the front or side like this gorgeous dress as one example. That style would probably be flowy/move enough air to be comfortable.
3) EXTRA DRESS SHOES
I didn't need these at all and they just took up space in my luggage. The main reason I didn't wear them is that the stone and brick pathways were uneven.
Caribbean resorts aren't usually paved with concrete… I never thought about this when making my shoe selections. Unless you are a ninja who can walk in heels on uneven ground, then I wouldn't plan on bringing dress shoes. Maybe one pair just in case; otherwise, I'd recommend flip flops or flats.
I hope this blog post helps you as you pack for your next resort vacation! Let me know if you have any questions and I'm happy to answer them!
Latest posts by Lena Gott
(see all)