When you're planning a baby shower, the most important thing aside from Mommy, the new baby, and the baby shower theme is the food. To keep the guests happy, the food needs to be fantastic.
So, if yours is an afternoon baby shower (or a lunch hour shower at work), brunch or lunch foods are ideal. Plus, the foods are so much more fun than the typical baby shower fare.
From delicious breakfast items like mini pancakes, scones, and muffins, to easy appetizers like mini quiches, cucumber sandwiches and cheese boards, you're going to love these easy baby shower food ideas.
Throw the best party ever to welcome a baby with these ideas for brunch and lunch.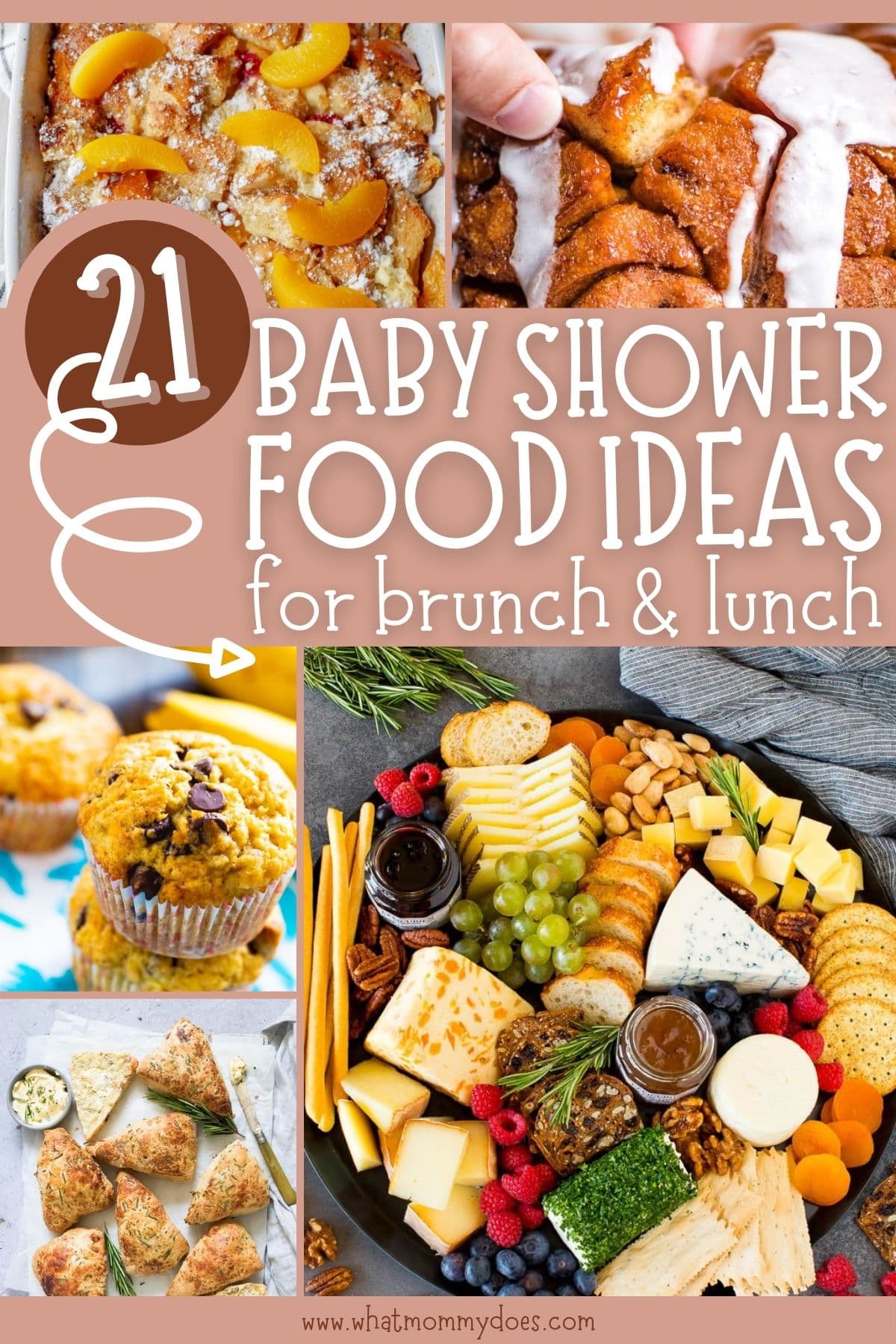 Baby Shower Finger Foods
If you plan on serving a baby shower lunch, you'll love these appetizers, finger foods, and other main course ideas in the savoury recipes category.
1) Mini Quiches
Quiche is a classic brunch item, but when it comes to a baby shower menu, mini quiches are even better. You don't have to fuss with cutting them because they're individually-sized.
Make these mini quiches from Dinner at the Zoo ahead of time; they can be served warm, cold, or at room temperature, making them perfect for any gathering.
The ingredients can be adjusted to make several different variations, like Mexican quiche, ham and cheese, or sausage and peppers.
2) Ham and Rosemary Scones
Who says scones have to be sweet? Savory scones are just as delicious. It's the best thing ever when it's served warm, just from the oven, but you can easily reheat them if you make them ahead of time. The ham and rosemary scones by Recipes from a Pantry are flavorful, savory, and full of flavor from the Parma ham, Parmigiano Reggiano cheese, and fresh chopped rosemary.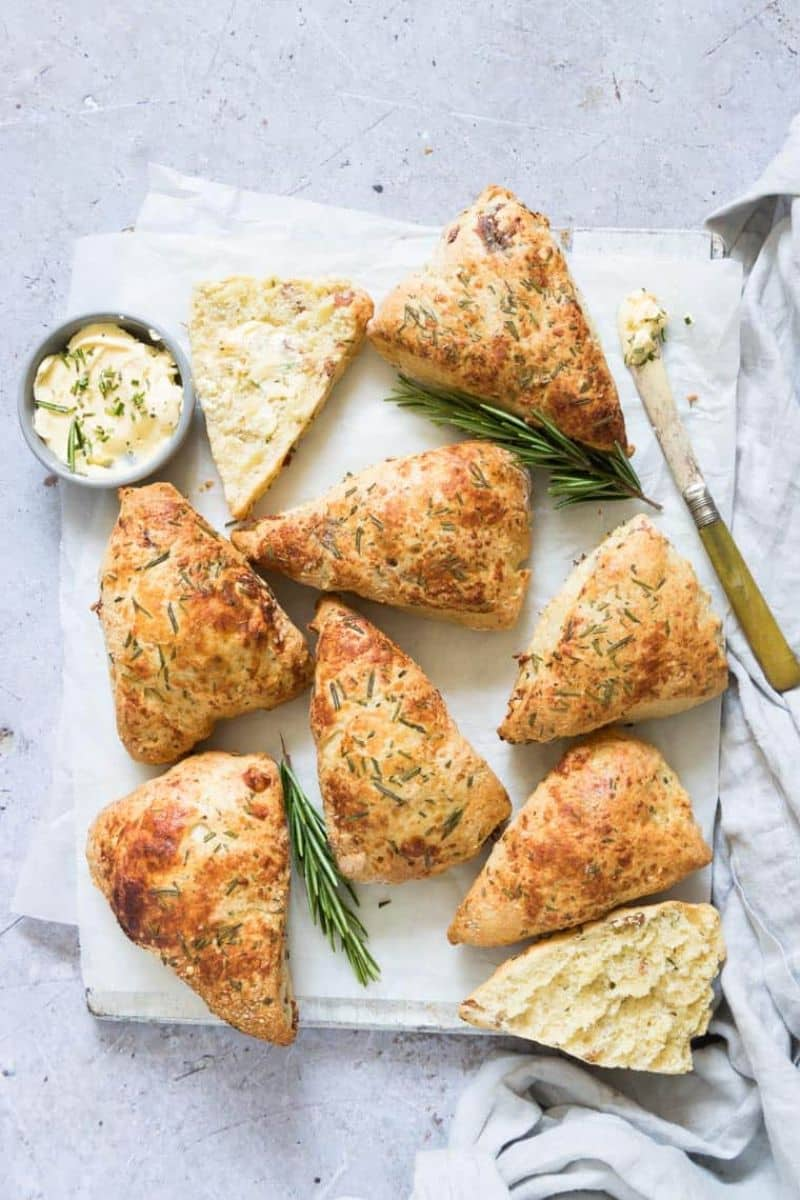 3) Cucumber Sandwiches
Do you want a food idea that's elegant enough to serve at any brunch or tea but is crazy simple to make? Your go-to should be these cucumber sandwiches from Christina's Cucina. They're seriously so easy and are a popular choice for showers and tea parties!
First, thinly slice some cucumbers. Then, spread cream cheese on both slices of bread (let it soften to room temperature first), and top with the cucumber slices. Cut the crusts off the bread and slice them diagonally or in half to make elegant little sandwiches.
As the post says, don't reserve these for special occasions. They're tasty enough — and easy enough — to make anytime. Add variety by using flavored or herbed cream cheeses.
4) Cheese Board
A cheese board is a tasty appetizer and a great way to show off your impressive culinary skills (even if you can't actually cook). Here's how you can make one:
1. Start by choosing a variety of cheeses. You can go for soft cheeses, hard cheeses, blue cheese, or any other kind you like.
2. Next, add some cured meats and charcuterie. This will add some flavor and texture to your board.
3. Finally, add some complementary items like fresh fruit, nuts, and breads. This will give your board a nice variety of flavors and textures.
If you're stumped or want an exact recipe to follow, this cheese board from Dinner at the Zoo is incredible.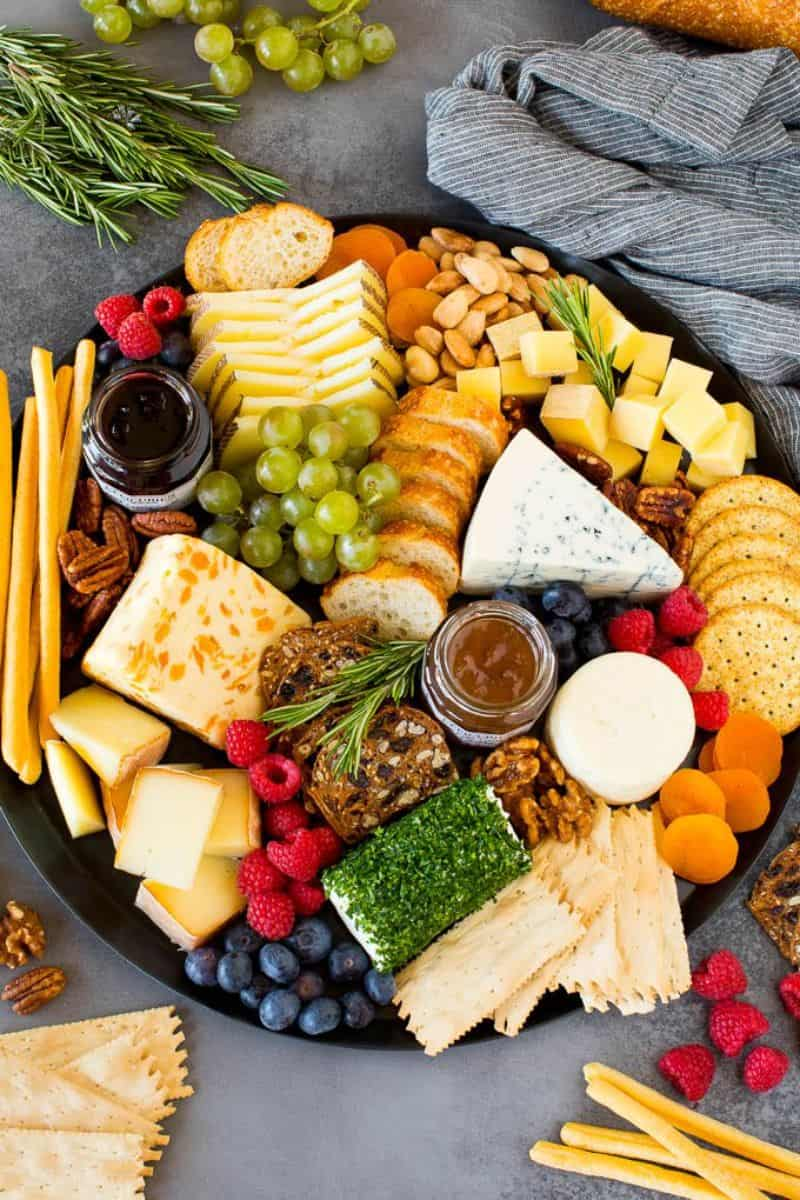 5) Cheese Bites
Cheese bites are easy baby shower appetizers that are great for any gathering. You just can't go wrong with fried cheese, folks.
They're super easy to make using string cheese, and you don't even need a deep fryer for this recipe from Dancing Through the Rain. A skillet works just fine.
6) Jalapeno Popper Wonton Cups
For an appetizer with a little more kick, these jalapeno popper wonton cups from Spend with Pennies are just the ticket. They're the perfect mix of easy, cheesy, spicy, creamy, and crispy!
7) Crock Pot Meatballs
These simple crock pot meatballs pack a little bit of heat and a yummy honey garlic flavor that's definitely not your typical party meatball.
The great thing about this recipe is that it works with beef, chicken, turkey, or even veggie meatballs. They're all delicious in this sauce from Persnickety Plates.
8) Veggie Pinwheels
Veggie pinwheels are a popular baby shower food idea that I've seen many times. They're tasty, easy, and require no cooking at all. That's a win in any hostess's book!
You can use any combination of veggies you have on hand. This recipe calls for broccoli, carrots, and cheddar cheese, but I've also seen them with bell peppers and spinach as well.
It's always nice to have a vegetarian option or two for those who don't eat meat or have certain dietary restrictions.
9) Southwest Egg Rolls
Spicy chicken and melty cheese fill these crispy Southwest egg rolls from Baking Beauty. Serve with avocado ranch, queso blanco, or your favorite dips that pair well with Mexican foods.
Sweet Treats for a Baby Shower Brunch
Feed that sweet tooth with these delicious treats that include both breakfast foods and desserts.
10) Mini Pancakes
There's a recent TikTok trend making pancake cereal, but the truth is, mini pancakes have been around for quite a while. Moms have made them for picky toddlers for ages!
But nevertheless, mini pancakes (or pancake cereal) is a great option for a baby shower brunch.
They can be served on kabobs with fruit, dusted with powdered sugar, or served with syrup or jam.
11) Blueberry Breakfast Bread
Is there anything better than a thick slice of blueberry bread with a cup of coffee? It's all the flavor of blueberry muffins but in a sliceable bread form. Of course, you can just do muffins, if you prefer, but this bread from Mommy Musings is perfect for adding a pat of butter or a drizzle of syrup to.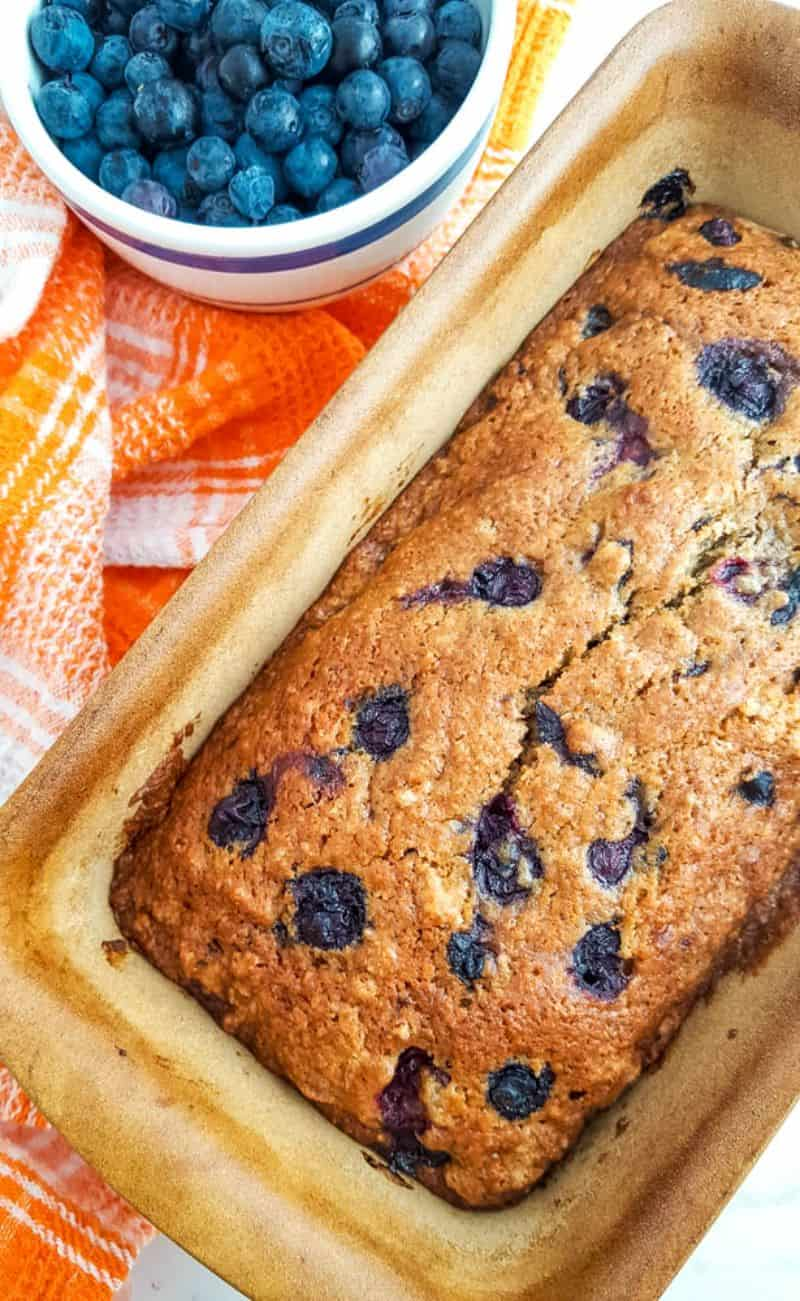 12) French Toast
This raspberry peach baked French toast is a great choice and can be prepared the night before so that all you have to do before the baby shower is pop it in the oven to bake.
The recipe from Powered by Mom is full of crusty French bread and delicious fruit. It's perfect for summertime when peaches are at their most delicious.
13) Banana Chocolate Chip Muffins
How about some moist banana muffins full of chocolate chips to add to the food table? These gorgeous golden brown muffins from Spicy Southern Kitchen are not only totally YUM, but they're quick, easy, and can be made ahead of time.
14) Lemon Blueberry Hand Pies
Lemon blueberry hand pies are a delightful, quick dessert that is perfect for spring and summer. These hand pies have a puff pastry crust and an easy-to-make filling made from blueberries, fresh lemon juice, and sugar. These yummy treats can be found at Amanda's Cookin'.
15) Fruit Kabobs with Cream Cheese Dip
For an easy, healthy, and always delicious option, try these fresh fruit kabobs with cream cheese dip from Marathons & Motivation.
Combine your favorite fruits (like strawberries and blueberries) with cubes of cheese and a delightful dip that brings out the sweetness of the fruit even further.
If you prefer not to do kabobs, this chocolate cream cheese dip will also be great on a fruit platter.
16) Strawberry Scones
There's nothing quite like the smell of freshly baked scones, especially when they're made with strawberries! They're crumbly, sweet, bursting with strawberry flavor, and pair perfectly with a cup of coffee.
Try this recipe from Little Sunny Kitchen for the flakiest scones and sweet vanilla glaze. It's the perfect food for a lovely brunch with the expectant mom.
17) Strawberry Cheesecake Cookies
These Strawberry Cheesecake Cookies from Practically Kidding are a snap to make and are the perfect sweet treat for a baby girl shower. Even better, you can easily customize the flavor to make blueberry for a boy!
18) Cinnamon Roll Monkey Bread
Use store-bought cinnamon rolls to make this super easy breakfast or dessert option. Monkey bread, also known as pull-apart bread or breakfast bread, is so easy to make.
You're going to dress up those store-bought cinnamon rolls with extra brown sugar and cinnamon, and of course, you get bonus points if you make extra homemade glaze to pour over the top.
Baby Shower Drink Ideas
Of course, you can't have a celebration without some delicious drinks to wash down all that yummy food. Your baby shower guests will love these punches.
19) Party Punch
This colorful party punch by The Typical Mom is made with Sprite, orange juice, and rainbow sorbet. It's the perfect drink when you don't know the baby's gender or if it's just a very colorful baby shower theme.
20) Non-Alcoholic Sangria Punch
Keep it classy and sophisticated with this gorgeous non-alcoholic sangria punch from Somewhat Simple. Cranberry juice, orange juice, lime juice, pink lemonade mix, and lemon lime soda are mixed with fresh fruits for a tasty, sweet drink everyone will enjoy.
21) Raspberry Sherbet Punch
Isn't this raspberry punch the most gorgeous pink color you've ever seen? It's just perfect for a little girls baby shower, but you can easily swap out the raspberry sherbet for lime to make a green punch for a boy baby shower.
We hope you've found plenty of yummy food ideas for your upcoming baby shower food menu. If you enjoyed this post, here are a few more you may like below!
Related Posts:
Latest posts by Lena Gott
(see all)