As my 4-year-old rounds the corner of her last year at home, I am definitely feeling the pressure to make sure she knows her letters and numbers before heading to Kindergarten.
If you're working on this with your little one, I highly recommend this post where I list all of my favorite letter-learning resources!
>> How to Teach Your Preschooler ABCs the Easy Way!
Free Printable Alphabet – Letters A to Z
My 4YO can be quite the stinker when it comes to focusing on "learning" in the traditional sense, so I try my best to change it up so she doesn't get bored.
She is SO SMART but doesn't want to focus on learning her alphabet AT ALL.
So I've had to get very creative when it comes to getting her ready for Kindergarten letter-wise. lol
My latest tactic involves putting examples of our letter of the day all over the place.
To help with this, I created a set of printable letters so I didn't have to go searching for alphabet printables.
I like them – they're girly and print to a full page so they're hard to miss! 🙂
I thought I'd post these alphabet templates to the blog in case other moms of preschoolers could use them as well. Happy letter learning!
NOTE: If you'd rather not go to the trouble of downloading and printing out the alphabet, I found some great alphabet flash cards under $10 on Amazon:
How to Download & Print the Letters
These printable letters should print out on a full size sheet of paper.
I used to offer them for download individually, but that became really confusing, so now the entire PDF of ALL the letters is available in a single file!
To download them all at once go here >>> Upper Case Alphabet Letters PDF
How Will You Use These Large Letter Templates?
Some days we use these letter printables as flash cards, and other days we print out a bunch of copies and plaster them on the walls.
Every few words or so, we will print out some of the large letters for tracing pages or in black and white to use as educational coloring pages.
How do you plan on using these letters? I'd love to know in the comments below!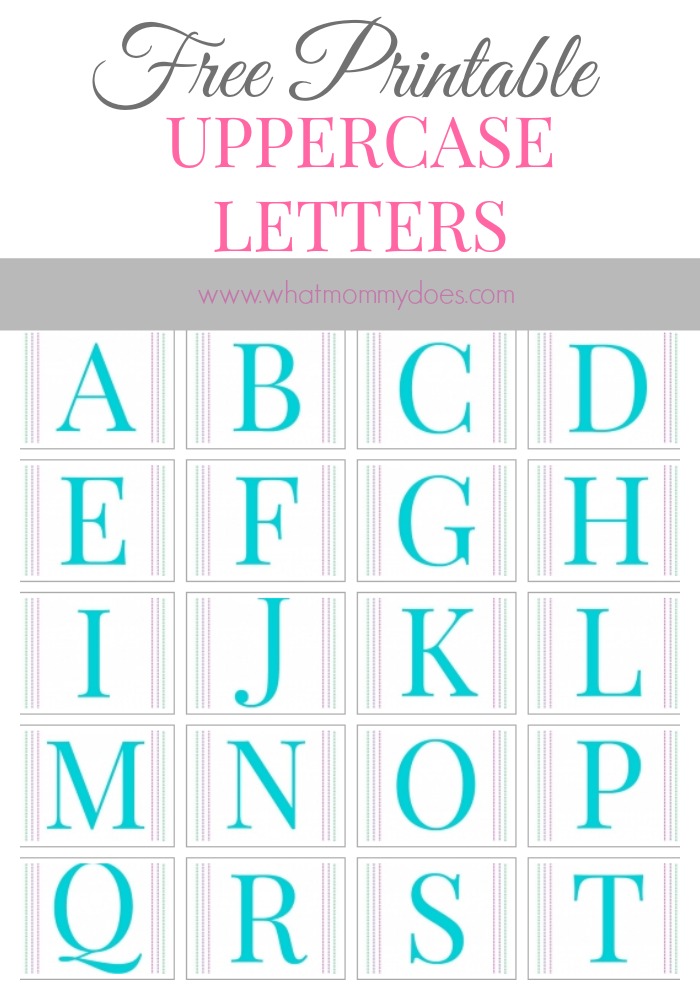 More Preschool Fun from WhatMommyDoes
Latest posts by Lena Gott
(see all)