I think I'm more excited today than I was when I first unveiled my heart shaped templates on the blog.
Today I have a ton of different FREE printable circle templates you can print out!
What's so cool about these is they have limitless potential.
I feel like I need circle shapes for projects about once month.
I've already used them in about 7 different craft projects, and I can think of about 100 other ways to use them.
Free Printable Circle Templates
I decided to make my own different sized circles because I often find myself grabbing random circular objects like a mug or plastic lid to serve as a template for craft projects.
Now I can just pull up the exact size tracing template I need instead of scrounging around for a make-do circle pattern!
These shapes are free to download and print.
Just make sure you PIN one of the images on this page (using the red Pinterest button at the top of the page) as reminder where you found these circle shapes!
You'll be needing them over and over again!
Large Circle Shape to Cut Out
Sometimes you just need a super large circle template.
This 7-inch cut out prints on a full size sheet of paper.
Just click on the image to download it in PDF format and save it to your computer:
Huge Circle Template (7″ Diameter)
(click on image to download)
Two Large Circle Patterns on One Page (5″ Diameter)
(click on image to download)
Small and Medium Circle Stencils
If you have a project that calls for several of the same pattern over and over, here's a full page of medium and smaller circles.
The first download has two 4-inch circles for any time you need a round tracing template.
The second is a set of 6 three-inch small- to medium-sized circle shape outlines.
My kids and I have used these shapes over and over to create fun crafts and labels. The uses are really endless!
Printable Medium 4-Inch Circle Patterns
(click on image to download)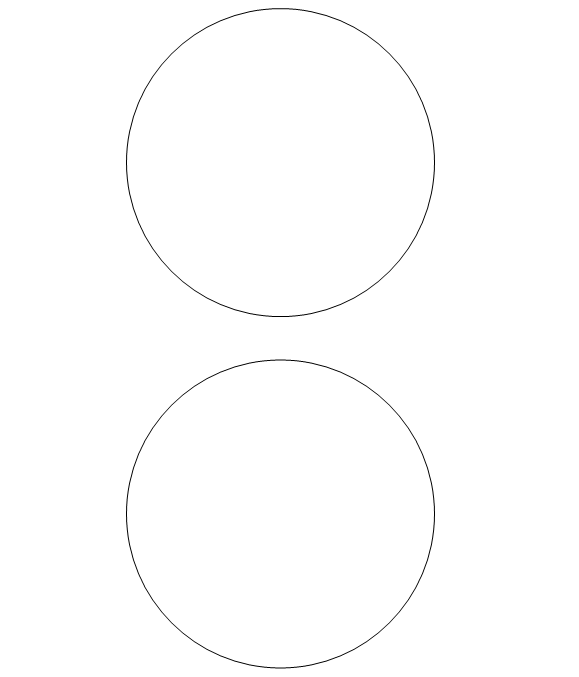 6 Circle Outlines (3″ diameter)
(click on image to download)
Tiny Circle Outlines – Printable Dots
Perhaps my favorite printable of them all is this one.
It's a set of 12 printable tiny circles with a 2″ diameter.
My friend, Saira, pointed out that these would be perfect for any project that requires polka dots or large pieces of confetti.
I'm thinking they'd be perfect for New Year's Eve or even inside a pinata. I love them!
2″ Printable Circle Outlines (2″ diameter)
(click on image to download)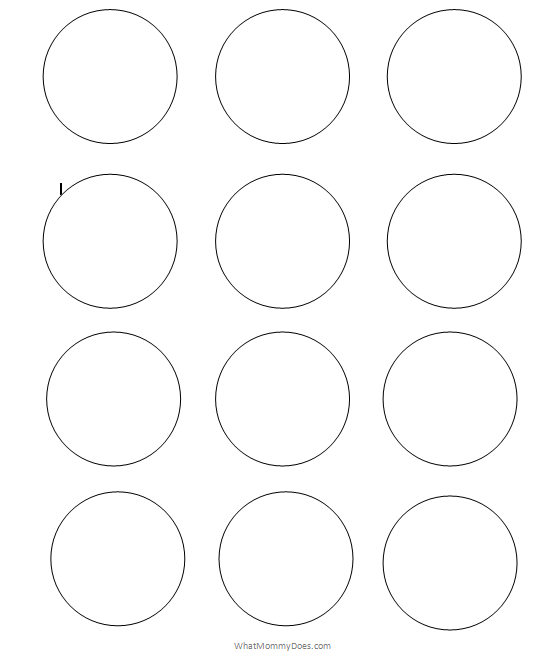 Variety of Circles – Four Different Sizes on One Page
Finally, I have a single sheet of paper that contains four different circle sizes.
Sometimes I don't know exactly what size I need before I start a project. This sheet is perfect for that.
They're labeled in inches so you can easily find the size you need.
4″, 3″, 2″, and 1″ Circle Templates
(click on image to download)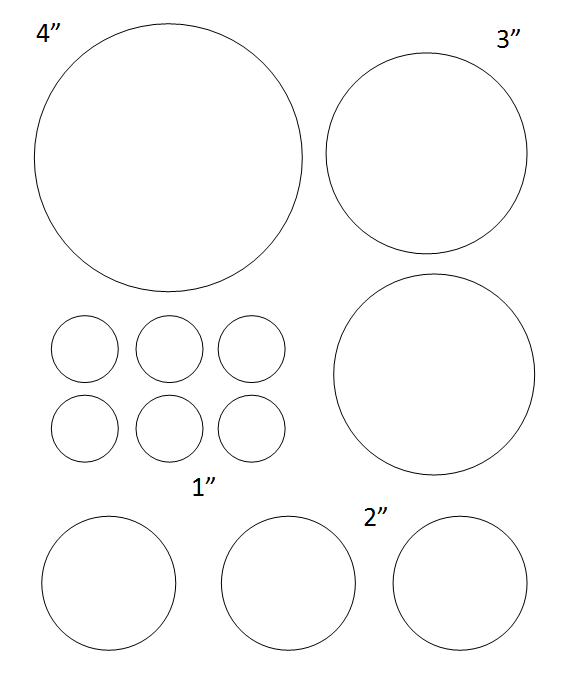 Projects for Circle Stencils – Polka Dots, Round Labels, Confetti
Here are ways I have used these circle templates or imagine I might use them in the near future:
Use the small circles for any project that requires polka dots
Use the small circles for confetti style poster backgrounds
Use the medium rounds for jar labels or chalkboard labels of any kind
Use the large round shapes as stencils for cutting round pictures for scrapbooks
Simple cutting, tracing, or drawing quiet time activity for toddlers
A cute circular birthday party banner
As a base for a cute homemade Christmas ornament
Print a stack of the medium sized 3″ or 4″ circles and use them in place of notepads
Unique birthday or Christmas gift tag labels
Outline for cake decorating as a guide for applying sprinkles or colored sugar
Tracing circle patterns for a craft or sewing project
Print them out on colored card stock like this to create colorful large or small dots – instant red, yellow, pink green, blue, purple, orange or black circles! So many uses for a variety of projects. Even better, print out these patterns on GOLD card stock to create gorgeous decorations.
There are SOOO many more ways to use these printable circle stencils. What will you use them for?
Need Other Free Printable Shapes?
Here are a few other cutouts you might like:
More from WhatMommyDoes
Latest posts by Lena Gott
(see all)