In case you haven't caught on yet, the farmhouse trend is super hot!
If you are looking for a way to make extra money from home while flexing your creative muscles, you can cash out on this trend by creating your own farmhouse crafts to sell at flea markets.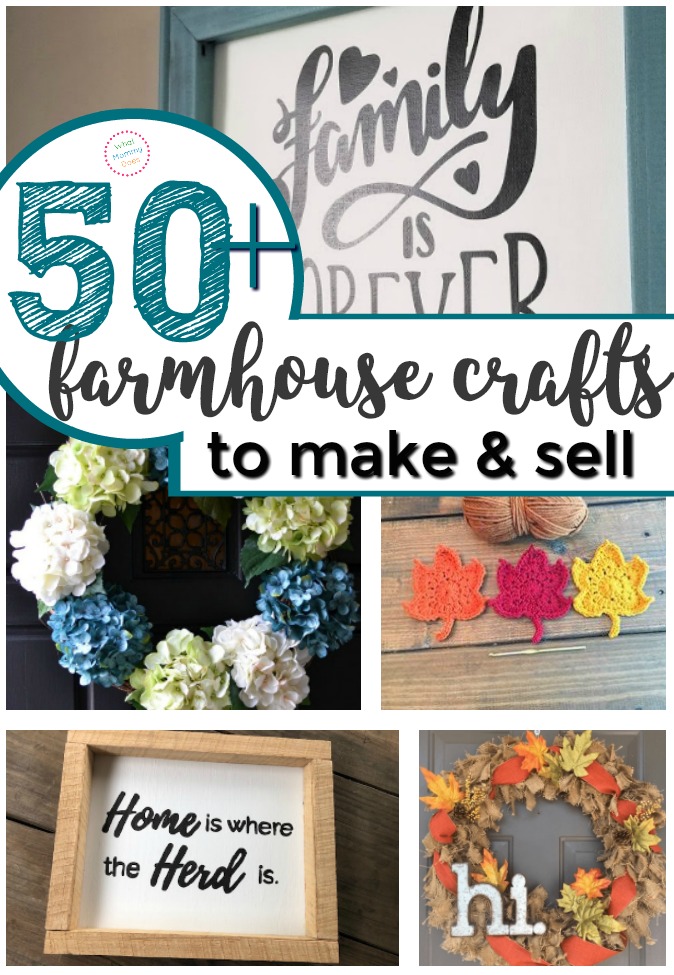 Feeling intimidated? Don't worry!
This list will cover farmhouse crafts that are simple as well as some more advanced ones.
The farmhouse style crafts are selling like hotcakes right now and trends don't last forever, so give it a try!
It's still VERY popular, although maybe not at its peak anymore. Overall, I'd say the farmhouse look is still a pretty good bet!
Farmhouse Wreaths
Wreaths are one of my favorite items to make. They are usually very simple but add a lot of personality. These wreaths are no exception!
Your flea market booth will be the most popular one if you stack a few of these on your table.
1) Coffee Filter Wreaths
I love this
Coffee filter farmhouse wreath
by tosimplyinspire.com. This DIY wreath looks amazing—you would never guess it only costs about $5 to make (and neither will your customers!).
2) Cupcake Wrapper Wreath
For a fun spin on the coffee filter wreath, try to make one with cupcake wrappers instead! This would be a great way to use materials featuring trendy kids' movies and shows—I can just imagine it on the front door for festive birthday party decor.
3) Magnolia Wreath
It's hard to think of anything more farmhouse-appropriate than a magnolia wreath! You can use real magnolia leaves found around your neighborhood and glue them onto a wreath form >>. If you don't have magnolia trees in your area, order some faux ones online like these and get to work. 🙂
4) Felt Ball Wreath
Felt balls are so much fun! They are bright, colorful and affordable. Make a happy statement piece by purchasing a foam wreath form >> and attaching felt balls like these to it with hot glue. Experiment with different color schemes and see which you like best!
5) Burlap Farmhouse Wreath
The burlap farmhouse wreath by TheSavvySparrow.com is so cute. I love that you could make a few changes like the ribbon color and have an entirely new seasonal look.
6) Floral Wreath
If you do a quick Pinterest search for a floral wreath, you'll find hundreds (if not thousands) of wreaths with flowers. People love them!
Try experimenting with different colors and types of flowers to see what your customers like best.
7) Simple Hoop Wreath
A fun new spin on classic wreaths is the hoop wreath. Use an embroidery hoop like this instead of a wreath form with any of the above ideas for a modern look. You can leave the hoop untreated, or paint it.
8) Greenery Wreath
Greenery is another trending design accent. It adds a fresh look that works all year long, unlike some of the floral ones. Farmhouse style is abundant with greenery and adding a few wreaths with greenery will make your area feel so homey.
9) DIY Hydrangea Wreath ⭐
This DIY hydrangea wreath from tosimplyinspire.com is lovely. After a long winter, I am so ready for Spring—along with millions of other people!
Stock up on faux hydrangeas when they are on sale at your favorite craft store, and weave them into a simple grapevine wreath for stunning spring decor.
Coasters & Trays
Drink coasters sell well because they are both a functional and easy gift idea. You can sell them bundled with a cute ribbon, or stack a set in a hostess gift basket for purchase. Trays are universally loved by women everywhere—I don't even want to tell you how many I have…but I can tell you I use them a lot! To corral all my stuff on the vanity, or to hold papers on my desk or to stack my drink on when I eat on the couch. 😉 Here are some great ideas for DIY coasters and trays!
10) Scrabble Tile Coasters
Whenever you go thrifting, keep an eye out for old Scrabble games—the letters are so useful! Here's an easy DIY coaster idea using them—lay out a grid of four by four tiles in the words of your choice ("beer", "cats", "love", etc—just try to stick with a common theme). Glue the tiles onto a thin piece of cork-board, then seal it with a clear sealer. If you aren't a thrifter, just order a Scrabble game here instead.
11) Painted Tile Coasters
Painted tile coasters are becoming more and more popular—for good reason! It's an easy-to-create project that's also affordable AND totally customizable…so win, win and win! Simply grab a 4×4 tile from the home improvement store (it'll set you back about 15 cents) and some multi-surface craft paint like this.
Paint the design/color of your choice, then seal it with a glossy or matte sealer. Add some felt to the bottom to prevent the tile from scratching furniture and you are done!
12) Mason Jar Lid Coaster
Take a mason jar lid (you can buy them separately from the jars right here!) and turn it upside. Line the inside with felt or some fun patterned fabric and voila! A cute, easy coaster that will keep any condensation trapped and off the furniture! Plus, anything with mason jars are totally fun for farmhouse crafts!
13) Oversized Serving Tray
I love this DIY oversized serving tray by www.runtoradiance.com. It's super easy to make—grab a pre-cut round piece of wood, paint it and add hardware like this. This would be such a great cheese board!
14) Chalkboard Tray
Take an old picture frame, spray paint the glass front with chalkboard paint and add some handles—this would be great for cocktails or snacks—or even children!
15) Felt ball coaster
This is a really rustic craft that only requires a few supplies—needle, thread and felt balls. You can make your own felt balls, but I always find it's easier just to buy them here! Simply string all the felt balls on your thread, then stitch them together in a tight circular pattern.
16) Upcycled tray
On your next thrift store trip, keep an eye out for trays. You can upcycle them so many ways – try spray painting or covering the bottom with pretty scrapbook paper and clear sealant.
17) Painted Pine Coasters
The DIY painted pine coasterstutorial from annsentitledlife.com shows you how to create painted moose coasters, but you can use their process and create any animal (or shape, letter, etc) of your choosing. Simply slice off some pine then paint and seal it.
Lovely Rustic Banners
Banners are so much fun! They are an instant way to add personality to any space, and they are easy to make in bulk, making them a perfect item to create and sale.
Try different color patterns and shapes for each season—and don't forget to display several proudly in your booth!
18) DIY tassel banner
In case you haven't noticed, tassels have never been trendier. From jewelry to light fixtures, they are showing up everywhere—including wall decor. Create tassels using yarn, fabric or even tissue paper >>, then string them up for an instant fun statement piece.
19) Rustic Chalkboard Banner
Capitalize on the chalkboard fad with a chalkboard banner. Purchase small round >> or triangle wood shapes >> from your local craft store, punch a hole in for the string and paint them with chalkboard paint like this. Sell them in sets with chalk markers for quick and easy decor.
Like this one from radianthomestudio.com. This banner is a great way to use leftover fabric scraps you might have lying around (or just another excuse to buy new fabric…). I really like this tutorial because it walks you through exactly how to sew and includes a printable template!
21) Ribbon Banner
Ribbon banners are a favorite of mine because they are so easy to make! You can use ribbons, or even strips of extra fabric. Knot them onto a string and hang—trust me, this one will definitely sell!
22) Paper Feaf Banner
Greenery is always in style. It adds a simple, clean aesthetic to any room—but using paper leaves like these to create a strand of greenery adds some whimsical fun that will be sure to catch shoppers' attention.
23) Cupcake Wrapper Banner
Cupcake wrappers are affordable and come in every pattern you can imagine—so make a banner out of them! There are several ways to do it—you can thread through the center of the wrapper so they lie sideways on the banner, or fold the wrapper in half so it's horizontal. Grab a set of cupcake wrappers here and give it a try!
Like this one from jasperandwillow.com. Don't know how to crochet? No problem!
This tutorial walks you through how to crochet and will show you how to create a cute leaf banner that's perfect for fall.
Wall Decor and Signs (Mostly Wooden)
A quick glance at Pinterest will show you one obvious thing—people like to hang items on their walls!
And they should—blank walls give the feeling of being unlived in and are kind of sad. Here are some ideas for wall decor and signs that people with farmhouse style will love!
When I think of farmhouse style, I think of WOOD.
So many wood crafts with a farmhouse flair sell very well in all sorts of settings. In fact, just yesterday I sold a gray wooden wall sign second=hand for a great price on the Facebook Marketplace. And I had approximately 30 people message me in 24 hours to buy it! I couldn't believe it really.
Here are some mostly wood craft options to consider for your farmhouse style inventory:
25) Custom Name Signs
This idea would take a bit of prep work but would be really cool. If you have a cutting machine like a Cricut, bring it with you along with some signs that are ready to be customized. Once someone places an order and pays, you can cut and add their name—just tell them to come back in an hour or so at the end of their shopping trip.
26) Home Sweet Home Sign
Believe it or not, this sign is made from Dollar Tree materials (flowers are from Michael's)! The circle shape is a $1 pizza pan! I love it.
I would purchase this for my home in a heartbeat!
The example below is from Make It Home DIY on Instagram >> DIY Home Sweet Home Sign
There are a ton of tutorials out on the internet, but this one shows you how to create those popular farmhouse signs without any special equipment or crafting machine.
28) Grandparents Sign
If there's anyone who wants a piece to display dozens of photos on, it's grandparents! Create a wood sign with a saying about grandparents (or grandchildren) and add some cute clips so they can attach some photos—and there it is, their new favorite piece! 🙂
29) Wifi Sign
Real friends don't need to ask for the wifi password…they can just look at the displayed sign and log on, LOL!
Seriously, the worst thing is to have to dig around and find your wifi password then read off all those weird numbers and letters—so people will love a way to display their info in a pretty way!
30) Woven Wall Hanging
There are so many different types of woven art out there—try learning a few and making some decorative pieces! Try different colors (or combo of colors) and see which your audience likes most.
This tutorial walks you through how to create a DIY sign, but also how to make a custom frame, which is a great farmhouse craft to sell on its own!
32) Pressed Framed Florals
If you want to stand out, try something different than what most people are doing. Forage some pretty flowers on your next walk (or just buy some…I won't tell!) and press them so they can be displayed in glass or acrylic frames >>.
Make sure you study up on how to press fresh flowers, otherwise you could have a rotting mess!
33) Statement Art
Not everyone is an artist (if you are, congrats to you and I'm jealous!). But most creative people can create some sort of large statement piece—the bigger the better! So many people have blank wall space and would love one awesome piece to display.
Okay, this is smart. You buy an art store blank canvas like this, remove the canvas from the frame, paint the canvas, then reframe it with the frame on the outside. Check it out!
35) Pallet Signs
Pallets are still popular after all these years! Their lasting power is incredible. If you are not sure where you can get pallets for your projects, the great thing is that you can usually score some for free off Craigslist or by asking around. Lots of business (think: construction projects) receive materials on pallets and then they have to get rid of them somehow! Get creative with how you remake the pallets into home decor – you can try sayings, art, or even shelving.
36) Crayon Art
This type of craft would be super cute for a kids room or playroom. Buy a big pack of crayons like this, hot glue them to the top of a canvas, and melt them down for a colorful piece that wows. You can even block or direct the melting wax to create a silhouette.
37) Old Windows
Okay…it might sound weird to say old windows will sell…but they will! In fact, the older the better. They don't even need to have glass in the frames! Hanging rustic, old windows can serve as a place to hang photos, or as a backdrop for a piece of decor like a wreath.
EVERYONE wants to display their photos of family and friends but it is SO hard to figure out how to do it and make it cute. This fun hanging photo sign solves that problem—your customers will love it!
Organization and Storage Solutions
Everyone could use organizational products—and most everyone wants them to be cute! These are the perfect combination of pretty and practical…and aren't too hard to create!
39) Letter Sorter
All of us share one universal problem—paper clutter! It's so annoying to see piles and piles of paper stack up all over—that's why a cute letter sorter is a great DIY to sell! Try using an old shutter with slats painted in a fun color or get creative about what else you could create one from.
40) Earring Storage
Gone are the days were jewelry was in a cupboard hidden away…now it's proudly displayed for everyone to see…especially if you have a cute way to display it! Repurpose an old frame by adding some mesh or lace and displaying it in your booth with earrings hanging from it.
41) Necklace Storage
In the same spirit as above, you might as well give people a way to display their necklaces too. There are so many options here as well! A popular one is strips of wood with eyehooks >> screwed into it so necklaces can hang from it, or you can try pretty drawer knobs screwed into pieces of wood as well.
While the purpose of the tutorial is to make a toy box, there's no reason this idea couldn't be expanded on and turned into a laundry bin or another storage box on wheels—just make sure you keep the shiplap and shoppers will flock to you!
43) Ladders
I know, it sounds really weird to say ladders belong under the organization category. But I'm not talking about the fancy newer ladders you can buy today at stores, but rather the older wooden kind with a few rungs between two vertical pieces.
These are perfect for hanging blankets and quilts right in plain sight—perfect for a living room or guest room!
44) Refinished crates
Everyone loves those old crates—you see them stacked in farmhouse decor all the time!
The problem is…they are hard to find! Look up some vintage crate pictures, then use new crates like these to remake them to look like the old ones!
Christmas & Seasonal Farm House Crafts
The holidays are always a great time to sell items as everyone is decorating-happy. Plus, it's just so much fun! Create some festive items for holiday craft fairs—make sure to start early! Despite any personal beliefs you may have on the evils of decorating before Thanksgiving, some people start getting ready for Christmas early as September!
45) Ornament Wreath
Cash in on the holidays with a festive wreath made from hot glued ornaments just like these!
This one is time intensive but easy enough to put together—just put on your favorite tv show, grab a hot glue gun and get to work.
I love these rustic wood sliced ornaments! This is a great craft to get the kids involved in—it's a great way to earn a few dollars and work on the family business. 😉
47) DIY Snow Globe
Snowglobes are so easy to make! Use the vessel of your choice…I feel like basic mason jars >> always work just fine. Fill it with distilled water, some glycerin and glitter and you have a snow globe! You can add mini figurines—just make sure they are glued with waterproof glue.
48) Handmade Christmas Cards
Not everyone has the time or desire to take family photos and send out cards…but would still like to send out Christmas cards. Create a selection of handmade, crafted cards bundled together for purchase, and watch them fly off your shelves!
49) Seasonal Pillows
Most people love to throw out a fun pillow or two at Christmas. Create them with fun fabrics, or stick with the classics and see which does best!
This moss-based craft is a super unique centerpiece idea that's sure to grab people's eye. Create these in different sizes and shapes and sell them as a set.
Phew. That's a lot of ideas! Which is your favoite? Pick a few of these and give them a try!
Related Reading:
Latest posts by Lena Gott
(see all)