I don't know why I get so excited when I have a new printable to share on the blog.
I just love holidays – and anytime I can publish something super useful for an upcoming holiday, it makes me happy.
Today I'm focusing on St. Patrick's Day. I've created a few different sets of four leaf clover templates you can print out and use for all sorts of St. Patrick's Day projects and shamrock themed crafts.
Free Printable Four Leaf Clover Patterns
My sister and I have an ongoing joke. Ever since we were little, I always had the hardest time finding four leaf clovers.
I swear she could walk outside, reach down and instantly have a handful of them. Meanwhile, I have probably found three in my entire life. I just don't get it!
Seeing as I have little chance of finding an actual four leaf clover today….I hope you like these plentiful four leaf clover patterns as much as I do. 🙂
Printing your own beats having to pay for packs like these on Amazon; however, if you really don't have time or green paper handy, then I suppose that's a good option, too!
Large 4-Leaf Clover Shapes to Print & Cut Out
Luckily for me, I figured out how to make my own four leaf clovers and now have access to as many as I'd like!
Here are a few different large and medium four leaf clover templates for all sorts of St. Patrick's Day projects.
Each page prints to a full sheet of printer paper. I went with a symmetrical clover outlines so they would be easy to cut out.
Just click on any particular image to download it in PDF format and save it to your computer:
Pattern #1 – Traditional Shape
I slightly prefer this iconic design over the heart-shaped kind.
Large Four Leaf Clover Template – Traditional Shape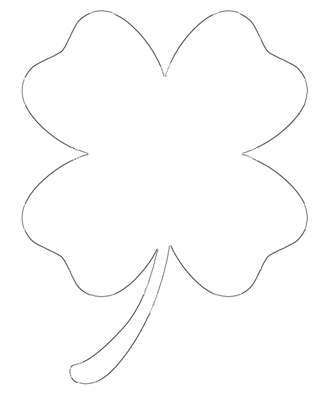 Pattern #2 – Heart Shape Leaves
A great pattern for just about any project!
Extra Large Four Leaf Clover Cutout – Heart Shaped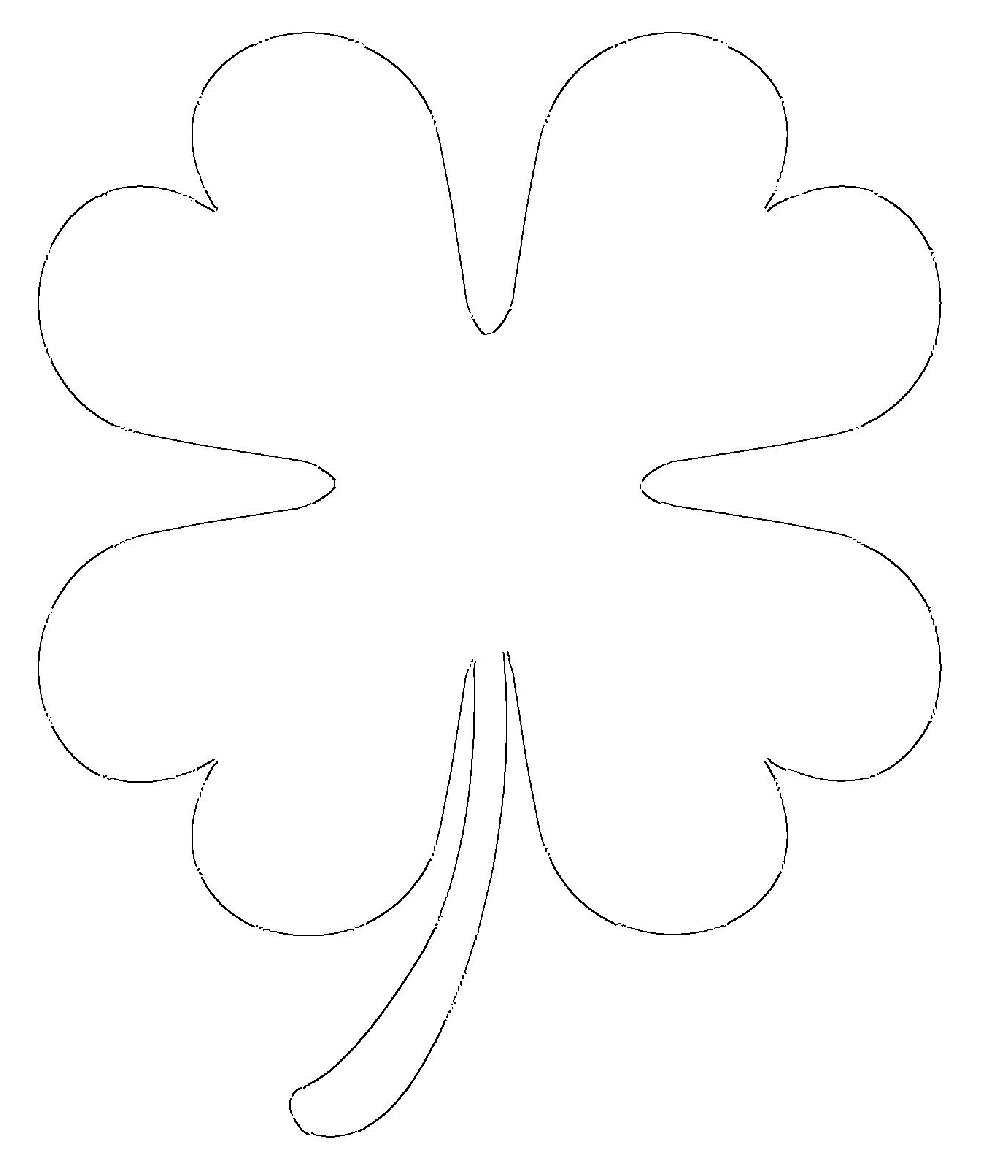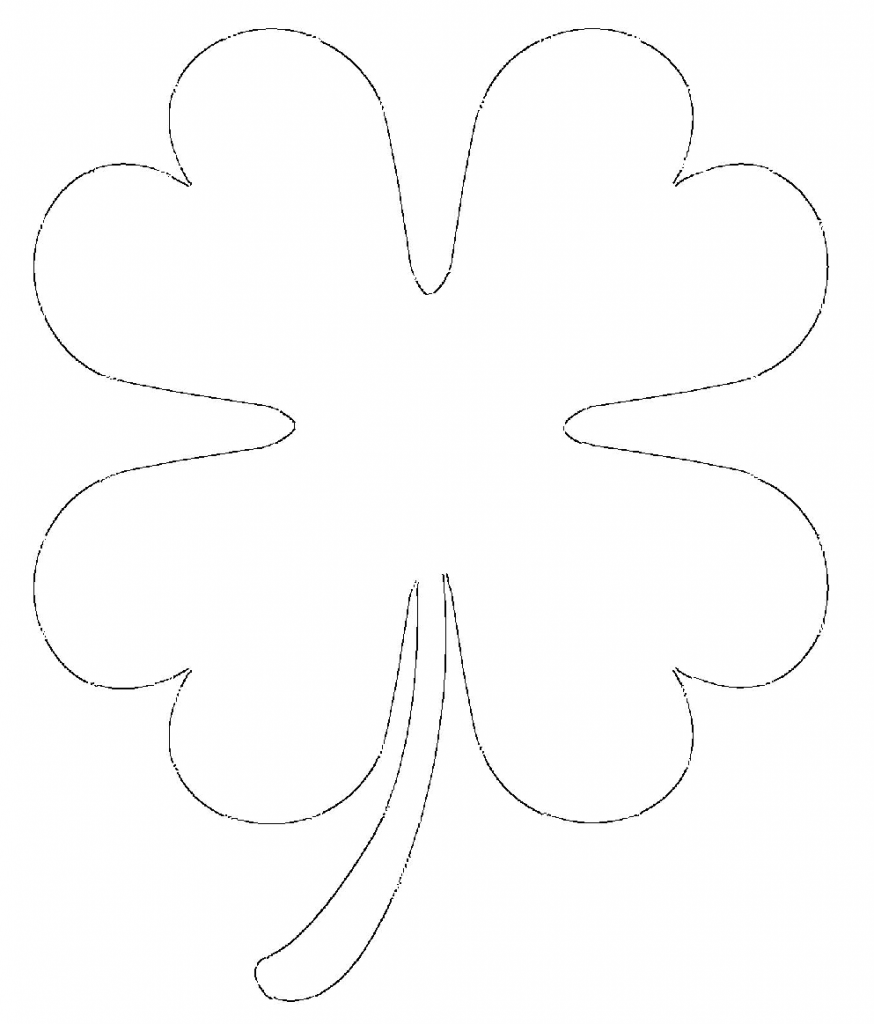 Pattern #3 – Medium 4-Leaf Clovers
If you need a slightly smaller set of clovers, this should work.
Two Large Four Leaf Clover Patterns on One Page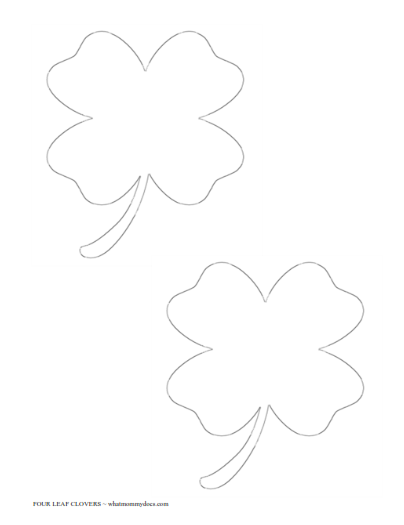 Small Heart Shaped Four Leaf Clover Stencils
If you have a need for many small sized four leaf clovers for a particular project or activity, then these should do the trick.
Pattern #4 – Small Heart Shaped Clovers
This is a set of 9-per-page small heart-shaped four leaf clovers.
This is my new set and it opens on another page but you download them in the same exact way:
4 Small Heart Shaped Leaf Clover Stencils on One Page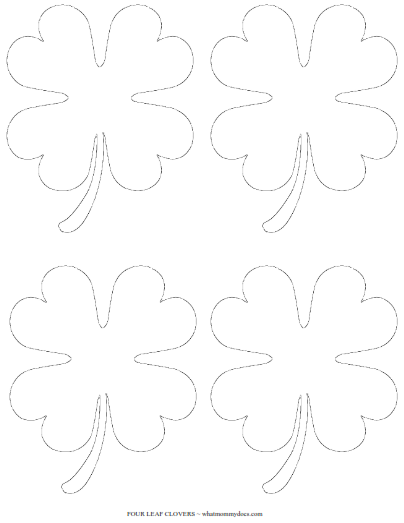 Uses for 4-Leaf Clover Templates
We plan on using these shamrock template PDF patterns for a couple different St. Patrick's Day themed preschool activities in our household.
My four-year-old is busy learning her letters, so first I plan on printing out a handful of the 9-to-a-page four leaf clover sheets and writing upper and lower case letters on them as an ABC flash card game.
Then I was thinking we'd use the 4 leaf clover shapes for one of these activities:
A super cute shamrock wreath like this one from The Soccer Mom Blog
Use the super large template above for a glue art tracing project
Cute lunch box notes on or around St. Patrick's Day
Printed out in several different shades of cardstock, these four leaf clovers could become a "What comes next" pattern activity, as in 2 blue shapes, 1 red shape, 2 blue shapes, then what?
Print out the large four leaf clover pattern, tape it down to the floor or driveway, and play a hopping game. Could be hopscotch or anything fun like "jump on every other one" or "don't let your foot touch the lava outside off the shape." My kids love doing this!
What other uses can you think of for these stencils?
Latest posts by Lena Gott
(see all)