I often have friends and family asking what you can gift kids instead of toys.
Many of us are looking to downsize in the toy department and would rather gift our children with meaningful non-toy gifts like these that they will enjoy but won't cause all of the clutter or extra "stuff."
As someone who loves to draw & write in general, I understand the need for artistically gifted children to get their hands on more and more art supplies!
There are so many cool art supplies & artsy craft sets you can give as presents for Christmas and birthdays.
Keep reading for some amazing crafty gift ideas for kids of all ages, from toddlers to teenagers!
Cool Arts & Crafts Gifts for Kids
If your child is a budding artist or enjoys painting and creating, then these art gifts for kids will be a huge hit!
We especially like to gift our toys with things that are educational or practical.
Arts & crafts based gifts are at the top of the list for both of those!
Children, by nature, love to explore and create and art provides that creative outlet for kids of all ages.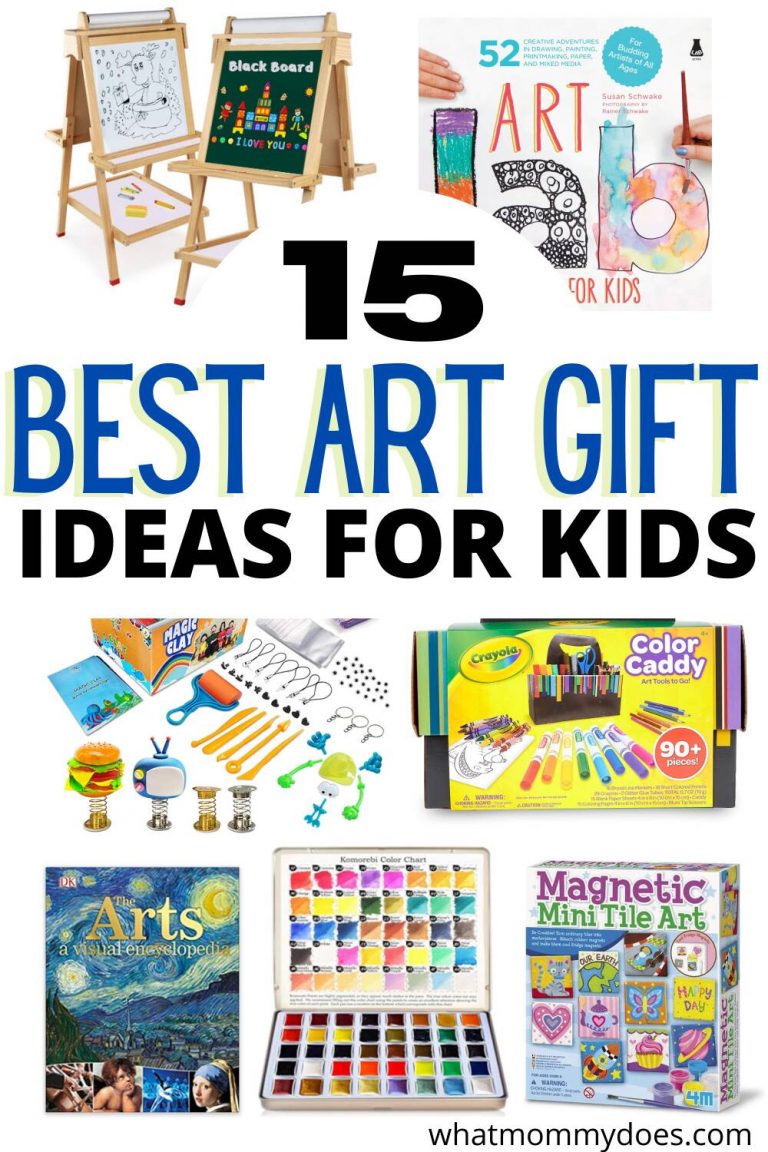 Top Art Gifts for Kids
From watercolor painting, to sketching, using mixed media, or building with clay….all of these forms are art are a great way for children to learn and explore.
Any supplies that engage the children in creativity will make fantastic presents.
1) Easel
Of course, any great artist could use an easel! An art easel makes a great gift for kids that they can use with a variety of art supplies.
It will also be a great gift that lasts for years.
I personally love this wooden art easel that is complete with paper roll holder and a chalkboard on one side.
If you don't have the space for a standing art easel then you might want to try a table top easel – they are a great fit for small spaces.
2) Watercolor Supplies
If your child loves to paint then watercolors are a great place to start.
My 13 year old loves using different mediums for drawing sketches. I'd say this is a great gift for 10, 11, 12, and 13 year olds.
A good set of watercolors makes a great gift.
I like to complete the gift a set with a good watercolor paper pad and a few watercolor paint brushes to complete the gift.
3) Starter Drawing Kit for Toddlers & Young Kids
A complete art set is another great art gift idea for kids.
I like the this crayola color caddy that comes ready to go with markers, crayons, colored pencils, glue and scissors!
You can also gift colored pencils and fun crayons or markers (Mr sketch markers are always a big hit) separately as they make great gift toppers or stocking stuffers!
4) Modeling Clay
If you want some new and exciting art supplies then you definitely want to try out modeling clay and a modeling clay kit makes a great art gift for kids!
5) Craft Sets
There are a few all in one art gifts that are great too. These are great because they come with everything you need to complete the activity.
Kids will have a blast making their own jewelry with this pendant making kit or creating magnetic mini tiles.
6) Books About Art
If your young artist already has a ton of art supplies then I suggest gifting then an art book!
They can explore famous artists for some inspiration or learn how to draw all the things!
Another great book is The Art Lab – this one has 53 great ways to create in it!
Do you have a favorite art gift for kids? We'd love to know what it is!
Need more gift ideas?
Latest posts by Lena Gott
(see all)