I just had the pleasure of introducing two friends to the weight room floor this morning. They are not new to working out, but they are new to weights.
They've seen the results I've achieved to date primarily weight lifting, so now they're on board with the Live Fit Trainer! I couldn't be happier to have workout partners. Made my time at the gym go by so fast! And I'm honored that they would ask my opinion.
Both ladies wanted to know all about my eating plan, so I shared a sample day. They had tons of questions for me at that point! So I explained my choices with the eating philosophies I follow based on what I've learned from my readings to date. So that's what this post is all about – explaining the main reasons for my food recommendations.
5-Point Meal Plan Philosophy
1) Low Sugar
Why low sugar? Because blood sugar stabilization is one of the keys to keeping cravings at bay. When you ride a blood sugar roller coaster, your body is constantly sending signals of I'm full, I'm hungry, I'm full, I'm hungry. Sometimes you will feel super hungry when in fact your blood sugar has just dropped really low and you need more sugar as a pick me up.
Your body is smart and knows how to get you to consume what it needs. When this is happening to you and someone shows up to work with a box of doughnuts, what do you think will happen? You'll eat one! Or two…or three….
I learned A LOT about how my body's insulin response works in Dr. Atkins' book, Atkins for Life: The Complete Controlled Carb Program for Permanent Weight Loss and Good Health. (I got mine at the library, but I see that it's less than $10 on Amazon right now. I'm considering buying it just so I can reference it any time I want).
Dr. Atkins explains insulin's role in telling stored fat to hold on while it first uses other forms of energy (the incoming sugar you've consumed).
I completely got how elevated insulin levels (which you get from consuming carbs) prevents your body from seeing the need to use its fat stores. This is the main reason my plan contains limited carbohydrates. I wouldn't say it's an Atkins diet; I'm not even sure what the rules are. But I'd be willing to bet Dr. Atkins would like my meal plan. :=)
On the DO NOT EAT BECAUSE OF SUGAR CONTENT LIST (and these are not gonna make most people happy):
wine (yes, there are benefits to drinking wine, but none of them outweigh the hit you take to blood sugar levels and your body's fat burning state)
flavored yogurt of any kind (I have yet to find a single brand of flavored yogurt than has low sugar AND no artificial sweeteners in it)
anything with more than 10g of sugar per serving except fruit (you'd be surprised as to what this rules out)
Just keep in mind that these aren't "never eat them" items, just things you should give up while trying to lose weight. Trust me, I've tried drinking a couple glasses a wine per week while dieting, and it always puts me into maintenance mode (no gain or loss for the week).
Update: Since writing this post, I read several more books that I would consider crucial in my weight loss efforts. Here's the rundown ==>> 5 Nutrition Books That Fueled My Weight Loss
2) Low Sodium
There is one main reason I keep my diet low in sodium when trying to lose weight. It's because sodium makes your body retain water. And when you're working out properly and dieting strictly, there is a chance that any weight loss will be disguised by water retention.
To me, there is nothing more discouraging than exercising and dieting enough to lose 2 lbs in a week only to see a 3-lb gain on the scale because you are retaining 5 lbs of water weight.
This is perhaps the toughest rule to stick to. Sodium is in EVERYTHING. The worst culprits are anything you get at a restaurant. The second worst are so-called diet foods. If you take all the fat out of something, there are only two ways to make it taste good – by adding sugar or salt. If you're sticking to the low sugar meal plan rule above, you'll be steering clear of those foods. But then that leaves you with otherwise healthy but salty foods. Just remember, if it tastes good, it's almost guaranteed to have added sodium, sugar, or fat in it.
The easiest way to avoid sodium is to make your food from scratch. This takes a much bigger time commitment, but seems totally worth it to me. Another thing I do – plan my cheat meals so I will know when to expect a phantom gain so I'm not disappointed the next morning when I step on the scale. Then follow up any cheat days with a diet full of foods that have a dieuretic effect like lemon juice and asparagus. Any water weight gain should come off within a few days of strict dieting and exercise.
If that roller coaster is too much for you to handle mentally, then I recommend just steering clear of sodium as much as possible until you're finished losing weight.
---
Related Reading:
How I Lost 50 Lbs After Baby #3
---
3) Good Fats
Fat is not the enemy. Bad fats are. Your body needs fat to absorb nutrients and produce hormones. Avoid trans fats and fried foods and aim to eat more monounsaturated fats than saturated fats.
Don't avoid fat for the sake of avoiding fat. Fat makes food more palatable. Foods that are "Low Fat" often have to get their taste from other sources like sodium and sugar, which breaks two rules above.
I like to keep it simple and cook my eggs and vegetables in coconut oil, eat avocados occasionally, and use olive oil for roasting. Other than those fats, I don't add any fats other than what occurs naturally in the whole foods I eat.
4) Water, Water, Water
Every single weight loss book, website, magazine, fitness model, doctor, and anyone who writes about weight loss stresses the importance of water.
All I had to hear was that water facilitates the breakdown of fat cells. Drink as much as you can, aiming for 100 oz per day. It won't be easy, but it's doable if you space out your intake and have plenty on hand before, during, and after exercise sessions.
I fill up a 20 oz water bottle each morning and aim to refill it three or more times. Then I also drink green tea in the afternoon. An added benefit of drinking so much water – you won't have room in your stomach for extra food!
Here's the water tracker I created to keep track of my water intake. I've posted in on my blog so others can download it to print out for easy water tracking as well:
Free Printable Daily Water Intake Tracking Sheet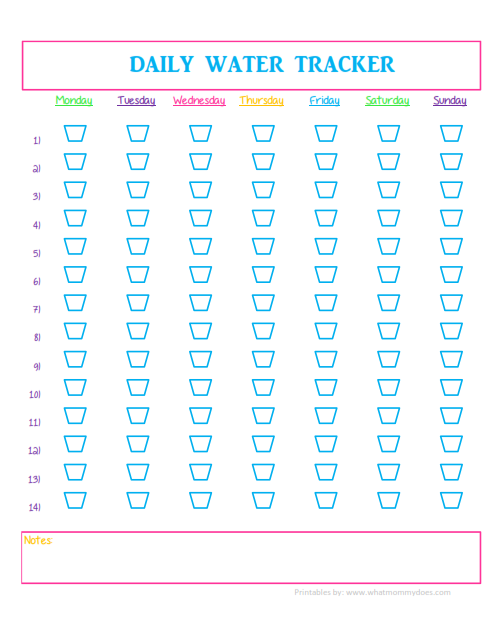 5) Cheat!
After 7 months of hard training and dieting, I can tell you I've had my fair share of cheats. After about week 10, I actually fell off the bandwagon pretty hard and barely made it to the gym plus ate like crap all week.
Since then I've started incorporating planned cheat meals at the end of each week. Those have helped me stay on track. Knowing I get to eat a delicious meal on Saturday without obsessing over calories or fat content makes sticking to my diet plan throughout the week much easier.
Your mind doesn't like knowing that you can NEVER have something again. If you slip up, admit your mistake and move on. You may not be able to take it back, but you can push yourself that much harder tomorrow after a short reprieve.
Latest posts by Lena Gott
(see all)