Mother's Day is quickly approaching, so it's time to think about how you can make this special day memorable for your mom. Having trouble coming up with ideas for the perfect gift? Don't worry – we've got you covered.
Check out our list of 27+ homemade gift basket ideas that are sure to make any mother smile. From spa baskets to gardening kits, there's something here for every mom out there.
The past two years have been hard on everyone, so get creative and show your mom how much you care with a one-of-a-kind gift basket this Mother's Day.
This is a running list. Updated 4/27/22. I'm on the hunt for more Mother's Day baskets to add to the list!
What to Put in a Gift Basket for Mom
Whether you're making a special gift basket for your mom, wife, sister, grandma, or friend, the key is to personalize it to match her tastes.
As an example, a bookworm will love items such as a book light, bookmarks, notebooks, pens for taking notes, highlighters, and the like.
A person who likes to cook may enjoy a basket filled with things like new tea towels, measuring spoons, baking mixes, and a personalized apron.
Here are some popular items to include in a gift basket for mom:
Candles
Chocolates, fresh fruit, other sweet treats
Savory snacks
Wine
Cups or tumblers
Gift cards or gift certificates
Beauty products such as nail polish, body wash, lip balm, or sugar scrubs
Books and magazines
Hobby items (gardening, sewing, crocheting, photography)
Beautiful handwritten card
What to Write on the Card
Speaking of a thoughtful handwritten card to include in your Mother's Day gift baskets, if you're stumped on what to say, we have a simple formula that will help.
Tell her she means so much to you
Write about a specific favorite memory that you have of her
Talk about some of her attributes that you most admire
Wish her a Happy Mother's Day
Once you follow through those four steps, you should have several sentences (or more) that are personalized and heartfelt.
DIY Gift Baskets for Mother's Day
Now let's move on to the gift baskets! Use these as inspiration to make a thoughtful gift basket for the moms in your life.
1. Gardening Gift Basket
Give the gardening mom in your life an amazing gardening gift basket like this one from That Lemonade Life.
Pack lots of seed packets, pruning shears, a kneeling pad (an excellent idea! ), gardening tools, and gloves to protect her hands. Don't forget some hand salve to keep her hands soft and some sunscreen-based moisturizer to protect her skin while she's outdoors.
2. Mother Daughter Home Spa Gift Baskets
This gift basket idea is the perfect Mother's Day gift for both mom and daughter! A spa day at home is just what you need to reconnect and enjoy time together.
Fill this basket or gift box with essential spa goodies like a manicure set, fuzzy socks, nail polish and nail polish remover, and other pampering goodies. A potted plant or succulent and a great-smelling candle would be lovely additions, too.
3. Farmhouse Brunch Gift Basket
Mom can enjoy breakfast in bed with this amazing farmhouse brunch gift basket idea from Giggles Galore. Include fresh eggs, a loaf of crusty bread, a bottle of champagne, orange juice, jams and marmalades, honey, fresh berries, and a couple of her favorite magazines or a good book.
Don't forget to make the eggs and toast for her!
4. Dollar Tree Spa Day Gift Basket
If your budget is a bit too tight for the spa day basket above, take a look at this cute and affordable spa day gift basket from Savvy Honey. It's filled with spa essentials from the Dollar Tree.
For just $10, you can get the basket, some fuzzy socks, bath bombs, a candle, some shower gel and body scrub, lotion, a loofah, an eye mask and some candy.
5. Donut Gift Basket
The sweetest mom deserves a sweet treat for Mother's Day!
Begin making items for this donut gift basket from Giggles Galore using your Cricut. Make personalized mugs, coasters, door signs, tags, and other goodies, all with a fun donut theme.
Of course, stop by your local bakery or donut shop for some gourmet donuts to add to the box.
6. Rock Painting Kit
For the crafty mom, consider a rock painting kit. This is something she can do with the kids or by herself, as painting is a wonderful way to relax.
Don't forget to include plenty of smooth stones, paint brushes, acrylic paints, and rock painting books for inspiration. Love this idea from Sustain My Craft Habit!
7. Rosé Wine Gift Basket
Mom will love this rosé wine gift basket idea from Savvy Honey. The basket includes a Rosé All Day sign, rose-scented bath salts, a wine tumbler, a bottle of rosé, and a delicious cacao bar.
8. Fabulous Feet Mother's Day Gift Basket
The gift of a pedicure at home is definitely a treat, especially for moms who may not be able to get out and about as much as they used to. Follow the tutorial from Stuffed Suitcase to make a DIY foot scrub. Add a pumice stone, pedicure set, lotion, a fragrant candle, some towels, and a mini tub for the foot soak.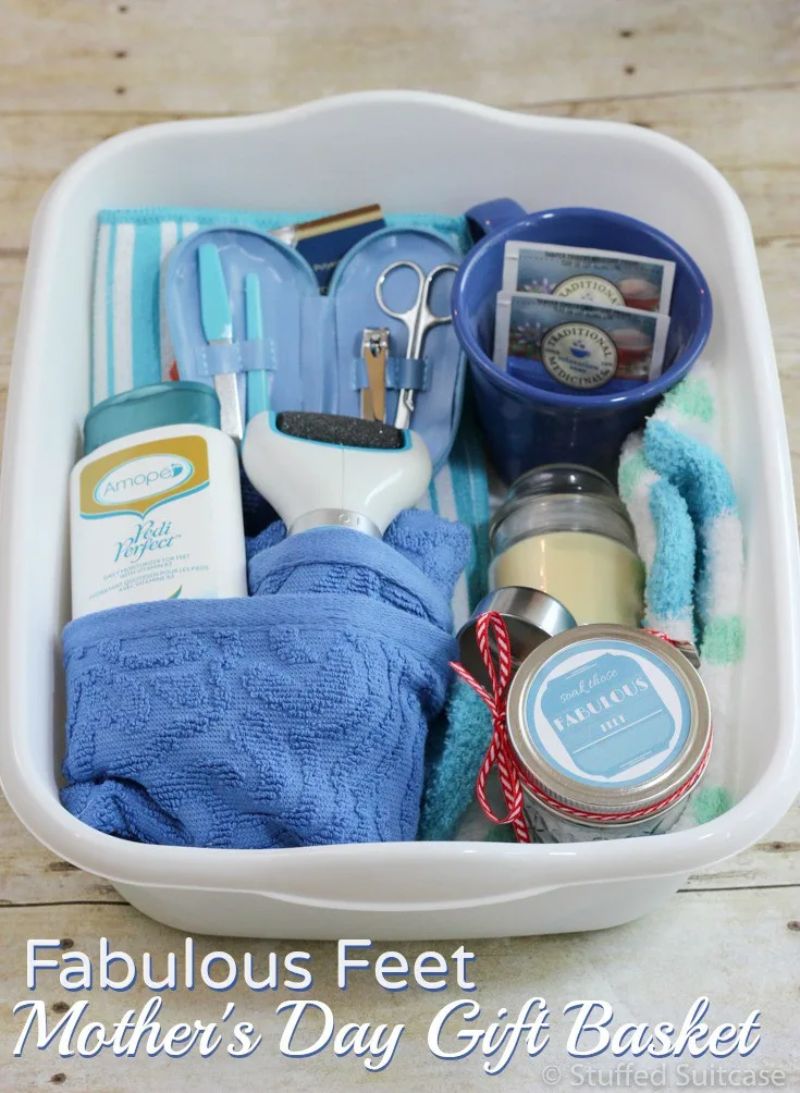 9. Wine and Chocolate Gift Basket
Want to keep things nice and simple? You can't go wrong with wine and milk chocolate. We love the flower made with decadent chocolates glued to the front of the basket; that's a cute touch from Happiness is Homemade. Include some favorite magazines so Mom can sip, nibble, and read her way through Mother's Day.
10. Tropical Gift Basket Idea
Make Mom feel like she's on a tropical vacation with this indulgent tropical gift basket idea full of goodies. These all come from World Market, but you can pull together a similar theme from most stores.
You'll need a palm leaf place mat (or a palm leaf-printed napkin), tropical-scented soaps, a candle, body butter, dried pineapple, fruit-filled chocolate, and coconut water. This is such a fun idea from Make Life Lovely.
11. Fresh and Lovely Gift Basket
The airy, neutral look of this fresh and lovely gift basket from Room for Tuesday is divine!
Include a fresh cotton-scented candle, hand cream, body oil, a soap bar, Brie cheese, sourdough flatbread, and a dark chocolate bar with sea salt. Yum!
Add them all to a rattan hurricane candleholder with soft striped kitchen towels.
12. Pampering Mother's Day Basket
Here's another fun take on the pampering Mother's Day basket using items you can find at your local Target, Walmart, or even CVS. Body wash, scented candles, body scrubs, earbuds, makeup removal wipes, and a loofah are all inexpensive items you can find just about anywhere.
Get more filler ideas at Savvy Saving Couple.
13. Baking Gift Basket
For the mom that loves to bake, this adorable baking gift basket from Giggles Galore is a winner. Fill it with personalized mixing spoons, a cute handmade dish towel, some mixing bowls, and a cookie-in-a-jar mixture.
It's the perfect present for grandmas who enjoy baking with their grandchildren.
14. Limoncello Gift Basket
Make a DIY limoncello sugar scrub to add to this limoncello gift basket for Mom from Tater Tots and Jello. Add a limoncello candle and some homemade lemon cheesecake truffles to satisfy her sweet tooth while she relaxes and reads her favorite magazines.
15. Lavender Gift Basket
A themed idea like this lavender gift basket from The Blondielocks is fitting for mama's special day.
It's a mix of homemade items like a DIY lavender body scrub and some purchased items like the lavender-linen candle, lavender linen spray, and Turkish towel. Add some dried lavender for a little scent boost and natural effect (available at your local florist) and finish it with a lovely silk ribbon.
16. Tickled Pink Gift Basket
We've mentioned this gift idea in our colorful gift ideas post, but it's suitable for Mother's Day, too. Use the tag that reads, "I'm tickled pink that you're my mom" for this pink-themed gift basket.
Anything pink works, like fuzzy socks, nail polish, bubble gum, pink candies, bath bombs, and so on. Get the tags and more ideas from Crazy Little Projects.
17. Coffee Gift Basket
Any coffee fanatic will love this basket, and what mom doesn't need a healthy boost of caffeine to start her morning? This coffee-themed gift basket from Budget Savvy Diva is suitable for your best friend, sister, mother-in-law, or your own mom.
Add their favorite coffee blend, a cute coffee mug, and a tasty treat like popcorn, donuts, an assortment of cookies, or coffee cake. For someone who enjoys freshly ground coffee, opt for coffee beans and a hand grinder. K-cups work well for Keurig users.
18. Hanging Planter Gift Basket
Here's another wonderful idea for the best mom in the world: a hanging planter gift basket. This version from Living Mi Vida Local includes gardening gloves, a flower rocket, hummingbird feeder gardening stakes, flower seeds, and decorative butterfly clips. Beautiful!
19. First Mother's Day Basket
A woman's first Mother's Day is really special. Make the new mom feel appreciated and loved on her first celebration of this holiday with this 1st Mother's Day gift basket idea from Marty's Musings.
This one includes a personalized notepad, chocolate goodies, a bath sponge, bath crystals, candles, and dried fruit. However, you can also include a little something for the brand-new baby, too, like a simple onesie or some cute baby booties.
20. Mother's Day Picnic Basket
Take Mom on a picnic and present her with her very own Mother's Day picnic basket full of yummy goodies, a picnic blanket, cute plates and napkins (paper works just fine), and some drinks. This thoughtful gift basket from The Crafted Sparrow was filled with items from World Market, but you can easily make this with more affordable items from local stores.
21. Mother's Day Manicure Jar
So, this manicure jar isn't a gift basket, per se, but you can add the items to a small basket if you prefer. We love the monogrammed jar, though, because it can be repurposed.
Fill the jar with nail polishes, cotton balls, nail files, polish remover, a manicure set, etc. Get the monogram tutorial from A Night Owl.
22. Spring Gift Basket
We love this bright, cheerful Mother's Day spring gift basket from Kristi Murphy. It's just right for the hard-to-shop-for mom and comes with a mug, a notebook, a photo block, an ornament, and a pretty floral canvas.
These are all custom designs, and you can design your own, too.
With so many creative homemade gift basket ideas to spoil mom with, we hope you found the perfect one for your mom this Mother's Day. Be sure to pin this post for future reference and check out our other posts for more inspiration.
Related Posts:
Latest posts by Lena Gott
(see all)