One question that every single person who starts a blog must face is "What should I name my blog?"
It's easy to get caught up in the excitement of getting your blog going, but spending some time carefully considering your blog name in the beginning will pay off in the long run.
I feel like I agonized for days over deciding on the name WhatMommyDoes….I dug deep into my creativity to find it, and overall it has been a great name! I've learned a lot about what makes a great blog name by watching other bloggers, and I'd like to offer a few pointers in this post.
I started out with a list of five things to consider (hence, the image), but ended up with a few more! 🙂 (note to self – next time write the post before you make the image!) LOL
Major Considerations for Your Perfect Blog Name
There are a few non-negotiable things every blogger needs to consider before reserving their domain name:
Social media handles are available – Pinterest, Facebook, Instagram, Twitter. If all but one is available, then it's okay to use your own name for one of the accounts. Every platform but Facebook is just fine for that. But I find that I like to keep my personal account and blog accounts separate especially if I ever want to sell my blog one day (no plans, but you never know!)
Easy to remember & spell – In the beginning, nobody will be searching your blog name in Google, but I promise eventually you will have hundreds or thousands of people doing that every month, and you don't want to make it difficult for them to find! It's easy to get caught up in finding a creative blog name, but you have to temper this with practicality in order to land on the best name.
Based on a topic you could go on and on about for years. What I mean by this is blogging is a long tail game. You must write dozens and dozens of blog posts to start making money from it, and if you start your blog based on something you are only semi-interested in or related to only your life as it currently exists (college years, for example), you won't be able to write about that topic forever.
---
Related Reading:
How I Make $5,000+ per Month from My Blog
5 Things You Should Know Before Starting a Blog
How I Find Time to Blog as a Busy Mom
How to Start a Self Hosted Blog on Bluehost
First Things First – What to do After Installing WordPress
My Ultimate List of Blogging Resources
---
Benefits of Being Generic
Lots of people ask me why I named my blog WhatMommyDoes and not something more specific.
There are a couple of reasons why I love having a generic blog name and recommend it for most people.
You appeal to a wider range of sponsors. On my blog, I can logically write about savings for college on behalf of Suntrust one day and Pampers diapers the next. If I was, say, only into organic gardening, then my advertiser pool would much much smaller. Sponsored posts are a major component of my blog monetization strategy, and I believe having a generic blog name has greatly benefited me in this area.
You can change directions without having to rebrand. For instance, when I first started this blog, I was a new mom squeezing dollars out of pennies to make ends meet. Logically, most of my topics centered around couponing, creating a budget, free activities, and my thoughts as a new mom. Now that I have three kids ages 8, 6, and 4 and our household income has increased, I no longer focus much on frugality, but write more about making memories, earning extra income from home, and school-related stuff like teacher appreciation gifts.
I don't regret my choice of blog name one bit.
Okay, I take that back….sometimes I wish I had thought to picker a COOLER name. If I could do it all over again, I would still go with something generic but totally cool like 36thAvenue or SimplySophisticated or Dreaming in Blue. 🙂 I have no idea if those names are available….if they are, feel free to steal my idea!
You may be wondering…what kind of blog do I have??
Well, because I write about many different topics, you could say I have a LIFESTYLE BLOG. I wouldn't necessarily call WhatMommyDoes a "parenting" blog because I don't write exclusively about parenting. Neither is it a "faith" blog because although I do write about faith, it's not my main focus. It's probably the closest to a "personal finance" blog because I have so many blog posts about family finances (budgeting, earning money from home, etc), but most personal finance blogs don't have the kids activities or holidays aspect attached to it.
So LIFESTYLE BLOG best describes WhatMommyDoes. Lifestyle blogging is just a fancy term for writing about many aspects of your life. Everyone's lifestyle blog will be different because everyone has different interests. And that's ok! That's what makes blogging amazing – you can making money writing about whatever suits you! 🙂
More Tips for Choosing a Blog Name You Won't Regret
I have known many bloggers who chose to go down a very specific path (thinking they would never change their mind)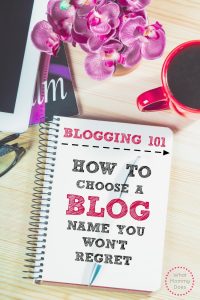 and truly regretting that decision later. Many of those bloggers scrapped their original blogs to start one the right way. 🙂
Here are a few things I would extra careful about when choosing your blog's name:
Don't go too trendy or clever – For instance, if you want to blog about DIY projects, don't name your blog "distressedpaintpalletprojects101" because it's too specific and on trend for right now.
Don't make it too wordy – Trust me, when you go to a blog conference and have to say your blog's name 100 times a day, you'll be glad it's easy to say!
It means something to you – Although it's not absolutely necessary that you choose a meaningful name, I think it's a nice touch. WhatMommyDoes isn't meaningful to me, but my next blog name will be. I've already picked out and reserved SweetgumRoad.com after the name of the street I grew up on. 🙂
Best Blog Name Practice: Be Generic with FOCUS
I would like to point out something very important. Although I recommend choosing a generic name so you can write about many topics or pivot your focus in the future, I don't recommend writing about a ton of random topics.
I actually did that for a couple years and basically went nowhere with my blog. I wrote over 200 blog posts before I realized I needed to be more intentional with my content strategy, and once I focused on 7 major categories and nothing more, my blog and income started to grow. I am telling you this so you don't make the same mistake I did!!
No matter what name you choose, you will want to define 3-7 major topics to write about. Whether you choose your topics first and then your name or choose your name and then topics is up to you.
The point is that it's better to have a narrow focus so when you are ready to monetize you will be able to develop a deep monetization strategy around core topics. If you write about too many things, you will have a hard time maximizing your results.
How to Check Your Blog Name's Availability
You can check your blog's name availability in Bluehost one step past where you choose a hosting plan (don't worry, you won't have to enter payment information in order to the URL checker).
If you are having trouble finding a name you love that is also available, here are some tips to get past that roadblock: What to do if Your Blog Name is Taken
I WISH YOU THE BEST IN YOUR BLOG NAME PICKING ADVENTURES! Please let me know if you have any questions in the comments below!
p.s. I wrote this post in an hour while my kids played outside on the porch on a 90-degree day. This is why blogging is my dream job…I can be with my family and fit my work into our days. 🙂 I wouldn't have it any other way!

Now I'm off to do some planning for our cookout this weekend! Take care.
---
This is a post in a series I send to subscribers of my Start a Blog Newsletter. If you would like to get a series of blog posts like this to help you start your own blog, make sure to join the list! You will receive a series of emails dedicated to helping you figure out how to set up a blog that's ready to make money!
To join the Start a Blog Newsletter and grab my step-by-step blog startup tutorial, go here: How to Start a Self Hosted Blog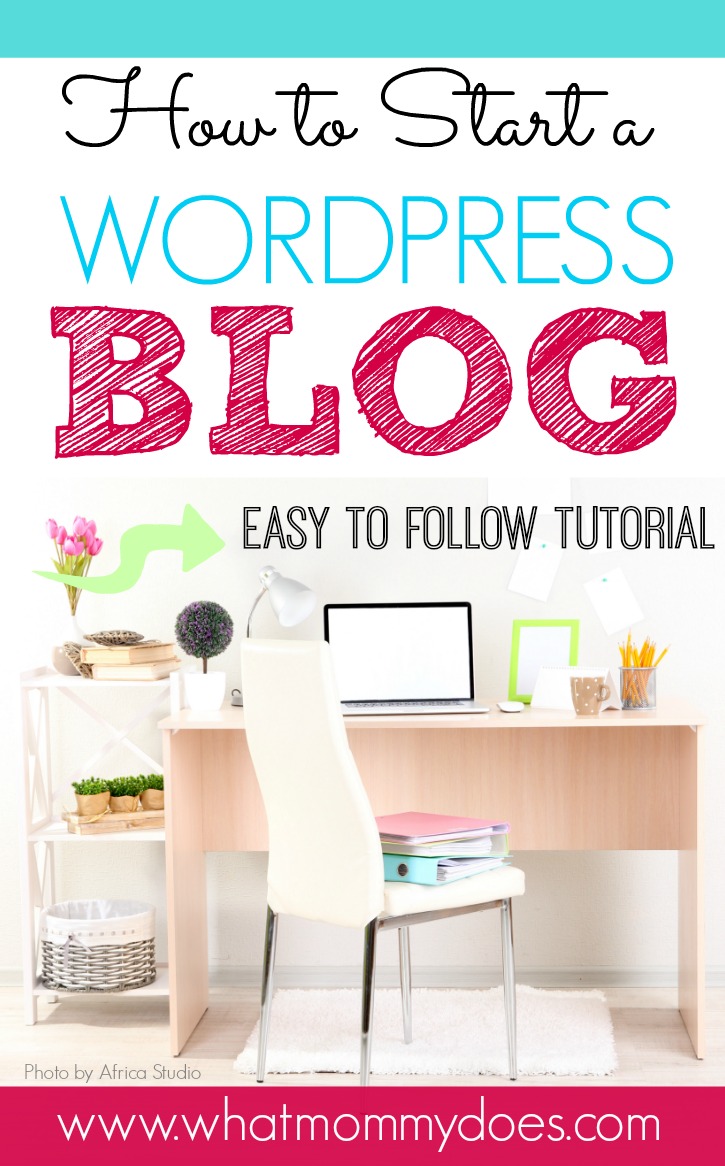 Income Reports Collection
Click here to read income reports from my $3k to $10k months >>
Latest posts by Lena Gott
(see all)