Discover the best Free Weight Loss Programs with apps!
When I embarked on my post-baby weight loss journey in January 2013, I knew I couldn't do it on my own. I signed up for Weight Watchers and used it to successfully shed the initial 50 lbs in 6 months.
But once I reached a good weight, I knew I needed to change it up. I no longer wanted to pay a monthly fee for access to a weight loss program especially since I had begun to get good at estimating my own daily dietary needs.
I went on a mission to find a free weight loss website that would help me stay on track without having to pay anything.
I found several options and wanted to share them with other moms going through the same journey in case you don't already have a weight loss app you use.
3 Free Weight Loss Programs with Apps
It was important that the weight loss website had a corresponding iPhone app so I could log my food on the go. I don't always have access to my computer, but I always have my phone on me.
Here are my top three recommendations:
1. SparkPeople Weight Loss App & Diet Plans – I used SparkPeople.com before weight loss apps were even a thing. I think I first used it in 2006 when I didn't even have a smart phone. Back then you had to log on to the website and track your food online. Weight Watchers worked the same way back then. But SparkPeople is like the free version of Weight Watchers if Weight Watchers tracked calories instead of points. It's just as robust of a tracking system. But FREE! These days you can still log food in the online system OR you can download their app. Although I no longer use SparkPeople as my main tracking system, I highly recommend it due to my positive experience with it in the past. The best thing I liked about SparkPeople was the ability to specify whatever nutrient goals you'd like to track. I liked keeping track of my sodium intake because I usually have problems keeping that down to a reasonable level. SparkPeople also has lots of accountability group forums you can join, as well as fitness articles and personalized meal plans. It's an overall great network for the community and ease of use.
2. MyFitnessPal Weight Loss Tracker – MyFitnessPal is the weight loss program I eventually decided to use after quitting Weight Watchers. Like SparkPeople, it's a close equivalent except food is tracked by calories and not point. I personally like tracking food by calories because points aren't real. I can understand the difference between foods based on calories whereas points are kind of confusing. The biggest benefit to MyFitnessPal is the ability to quickly see the breakdown of foods you ate on a daily or weekly basis in a pie chart format that shows you Fat / Protein / Carbs breakdown. Once I started getting into bodybuilding workouts a bit more, I found out that I could set goals based on fat, protein, or carb intake, and this app helps you do that easily. It also made it easy for me to see why I might feel lethargic on certain days versus thers depending on what I ate because the differences were fairly obvious if you looked at the pie charts. MyFitnessPal is a calories in and calories out system, which means that you are assigned a daily NET calorie goal, and everything you eat minus calories burned through exercising should be at the goal line each day. It makes dieting very logical, which I like. Another great thing about MyFitnessPal is that it's social. You can find your real friends through the app and Facebook connection, which means you can keep each other accountable. That's huge!
3. LiveStrong Calorie Tracker – I haven't used LiveStrong personally, but it comes highly recommended to me by friends. This one is available on Apple and Android, making it a great choice for any type of phone. If you have personal experience with this weight loss app, please let us all know in the comments below!
My New Favorite Thing!

Other Weight Loss Resources
Free Printable Daily Water Tracker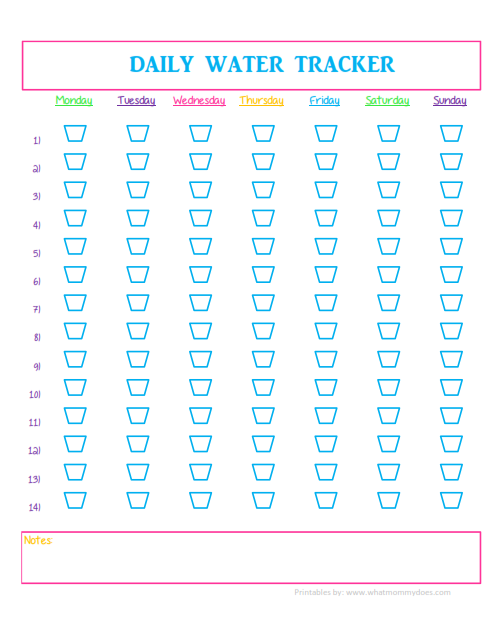 How I Lost 50 Lbs After Having Baby #3
5 Must-Read Nutrition Books for Weight Loss
More from WhatMommyDoes
A Stupid Easy Way to Make Money
Latest posts by Lena Gott
(see all)