Christmas gift baskets are the perfect way to celebrate the most wonderful time of year!
Dig into these 21 festive Christmas gift basket ideas that you can sell to make some extra money this holiday season.
The holidays are expensive.
With gift-giving, Christmas dinners, and winter trips, it's easy to go over budget.
If you're looking to make some extra money this holiday season, look no further than these 21 Christmas gift baskets that you can sell.
DIY Christmas Gift Basket Ideas To Give As Gifts Or To Make For Profit
These Christmas gift baskets are such a great way to earn some extra money during the holidays; they're fun, customizable, and unforgettable gifts.
Try making and selling your own Christmas gift baskets – all from the comfort of your home!
The Christmas season is one of the best times of year to make and sell your DIY projects.
Each December, customers buy rampantly in search of the perfect gifts for everyone on their Christmas lists.
And what better gift than a cute basket filled with goodies? Luckily, there's a perfect Christmas basket for everyone!
Plus, creating Christmas gift baskets is also a great way to get into the holiday spirit. I love finding new ways to get festive at home.
Building these baskets is fun and spirited while also providing you with a way to make money from home.
Below, you'll get themed basket ideas, DIY basket-making techniques, and tons of great goodies to create the best Christmas gift baskets to sell.
Let's get started!
21 Christmas Gift Basket Ideas
These DIY Christmas gift basket ideas are so creative, but also fairly easy to put together. Try any of these baskets to make and sell this holiday season.
1. Hot Cocoa Gift Basket
Hot chocolate is a Christmas classic. Fill this Christmas gift basket with a hot chocolate mix, candy canes, and mini marshmallows.
Don't forget a festive mug to enjoy this sweet treat!
You can get the whole scoop on this hot cocoa gift basket (and printable gift tag!) from Hunny I'm Home.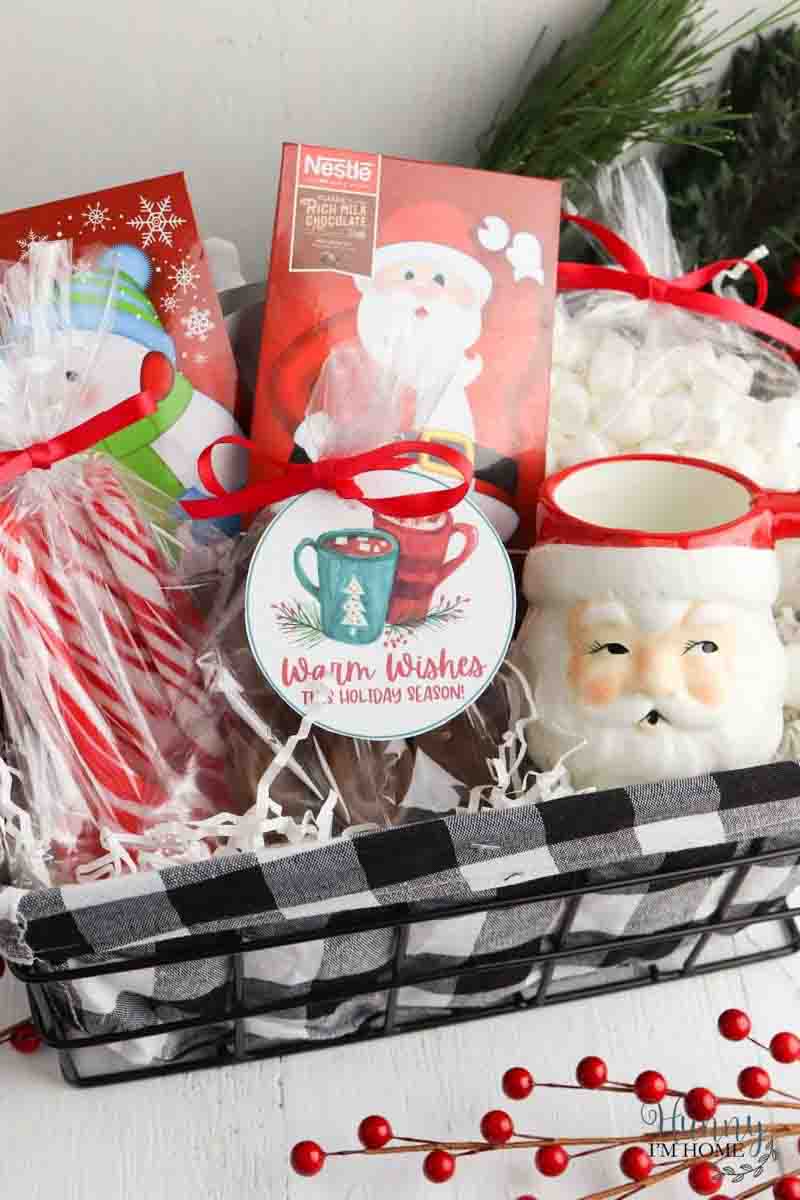 2. Holiday Cookie Box
Nothing says Merry Christmas like homemade gifts. Xoxo Bella's holiday cookie box is the most delicious addition to this list.
This irresistible Christmas gift basket is filled with fun and festive baked goods that anyone would be happy to receive.
3. DIY Wine Gift Basket
This basket is a perfect holiday gift for any wine lover. Stuffed with delicious wine, tasteful pairings, and wine glasses to share – what's not to love?
Leap of Faith Crafting shows you how to make this wine gift basket customized.
All you need is a Cricut and some creativity!
4. Christmas Slime Box
This slime box is such a good idea for a kid-focused Christmas gift basket.
I think the best gifts are often activities!
Kids will have so much fun creating their very own slime with this genius basket. It includes everything you need to make custom holiday slime.
Frugal Coupon Living has all the information you need to make this Christmas gift basket.
5. Movie Night Gift Basket
Everyone loves a movie night! That's what makes this movie night basket the perfect gift to make and sell.
This option is also budget-friendly, containing items you can find at the dollar store!
Complete this gift basket with popcorn kernels, movie theater candy boxes, and lots of delicious treats for the ideal movie night experience.
Check out this guide on how to make these movie night gift baskets.
6. DIY Dollar Store Rope Basket
The best gift baskets start with their base – the basket!
A Hundred Affections shows you how to make this gorgeous DIY rope basket, all with materials from the dollar store.
This DIY will make any Christmas gift basket look super elevated. The design is playful, chic, and expensive-looking.
7. Self-Care Christmas Gift Baskets
We could all take a little more time for ourselves; encourage this with these self-care gift basket ideas.
Fill a wicker basket with items that promote self-love, like lavender eye pillows, scented candles, and a good book.
You can get more ideas from Little House Living.
This Christmas gift basket is perfect to give to a family member, a best friend, or anyone else who could use some pampering.
8. Gingerbread House Decorating Kit
In my opinion, sweet treats are the best part of the holiday season (well, one of the best!).
Create a Christmas activity that you can eat with this gingerbread house decorating kit.
This homemade Christmas gift basket takes gingerbread house decorating to the next level with these candy delights.
Include graham crackers, cookie icing, and all of your decorating supplies in this basket (Mama Cheaps gives you the full details here).
9. Gourmet Tea Basket
Tea lovers will go crazy for this DIY basket – it's the perfect gift choice for a cozy winter day.
Fill your gourmet tea baskets with a gorgeous custom tea cup, high-quality tea bags, and some tea biscuits.
If you want to know how to make your own custom tea cups at home, Mom Foodie has the DIY instructions right here.
10. Campfire Gift Basket
I'm a sucker for a themed gift basket. This campfire gift basket is a one-of-a-kind idea to make and sell from home.
The basket is stuffed-full of everything you need to enjoy a roaring fire on a chilly night.
Include campfire essentials like s'mores supplies, a warm blanket, and insulated mugs (for details about the full contents, check out Glamper Life's post!).
This Christmas gift basket is perfect for camping enthusiasts, outdoors lovers, or anyone who enjoys a warm fire.
11. Dollar Tree Car Wash Gift Basket
This custom car wash gift basket is made with men in mind but can work for people of all genders!
Hunny I'm Home makes a beautiful gift basket for certified car lovers.
Using car cleaning products (all found at the dollar store), you can make your own car basket Christmas basket.
Click HERE to learn how to make this car wash Christmas basket.
12. Holiday Baking Kit
What's better than homemade Christmas cookies? Nothing!
Create these festive holiday baking kits filled with everything you need to make delicious holiday cookies.
This gift basket is a great "just because" gift and is super versatile to fit any gift recipient.
The baking is also kid-friendly, so it's perfect for families.
You can make Fantabulosity's fun gift idea with THESE easy instructions.
13. Buffalo Check-Painted Pots
These buffalo check-painted pots are the perfect containers to gift holiday candy.
The pattern is so cute and festive – fitting for the holidays!
You can make these DIY pots and fill them with various treats for an inexpensive gifting option anyone would love to gift (and receive).
Check out this great DIY and more gifting ideas on The Soccer Mom Blog.
14. Cozy Christmas gift baskets
This Christmas gift crate from Craft and Sparkle is not only beautiful, but it's also incredibly useful!
Filled with cozy holiday favorites, this Christmas gift basket will be an instant favorite.
You can fill your crates with the warm and fuzzy items of your choice, like essential oils, slippers, and soothing candles – aka everything you could want for a cozy night in!
These crates are customizable for various themes to add a personal touch to every gift.
Discover all the ways you can personalize these gift crates right here.
15. Reusable Fabric Gift Sacks
Reusable Christmas wrapping is gaining in popularity every year!
With changing values and an emphasis on sustainability, many families are opting for greener Christmas wrapping options.
These reusable fabric gift sacks are the perfect answer to this rising trend.
Use Love Our Real Life's fabric gift sack DIY to create the base for your holiday gift baskets.
Not only will recipients love the contents, but they'll also love the gift bag it comes in!
They'll be able to use it year after year, which in my opinion, is the mark of a truly great gift.
16. Rock Painting Kit
This is another great idea for kids and crafty adults. Rock painting is meditative, creative, and provides endless entertainment.
Fill a basket with assorted acrylic paints, paint brushes in various sizes, and assorted rocks to paint.
You can also include a book on rock painting to drive inspiration.
Find the full contents and assembly guide HERE.
17. DIY Sangria Kit
Ok, I'm a little obsessed with this Christmas gift idea. It also makes a beautiful hostess gift during the holiday season.
This DIY sangria kit features wine, seasonal cranberries, and fresh citrus.
Best of all, it's packaged up in a glass drink dispenser that you can use to enjoy this holiday cocktail!
Finish your gift with a wooden spoon tied to the dispenser with a holiday ribbon.
Click here to grab the full details for this Christmas gift kit.
18. Upcycled Christmas Gift Baskets
Make your gift basket a work of art with these upcycled Christmas gift baskets.
Gina Tepper shows us a simple way to transform a cardboard box into a holiday masterpiece using wrapping paper, ribbon, and a festive poinsettia. The results are fabulous!
Explore the step-by-step instructions for these upcycled baskets right here.
19. Stovetop Potpourri Baskets
This stovetop potpourri basket is a fragrant gift that is perfect for the holidays.
Today's Creative Life shares this seasonal recipe that you can create and sell from home.
Package your homemade potpourri in natural berry baskets for an inexpensive wrapping option.
Finish off your creations with a custom gift tag that customers will love.
20. "You've Been Elfed!" Christmas Gift Baskets
Spread some holiday cheer with these adorable "you've been elfed" baskets!
Filled with fun holiday wearables and treats, this basket is a gift and game all in one.
Offices and other workplaces will be big buyers of this Christmas gift basket – it's a simple and fun idea to give to employees that will boost the holiday spirit around the workplace!
Find the full instructions for this festive gift (and activity!) here.
21. Holiday Donation Gift Baskets
The season of giving comes to a head with this thoughtful holiday donation gift basket.
While this isn't a Christmas gift basket to sell, I think it is more than worthy of this list.
Savvy Mama Lifestyles teaches us how to create these donation gift baskets filled with necessities like toiletries, warm accessories, and essential medications (for a full list, click right here).
I think that the best way to celebrate the Christmas season is to pay it forward and give to those who need and deserve it.
These baskets will help you do just that.
This is a simple way to show compassion in your community this Christmas.
Get your kids involved for a teaching moment about the true meaning of Christmas.
Things You Can Include in Christmas Gift Baskets
Need more inspiration?
If you're looking to make your own DIY Christmas gift basket ideas to sell, the options are endless!
These are some classic items that you can include in your gift baskets.
Choose the theme of your choice and get creative! Here are some ideas to get you started.
Coffee Lover Basket
Fill a Christmas gift basket made for coffee lovers with goods like:
Sweet Tooth Basket
Sweets lovers will adore a Christmas gift basket filled with:
You can find more cute candy gift ideas in THIS POST.
Cozy Vibes Basket
The colder weather is the perfect time to get cozy! Fill a cozy Christmas gift basket with items like:
Self-Care Basket
Fill a self-love basket with tons of pampering goods like:
Gamer Gift Basket
Gamers will love DIY gift baskets filled with themed items such as:
Try your hand at making some. Even if all you ever do is give them out as presents to your own family and friends, it's still a fun way to be creative.
And if you make some extra cash on the side that a win-win in my book!
More Ideas to Make and Sell
Latest posts by Lena Gott
(see all)