My two oldest are so excited for school to start this year.
We go to a year-round school, which starts much earlier than traditional school, so we are getting ready to go back and it's only the first week of July!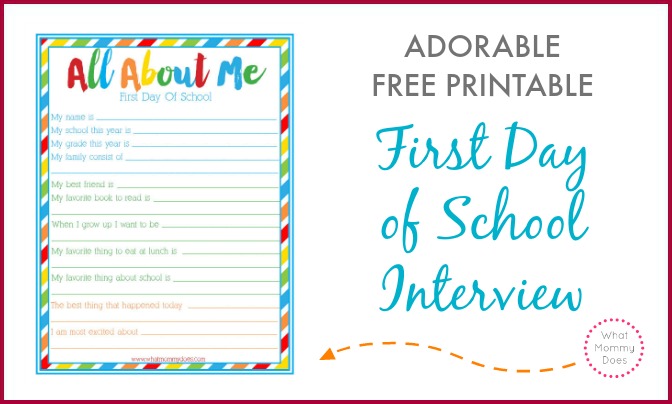 This year I wanted to do something I saw so many moms do last year – give my kids a survey right before their first day of school to document their lives at this point in time.
I think it will be so special to keep these and show them to my kids when they are older.
Cute Back to School Idea for Elementary Children
I can't wait to see their answers to these interview questions! I've gave my oldest a survey like this in preschool, and when I look back at her answers, I'm surprised at how many answers I wouldn't have guessed! I suppose what my mom says is true – it's hard to keep all the details straight after several years!
This back to school survey looks great in color but also works just fine in black and white. So don't worry if you don't have color ink.
Free Printable Back to School Survey
To download the printable questionnaire, click on the image below. It will down as a PDF file.

More "All About Me" Worksheets / Printouts
I'm so in love with all things interviewing when it comes to children so I rounded up a few more cute printables that you can check out!
All About Me worksheet from the Files of Mrs. E – This is a super adorable printable that looks like a poster your child creates about himself. We did a larger version of this in preschool, and to this day I have kept all three of them. This might be my favorite kind of back to school interview. 🙂
This cute All About Me template from Tim Vandevall is also really cute. The "facts" are written on signs, so it's like your child is declaring their special characteristics for the world to hear.
More Back to School: Lunchbox Notes
I'm getting some of these to put in my kids' lunch boxes this year. I thought you might like to see them, too.
Click on each image to learn more >>
More from WhatMommyDoes
Thanks for stopping by!
~ Lena
Latest posts by Lena Gott
(see all)