This post is sponsored by Acton Children's Business Fair and includes tracking links. For more information about tracking links and how to opt out, please visit All About Do Not Track (https://allaboutdnt.com/) prior to clicking any links found in this post.
When I was a child, there was nothing I wanted more than to have my own business.
I remember BEGGING my mom to let me sell my handmade glitter bracelets door to door. When she said no, I begged her to let me mow lawns.
I was only 10 years old and kind of clumsy, so it's probably a good idea that she told me no to mowing lawns. 😊
I didn't start a business as a child, but I never let go of that passion, and when I went to college, I found myself involved in several startups.
I learned a lot about business from trial and error in my college years.
Looking back on my past, I can see how every business or side job I had led me to where I am today – the owner of two online businesses and creator of digital products.
As a mom AND an entrepreneur, I am always on the lookout for ways to teach my children valuable real world lessons about entrepreneurship.
They are MY KIDS, after all, and they definitely have that entrepreneurial drive in them!
Over the past few years, both of my girls have participated in a local young entrepreneur's fair. They've had amazing experiences doing so.
My youngest recently asked me if she could participate in even more events geared toward children, and that led me to a whole new world of child entrepreneurship!
I found out that there is actually an organization that helps you START YOUR OWN children's business fair in your community!
It's called Acton Children's Business Fair – and its simple mission is to offer the gift of entrepreneurship to as many young entrepreneurs as possible through locally hosted business fairs.
Any organization, business, or family can host an Acton Children's Business Fair for children between the ages of 6 and 14.
It's simple to do, so if you're interested in hosting one, I've gathered some information for you!
Who Created Acton's Children's Business Fair?
The Acton Children's Business Fair concept was created by the The Sandefer Family as a way to spark a sense of entrepreneurship in children.
They believe every child is a hero with gifts and capable of changing the world.
Helping communities host business fairs specifically for children is their way of helping young entrepreneurs find their talents & learn valuable skills for life through hands-on experience.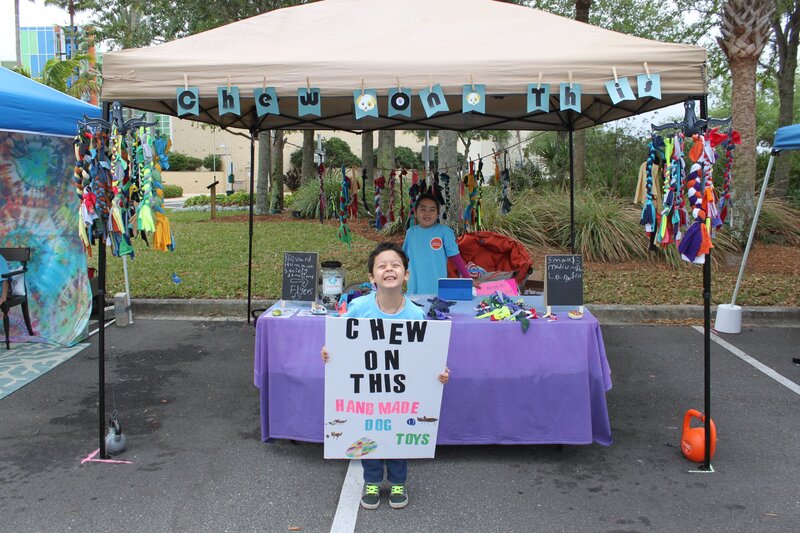 How Do You Start the Children's Business Fair Hosting Process?
There is a simple audition process to become a host.
The audition process is necessary to ensure the safety of the children participating in the fair. As such, you will be asked to submit a video clip and undergo a background check.
There are really only two steps to the application process:
Complete the short questionnaire application
Submit a short introductory video
To get started, begin filling out the application on the Acton Children's Business Fair website >>
What Kinds of Resources Will Acton Provide?
Hosting a fair through Acton is very straightforward.
I was so pleased to find out that Acton gives fair hosts plenty of helpful resources to create a successful fair experience.
Once you are approved as a fair host, you will receive access to their host toolkit & guidebook. I've gone through these materials, and they are very impressive!
Included in the toolkit are resources to help you plan the fair, recruit sponsors and participants, promote & execute the fair, then evaluate your results.
You will receive a checklist to help with each step of the process.
Acton has thought of everything. You will get resources such as the following:
A website to serve as the homepage for your event. This is a huge benefit, as starting a landing page from scratch can take time!
A budget worksheet that guides you in calculating expenses & fees so you can know how many sponsors are needed to make your fair happen
Promotional materials like flyer templates, logos, and a press release
Sponsorship email templates and flyers
A participant's guide + sample email acceptance letter for participants
A parent's guide – sample email and FAQs to send out
A judge's guide – sample scoring sheet & editable award templates
Participant survey example
If you would like even more details about what's included in the host toolkit, Tiffany at Homeschool Hideout has a great breakdown in this post >>
The Best Part: Acton Gives You Up to $500 to Help Out!
Once your fair is completed, Acton will provide up to $500 to help offset the cost of your fair (the exact amount you receive depends on the number of booths in your fair).
You can either use it to offset costs of running the fair or use it to award young entrepreneur participants; it's up to you how best to use the $500.
How Do You Know If Your Area is Available?
Acton Children's Business Fair has a policy of 1 fair per 10-mile radius within 2 weeks before or after the event.
This is a great policy because it protects your fair from a competing fair really close by in the same month, but it's a narrow enough policy to allow for multiple fairs in the same area throughout the year.
If your exact location isn't available exactly when you want to hold it, all you have to do is either move the location a little further away OR simply choose a different date at least 2 weeks before or after the competing event.
If you are sure you want to host a fair, Acton recommends reserving your preferred date & location as soon as possible, even if you don't have every little detail pinned down.
Who Can Host a Children's Business Fair?
The neat thing about these children's business fairs is that they can be standalone smaller events or added on to a larger local event.
They can be hosted by anyone, including families, schools, organizations, or local companies.
They make great Chamber of Commerce events, a nice addition to summer or fall festivals, and community gatherings for local businesses.
You can host one in your neighborhood, a local park, or even at a church or community center.
Where you hold the event is really up to you!
Don't worry about making your children's business fair a huge event – you can start small with just a few sponsors and then grow each year as word spreads.
How Far in Advance Should You Plan?
Planning well in advance helps with participation. If I remember correctly, my kids had to apply to their events 3 months in advance, and at that point, most event details had already been determined.
As a general rule of thumb, I would say you will have an easier time finding enough participants if you allow plenty of time for planning and start far enough in advance so that you don't feel rushed.
According to Acton's website, a smaller event with 8 to 10 tables could probably be pulled together within a month or so.
For a larger event, I would personally allow at least 3-4 months to give myself plenty of time to get approved as a host, brainstorm promotional efforts, contact sponsors, reach out to schools and other organizations to let children know about the event, and in general have a more relaxed preparation timeline.
What Kinds of Lessons Do Children Learn by Participating in a Business Fair?
With three young entrepreneur events under our belt as a family, I can confidently say that your child will learn numerous valuable business lessons that they can carry into the real world.
My girls learned tough lessons that they didn't see coming.
In particular, my oldest learned that not all products are created equally. She learned that some items are easier to produce than others AND how difficult a product is to create doesn't correlate to how popular it will be with customers.
I remember my oldest's first business fair experience – she made hand squeezed lemonade and triple fudge chocolate brownies.
The lemonade was extremely costly and time-consuming to make; the brownies took a fraction of the effort to produce, yet sold so much better than the lemonade!
She learned that people A) simply don't like lemonade as much as they like brownies and B) the uniqueness of the name "triple fudge chocolate brownies" on her sign was enough to make people ask for more information & ultimately buy once they saw how delicious they looked.
We literally heard people walking by all day saying "oooooh TRIPLE fudge!" 😊
At our last young entrepreneur's fair, my younger daughter learned all about sizing and pricing.
She went into the fair with multiple sizes of dog treats inside multiple sizes of bags.
Customers were constantly confused on whether a large bag had large treats inside (and vice versa) or which size & quantity was best for their particular dog.
She learned that almost no one chose medium – they either wanted the smallest amount OR the largest quantity possible.
She also learned that hardly anyone planned to give the extra large treats to their dogs. Many owners of larger dogs said they planned to feed their pups half a treat at a time.
By the end of the day, she learned a lot about optimal dog treat & package sizing. Next time she plans on simplifying her offerings.
In addition to these lessons, kids learn many other things about running a business throughout the entire process, including:
How to pitch a potential product idea
How to create products, price them & display them for sale
Realistic up-front costs of starting a product-based business
Developing a brand & choosing a business name
Inventory considerations
How to calculate net income
How to talk to customers
And more!
My younger daughter even had to learn about paying employees because she was overly ambitious with the amount of dog treats she could produce in the week leading up to the fair date. Her brother helped, and he wanted to be compensated!
Want to Visit a Children's Business Fair Before Hosting One?
If you'd like to see an actual Acton Children's Business Fair before hosting your own, you can search for a nearby event on their website >>
Warmer weather brings a lot of events – just look at all the fairs coming up soon when I zoomed in on a map of the United States!
I hope this information was helpful in letting you know how to get involved with an Action Children's Business Fair.
These fairs offer a fun & safe environment for elementary and middle school youth to express their creativity.
I'm so glad Acton has put all these materials together for parents, educators, and community members who want to encourage ingenuity in the next generation!
We have several upcoming Acton Children's Business Fairs on our calendar to visit and my kids are excited to participate in (or maybe even host) one in the near future!
Related Posts About Child Entrepreneurship
Latest posts by Lena Gott
(see all)