It's a new year which means it's time for me to create some new coloring sheets for my blog!
I try to make at least one new pattern per year so there's a variety on here.
This year I'm keeping up the Valentine's Day theme and making a set of cute LOVE HEART COLORING PAGES FOR KIDS!
I've always been obsessed with cute hearts since I was a child – I not only drew hearts on everything I owned, I would wear heart clothing!
I wish I had a picture of my favorite candy hearts shift dress that I had when I was 10. I wore that thing until it no longer fit with matching purple Mary Janes that were also too tight & worn out by the time I stopped wearing them. 🙂
I think about that outfit quite often. If I could show you what it looked like, it would be very similar to this heart pattern phone wallpaper I made last year.
Okay, enough about my clothing as a child…..on to the coloring activities!
Love Heart Coloring Pages for Kids
You can download my newest coloring pages below.
And before you go, make sure to click over to the other Valentine's Day coloring sheets + print outs on the blog (linked below).
I hope you like coloring these sheets with your kids (or even for yourself, like I did!).
Free Printable Coloring Sheet – Love Heart
On this print out, the word LOVE stretches out across the entire heart in cursive.
I especially like this one because you can color in the word "love" AND separately color in the heart.
You can download this love heart PDF using the link below.
CLICK HERE TO DOWNLOAD THE LOVE HEART COLORING PAGE >>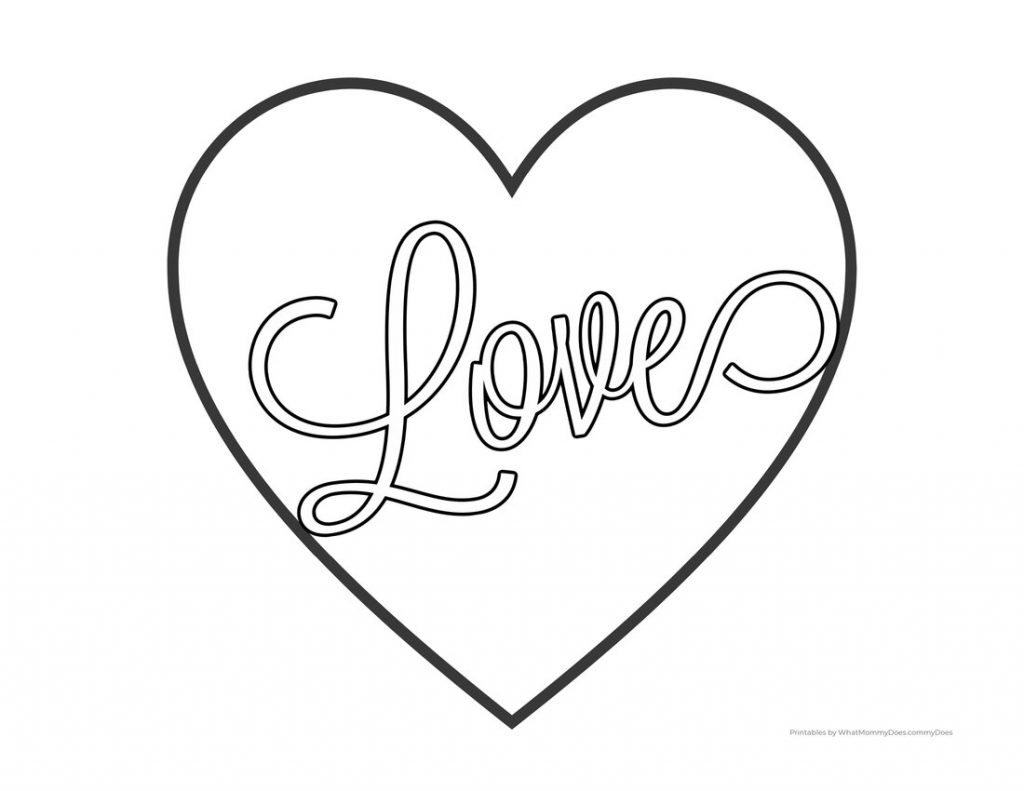 Simple & Pretty Love Heart Coloring Page
The second design is the same heart but with LOVE written inside in a different way.
This is a huge heart that prints out on an entire full size sheet of paper.
It's perfect for kids of all ages, from toddlers to high schoolers. I love it myself as an adult…. so really – is there an age limit?!
This one would make a pretty notecard or binder cover.
You can use it all sorts of ways from crafting or giving to someone you love for their birthday, Valentine's Day, or even Mother's Day.
You can download this beautiful love heart coloring page PDF by clicking the link below.
CLICK HERE TO DOWNLOAD THE BEAUTIFUL LOVE HEART COLORING SHEET FOR KIDS >>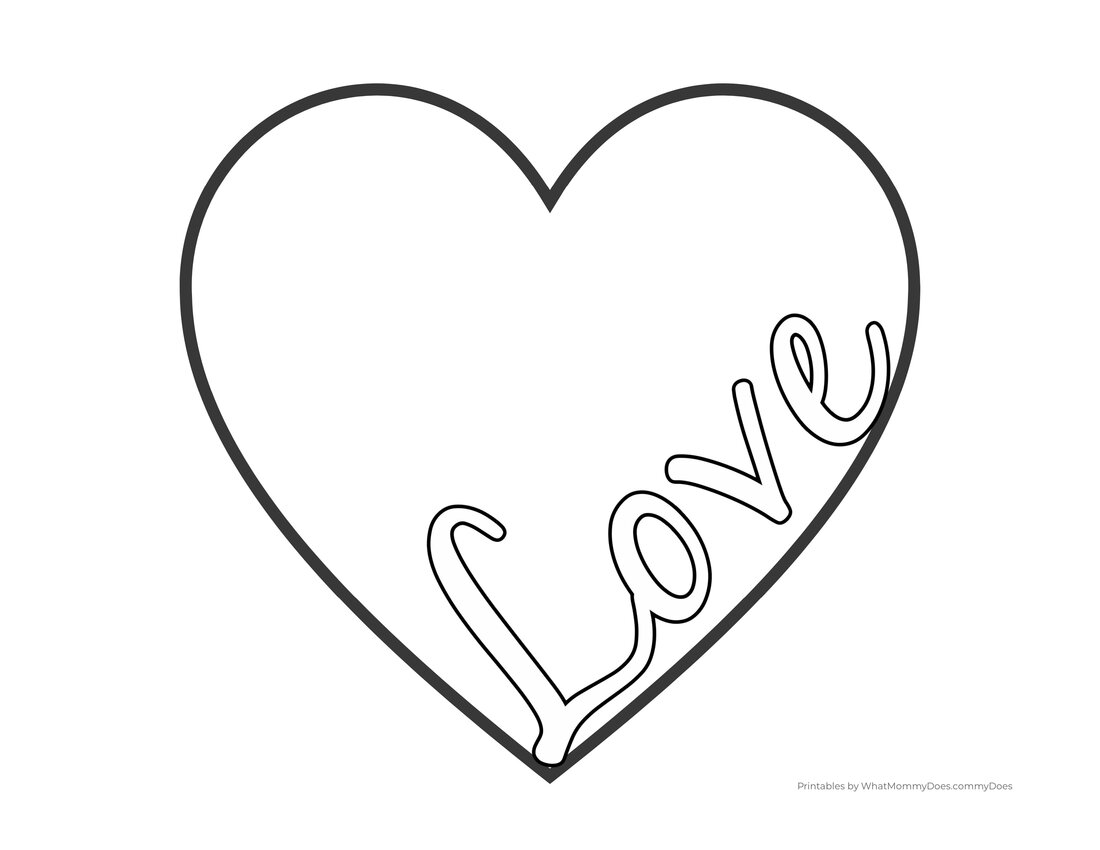 Interlinking Hearts with Words of Hope & Love
Here's a super cute interlinking heart pattern to color! The hearts have small words of "Hope" and "Love" written inside, which is a perfect way to show someone you care.
I think this is the perfect template for a handmade card. I'm gonna get the kids to color one for their grandmother.
Click on the link below to download the PDF file.
CLICK HERE TO DOWNLOAD THE INTERLINKING HOPE & LOVE HEARTS PRINTOUT >>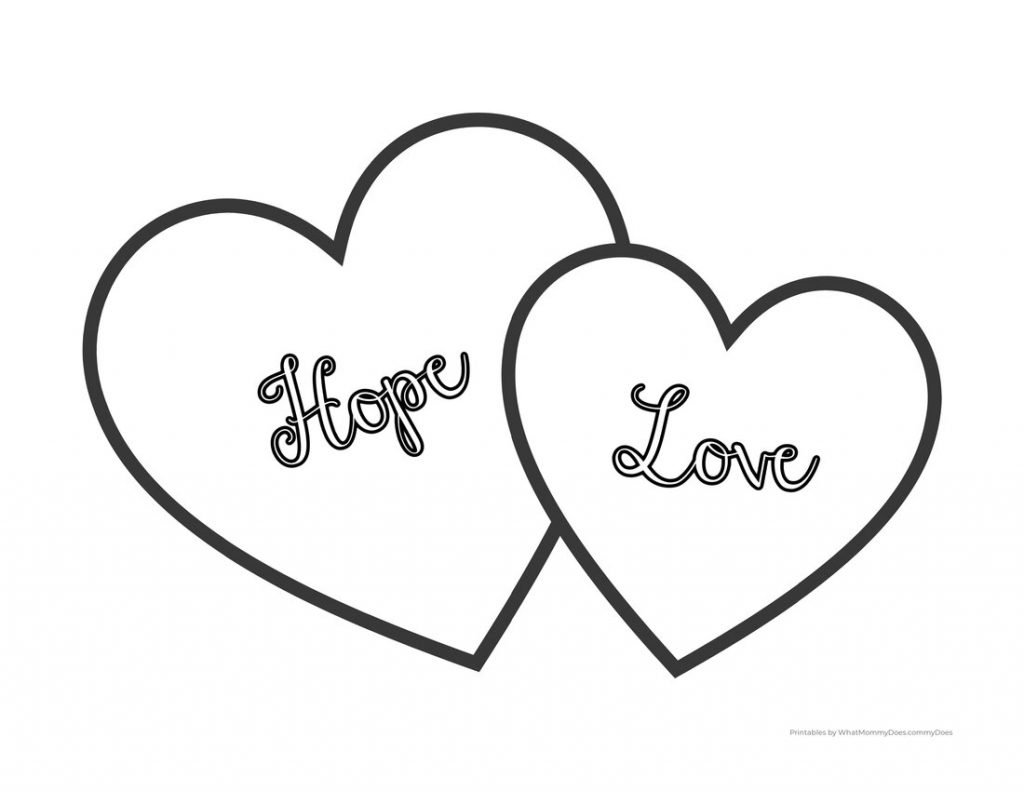 Other Heart Templates & Printables
If you need other heart-shaped designs for Valentine's Day, Mother's Day or any other reason, I've got many more to choose from!
The links below will take you to some of my other designs!
Latest posts by Lena Gott
(see all)