The printable rainbow template with clouds I am sharing today is easy to use for all your crafting needs!
Rainbows are such a cute symbol for classrooms, children's bedrooms, or nurseries.
Rainbow patterns can also be used in sewing quilts for young children or adults. They are bright and fun, and with all the colors used they work well with other patterns and templates.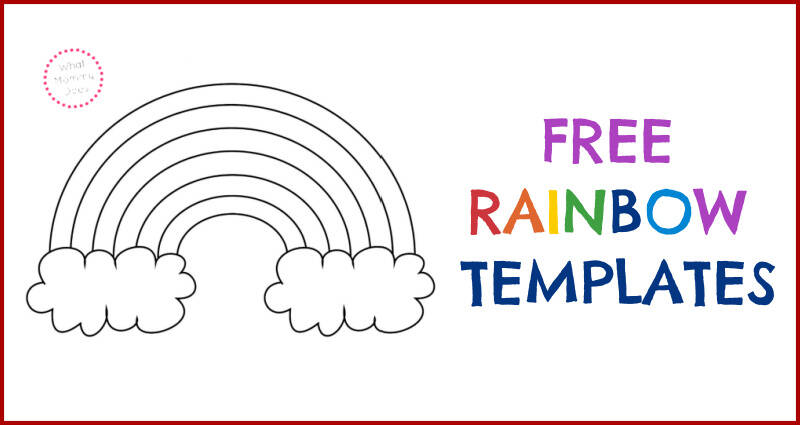 How to Use this Printable Rainbow Template with Clouds
Honestly, the different ways you can use this rainbow template are limited only to your imagination.
I have used these rainbow templates for several different projects since I began offering them on my blog.
In fact, they are perfect for many different people too…moms, teachers, sewing enthusiasts, home decor enthusiasts, etc.
To grab this set of rainbows, right click on the image below to save it and print it out.
Rainbows: Spring Crafts for Kids
Maybe you'd like to use rainbows to print out for your children's arts and crafts? You can teach them more about St. Patrick's Day or leprechauns with these templates. Also, you can discuss the weather as you both cut out a rainbow and color it in with Fruit Loops cereal! A lesson on how rainbows are created would be a hit for Kindergarten through 2nd graders, I'm sure!
I have done the cereal idea with my kiddos and they loved it. It's an easy craft that doesn't really create a big mess. And, it doesn't call for a bunch of materials: Just the rainbow template with clouds, Fruit Loops, scissors and glue.
Mamas of young kids aren't the only ones who can use this craft idea either. Fruit Loop Rainbows are perfect for Kindergarten students. They will have fun pasting the cereal to the template and it keeps them busy on a rainy spring day when they can't go outside for recess. Just watch out that your students aren't sneaking the cereal as a snack…or they may run out before the rainbow pattern is filled in! 🙂
Rainbows to Print Out for the Classroom
For Kindergarten teachers, this rainbow stencil goes far beyond craft ideas. You can use this template to create a March/Spring bulletin board idea, adding butterflies, bees, flowers and other nature patterns for the season. If you are looking for a colorful theme for your classroom door, this template can help with that too! Imagine how fun the large rainbow would be with a pot of gold at the end of it!!
If your students have their names printed on their desks, print out this rainbow template with clouds to use as name tags. The small rainbow templates in this post are perfect for this project, since they won't take up a huge space on the desk.
After the cold winter months, and likely decorating the classroom with snow, rainbows throughout the classroom is a welcomed change. Bursts of color can really help brighten the mood as the weather gets warmer.
A Note About These Rainbows to Print Out for Crafts
I did happen to notice that there are only 6 rows to color in on these rainbows. You'll have to drop your least favorite color from ROY-G-BIV when using this template! So sorry about that!
Have a project that requires larger rainbows? << click on this link.
SaveSave
SaveSave

Latest posts by Cecilia Williams
(see all)