This post was sponsored by Orajel™. All opinions and text are mine.
Hey moms and dads, are you ready? Ready for back-to-school? Ready for early mornings and busy days? I'm not quite ready yet! I feel like this summer has flown by.
I don't have all the supplies yet or routines down, and I am not ready for the carpool lane again. I need to get on the ball, fast!
But with school fast approaching in a little over a week, I need to get my act together.
I plan on hitting the store later this week for school supplies at which point we will also be in another form of school prep mode – bedtime re-calibration!
I don't know about you, but one thing we really let slip during the lazy summer days is our bedtime routine.
We let the kids stay up way too late and break almost every rule we have during the school year regarding bed times.
I find that over the course of a summer, we start our night time routine much later than in the school year. If I don't start transitioning us all back to earlier bedtimes at least a week ahead of the first day of school, we're all grumpy those first few days! 🙂
We have our own special nightly rituals that evolved over time.
We follow it as closely as possible all school year long, so the kids are on track for a good night's sleep before each school day.
Our Simple School Night Ritual
Our routine isn't strict, but basically it follows this structure starting at 6:45 p.m. every evening (by 6:30 if it's a bath night):
Evening snack
Brush teeth
Use the bathroom (+take bath if bath night)
Gather all the stuff you want to sleep with (stuffed animals, dinosaur toys, extra pillows)
Read a book
Say prayers
Hugs and kisses
Lights out by 7:30
Most of these steps go smoothly, but most nights, at least one takes way longer than it should, at least in the first few days of the schedule change.
My youngest is at that age where he wants to be independent with his teeth brushing and hand washing but he isn't quite there yet. If I leave him alone with a sink and water, it becomes a floor covered in water. The same destruction happens if I let him use the toothpaste all by himself.
I probably should have monitored this toothpaste squeeze a little more closely!
It's no wonder we go through so much toothpaste…we had to put over half of this down the drain. lol
I can't be mad – – he giggles and squeals like a maniac the whole time, so I know he's having a blast, but I get tired of cleaning up the messes.
When I stand right beside him? We can usually get through a tooth brushing experience with minimal damage to the bathroom. 😀
Last year we upgraded him to a fluoride paste at his dentist's recommendation. He still tries to eat the stuff some times, so I waited longer than I did for my older kids.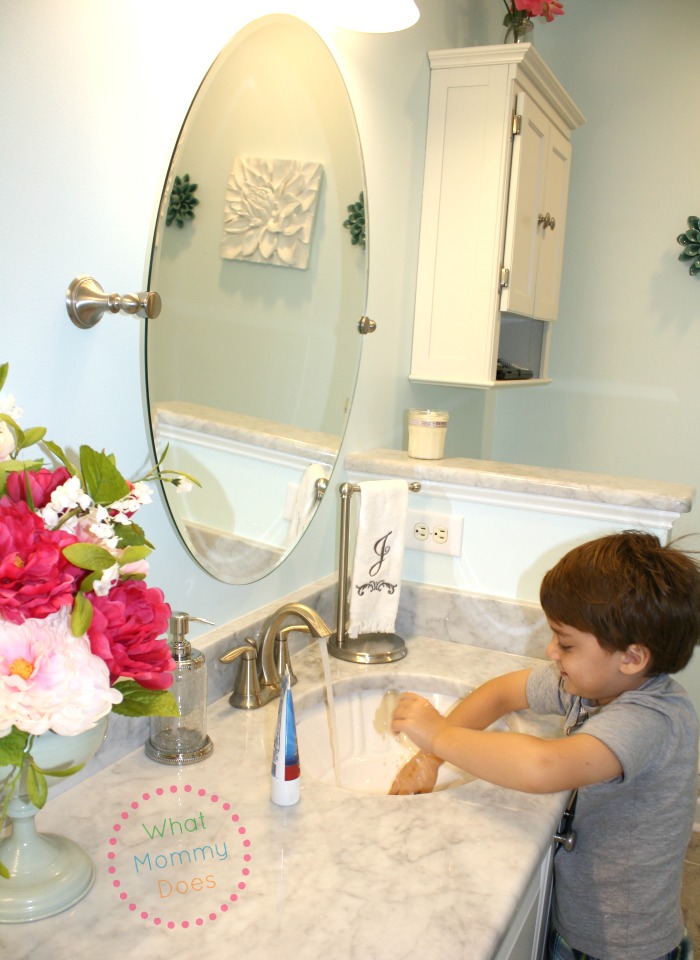 We've gone through a few different types of toothpaste and recently found the Orajel™ PAW Patrol™ toothpaste. He likes the Bubble Berry flavor.
Reading, Every Night
Reading is so important for kids. Just think about it, has there ever been a day in your life that you did not read something? I read all the time; recipes, instructions, road signs, the newspaper, etc… You can't get away from it.
My daughter's reading teacher recently sent home a printout that went over the impact that reading with a child every day can have on their overall education. Basically, it gave an example of one student who read 20 minutes a day versus another student who read 5 minutes per day and another who read only 1 minute per day.
At the end of 6th grade, the student who read 20 minutes a day will have read the equivalent of 60 whole school days. The child who read 5 minutes per day will have read just 12 school days. And the child who read only 1 minute per day will have read for only 3 school days. I couldn't believe the difference that 20 minutes per day could make!
Scholastic has a new campaign called Read2Me Tonight™. On their website you can download a free e-book called The Three Bees and access their list of 100 best read-aloud books.
I love free stuff; free books, free resources, free knowledge!! Go by their website and check it out.
I read The Three Bees to my four-year-old tonight. I usually read him a book before tucking in my girls for the night. He insisted on continuing the read the book by himself after I left, and this is how I found him later. I just love this picture.
Any Excuse to Get a Hug
Give them all the hugs and kisses you can, while they let you. I use the nightly routine as my easy way to ensure I get those hugs and kisses.
My oldest told me just this week, that I could only give her a bedtime hug until she turns 13!! 🙁
I know that this extra hugging period is coming to a close. She's getting older and more independent, and soon she'll be wanting space.
So I'm going to load her up on all the hugs and kisses I can right now, enough to last a lifetime.
Get Started Early
Routines aren't made in one day. Unless you're moving to a new area, then you know when school is going to start.
A good week before the first day, start getting that routine down. This way you can avoid the run around and mild resistance that inevitably happens.
Feel free to use our nightly routine as your guide. It's worked for us for several years, so I think it's a keeper!
If you begin waking your kids up like they would during school a week ahead of time, the first day of school will go pretty smoothly.
It takes me about a week to acclimate to a new schedule, so I imagine it takes my kids that long too. I don't know any science or statistics regarding the matter, that's just what I do.
What are some of your nightly rituals?
This is a sponsored conversation written by me on behalf of ORAJEL. The opinions and text are all mine.