So, you have a new grad in the family and you're looking for that perfect gift that says, "Congratulations! You did it!"
I can safely say that the best and most practical gift for a recent grad is money. Cold hard cash.
While you may think that a cash gift is impersonal, but that couldn't be farther from the truth.
Sure, it's a little boring (though still welcome) if you just put some cash in an envelope with a standard greeting card. But make the gift of money special by finding creative ways to give it.
Need some inspiration? We've got you covered!
Creative Graduation Money Gift Ideas
With 21+ clever ways to give money this graduation season, you'll be every high school and college grad's favorite gift giver.
1. Money Notepad
I think this money notepad is one of the coolest gifts on the list, but I may be a little biased!
It's easy to make a pad of cash, and it's always a big hit, especially with grads who are going to need it soon.
The recipient can tear off bills as they need them, just like a checkbook.
The best part is that you can put any denomination of money you'd like… all $1 bills, all $5s, etc. or a combination of different bills.
Give the money pad along with a card or note that reads, "I'd like to PAD your wallet with cash!"
Obviously also give this notepad in a more "graduation" themed envelope (sorry – these pics were taken when I made it for a Christmas gift!) 🙂
2. "Excitemint" Money Gift Idea
If you're looking for a money gift idea that's a little easier, try this gum and cash gift instead. It's super simple. All you need is a container of bubblemint gum and a wad of money to stuff inside.
You can remove all the gum and just stuff it full of money if you'd like or leave the gum inside to make it look more full.
Clearly, though, the recipient should be cautioned not to actually chew the gum.
It'll be even more fun if the grad doesn't open it right away and finds it when they go to grab a piece of gum.
3. Business Card Case Money Idea
College graduates are ready to enter the real world. If your grad will have a job that involves business cards, this business card cash gift is two-fold.
First, a business card case is super handy to have on hand when you need to network and leave your card with a lead or contact. Second, you can prefill all those card slots with money.
4. Emergency Stash Money Gift Idea
Everyone needs a stash of emergency cash!
This clever idea can help a recent grad who's about to enter the real world or someone who's just going off to college and will be on a tight budget for the next several years.
5. Stax of Cash
Don't we all wish we had "stax" of cash? This is a fun idea that's sure to get a big smile! It'll be even more fun if you give them a bunch of containers of Lay's Stax and let them find the cash later.
We have loads more creative ideas on post with the Lay's stacks, so check them out whenever you're surprising someone with monetary gifts.
6. Easter Egg Money Bucket
Graduation season typically follows not long after Easter, so repurpose some of those plastic eggs for giving a little cash to your favorite grad.
All you need for this Easter egg money bucket is a cute bucket, Easter eggs, and some $1 bills. Add a larger bill to one "lucky egg" to make it a little more fun.
7. Playdough Money Gift
If you want to give a recent grad some fun money to spend on whatever, give them play dough. Or Play-Doh, in this case.
You can roll up quite a few dollar bills to stick in each little cup.
These playdough money gifts are a terrific idea for a kindergarten or elementary school graduation or for older kids, too.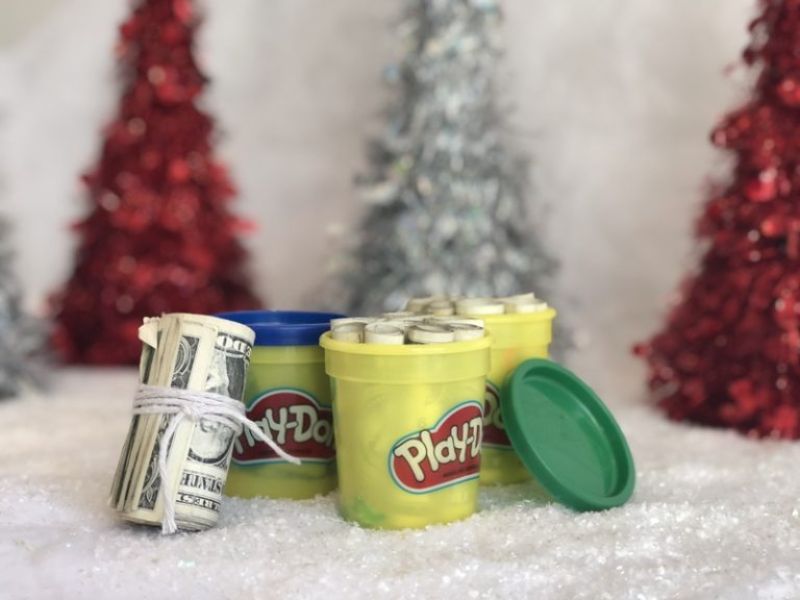 8. Light Bulb Cash Holder
This light bulb gift from Happy Mothering is a fun way to give money to any new graduate! It's suitable for high school graduates, college grads, and trade school ceremonies.
Make sure you grab a craft lightbulb for this project instead of a real one. You can find them at craft stores or online.
9. Money Pizza
Here's the perfect graduation gift—a stash of cash in a pizza box! Love this cute money pizza idea from Simplistically Living.
The red paper circles with quarters on top is a nice touch to add that pepperoni look. Plus, the quarters will come in handy for college grads when it comes to doing their laundry.
10. Dr. Seuss Money Lei
Pair this fun lei money gift from Tanya Staab with candy and the book called Oh the Places You'll Go by Dr. Seuss. It's fun, colorful, and provides both cash and snacks.
The book is really sweet and encouraging, too.
11. Money Chain
This is another type of money necklace that's as much fun to wear as it is to spend. Make the money chain with one dollar bills, and then create the rosette out of a larger denomination like $20 or $50 to put behind the "Congratulations Grad!" wording.
This idea from Less Than Perfect Life of Bliss is easy to assemble with dollar bills, a stapler, and a some decorative paper and is the perfect graduation gift.
12. Money Wreath
Make a decorative money wreath out of dollar bills rolled up to look like tiny diplomas! This cute graduation money gift from Crazy Little Projects doubles as a gift and décor.
Attach the little bills with glue dots, and you have a cute and popular gift that'll make a great decoration for the graduation party or in their room.
13. Break Glass Grad Gift
This In Case of Emergency idea from The Country Chic Cottage is a funny way to give cash to any grad! Make a shadowbox frame (or buy one) and fill it with cash. Add the "In Case of Emergency" wording using your Cricut or another vinyl cutting tool.
14. Money Confetti Poppers
Grad season is definitely a time to celebrate, so these money confetti poppers from Studio DIY are a totally appropriate graduation gift.
What's more fun than colorful confetti going everywhere? Finding a stash of cash inside!
15. Money Chocolate Box
What grad wouldn't love a box of chocolates that turns out to be a box of cash instead? This money chocolate box from Thoughtful Gift Club is a great and frugal way to give money, especially if you have some chocolate boxes tucked away somewhere already.
16. Fortune Cookie Money Gift
Make a paper fortune cookie, slip a $20 bill inside along with a positive message for the grad. It doesn't get much easier (or much cuter) than this money fortune cookie idea from Passion for Savings.
17. Something for Rainy Days
This "Something for Rainy Days" idea from This Little Street is one of the most unique graduation gifts — it's both practical and fun. Gift a colorful umbrella that, when opened up, reveals cash raining down on the recipient.
This would also make a fun money gift for a baby shower or bridal shower!
18. Cash in a Can
Here's a fun gift idea that works for lots of different occasions, from graduations to birthdays to holidays. Follow the step by step tutorial for cash in a can from It's Always Autumn to learn how to create the pull tab that makes the money come out in one long roll.
19. Graduation Money Cake
This money cake will be the star of the show at the grad's party. It's fun, colorful, and a most welcome gift. Bonus points because it has a stack of Reese's peanut butter cups around the top layer.
20. Money Plant
Money doesn't grow on trees, but it sure looks cute when you pair money in butterfly shapes with a nice plant for the grad's dorm or apartment.
This money plant is an especially cute idea for someone who plans to study botany or just graduated from a botany program.
21. Graduation Money Jar
Put together a graduation money jar topped with a cap and tassel to serve as both a gift and as graduation party decor . Roll each dollar bill into a small diploma shape and tie it with string before adding it to the jar.
This small gift from Hello, Wonderful is a super cute way to present the gift of cash to a grad.
We hope you enjoyed this list of graduation money gifts and creative ways to give cash. Pin it so you'll have it handy every year when graduation season rolls around!
For More Ways to Gift Money Check Out These Posts:
Latest posts by Lena Gott
(see all)