I spend quite a bit of time on What Mommy Does talking about ways to make money through making and selling handmade items.

In fact, I love helping other moms figure out what they can do from home to bring in extra cash so much that this topic is one of the main focuses of my blog.
I think selling handmade items online and/or teaching others how to craft is a great way to make an income.
I get questions every day from readers wanting to know how to start a CRAFT blog of their own.
I decided to put the answers to the most commonly asked inquiries of the question "How do I start a craft blog?" here.

That way they are in one main place so that I can direct people to a a central sport where they can hopefully get most of their questions answered.
Truthfully, this saves me a ton of time AND gives you even more information and guidance than I could ever provide in a single email.
Today's post is all about how to start a successful craft blog.
I'm going to show you everything from how to start a WordPress blog to how to make money from a craft blog.
Let's dive right in and learn how this work!
WHY IS IT A GOOD TIME TO START A CRAFT BLOG?
Crafting is timeless.
Making crafts allows people to relax, enjoy themselves, produce something amazing, and maybe even make a little money on the side by selling their creations.
It's also a way for people to connect with other people.
For example, parents can use craft projects to connect with their kids or as activities to do during school classroom parties.
Friends may use a fun project idea to bond during a girls' night gathering…the possibilities are endless!
My point is that crafting is IN DEMAND, and it won't ever change because it's an outlet for people.
That's why the maker movement is so huge right now!
However, there are tons of people who WANT to craft but either think they aren't able to or have no idea where to start.
That's where you come in! By running a craft blog, you show people how to create beautiful projects by breaking it down for them. You take out the guesswork and make it realistic and easy.
That's where your value is, and that's also your key to making money through crafting.
HOW DO CRAFT BLOGGERS MAKE MONEY?
If you're wondering how to make money with a craft blog, you are totally not alone.
I would guess that your first thought might be to make money by selling your creations.
That might make you a little bit of money, but if you really want to make real money doing it, it's not going to be through selling your handmade items.
You CAN make money through crafting and blogging, but you have to do it differently. Rather than pumping out tons of craft pieces that are really priced too low while spending all your free time trying to sell them or make more…what if you showed people HOW TO MAKE the craft themselves?
A good analogy would be to take a look at Martha Stewart. She is a craft expert but doesn't sell pre-made crafts. Instead, she teaches how to make things and then sells the supplies. Your craft blog can be a similar model to Martha Stewart's business.
So instead of solely selling physical items, you are sharing your craft ideas, photos, how-to tutorials, patterns, printables, encouragement, etc. Maybe you sell a few digital or physical items as well, but I'm trying to show you that you don't HAVE to.
Ok, so now that you know you don't have to just constantly churn out new creations to sell in order to make money, I bet you're wondering how successful craft bloggers make money.
There are LOTS of ways to make money with a craft blog – which is why it's so amazing!
EXAMPLES OF WAYS CRAFT BLOGGERS MAKE MONEY WITH THEIR BLOGS
YouTube videos

– Craft bloggers can easily make money through advertising, working with brands to be an influencer, affiliate marketing (selling other people's items and earning a commission in return), or through selling products.

Ad revenue

– This won't apply at first, but once you have built up some traffic, you can earn some money each month with ad revenue. The more eyes you have on your site, the more advertisers will pay to have a slot for ads on your blog!

Affiliate products – Promoting affiliate products is my favorite way to earn money because it's so easy. When you promote products or supplies you love and someone clicks through your affiliate link and make a purchase, you make a little money at no extra cost to your reader.
Facebook

– Earning money through Facebook comes down to using Facebook to drive traffic to your site (ad revenue), promoting affiliate products, and being a brand influencer.

Sell supplies

– Instead of selling the finished product, sell supplies that are needed for the finished product (ex: a special sign for a wreath-making project).

Creating Paid Tutorials

– This is an incredible simple, yet profitable concept. Basically, you would spend your time creating

easy-to-follow tutorials for creating crafts. People will pay for this! Think of all the things you wish someone would just show you how to do….anything like that works as a craft blog concept!
If you get creative, there are other ways to make money with a craft blog too, but these are most of the main ways and a great place to start.
HOW SOON CAN YOU START MAKING MONEY WITH YOUR BLOG?
This question can be loaded with expectations that aren't very realistic, such as the expectation to earn a full-time income from a 6-month-old blog. While I'm sure you can find an example or two of this if you search hard, that isn't normal.
Blogging is fun and rewarding and CAN make a great income, but it's a longer timetable thing…think of it as a marathon instead of a sprint. While the money won't come right away, with time and a lot of hard work, the earnings can follow.
What IS a reasonable amount of time to expect a new blog to begin making money? Well, blogs that start in 2022 can expect to start earning something in 2023. Blogs that start in 2023 can expect to earn some money in 2024, and so on.
With that in mind, no time like the present to get started, right?
HOW DO I START A CRAFTING BLOG? FOLLOW MY START A BLOG BOOTCAMP
Before we go any further, I wanted to let you know about the Start A Blog Bootcamp. It's a course that walks you through all the major things you need to do to give your blog a jump start.
I WISH there had been a course like this when I was just starting out. It's so much easier to have a step-by-step guide while going through the setup process. I fumbled through that process with a lot of time and YouTube videos, but you don't have to. This course is your personal easy button. 🙂
The Start a Blog Bootcamp will basically guide you through the process of pre-planning your blog all the way to the point when you start drafting your first blog post. It covers:
Ways bloggers make money

How to choose a blog name

How to determine your blog categories

So much more!
With this course, you also get access to my helpful cheat sheets to guide you through choosing the perfect blog name (that you won't later regret!).
A FEW WORDS ABOUT HOSTING
Your domain name registration is included with your Bluehost package. Yes, you can buy them separately from different providers, but I recommend purchasing the domain name and registration together like this.
It's what I've done with all my blogs to date and it makes things simple. I've seen people do it the other way, it's just a hassle.
NOTE: Bluehost bills upfront for annual hosting packages, for 2 main reasons. I want you to know about this now so you don't go all the way through the entire process only to realize it (and be shocked) when it comes to the billing step.
Upfront billing avoids any billing issues that might negatively affect your site

. What if you get a new credit card and forget to change the card number in your Bluehost account – and then find out after the old number has been declined and your site shut down? It's nice having the peace of mind that my web hosting account is always paid way ahead (at least a year).

You are able to safeguard your domain name (as well as your brand, really) and it cannot be purchased out from underneath you by someone else.

I recommend the 36-month hosting if you're looking to get the best deal (and longest peace of mind). However, if you are looking for the shortest term, the 12-month package is what you want. As long as your domain is current and paid for no one can purchase it from underneath you.
Bottom line: if you want to have a successful craft blog that makes money, you absolutely NEED to pay for hosting. You do NOT want the hassle of a month-to-month deal. TRUST ME!
HOW TO START A SELF-HOSTED CRAFT BLOG ON BLUEHOST
Now I think it's time to dive into the how to start a wordpress blog tutorial. I even included some screenshots of the entire Bluehost blog start-up process, so I think it will be very easy to follow along.
I highly recommend opening a new tab in your browser, with one tab being this post and the other tab being Bluehost. Then toggle back and forth between this page and Bluehost as you go through the setup.
QUICK BLOG SETUP REVIEW
There are 4 main steps you need to take to start a blog:
1. DECIDE ON A BLOG NAME
This is the first thing you should do because it is how you will be known online.
Your blog name = your domain name = your web address (www.YourBlogName.com). They are 3 different terms for the same thing.
I recommend choosing a blog name that's:
Easy to spell

Means something to you

Tells the world what your blog is about

All the major social media handles are available (Pinterest, Facebook, Twitter, Instagram) – you don't want to register a domain name only to find out that the Facebook name is already taken.
Find a more detailed explanation here >> How to Choose a Blog Name You Won't Regret
A Couple of Important Notes:
If you think of a name and find out it's not available, don't worry. There are millions of other blog names to choose from. Here is what to do if the blog name you want is taken >>

The most important thing to remember is that you want to have a .com website extension, instead of .net or .life or anything other than .com. There are so many more extensions available now than there were when I started What Mommy Does, but people still expect and assume .com. If your favorite blog name isn't available, consider trying a variation on that name or going with something similar yet slightly different.
2. GET A HOSTING SERVICE (and register your blog name)
For a new blog, I recommend going with a trusted & affordable web host. I can't say enough good things about Bluehost. Many blogging friends of mine started out on Bluehost, and their price just can't be beaten. The day may come when you need to move to a premium host to support high traffic, but for now, Bluehost is the best way to go when looking into how to start a craft blog.
3. INSTALL WORDPRESS WITH ONE CLICK
This is the program you use to publish your blog. You use WordPress to create your blog posts and customizing your website so that you don't have to know code in order to do the same thing. It takes away a lot of the technical stuff and lets you do your thing more easily!
Bluehost has a one-click install, which is exactly as easy as it sounds. Within moments, your new website will be sporting the best blogging platform available – WordPress.
4. PURCHASE & INSTALL A THEME
Think of your theme as a beautiful, pre-designed page layout. A good theme will allow you to get up and running with a good looking site right away.
After you get started, take the base theme and customize it to your preferences and style (changing colors, moving features around, etc).
I wrote about some beautiful themes that are perfect for displaying crafts & craft tutorials in this post >>
STEP-BY-STEP BLUEHOST BLOG SETUP INSTRUCTIONS
At first glance, this might seem like a lengthy tutorial, but it isn't. It all looks WAY more intimidating than it actually is. I even have screenshots of every important step, so it should go quickly.
STEP 1:
Head over to Bluehost's home page and click on the big green "Get Started" button.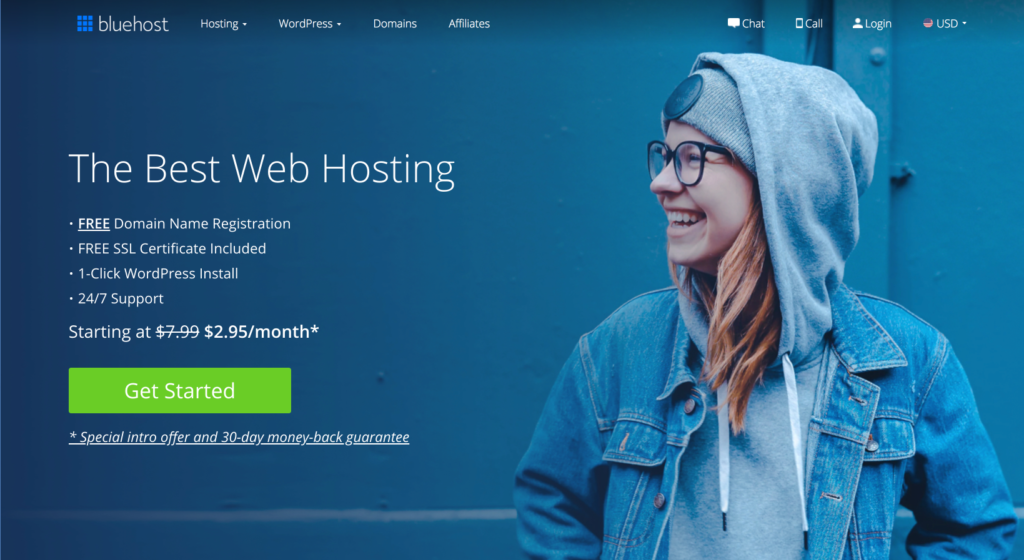 STEP 2:
Review the hosting plan options (you'll make a choice in Step 4…but you will want to choose the Basic Plan. You can always upgrade later, but the Basic Plan is plenty for a new blog.
Normal, shared hosting is priced at 12, 24 and 36-month terms. The longer the period of time you purchase for your plan, the lower the monthly rate will be.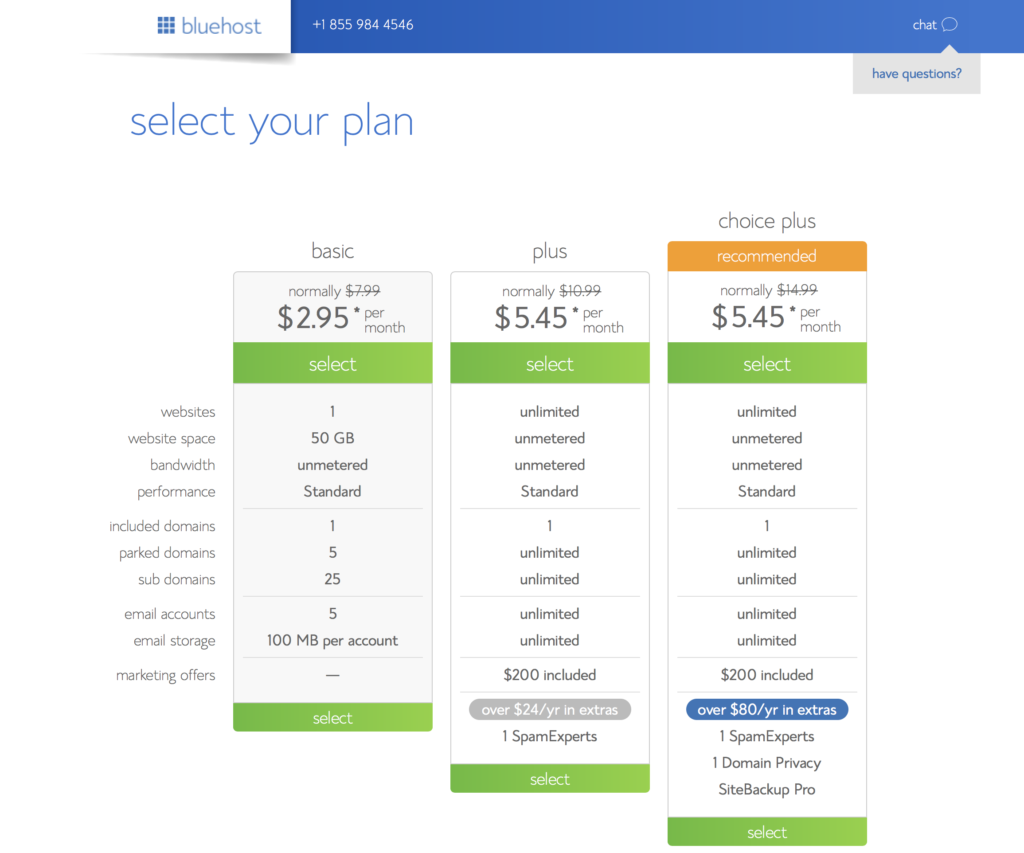 STEP 3:
Next, choose a domain name for your site. Hopefully, you've given it some thought after reading the tips above. Your domain name comes free with your Bluehost hosting package. Enter your domain name under the "new domain" box and click "next."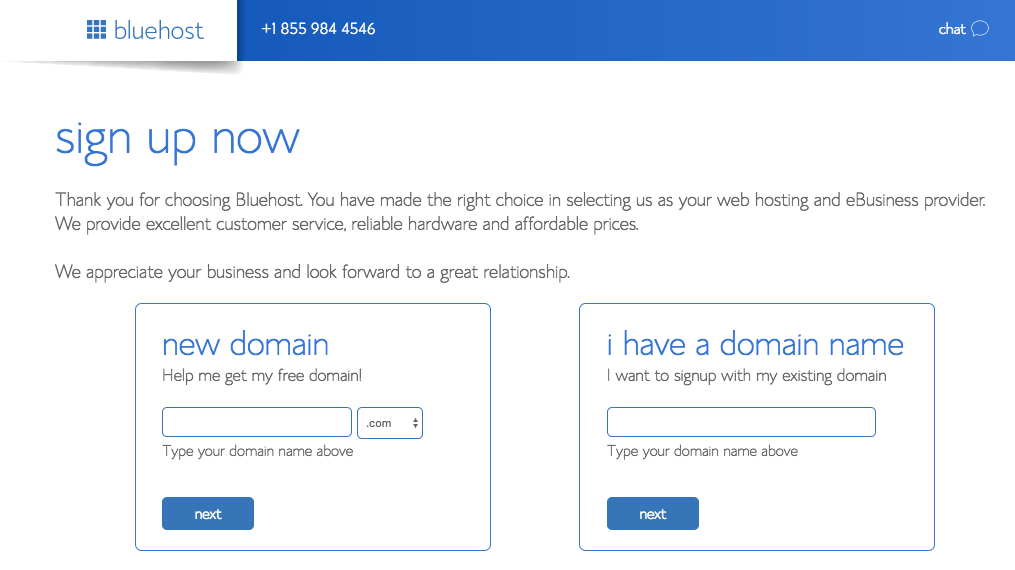 STEP 4:
Fill in your account information.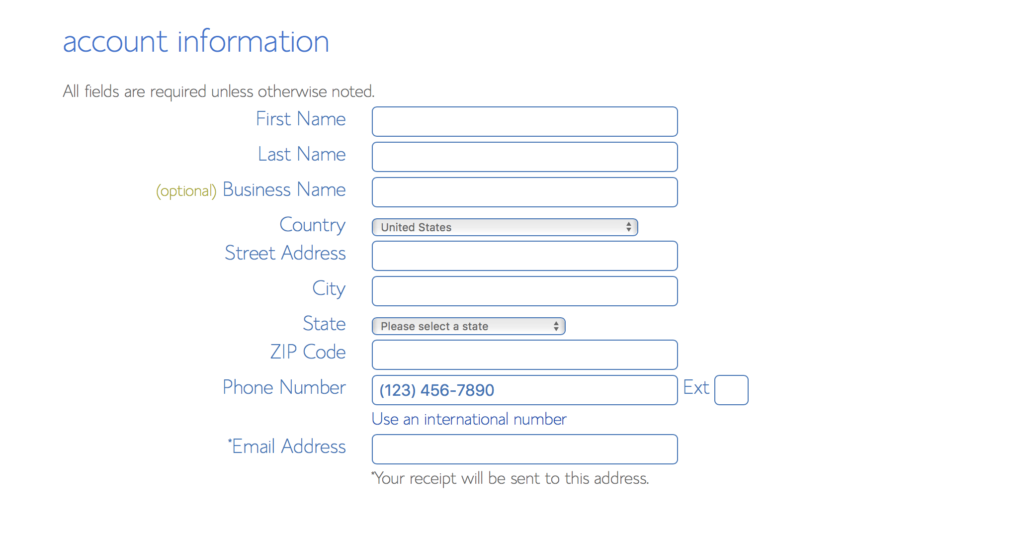 STEP 5:
There are other add-ons that you can choose from. I don't think any of them are truly necessarily except for the Domain Privacy. This means that instead of your personal information being listed online directories, Bluehost will be listed publicly as your site owner. You are the owner of the domain name, but Bluehost will be listed for privacy purposes.
As far as backing up your blog, that is actually important, too; however, there are free plugins you can install later to help with this.
STEP 6:
Enter your billing information, confirm you have read the Terms of Service, and click "next."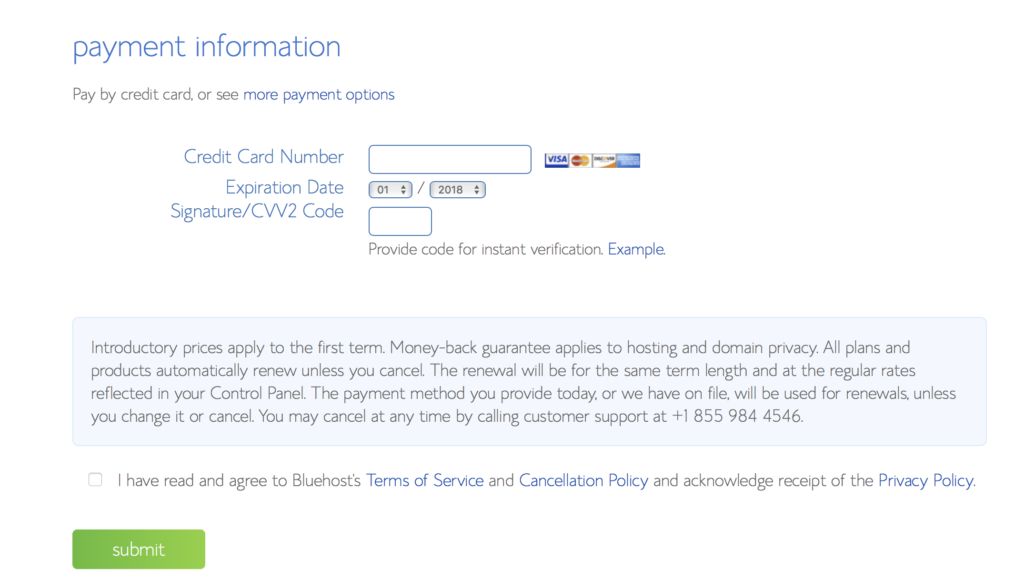 STEP 7:
Congratulations! You just took the first steps to starting your own self-hosted craft blog. Now you need to choose a password. Make sure it's secure so hackers can't get access to your site.
The best advice I have heard regarding passwords lately is to pick a sentence or a long phrase that you'll remember – at least 16 characters is ideal because hackers have a hard time cracking a password that long.
Note: If you are offered additional add-on services at this point, I would say no to them. You can always change your mind later.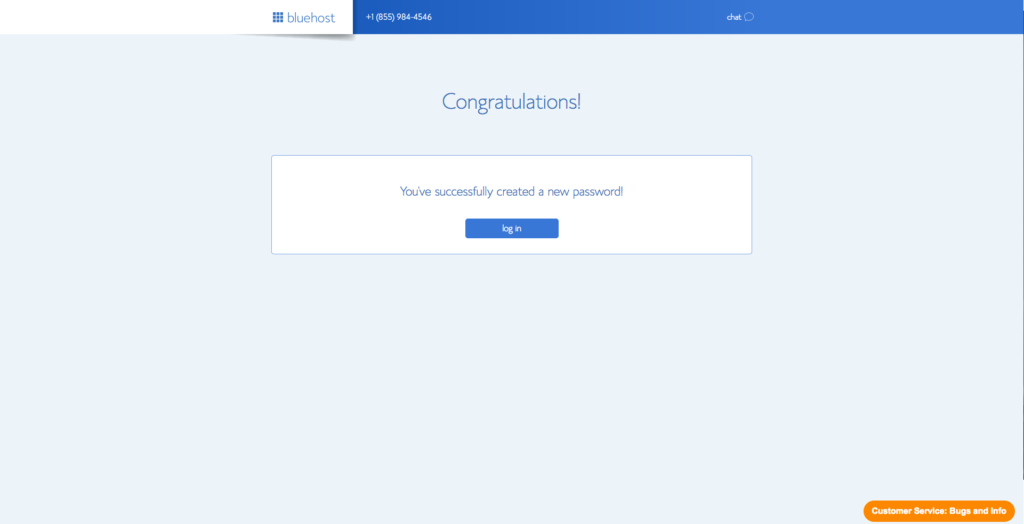 STEP 8:
Now that you are all signed up and are able to log into your account, you can get started installing WordPress! Bluehost lets you install WordPress with a 1-click install. It's just about my favorite thing ever.
Navigate to your Account Dashboard and look for the WordPress installation button. Click on it to go to the WordPress installation screen and click "Start Building" to begin installation.

Once WordPress is installed, you'll be directed to a welcome page where you can start setting up a little info about your site. Just go through step by step.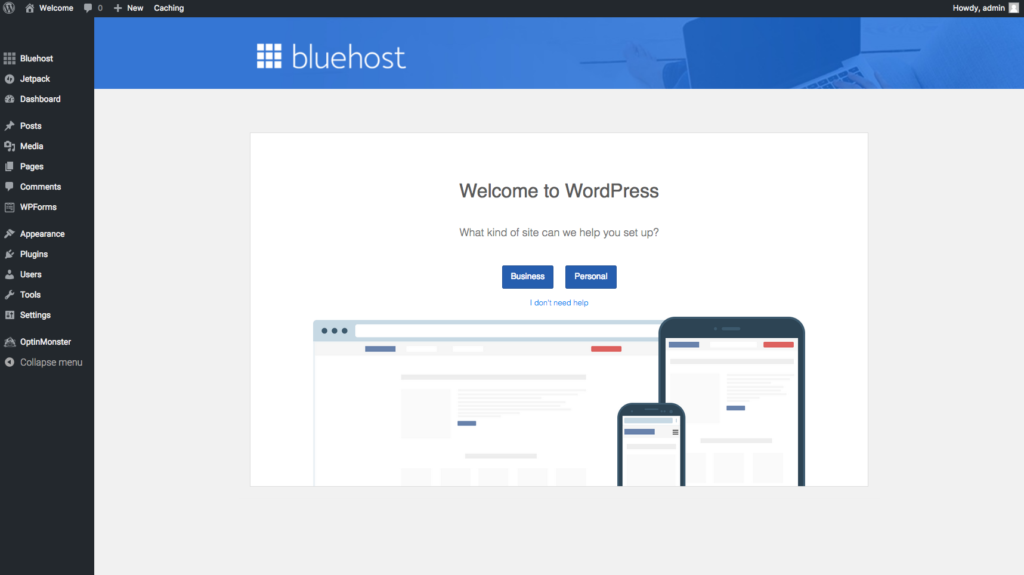 STEP 9:
Now WordPress is ready to go. Click the "launch" button.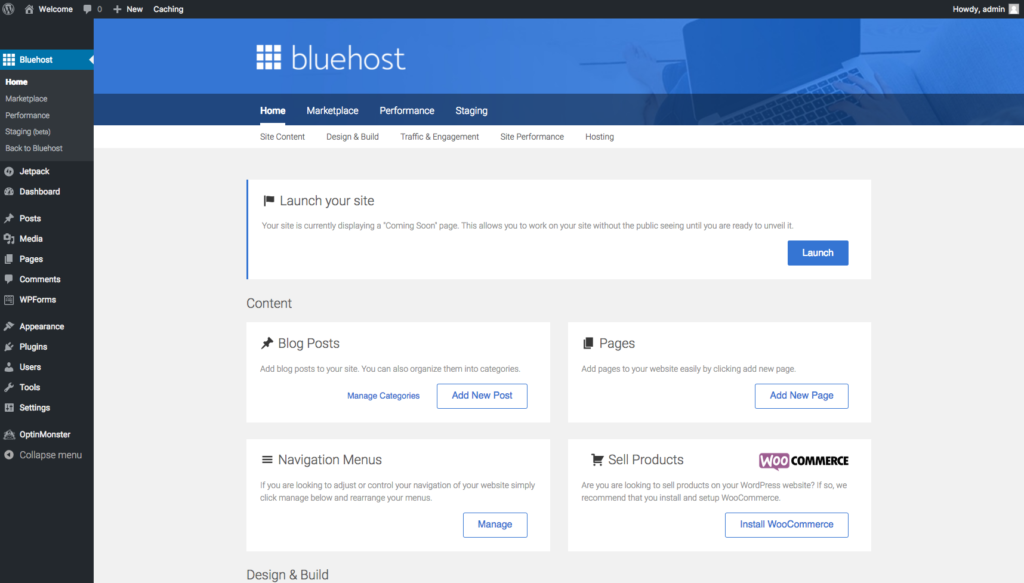 Fill in the requested information on each page so your site is ready to launch.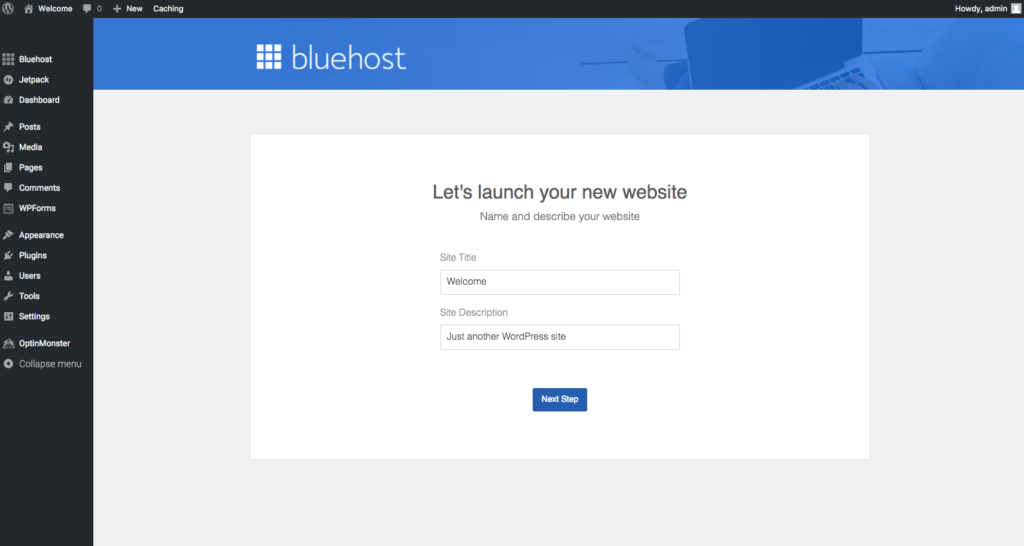 STEP 10:
Once WordPress is fully installed, it will take you to your dashboard and provide you with your site URL. You will get a copy of this information in a confirmation email as well.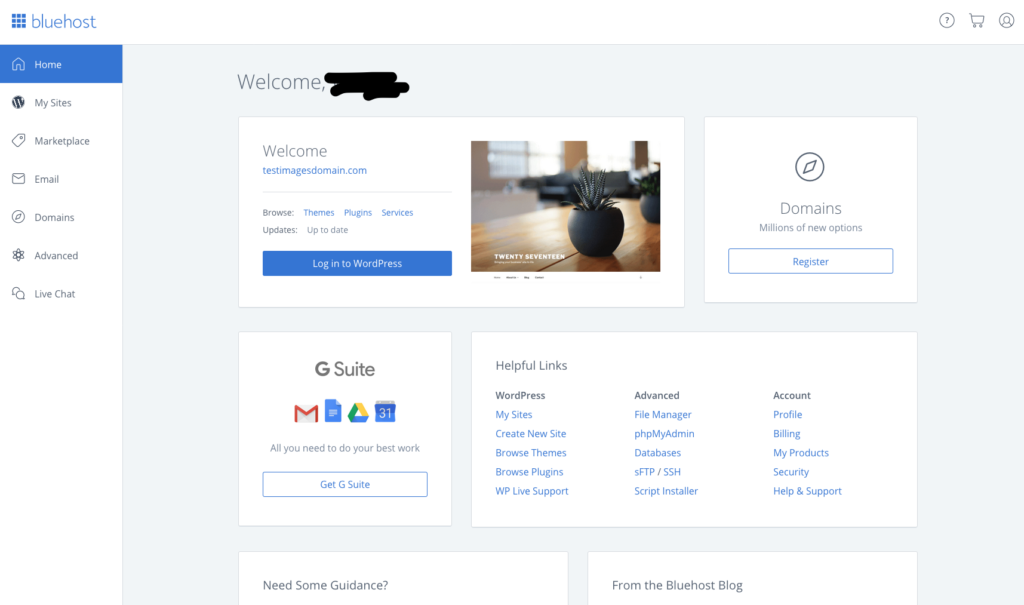 STEP 11:
Now it's time to log into your site and get started creating!
Go to your Admin URL. It will look something like this: http://www.yourblogname/wp-admin
Enter your username and password to access your WordPress dashboard. From here, you can control everything to do with your WordPress site, such as writing posts and changing the appearance.
Woohoo!!!! Now you're ready to embark on an amazing blogging adventure with your very own WordPress blog! Your next step is to find a blog template (also know as your theme).
CHOOSING A BLOG TEMPLATE PERFECT FOR A CRAFT BLOG
A domain is your blog's house, but your theme is the decor. That's why it's important to take a little time to pick a premium theme that conveys the look you want your site to have.
I highly recommend themes designed on the Genesis framework (this is what my custom theme is based on and what I recommend for anyone who wants to start a money-making blog).
WHAT IS THE GENESIS FRAMEWORK?
Genesis is the base for many different types of blog templates. The Genesis Framework integrates all of the SEO, security, and performance features needed to help you have the best site possible.
Once you have the Genesis framework, you must then get a child theme to use with it. A child theme is a layer of code that sits on top of the Genesis Framework and is mainly the design elements of your site, but it can also enhance the functionality of the Genesis Framework.
The Framework + Child Theme structure of site-building works well because it separates the performance issues of your site from the design issues. So, if you use a child theme, you can create all day long without ever touching the critical, sensitive code that makes up the Genesis framework.
Think of the Genesis framework as Microsoft Excel and the child theme is a ready-made Excel document with pre-formatted colorful cells and formulas already in place. The child theme designer has already done the hard work for you. All you have to do is upload the template and tweak it to your preference.
WHERE TO FIND THE PERFECT THEME FOR YOUR CRAFT BLOG
StudioPress makes the Genesis framework. StudioPress also makes its own child themes, but you can also get child themes from other designers.
TIP: If you decide to get a StudioPress child theme to operate on the Genesis framework, I recommend purchasing them together on the StudioPress website so that you get a discount. When you buy both in one transaction, you would get them for a total of $129.95. That's a great deal for a professional-looking website!
If you look through the StudioPress templates and don't find one that seems perfect for your blog, I have a few other recommendations from trusted designers. These designers also use the Genesis framework to design their themes. I even have themes that I recommend specifically for craft blogs.
Don't forget that you will need to purchase the Genesis framework separately in order to use these blog templates. It's not hard or complicated – just an extra step.
IS IT HARD TO START A CRAFT BLOG WITHOUT TECHNICAL EXPERTISE?
I have never been confused with someone who is tech-savvy, so I hope you'll believe me when I say if I could do it, you can too!
Now, having said that, it IS true that blogging has a steep learning curve as you're learning the different aspects of blogging (SEO, social media, etc). You may not feel like you know what you are doing for a while, but you WILL learn if you stick with it.
NOTE: I frequently get asked if you can be a blogger only using your phone (no computer). Unfortunately, you definitely NEED a computer in order to be a blogger.
There you go! I hope this step-by-step guide to creating your own self-hosted WordPress blog using Bluehost made the process seem a little more simple for you. I WISH I had a guide like this when I was starting!
If you used this guide, let me know in the comments below. I'd be happy to answer any other questions you have along the way as you embark on your own blogging journey.
MORE FROM WHATMOMMYDOES
Latest posts by Lena Gott
(see all)